Sweet and salty Maple Bacon Blondies are essential for all this year's fall festivities. Perfect for an autumn brunch, holiday potluck, and every event in between. Once you taste this recipe, it's sure to become a seasonal baking staple.
Sweet and salty desserts are my jam. Try our holiday chex mix for the ultimate snack. Or give our candied cinnamon pecans a try. Perfect for snacking or adding to salads!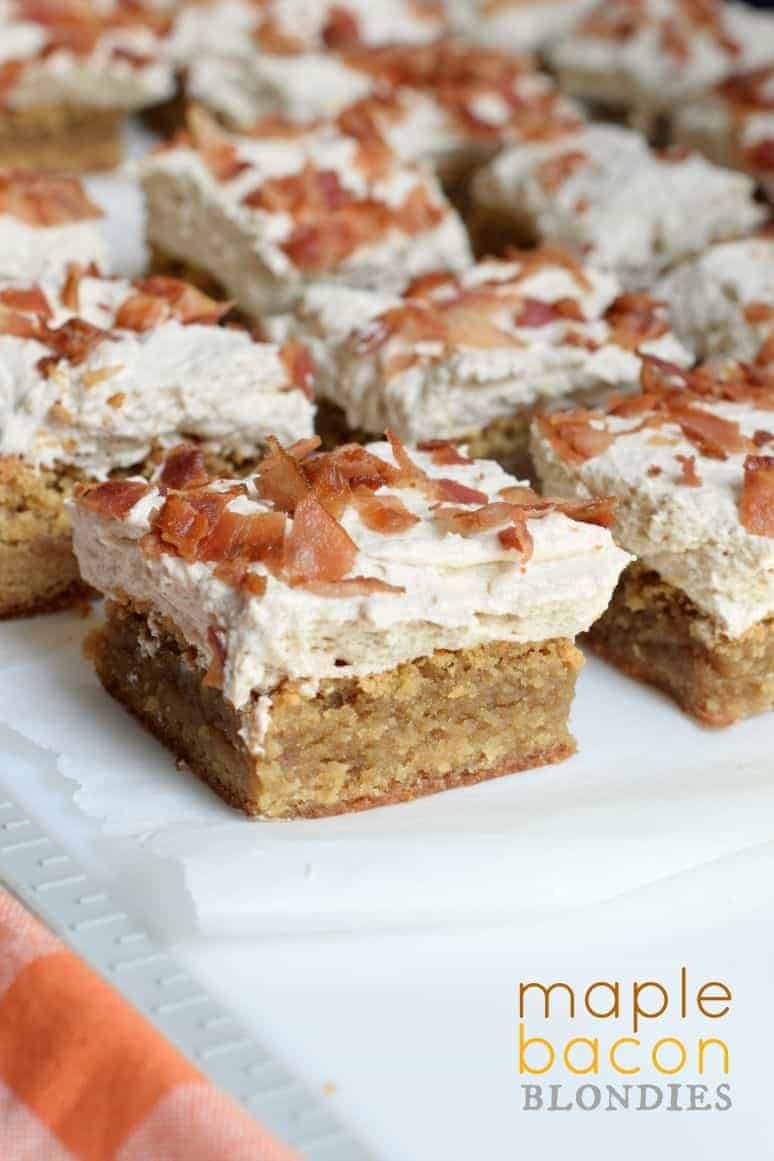 Why Blondies Are The Best
Blondies are always a crowd pleaser. Add a little bacon and maple to the mix and you have an instant fall classic. 
The best blondie recipe for fall, these are packed with autumnal maple flavor to get you in the mood for cooler weather.
In only 35 minutes, you can have a unique and delicious dessert for any party or potluck.
The perfect blend of sweet and salty makes this recipe complex and crave-able.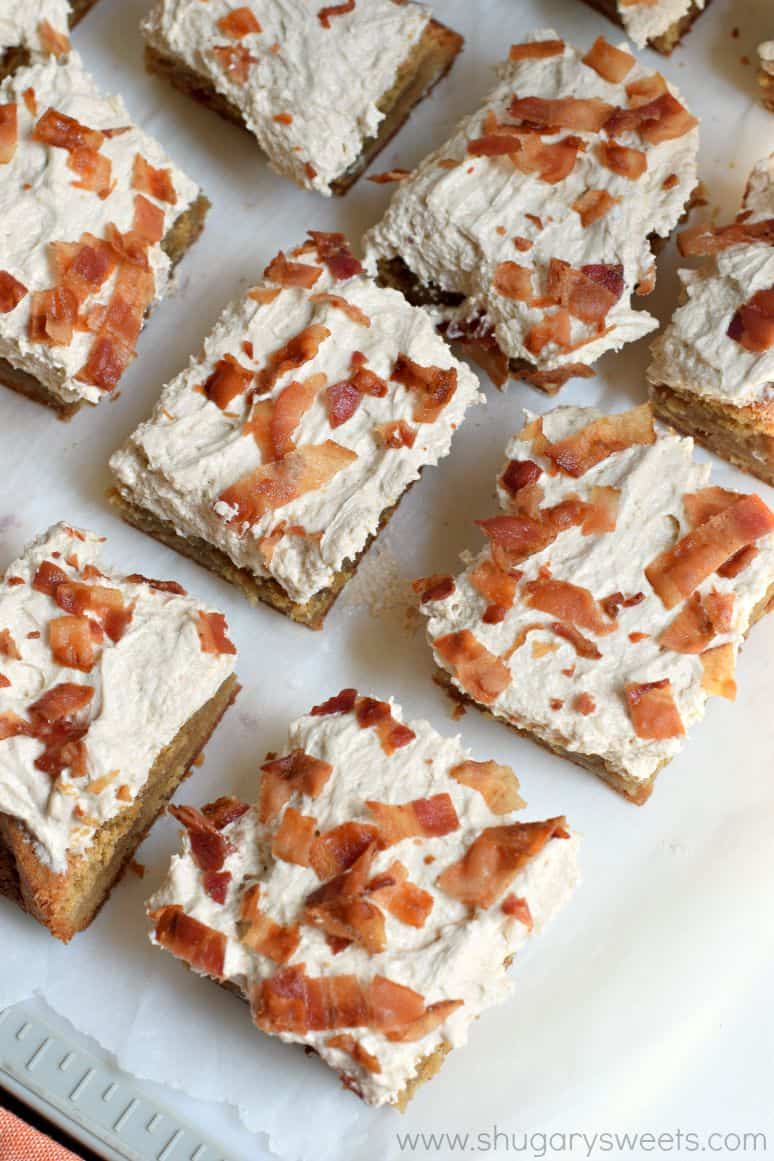 Ingredient Notes
For the Blondies:
Light Brown Sugar – Don't forget to pack the brown sugar when you measure it to ensure the recipe is consistent and has the right amount of sweetness.
Unsalted Butter – Melt and cool the butter to room temperature before starting this recipe. This way, you'll get flawless chewy blondies every time.
Eggs – Let your eggs come to room temperature to ensure the batter mixes together seamlessly.
Salt – Use kosher salt for this recipe since it's not as salty as regular table salt. With the addition of bacon to the recipe, you don't want a sodium overload.
Maple Flavoring – It's worth it to add Maple Flavoring to your fall baking arsenal. But you can also use pure maple syrup in its place.
For the Frosting:
Unsalted Butter – Use softened, room-temperature butter so you can whip it into the perfect light and fluffy consistency. 
Powdered Sugar – Add your powdered sugar in additions to avoid covering your kitchen in a cloud of sugar. 
Maple Flavoring – If you don't have any maple flavoring on hand, you can use pure maple syrup instead. 
Milk – Any milk will do, but I like to use skim milk for this recipe since you get plenty of fat from the butter.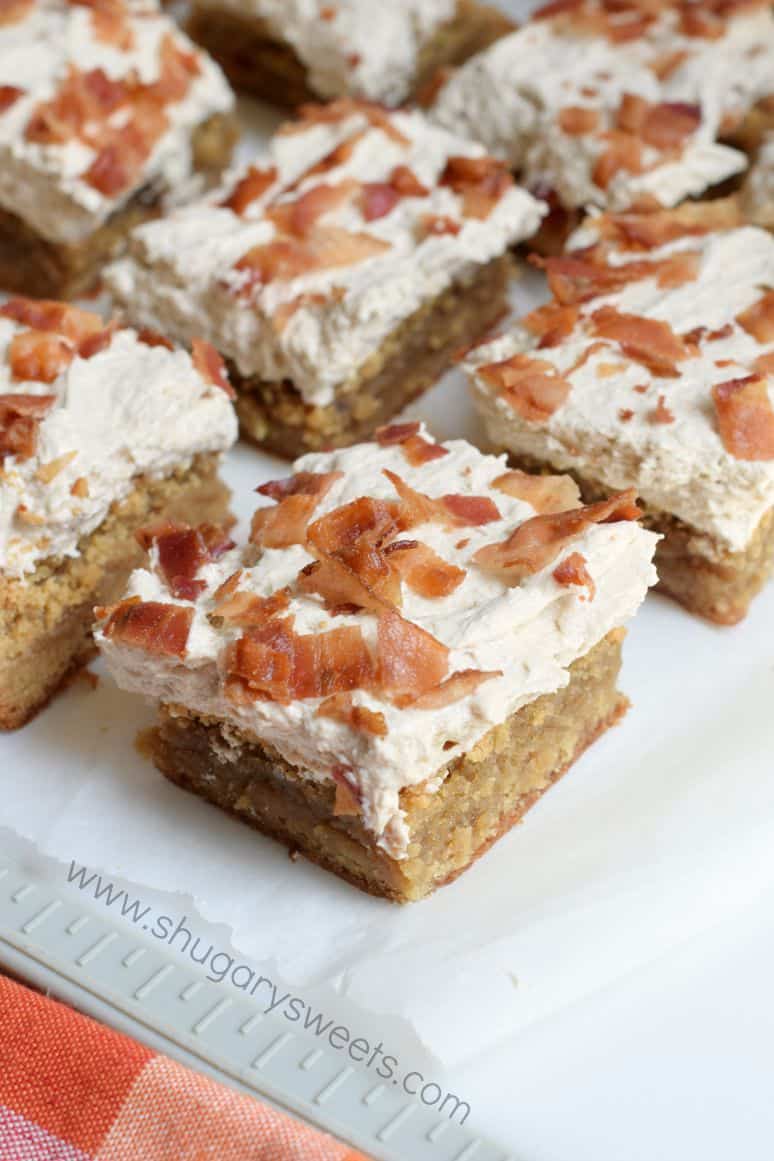 Easy Instructions
Combine brown sugar and melted butter. Mix these ingredients in a large bowl until the sugar has almost completely dissolved.
Incorporate eggs and vanilla. Add the vanilla to the bowl and fully incorporate the eggs into the mixture one at a time.
Stir in the rest of the blondie ingredients. Mix in the salt, flour, and maple flavoring. Stir until just combined, making sure to scrape the bowl during the process.
Bake and then cool blondies. Spread the batter into a parchment-lined 8" square baking dish, and bake at 350°F for 32-35 minutes. Then, allow the blondies to cool completely in the pan.
PRO-TIP: If you insert a toothpick into the center of the blondies, and it comes out clean, without any gooey batter attached, it's baked!
Whip together frosting ingredients. With a stand or hand mixer, beat the butter until light and fluffy. Beat in the powdered sugar in additions. Then whip in the maple flavoring and milk.
Frost the cooled blondies and top with bacon. Spread the buttercream across the blondies. If you're serving these bars immediately, top them with crumbled bacon and cut them into individual pieces.
Tips and Tricks
Store any leftover blondies in an airtight container in the fridge. They'll stay fresh for about 3 days.
Add crumbled bacon to the top of the blondies before serving since refrigerated bacon will be soft instead of crunchy.
Make sure the blondies are completely cooled before frosting. Otherwise, your buttercream will melt.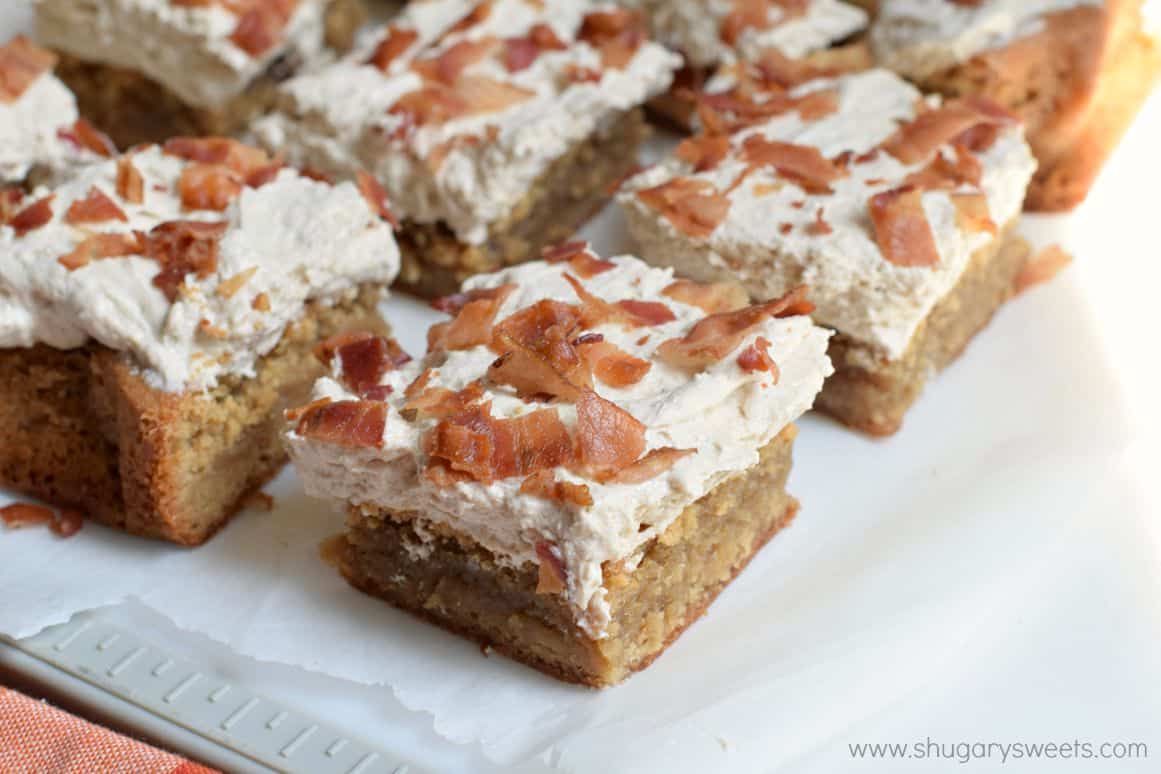 Serving Suggestions
With cooler weather right around the corner, these Maple Bacon Blondies beg to be served alongside a steaming hot beverage. So whether you sip one of these recipes alongside your blondies or go for the dunk, you'll be blown away by these pairings.
Recipe FAQs
What if I don't have maple flavoring?
Maple extract is a super concentrated maple flavoring perfect for baking and other recipes. However, you could use maple syrup if you can't get your hands on the extract. Just make sure you're using pure maple syrup and not the kind made of corn syrup.
Can I make Maple Bacon Blondies ahead of time?
You can make this recipe up to 2 days ahead of time, storing it in an airtight container in the fridge. I like to keep the bacon crumbles separate from the frosted blondies. Then, right before serving, pop them in the microwave for a few seconds until they're crispy, sprinkle on top of the bars, and serve.
Can I prepare the frosting in advance and then assemble the bars before serving?
Yes, this buttercream can be made up to a month ahead if you keep it in the fridge and up to three months in advance if you store it in the freezer. Let the icing thaw (if necessary) and re-whip it before frosting the blondies. 
More Easy Dessert Recipes