Sweet corn meets spicy Mexican flavor in this easy recipe. Mexican Corn Salad is filled with cotija cheese and tossed with an irresistible creamy dressing. Perfect for serving with baked tacos or scooping up with tortilla chips!
Make it a meal and serve this elote salad with our favorite Chicken Enchiladas. Or whip up this quick and easy Beef Taco Skillet for dinner!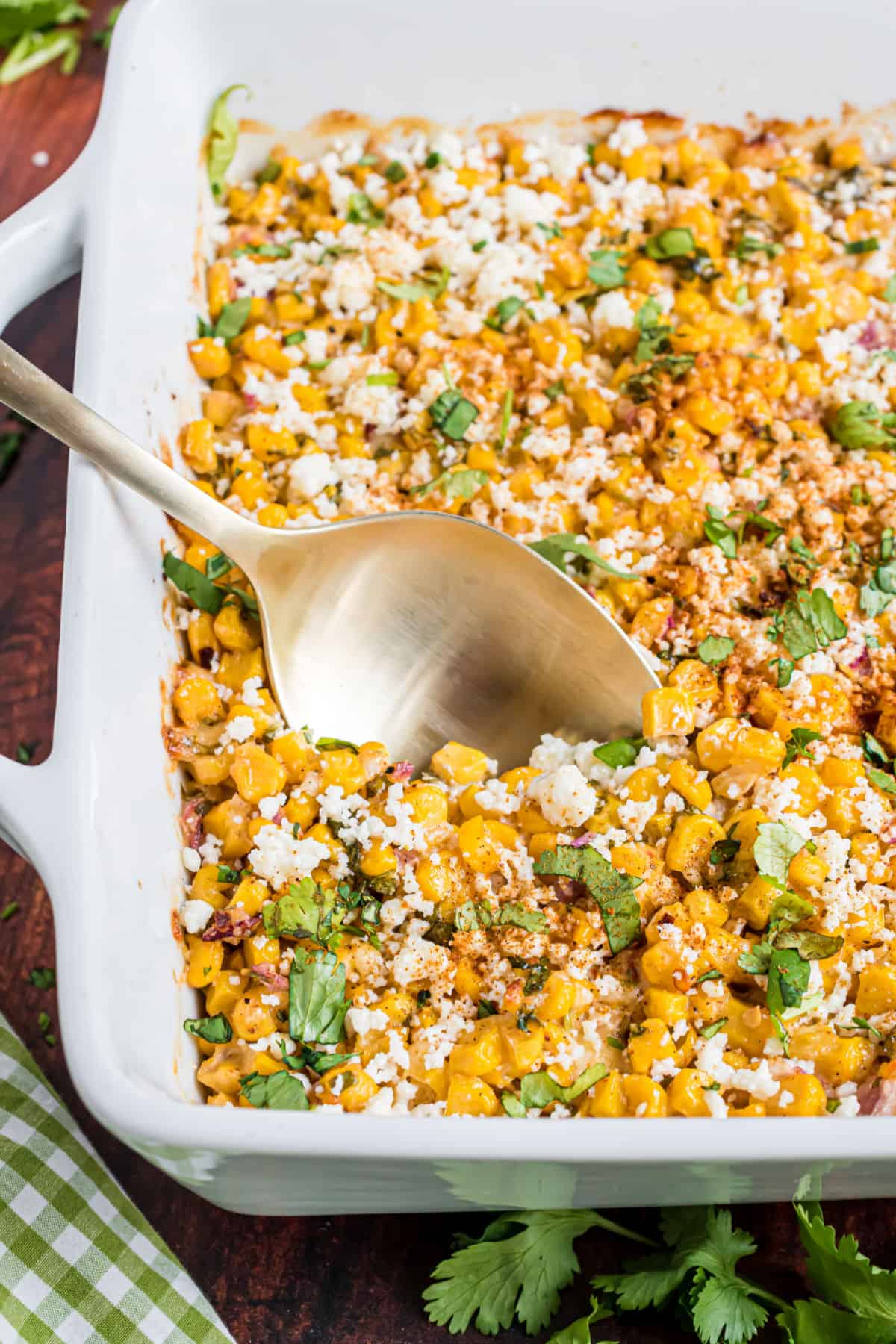 Why this Recipe Works
It's time to shake up your side dish routine! This Mexican Street Corn Salad has an amazing balance of creamy, sweet and spicy flavors.
Sometimes referred to as elote, this dish is a favorite at our house for taco Tuesday!
Need a few more reasons to give this salad recipe a try?
Quick and easy. Toss the ingredients together and it's ready to pop in the oven! Easier than corn on the cob!
Serve as a side dish or dip. Mexican Corn Salad is a great accompaniment to fish tacos and chicken tostadas and all your favorite Mexican meals. You can also serve it with a bag of crunchy tortilla chips as an appetizer dip.
Use fresh, frozen or canned corn. Make the salad all year long using whatever corn is available. We love using our Instant Pot corn on the cob recipe for this dish.
Endless options. Change up the ingredients to make it spicier, add crunch or adjust the flavors. The recipe is delicious as written, but it's also a fun canvas for experimentation.
This Mexican Street Corn Salad is bound to become a meal time staple.
Ingredient Notes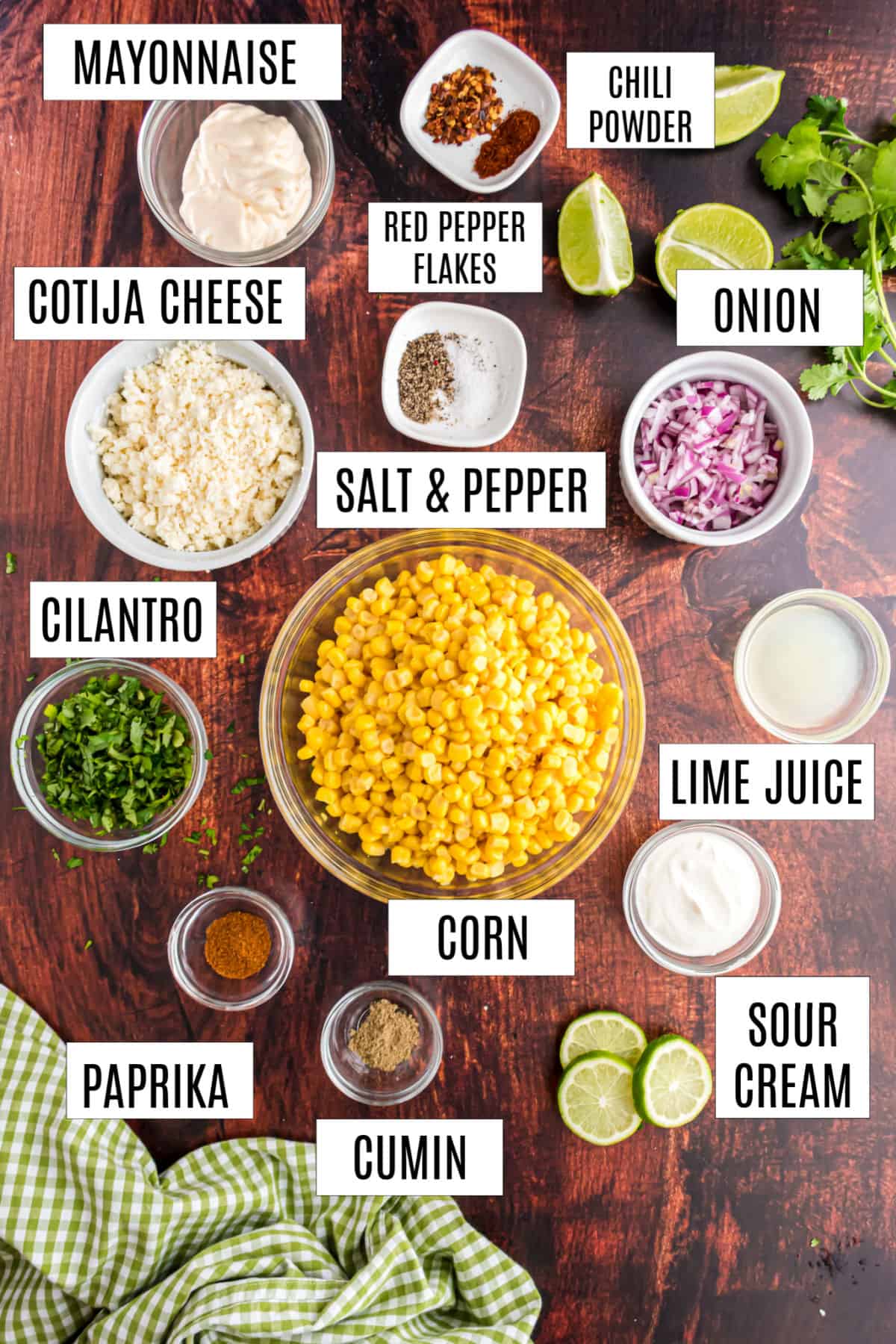 Cotija Cheese. This is a salty Mexican cheese with a crumbly texture. If you can't find it, feel free to substitute feta.
Sour cream. Or swap it out for plain unsweetened Greek yogurt!
Lime juice. Fresh squeezed is best!
Seasoning. You'll need a combination of cumin, paprika, chili powder, salt, pepper, and red pepper flakes.
Fresh Cilantro. Not only gives a pop of color, but flavor too!
Types of Corn
You can use just about any variety of sweet corn in this salad.
Fresh: Cooked Corn kernels cut right off the cob make this salad extra fresh tasting.
Frozen: Thaw corn by running under room temperature water. Pat dry and add directly to the salad bowl.
Canned: Drain canned corn before using.
Roasted: Use canned or frozen roasted corn OR roast your own! It adds a delicious depth of flavor to Mexican Corn Salad.
If you'd like to roast sweet corn to use in this salad, follow the directions in this Roasted Corn Salad recipe.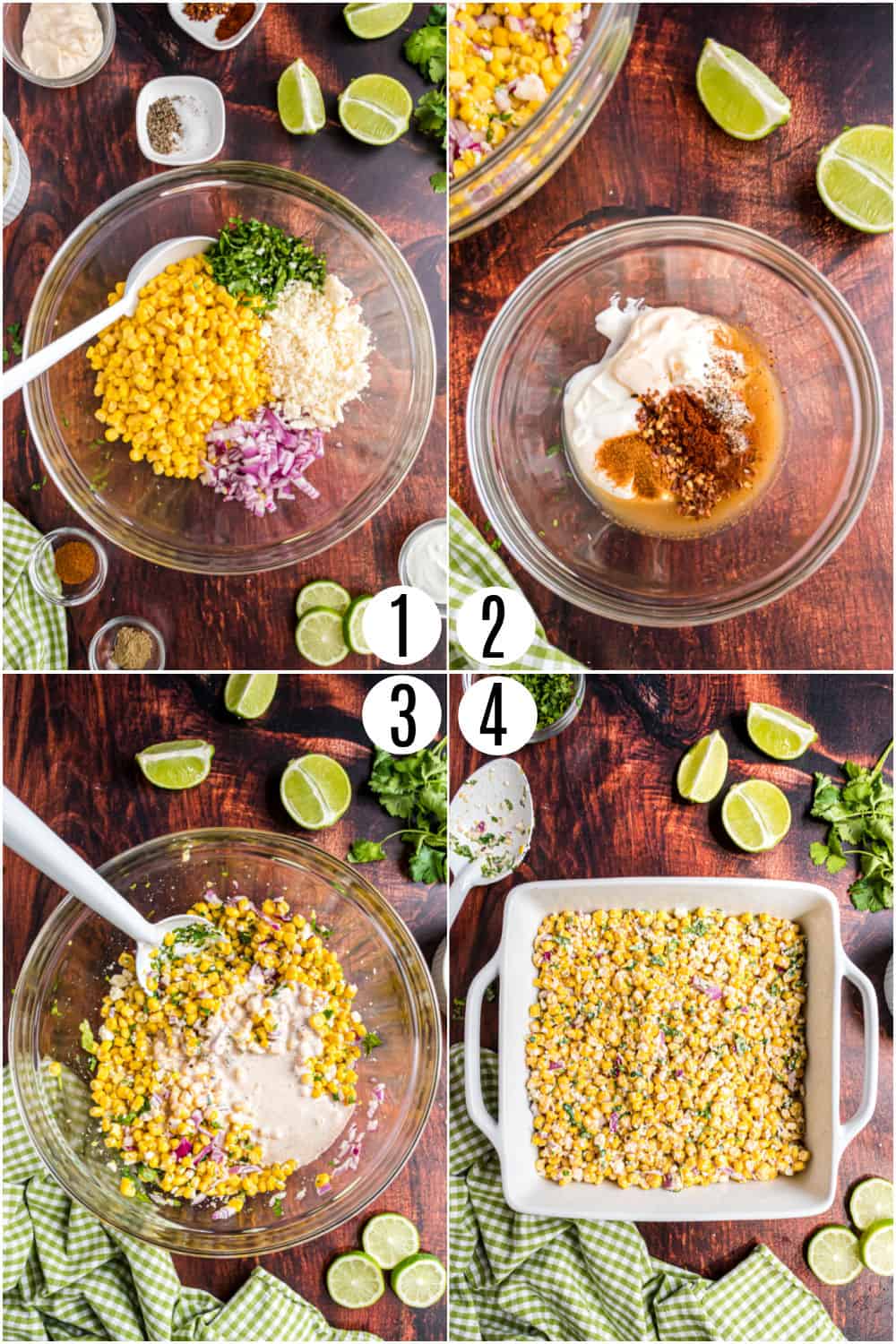 Tips and Tricks
Add spice. If you love spicy corn salad, add a little chopped jalapeno. A sprinkle of extra red chili flakes can amp up the heat here too!
Less spicy. For palates that are sensitive to heat, reduce or omit the chili flakes.
Add crunch.To make this salad crunchier, mix in chopped bell peppers.
Let stand before serving. Add the extra cheese and cilantro and let the dish sit for a few minutes after baking.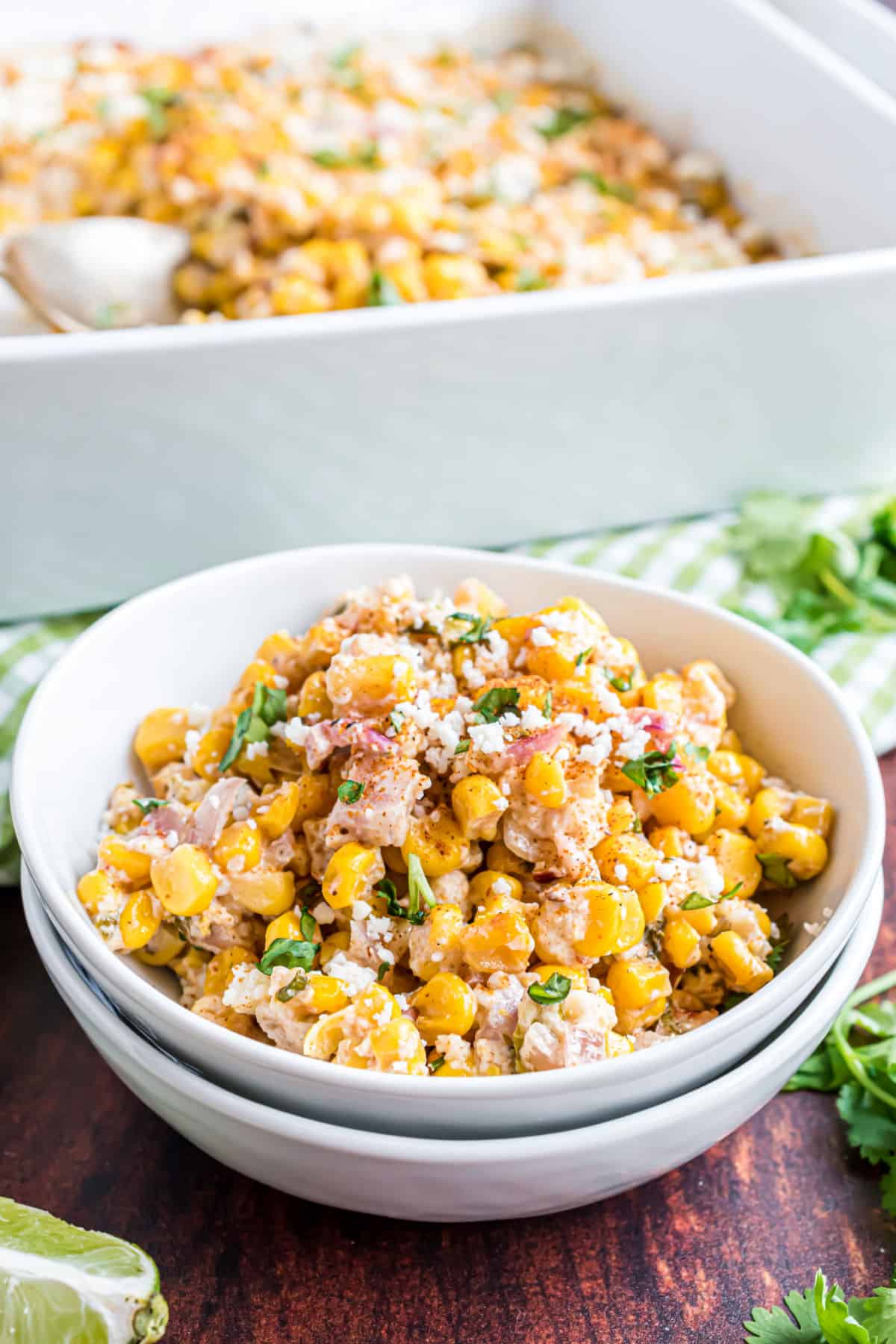 Recipe FAQs
How do you store Mexican Corn Salad?
Store this salad in an airtight container in the fridge. Enjoy within 3 days.
Can I use frozen corn in this recipe?
Yes, frozen (thawed) corn can be used in this salad. Canned and fresh corn work too!
Can I make this salad ahead of time?
Yes. It's perfect for whipping up in the morning before work, then enjoying with dinner at the end of the day.
More Easy Recipes
Bursting with the flavors of Mexican Street Corn, this easy corn salad is a crowd pleaser! Serve with nachos, tacos and quesadillas for a complete meal that'll have everyone cleaning their plates.