These Oreo Peanut Butter Truffles are not your average Oreo Ball! A combination of peanut butter, Nutella, Oreo cookie crumbs, and white chocolate make these truffles a decadent and delicious treat you can enjoy any time of year.
We love all things Oreo in our house. From Chocolate Dipped Oreos to a delicious No Bake Oreo Cheesecake, there's something for everyone!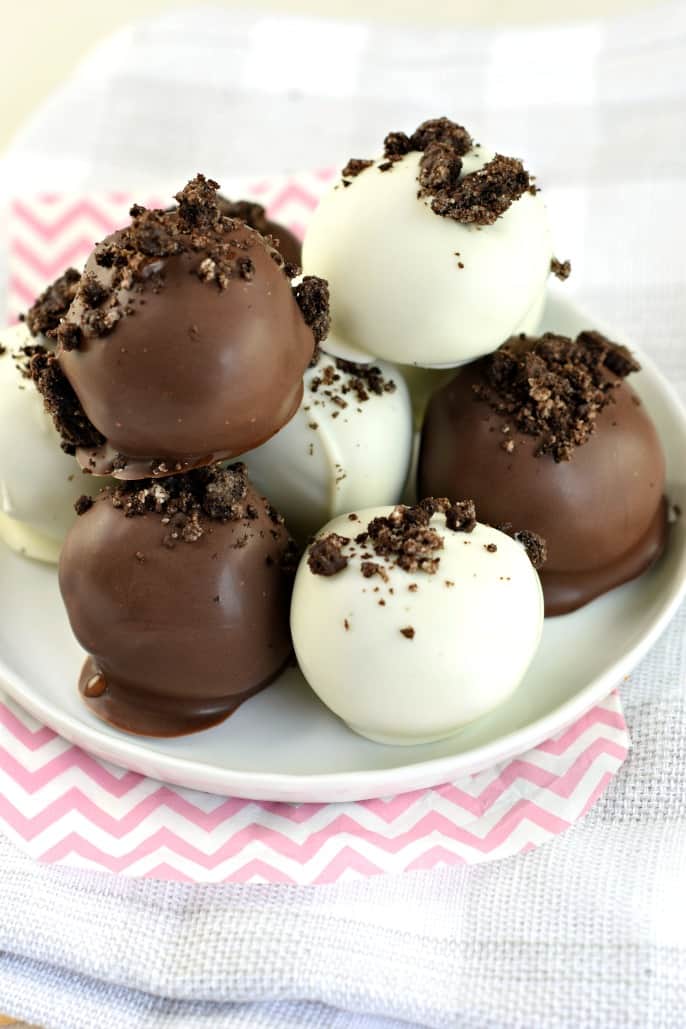 Why this Recipe Works
Remember this Oreo dip I made? Yeah, me too. It was so good that I've been thinking about it for awhile now.
In fact, I couldn't stop thinking about it. I had to get it out of my head so I decided to try and make a bite-sized treat based off that dip recipe.
I came up with these Oreo cookie balls and I am so glad I did and you will be too! These are not your everyday, average Oreo Balls.
The Oreo cookie and peanut butter taste is an incredible combo. They go hand in hand together.
If you like traditional peanut butter balls then you will absolutely LOVE these Oreo Peanut Butter Truffles!
Now I have two favorite treats. Rice Krispie Treats and these Truffles!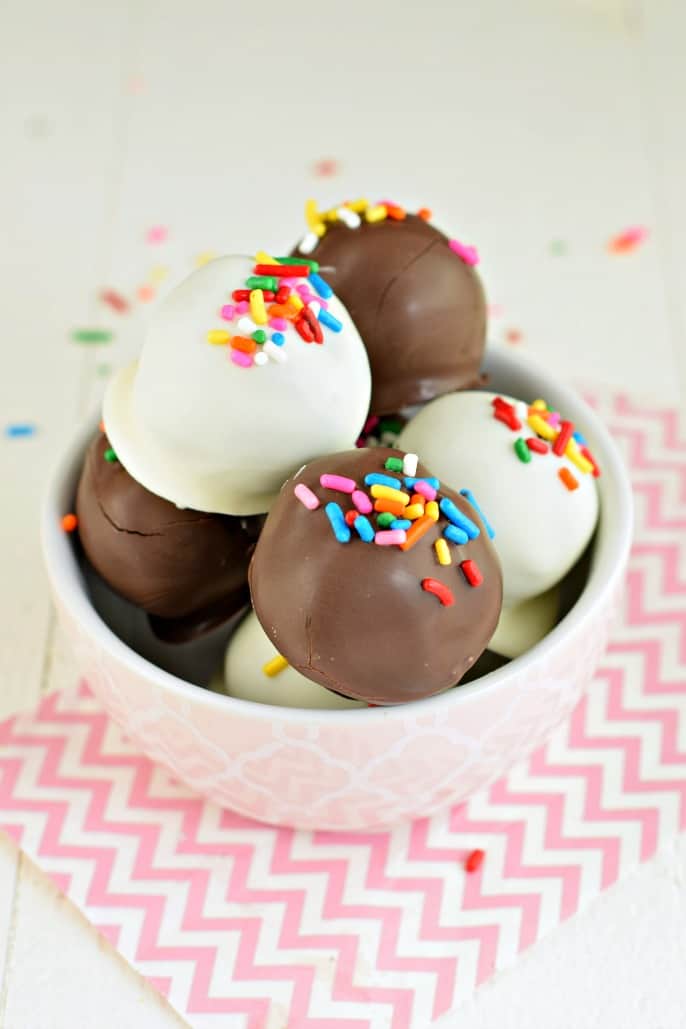 How to Make Oreo Peanut Butter Truffles
Step 1: In a mixer, blend cream cheese with peanut butter, Nutella, melted white chocolate morsels and powdered sugar. Add in crushed Oreo cookie pieces.
Step 2: Using your hands, roll into one inch balls. Note that the mixture will be crumbly. Your warm hands will help it come together. Place all the oreo cookie balls on a baking sheet, lined with wax paper. Freeze it for one hour.
Step 3: Melt the white chocolate wafers in a microwave safe bowl by cooking for one minute. Stir well and then heat for an additional 15 to 30 seconds until it's completely melted.
Step 4: Using a toothpick, dip each peanut butter truffle into the melted white chocolate candy coating. Allow any excess to drip off. Place on cookie sheet to set for about 15 minutes. Enjoy!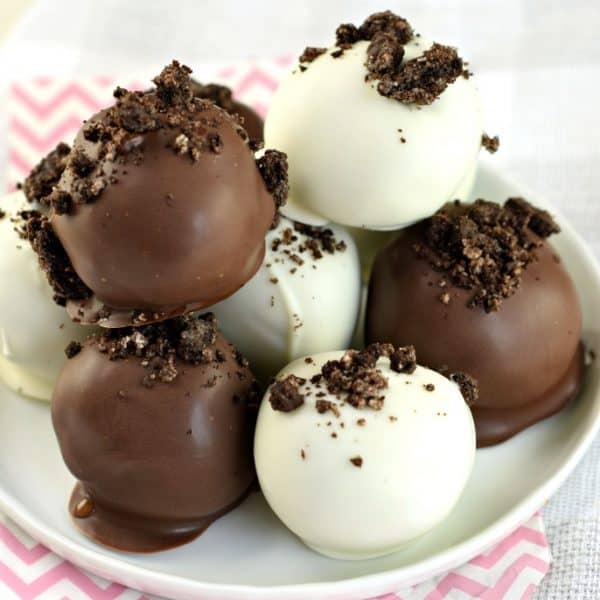 What to put on top of Oreo Balls
You can top these with more cookie crumbs.
Or add some fun sprinkles. Depending on the time of year, you could use a holiday sprinkle for a festive touch!
What you'll need for Oreo Peanut Butter Truffles
If you want a quick glance at what's needed for today's recipe, look no further. For the printable recipe with measurements, scroll all the way down!
Ingredients:
Peanut butter
Cream cheese
White chocolate morsels
Nutella
Powdered sugar
Oreo Cookies
White chocolate candy coating and/or Dark Chocolate Candy Coating (I use both)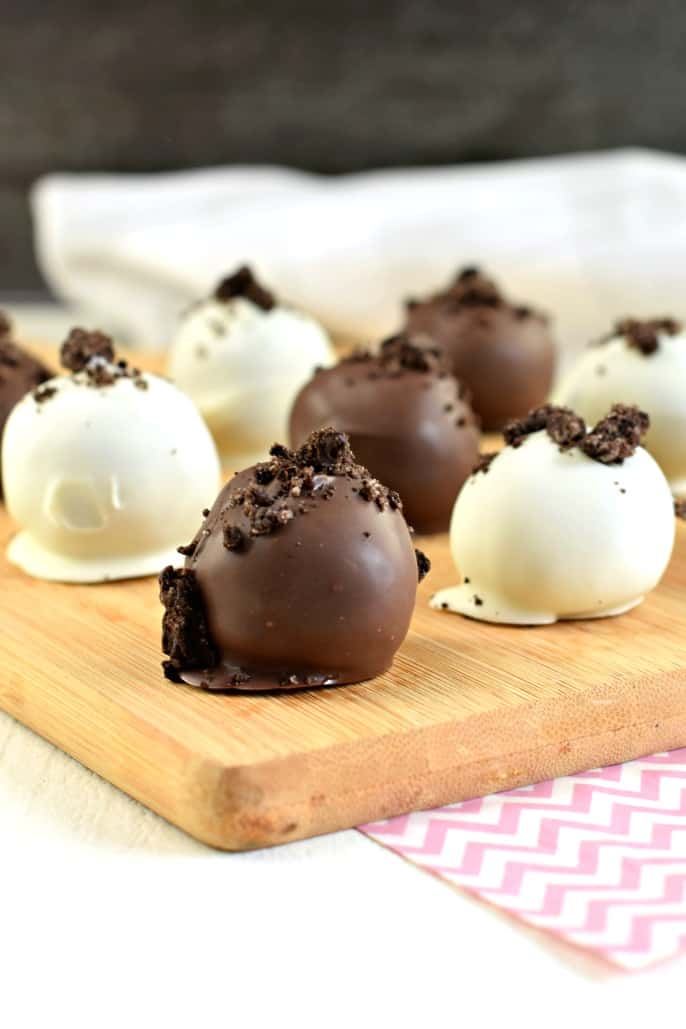 How to Store Oreo Truffles
These turn out beautiful! You can make these in advance and store them in the refrigerator for up to one week in an airtight container.
There is no way these truffles would ever last that long at my house though! Good luck if you want to keep them around for a few days!
Can I Freeze Oreo Peanut Butter Truffles?
These truffles can be frozen for up to three months, either with or without the white chocolate candy coating.
Make these ahead of time and give them out as Mother's Day or Christmas gifts, or as a way to welcome a new neighbor into your town! (You'd be the best neighbor ever!)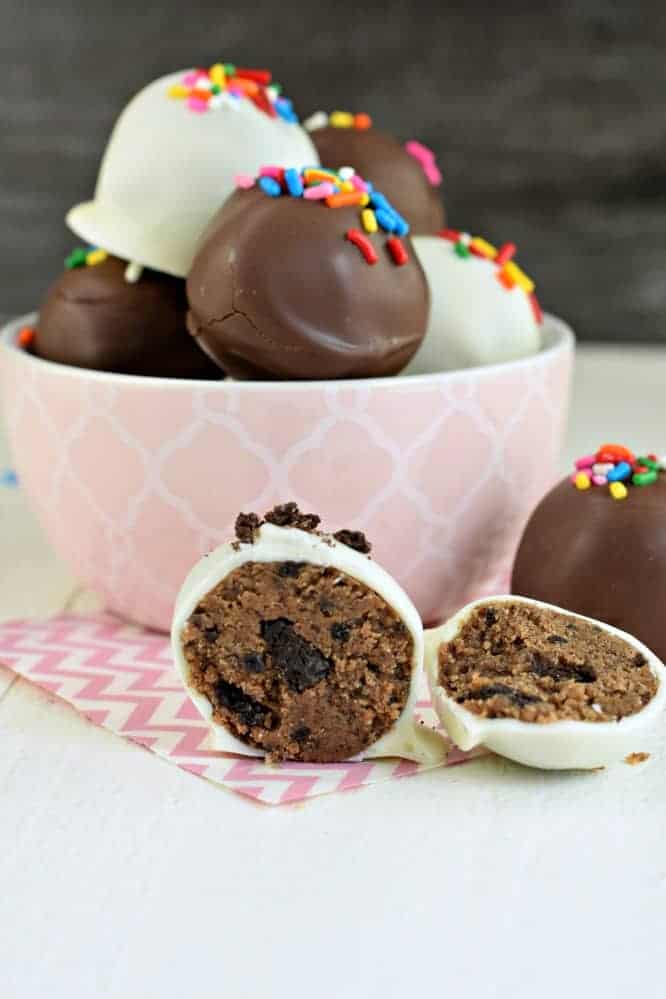 Tips and Tricks
Make Oreo crumbs by adding them to a food processor and pulsing for a few seconds. They will crush up pretty quickly. If you don't have a food processor you can also put the cookies in a Ziploc bag and use a rolling pan to crush them.
You can also make these Oreo cookie balls and omit the chocolate shell. After all, you still have peanut butter, Nutella and crushed Oreos as part of these yummy cookie balls! Just skip the last step and enjoy these after they harden in the freezer.
If you are dipping these in melted chocolate, use a toothpick for dipping and then tap off any excess. You can add sprinkles, crushed Oreos, or melted chocolate to the top to cover the toothpick holes.
Line your baking sheet with parchment paper so the dipped balls don't stick.
If you want to add a color tint to these, make sure to use oil-based food coloring. Wilton candy colors has an oil based one.
Craving cookies? Make this 2 ingredient Oreo Stuffed Cookies recipe!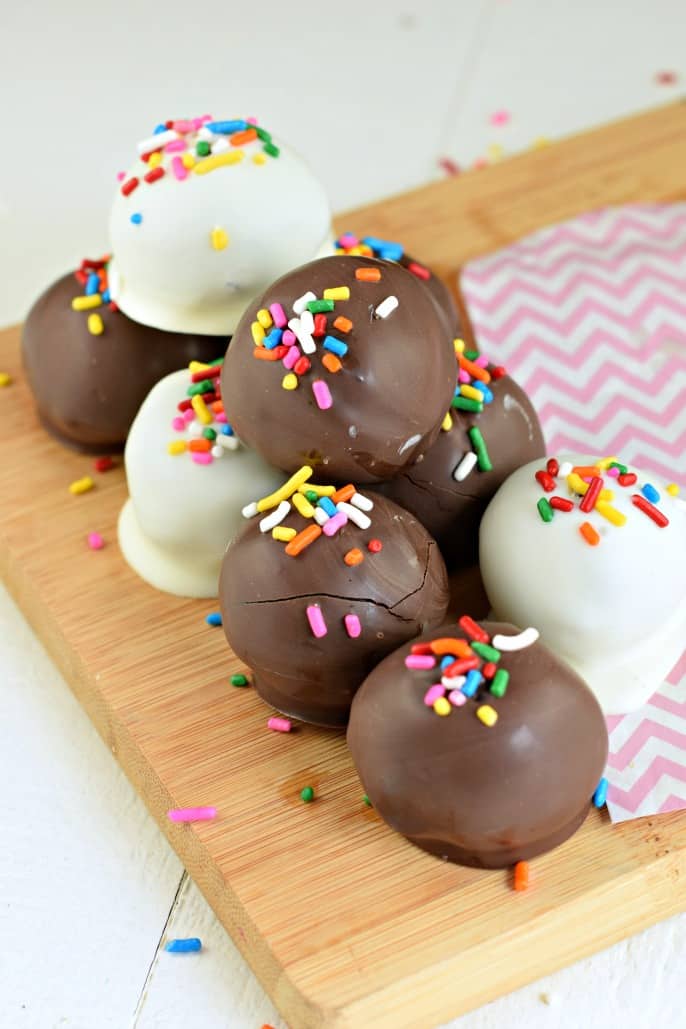 What Chocolate is Best for Truffles?
I like to use Ghirardelli white chocolate melting wafers and Dark chocolate melting wafers for this Oreo truffle recipe.
You could also use a white chocolate or vanilla bark. I heat them in the microwave because it's fast and easy, but you could also use a double boiler.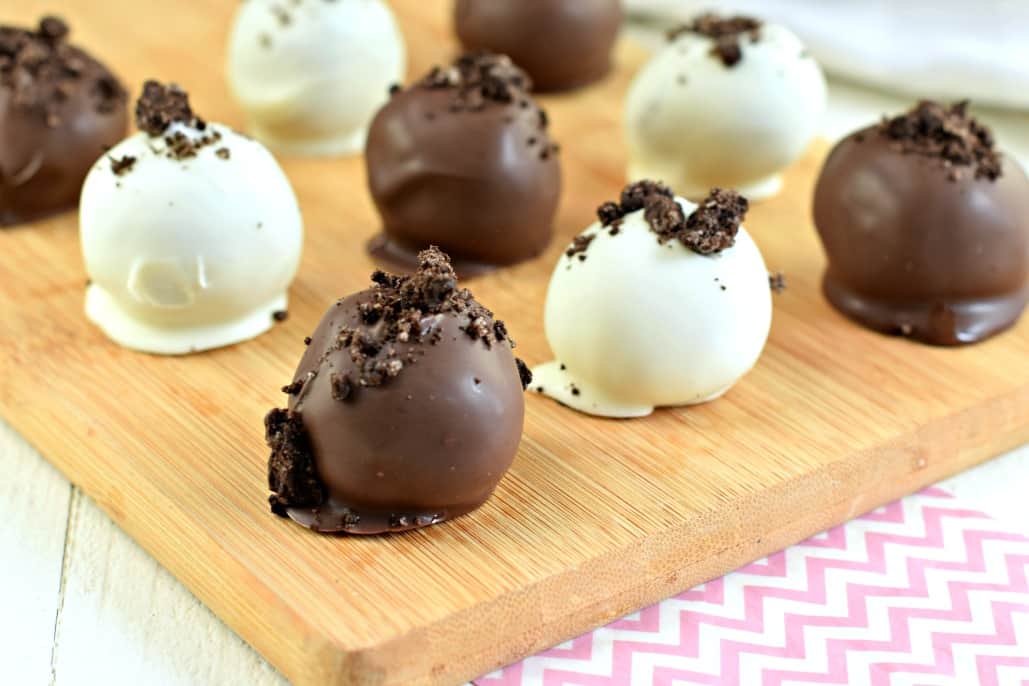 Oreo Peanut Butter Truffles Recipe is easy, no bake, and perfect year round.