These delicious, sweet and salty Spider Cookies are a huge hit in my family! It's a good thing the recipe makes a bazillion because these tasty treats disappear almost as fast as you can make them!
If you love easy no bake desserts, you've got to try our tips and tricks for chocolate covered oreos. Or give our eclair cake a try soon.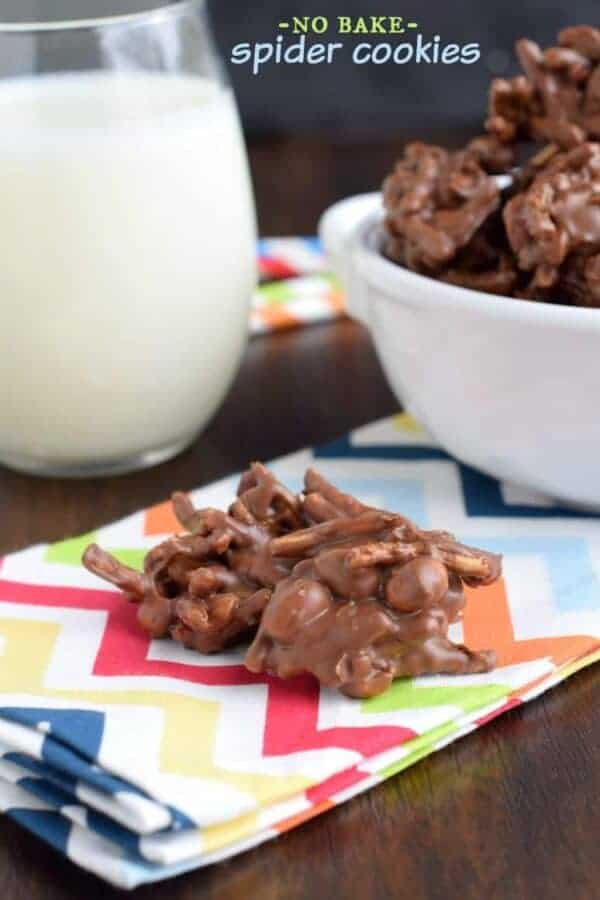 What are Spider Cookies?
Spider Cookies is a horrible name for a dessert. Almost as bad as "dump" salad.
But, growing up that's what my mom called these sweet treats. Little did I know most of the country calls them Haystack Cookies. Definitely a cuter name!
Whatever you call them, these easy cookies are always a hit.
You make them by mixing crunchy chow mein noodles with melted chocolate, butterscotch and peanuts–no baking required!
Haystack cookies do look a little like spiders but they taste amazing! If you love salty and sweet snacks, these cookies are a must try. Whether you're trying Spider Cookies for the first time or rediscovering a childhood favorite, you'll love this recipe.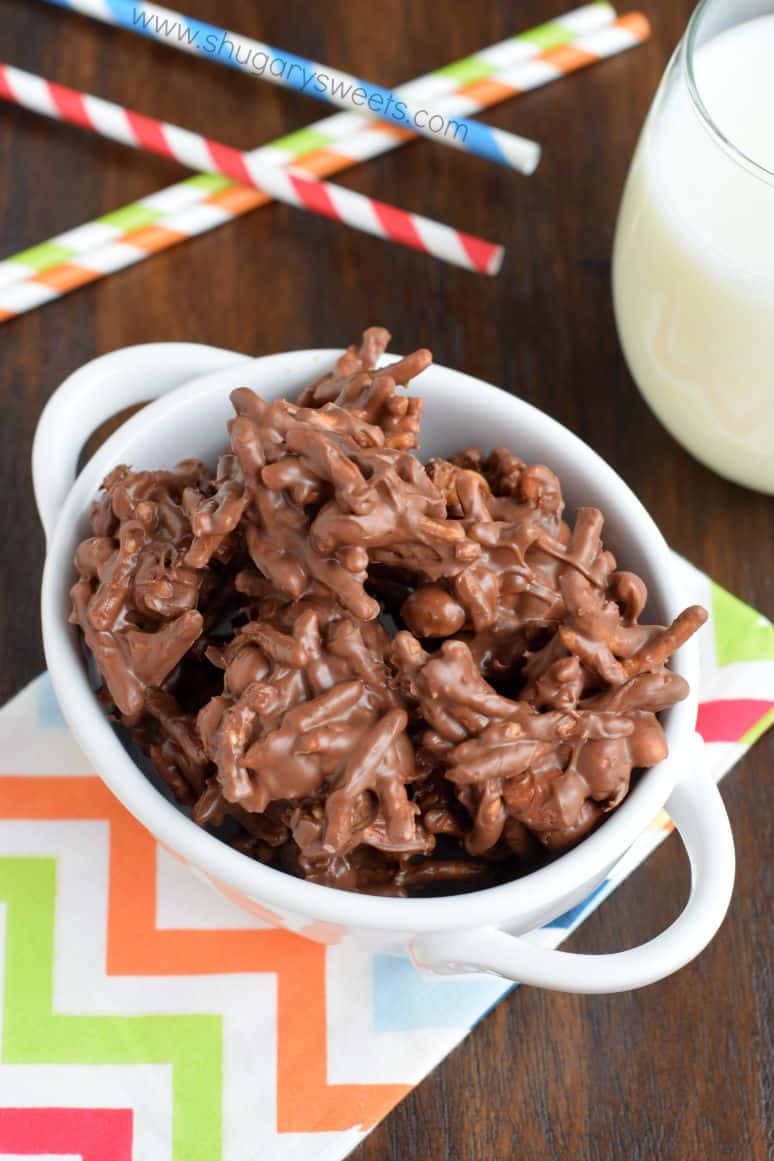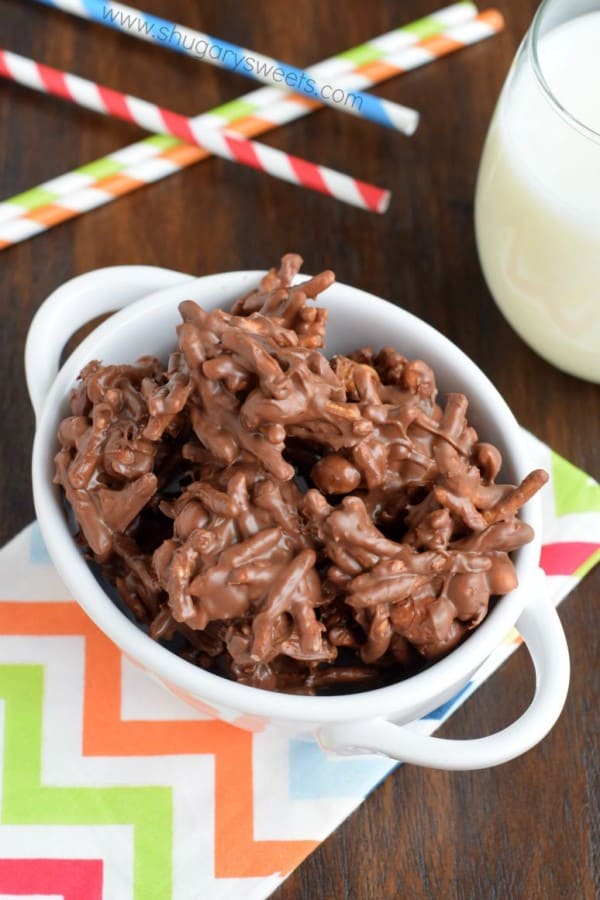 Ingredient Notes
Chow mein noodles – I use a full bag or canister of the La Choy brand crispy noodles.
Peanuts – Red skinned Spanish peanuts work best.
Semi-sweet chocolate morsels – Substitute milk or white chocolate if preferred!
Peanut butter and butterscotch morsels
Easy Instructions
Melt butterscotch morsels, chocolate morsels and peanut butter morsels in a sauce pan on the stove on low eat. Remove the pan from heat then fold in the peanuts and chow mein noodles.
Drop spoonfuls of the mixture onto a counter or pan lined with parchment paper. I use either a cookie scoop or two tablespoon measuring spoons to make sure the cookies are evenly sized. Make sure to leave a couple of inches of space between each cookie clump so they don't stick together!
Allow the cookies to set for about 15 minutes before eating. Transfer to an airtight container once the chocolate is firmed up and store in the fridge for best flavor!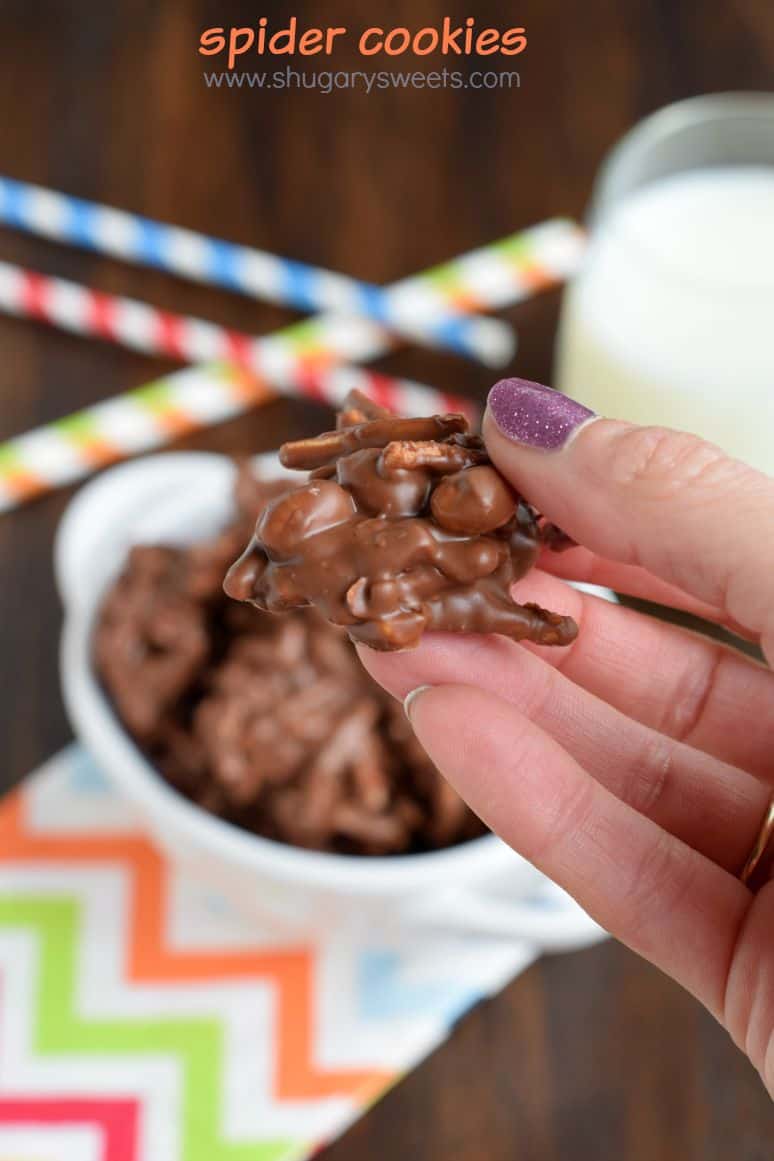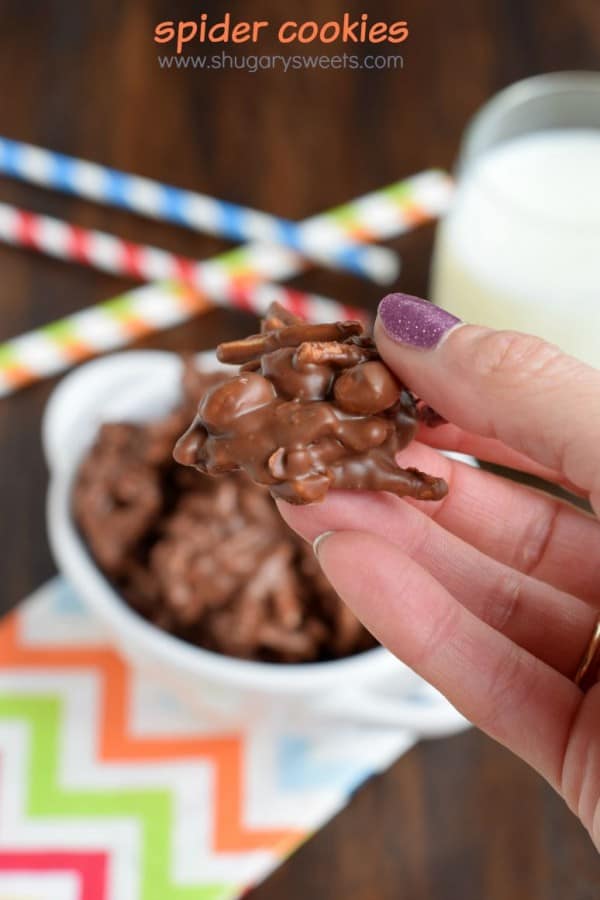 Recipe FAQs
Do you have to keep these chilled?
No, you can store the haystack cookies at room temperature if needed or preferred. I find that chilling them helps bring out the butterscotch flavor more!
Why are my cookies falling apart?
If your cookies aren't holding together, you may not have let the chocolate set up long enough. After 15 – 20 minutes, the cookies should be set enough to pick up without them falling apart. Also be sure to check your ingredient amounts. Using too many noodles will prevent the cookies from holding together as well.
Can you freeze haystack cookies?
Yes, first place them on a cookie sheet in the freezer for an hour. Once the cookies are frozen transfer them to a gallon freezer bag or freezer safe plastic container.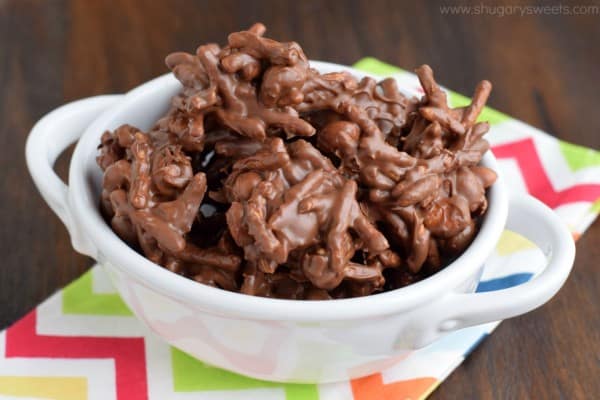 Crunchy, sweet and salty, these no bake Spider Cookies are a breeze to make! While they may not be the prettiest dessert you'll ever see, the rich chocolate and butterscotch flavor more than makes up for their funky appearance.