Blondies filled with Hershey Chocolate Eggs! Perfect for an Easter dessert or any spring time celebration.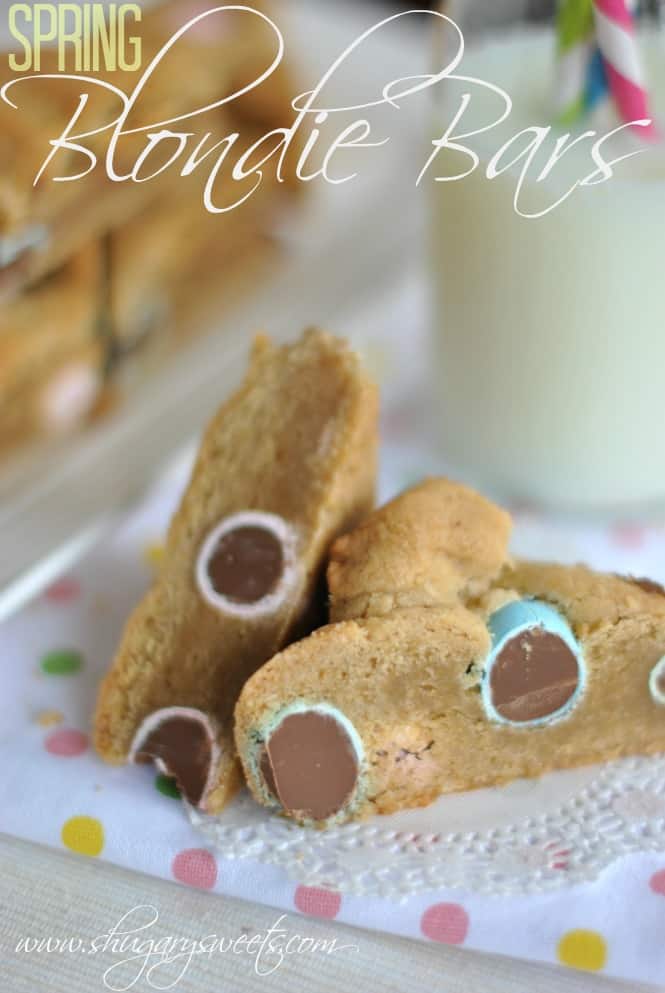 These thick chewy blondies are so delicious and will looks beautiful on your Easter dessert table!
Blondies
Brownies get all the attention (for a good reason) but I often forget how much I love blondies! With a texture that's somewhere between thick fudge and chewy cookies, blondies are especially wonderful when they have chocolate folded in.
I'm a big fan of easy desserts that don't take a lot of steps and blondies definitely fit the bill. It's as easy as making drop cookies but you don't even have to scoop the dough into balls! Just press everything in the dish and bake.
It's for this reason that I like having a few good blondie recipes in my tool box. When the calendar is full and my days are busy, I still love bringing a homemade dessert any time I attend a party or visit a friend.
I decided to make blondies for an Easter gathering but I wanted them to be a bit more festive than a regular blondie bar. Spying a bag of Hershey's chocolate eggs in the cupboard, I knew just what I had to do: Easter blondies!
Easter Dessert Recipe
I folded the multi colored chocolate eggs right into the blondie batter, then baked these blondies in a 9 inch square baking dish.
Once cooled, I cut them into 16 square bars. I then cut each bar in half to form two triangles. The Hershey eggs not only added the perfect amount of chocolate sweetness to the Blondies, but also looked so cute in their pastel coatings!
You don't have to save these for Easter or spring time. Using a different candy coated chocolate will turn them into a welcome treat for any time of year.
Pour yourself a big glass of milk or a cup of coffee and make yourself some delightful blondies to enjoy!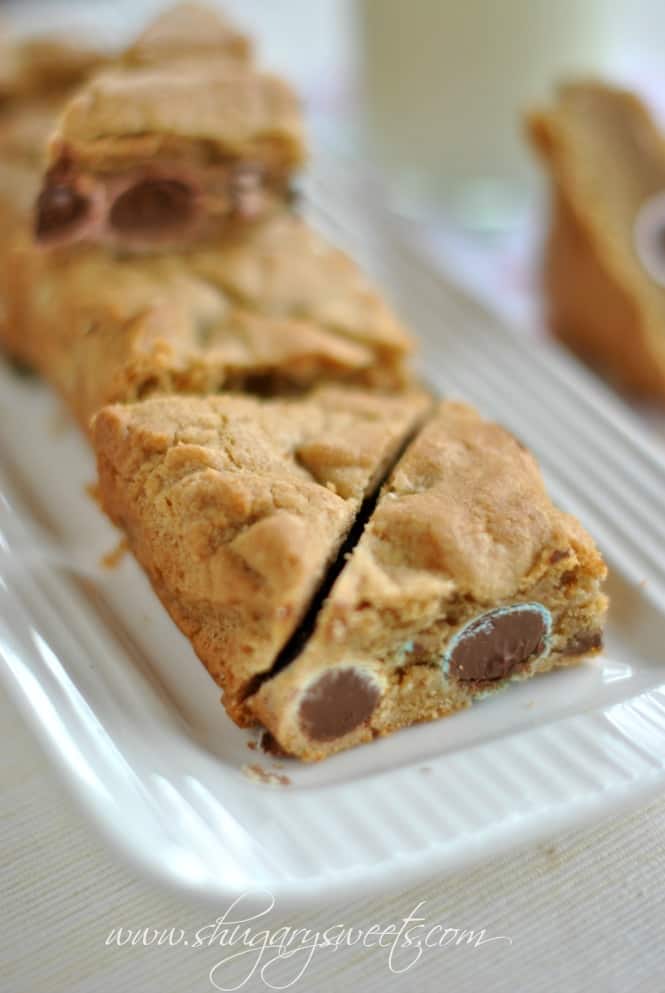 Ingredients for Blondie Bars
Here's what you need to make delicious chewy blondies:
Brown sugar
Butter – Unsalted and melted
Eggs
All purpose flour
Baking soda
Baking powder
Vanilla
Salt
Eggs
Hershey's chocolate eggs – The candy coated pastel kind, not the ones in a wrapper.
How to Make Blondies
STEP 1. Combine brown sugar, butter eggs and vanilla in a large mixing bowl. Add flour, baking powder, baking soda and salt.
STEP 2. Fold in pastel eggs. Line a 9 inch square baking dish with parchment paper. Press dough into pan.
STEP 3. Bake in a 350 degree oven for 35-40 minutes. Remove and cool completely. Cut into 16 bars. If desired, cut each bar in half to form a triangle. ENJOY.
That's it! So easy, so colorful, so tasty.
Best Blondie Recipe
Blondies are easy to make an so adaptable to all kinds of add ins and toppings. This recipe makes perfect blondies for any time of year, not just Easter!
You can skip adding the eggs altogether for a straightforward basic blondie, or substitute with another chocolate coated candy. Here are some other delicious ideas to add to your blondies:
Chocolate chips – Milk chocolate, dark chocolate or semi-sweet
Peanut butter cups – Mini sized or full sized chopped into pieces
M&Ms – Red and green M&Ms turn these into holiday treats!
Reese's pieces
Peanut butter chips
Butterscotch chips
White chocolate chunks (with or without and macadamia nuts!)
Get creative and have fun making your own crowd pleasing blondies!
Storing Blondie Bars
I keep my cut blondies bars in an airtight container at room temperature. They'll last about a week, but mine always disappear within a day or two because we love them so much.
Can you freeze blondies?
Yes! These bars freeze beautifully. Cut into bars, then freeze with sheets of wax paper between layers of bars to keep them from sticking together. Let thaw and enjoy.
Looking for more ideas for great blondie bars to make all year long? Try these Pecan Pie Blondies and these Nutella Swirled Blondies next.
Prefer a dark chocolate brownie? I've got ya covered! Milky Way Double Fudge Brownies should do the trick in satisfying your cravings!
Chocolate Zucchini Brownies are the decadent chocolatey way to use up that garden squash.
Blondies made with love are extra appealing with the addition of chocolate Easter eggs! Make these for your next springtime party or as the finale for your family's Easter dinner .