This Puppy Chow tastes like your favorite Girl Scout Thin Mint cookies! With the classic powdered sugar coating and a chocolate mint twist, Thin Mint Puppy Chow will satisfy your Girl Scout cookie cravings all year long.
Do you call these treats "puppy chow" or "muddy buddies"? I've loved Puppy Chow for almost as long as I've loved Thin Mints. This recipe takes both comfort foods and combines them into one. For more flavors, try our cherry puppy chow next!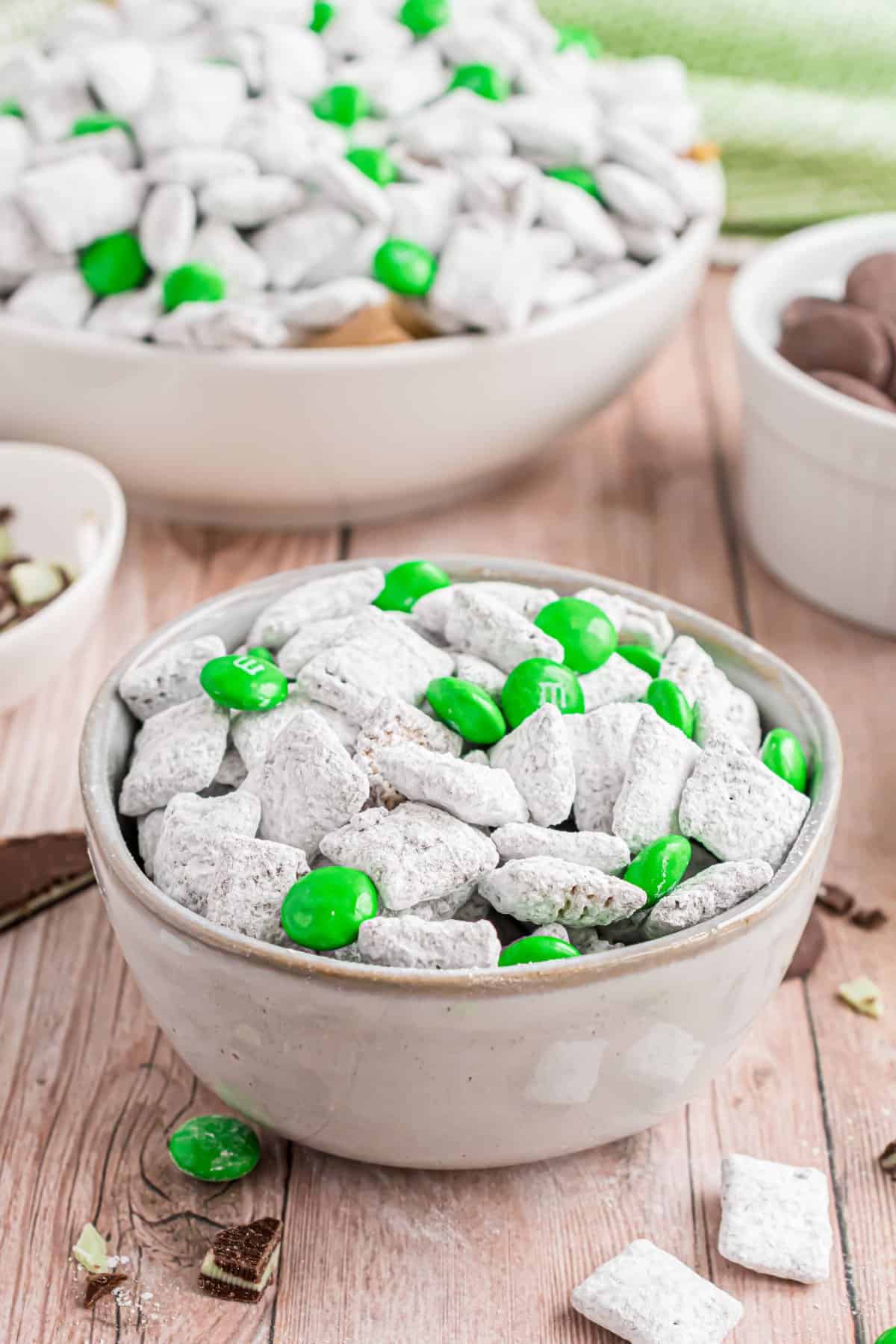 The Best Puppy Chow
Don't worry–no thin mint cookies were harmed in the making of this recipe!
After snacking on several (okay, maybe several DOZEN) handfuls of Thin Mint Puppy Chow, I think I'm ready to declare that I like it even more than the original version.
The minty chocolate adds the perfect balance to all the sweetness from the powdered sugar.
I love the color of green M&Ms against the white sugar coated chex cereal too!
Did I mention this recipe happens to be Gluten Free? If you can't have gluten and have been missing your Thin Mints fix, this recipe is a great alternative.
Crunchy cereal + chocolate + mint = a sweet snack that tastes JUST like the Girl Scout cookies. You should always have some easy dessert recipes up your sleeve! We've got plenty of no bake desserts to choose from too!
Ingredient Notes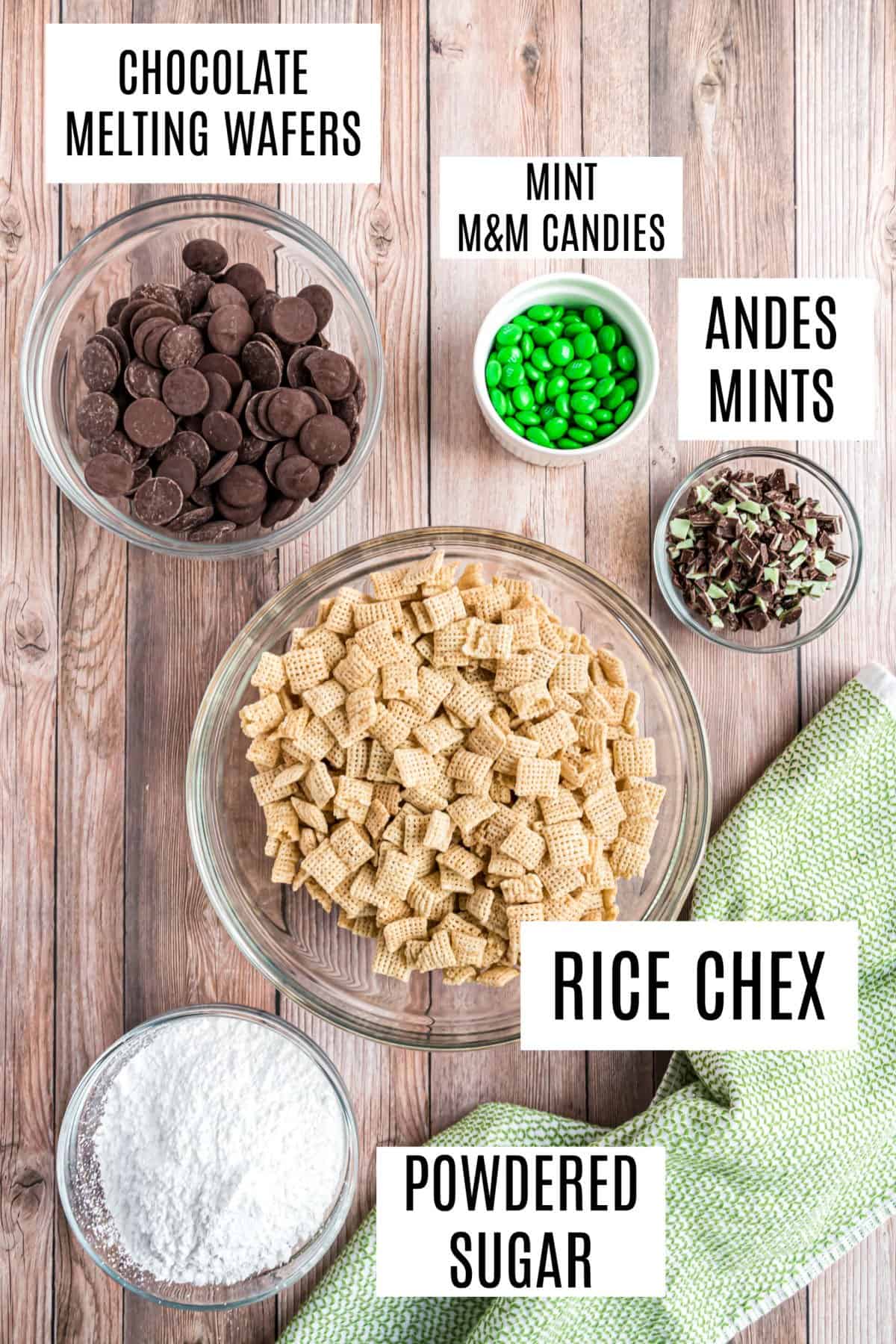 Along with the familiar puppy chow players of rice Chex squares and powdered sugar, you need these ingredients to make Thin Mint Puppy Chow.
Mint flavored chocolate – chop up some Andes mint candy for today's recipe, or use the Andes baking bits if you can find them!
Regular chocolate melting wafers – Ghirardelli are my favorite!
Mint M&M Candies
Easy Instructions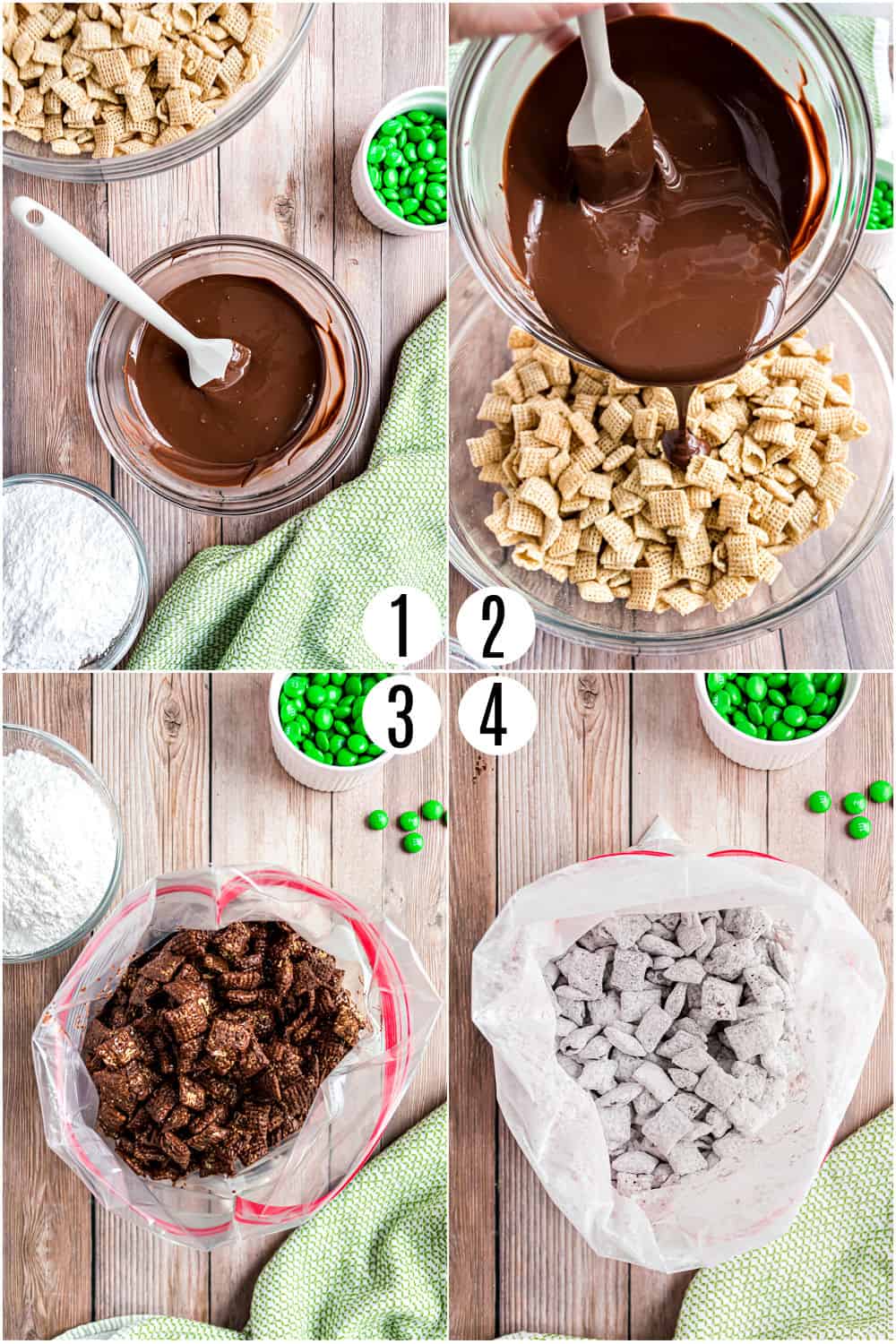 Melt the chocolate
Start by melting the regular chocolate wafers with the Andes mints in the microwave. I stirred after every 30 seconds and continued heating for a total of about 2 minutes (until the chocolate is smooth and combined).
2. Mix with cereal
Toss the cereal with the melted chocolate. Transfer to a large plastic bag, then add the powdered sugar and shake until all the cereal is well coated.
3. Set & Serve
Pour the puppy chow onto a baking sheet and let it sit until the chocolate is set (no longer melty). Combine the M&Ms with the puppy chow and serve in bowls or transfer to a container for storing.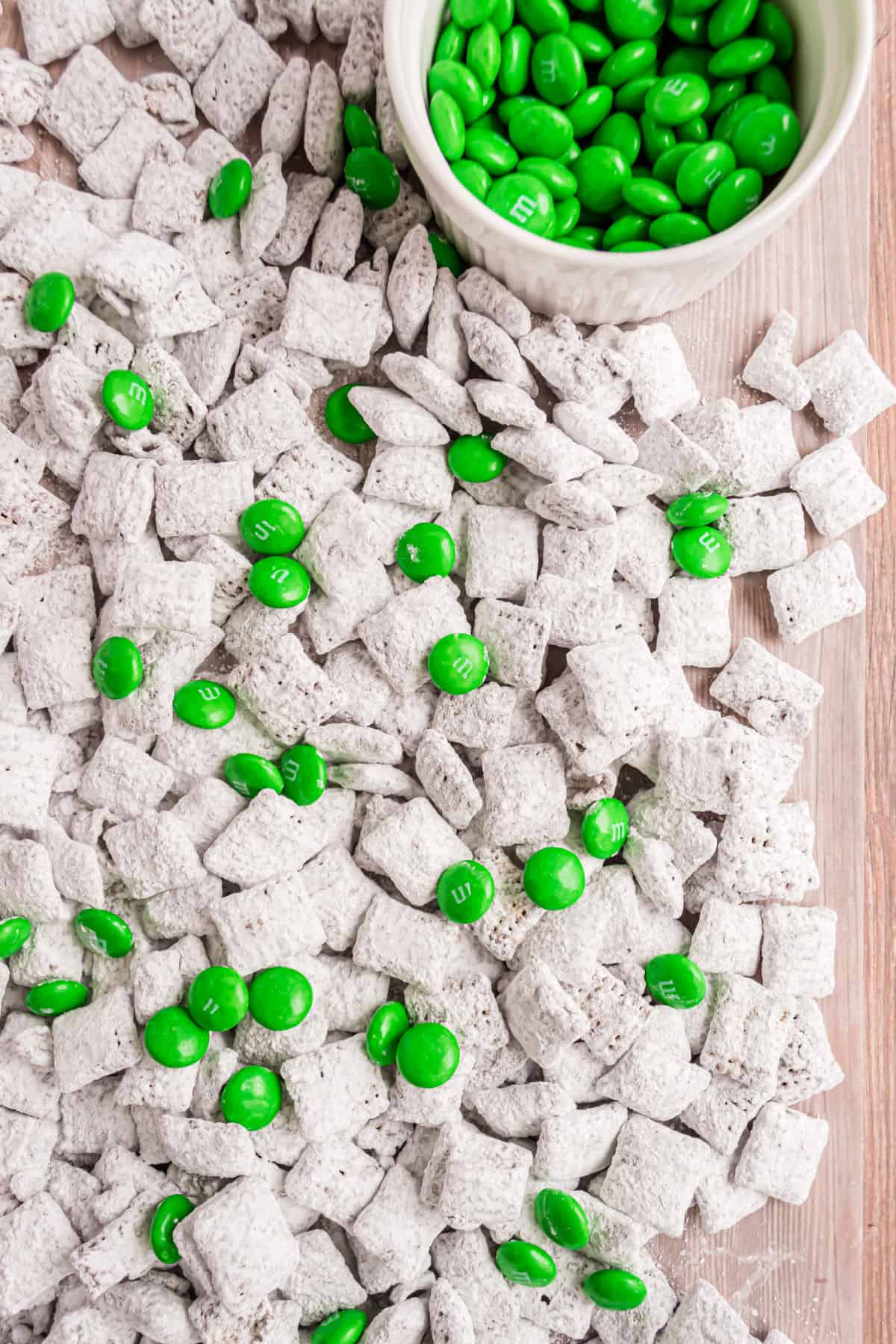 Tips & Tricks
Line your baking pan with parchment paper. Before transfering the chocolate and powdered sugar covered concoction to the sheet to set, line the baking pan with parchment paper. This makes clean up so much easier and keeps the cereal from sticking.
Use good quality chocolate. The chocolate is the prominent flavor in this recipe, so use a chocolate you'd enjoy eating on its own. I love Andes Mint Chocolate bars and Ghirardelli melting wafers to make puppy chow.
Storing: I keep my puppy chow in an airtight tupperware container or a ziploc plastic bag. It'll keep well for a week or two, but mine always disappears within a day or two. My family can't get enough.
Recipe FAQs
Can I use Crispix cereal or corn chex instead of rice chex?
Yes, you can use Crispix or Corn chex cereals instead of rice chex in this recipe.
What's the difference between muddy buddies and puppy chow?
There's no difference between muddy buddies and puppy chow! While I believe the name "muddy buddy" was the name of the recipe on the Chex cereal box and "puppy chow" was on the Kellog's Crispix box first, the names are now used interchangeably.
Can you make this ahead of time and freeze it?
I do not recommend freezing puppy chow. The cereal will become mushy and the texture and flavor will suffer. Thankfully, puppy chow is super quick and easy enough to make anytime you have a craving.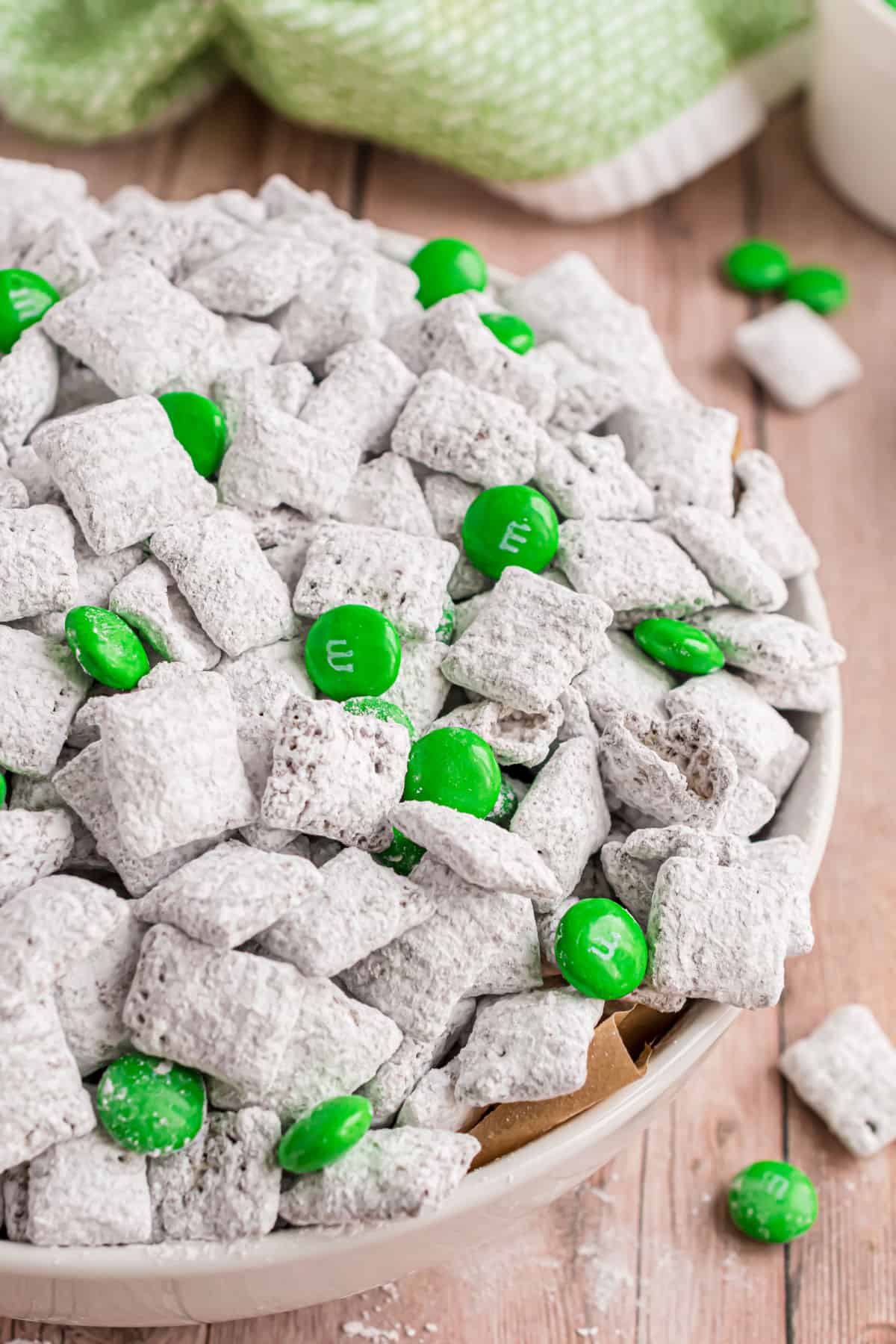 More Easy Dessert Recipes
Everything you love about Thin Mints mixed into muddy buddies! Make this Thin Mint Puppy Chow and you'll be amazed by how much it tastes like your favorite Girl Scout cookie!