Butterfinger Fudge Cookie Bars are peanut butter cookies, topped with a soft chocolate fudge layer and crushed Butterfingers. You're going to want to make these…trust me!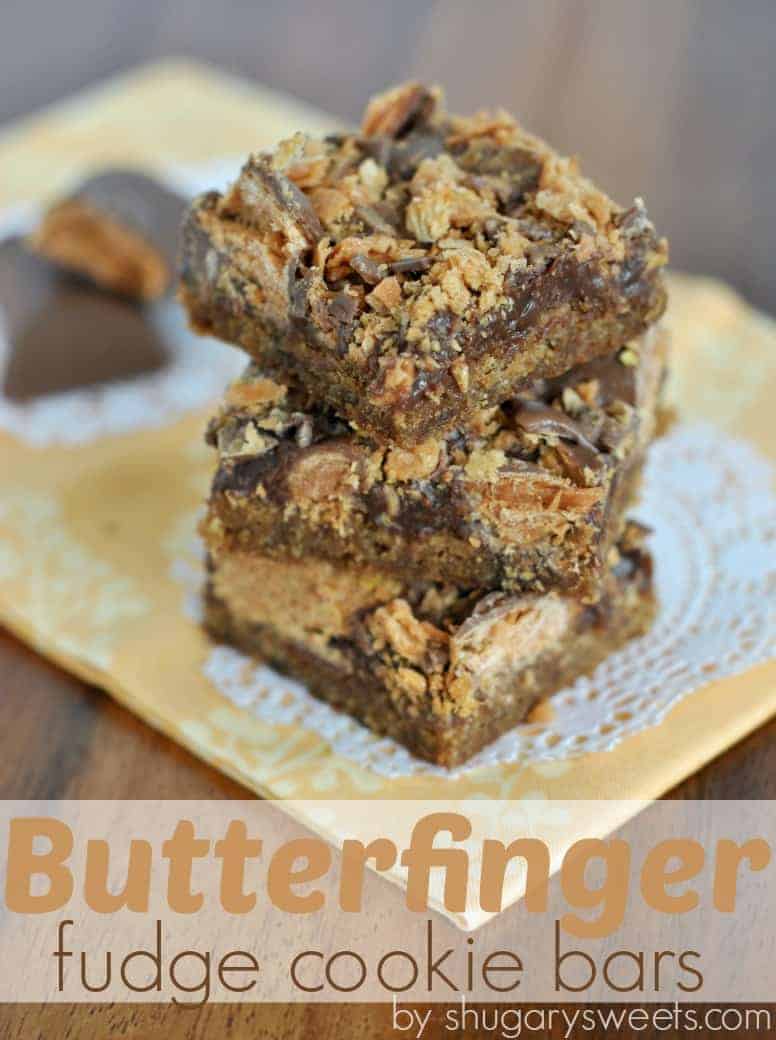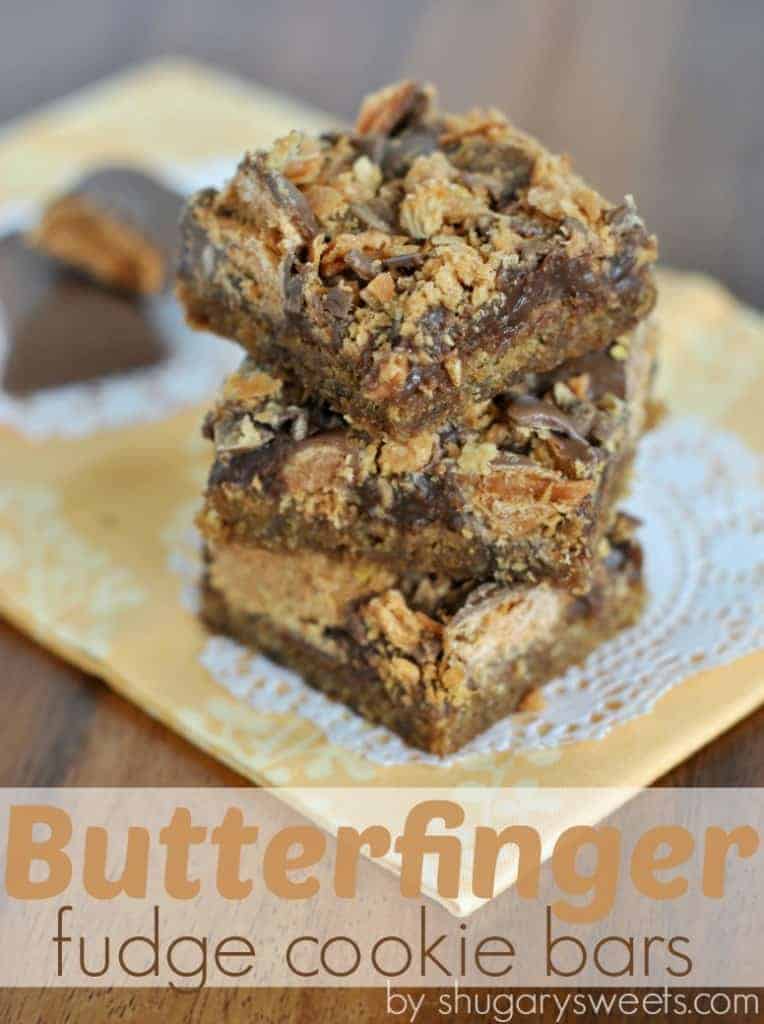 Click HERE to save recipe to Pinterest!
When I was a kid I used to hoard Butterfinger bars. I would trade half of my candy on Halloween to my brothers and stock up on Butterfingers.
Growing up, I would ask for a Butterfinger most times in the check out lanes while grocery shopping with my mom.
Then, I moved on to trying everything else in the check out and I no longer chose the same thing. And it wasn't until years later as an adult that I started buying myself Butterfinger bars again. They are delicious.
I have a shelf (or two) in a our pantry that is off limits to the kids. They are not allowed, under any circumstance, to touch any food on this shelf. And it's such a teasing shelf, piled high with Reeses and Snickers and chocolate chips. And Butterfingers.
Last week I was cleaning out my pantry, like seriously taking everything out, checking expiration dates, and REALLY cleaning it. Know what I found? 3 bags of mini Butterfinger bites, 6 King Size Butterfinger Bars and 2 Butterfinger crunch bars.
Seriously. Totally forgot they were piled up in the back of the pantry. I have come full circle and found myself hoarding Butterfingers once again. I knew I had to do something about them. Besides eat them out of the package (well, the crunch bars were begging to be eaten).
That's where these Butterfinger Fudge Cookie Bars came into play. Piled on top of a peanut butter cookie is a layer of decadent chocolate fudge and crushed Butterfingers.
How to make Butterfinger Fudge Cookie Bars:
Start by making your peanut butter cookie dough. Homemade is best, but if you're in a hurry you can use the refrigerated peanut butter cookie dough from the grocery store! (you'll need the big 30 oz package…or two small ones)
Press the cookie dough into your baking sheet. You'll need a 15x10x1-inch pan. Bake in oven (either following recipe below or package). Remove and continue directions.
For the fudge layer, combine your sweetened condensed milk with chocolate chips and melt it (whether on the stovetop or in the microwave, at 30 second intervals). Pour this over the cookie layer, and spread evenly (not quite to the edges of the pan though). It's okay of the cookie bars are still warm.
Sprinkle with crushed butterfingers. Whether you are using the bites, full size bars, or minis….smash em and sprinkle em. Refrigerate to set it quickly. Slice and enjoy.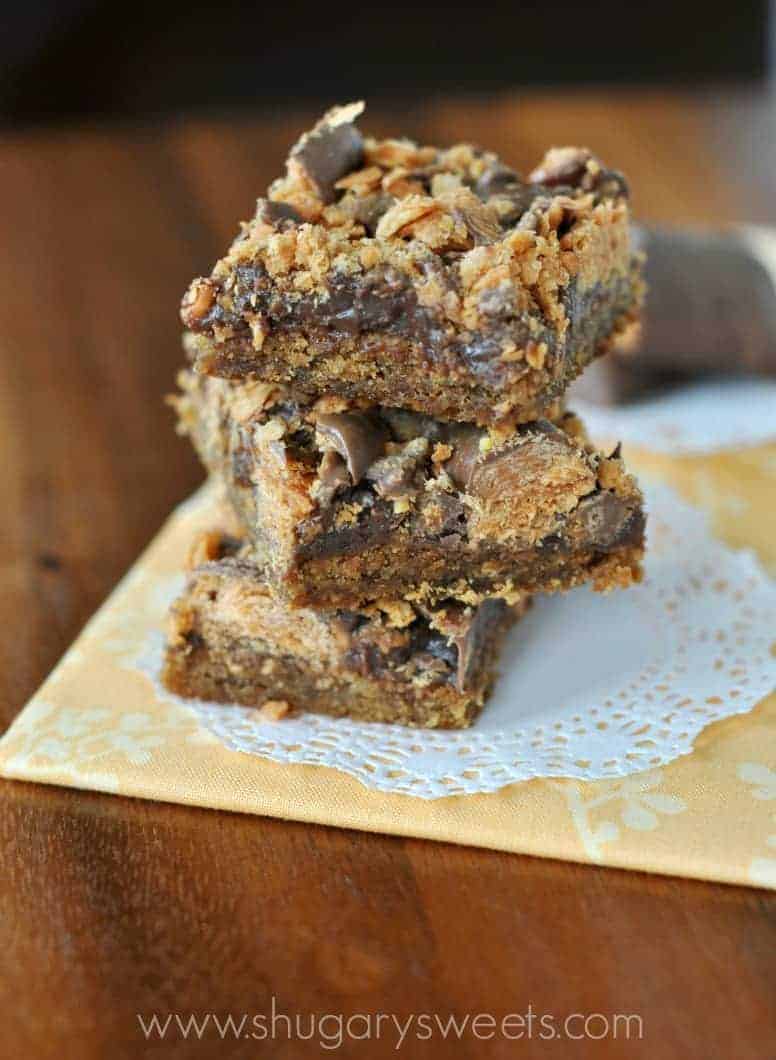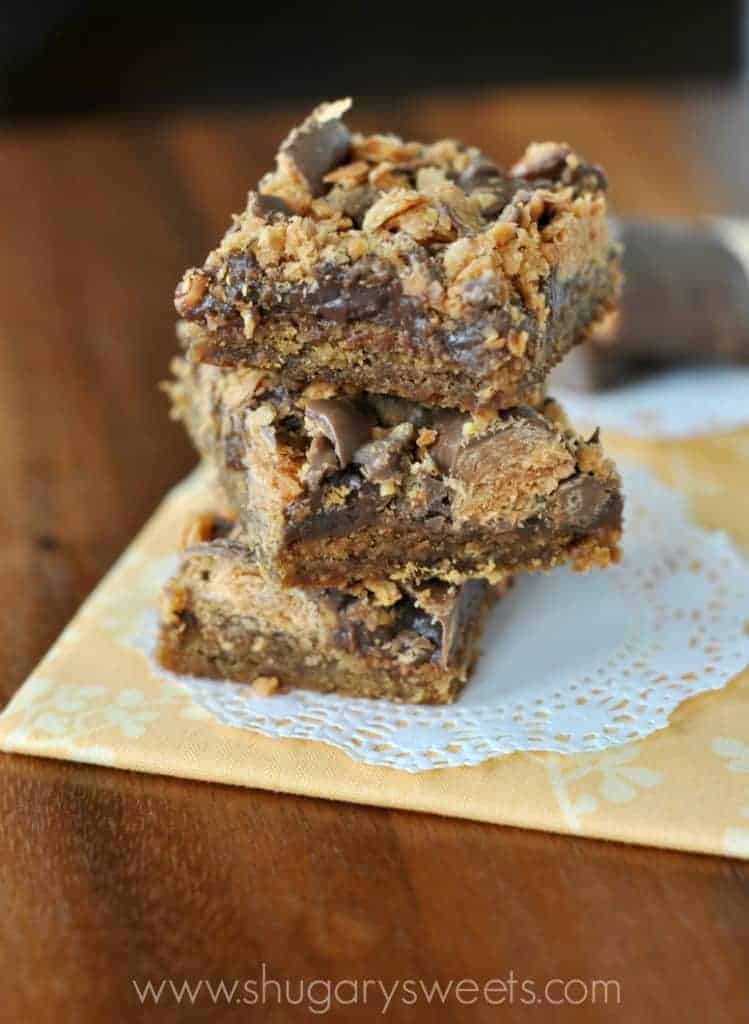 Some of my favorite cookie bars on this blog involve candy.
Whopper Cookie bars are a malted cookie crust topped with fudge and crushed malt balls. Chubby Hubby Cookie Bars have a malted milk crust too topped with fudge, peanut butter and chocolate covered pretzels. Today's recipe is a twist on those two favorites cookie bars of mine.
Now…time to find something to do with the 4 bags of mini Rolos……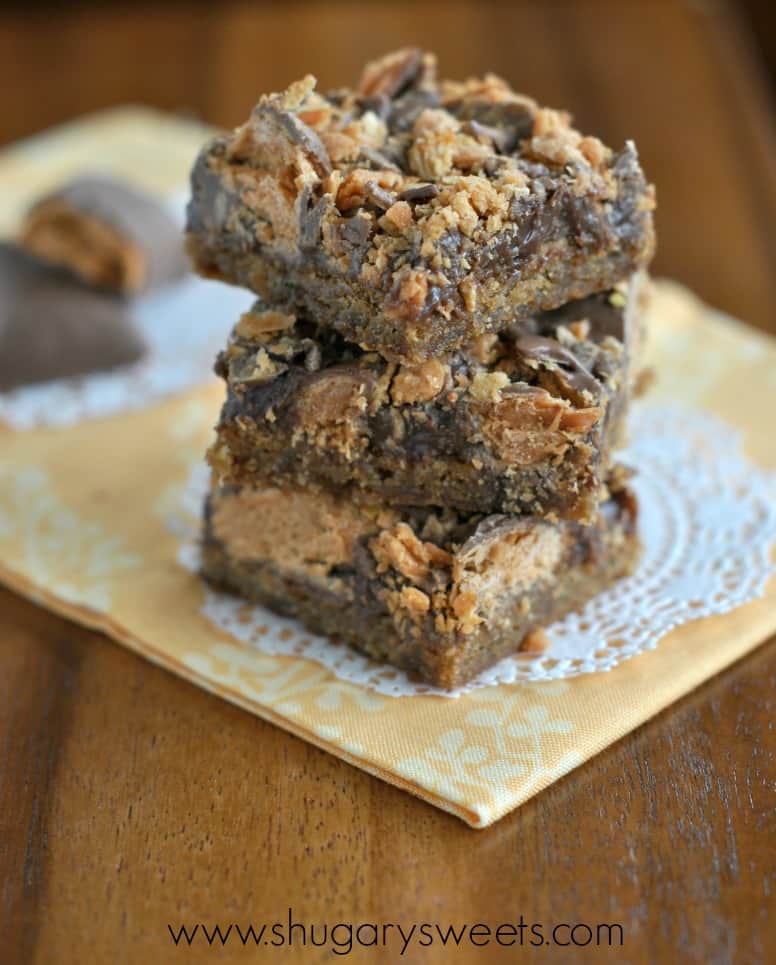 In my obsession with Butterfingers, I've made few desserts over the past few years.