Chocolate Chip Zucchini Cupcakes are so moist and fudgy, you'd never guess there's a vegetable hiding inside! Easy to make with easy ingredients and a rich chocolate frosting, this zucchini cupcake recipe is an instant hit.
When your garden is overflowing with the green squash, it's time to make Chocolate Zucchini Brownies, Lemon Zucchini Cake and these chocolate chip cupcakes!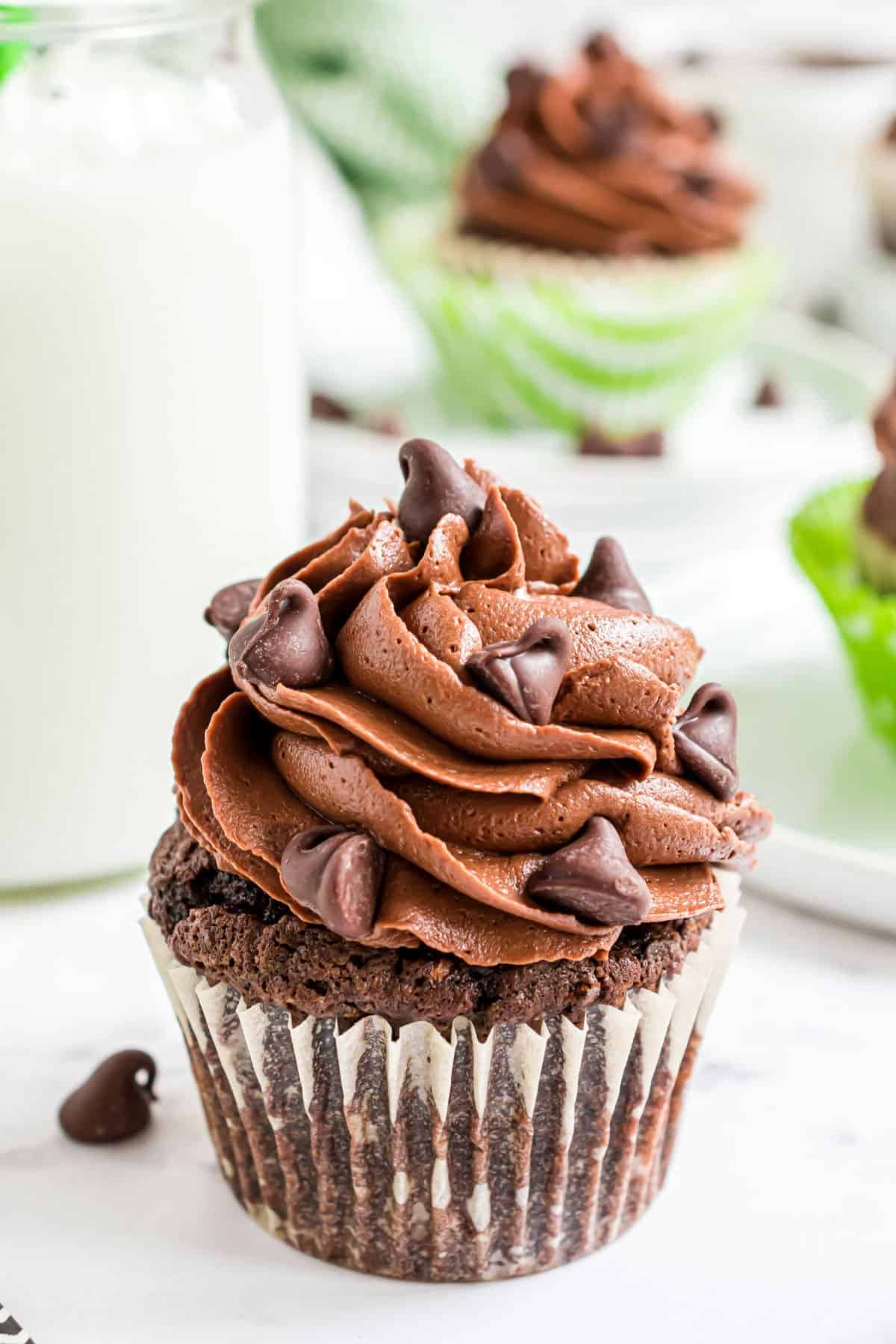 Why These Cupcakes are Best
Make a big batch of these Chocolate Chip Zucchini Cupcakes when zucchini are in season. Enjoy a few right away and freeze the rest so you can enjoy amazing chocolatey zucchini cupcakes all year long!
Zucchini keeps these cupcakes moist and fudgy, even days after baking.
The chocolate frosting on top gives them the perfect touch of decadence.
No one will ever guess these are cupcakes made with vegetables.
They freeze beautifully!
Adding zucchini to desserts goes beyond a classic zucchini bread. You can make zucchini crumble and even chocolate chip zucchini cookies!
Ingredient Notes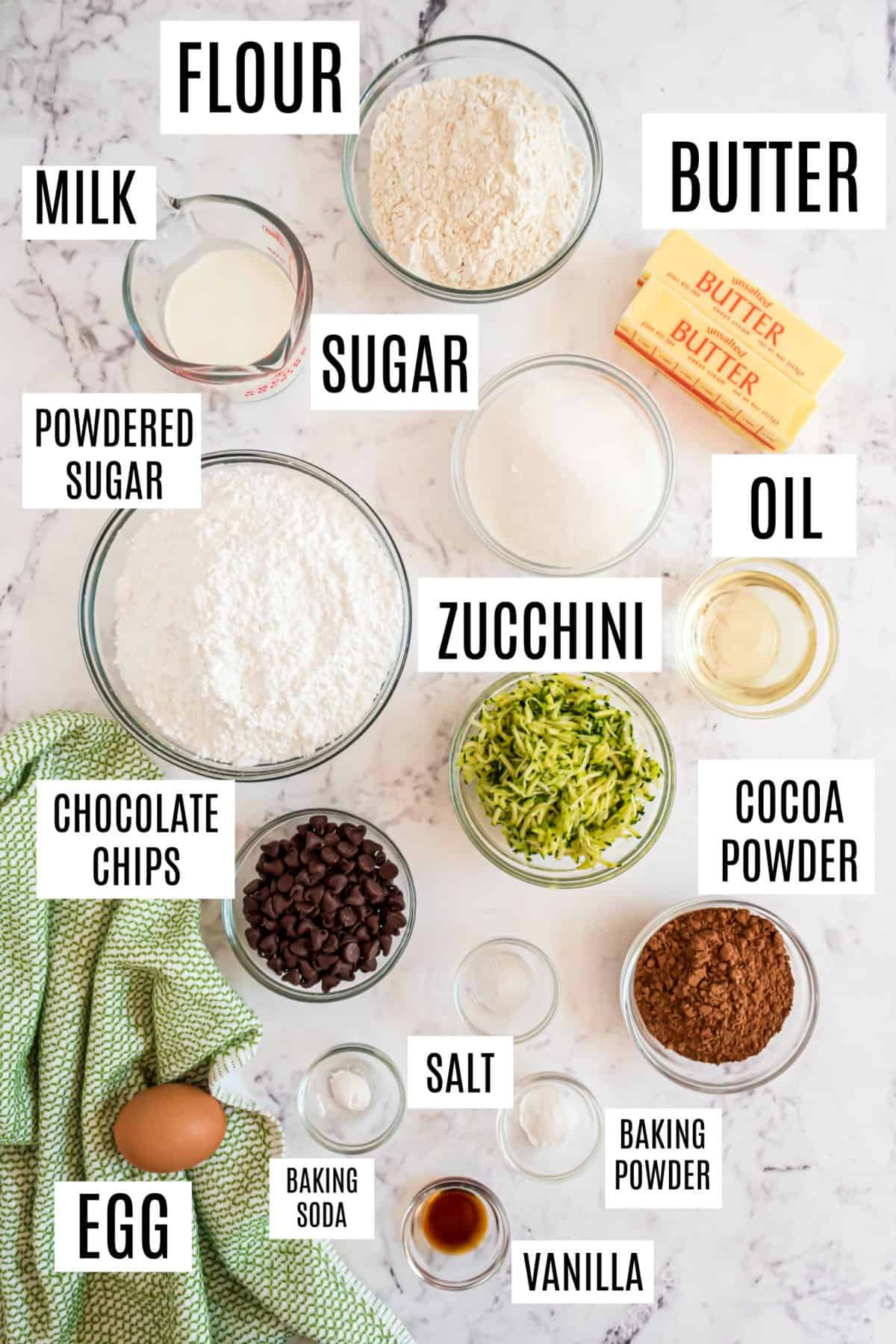 The cupcake batter in this recipe includes familiar baking staples like flour, sugar and eggs.
Vegetable oil gives the cupcakes their fudginess. The high smoke point and neutral flavor makes it ideal for baked goods.
Zucchini is our not-so-secret ingredient! Here's a step-by-step guide for how to shred zucchini for these cupcakes.
Vanilla Extract heightens the chocolate flavor. I used my homemade vanilla extract but store bought is more than fine too.
Milk thins the thick fudgy batter to the perfect consistency. You can use any milk you have on hand.
Cocoa powder – I recommend a high quality cocoa powder such as Ghirardelli or Guittard brands. The cheaper cocoa doesn't taste nearly as delicious!
Chocolate chips – We used semi-sweet morsels inside the cupcakes and as a garnish on top. Buy extra so you can make a batch of chocolate chip brownies next!
Tips and Tricks
I've made what seems like hundreds of batches of cupcakes by now, so I've learned a thing or two!
Keep these tips in mind to make the BEST Chocolate Chip Zucchini Cupcakes.
Do not over fill the cupcake liners. Unlike muffins, cupcake tops should be relatively flat so that you can add frosting evenly on top. The liners should be no more than ⅔ full.
If your batter is dry…let the batter sit for about 10-15 minutes after adding the zucchini. This gives it time to set and allow the moisture of the zucchini to come out into the batter.
Let the cupcakes cool COMPLETELY before you add the frosting. I know you'll be excited to taste them but resist the urge to pipe on the frosting too soon. Warm cupcakes will turn the frosting into a goopy, runny mess.
Sprinkle extra chocolate chips on top. The garnish looks great and who doesn't want more chocolate in their life?
This recipe makes a lot of frosting. Be prepared to have leftovers!
Frosting Suggestions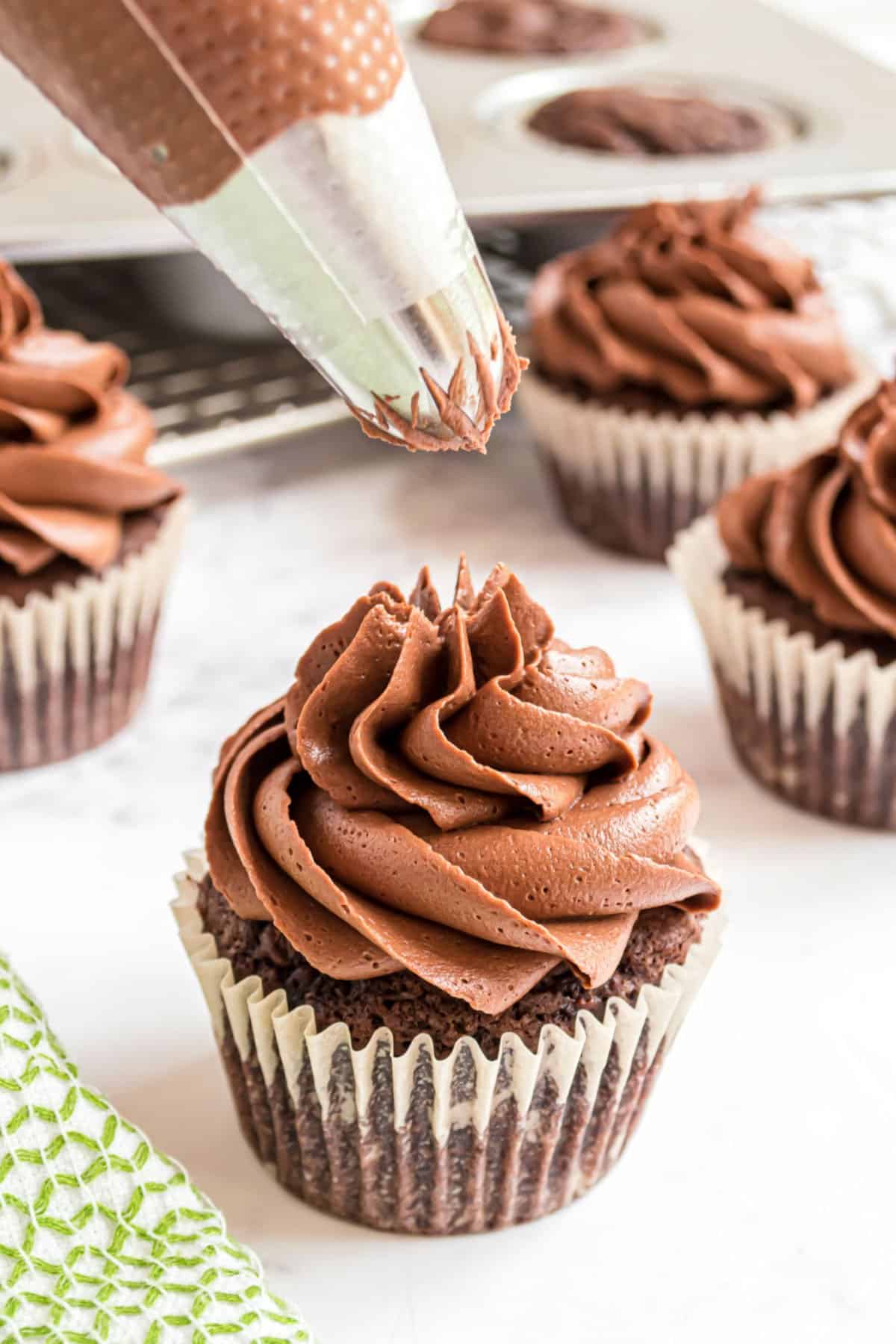 Wondering what to do with all that leftover frosting?
Aside from eating it straight out of the bowl with a spoon, there are countless ways to enjoy the rich chocolate buttercream.
Freeze it. Transfer the frosting to an ziploc freezer bag and freeze for up to 3 months. The next time you make a batch of cupcakes or cake that needs frosting, you'll be prepared!
Cookie sandwiches. Spread a layer of frosting between two cookies for an easy impressive dessert.
Cake balls. Roll this frosting with cake crumbs and dip them in melted chocolate for easy cake truffles or cake pops!
Brownies. Everyone loves our homemade frosted brownie recipe!
At the end of the day, I'm never sad to have a little extra frosting on hand.
I get it, though. Sometimes you don't want to hassle of having to figure out what to do with leftover frosting.
If that's you, feel free to cut the recipe for the chocolate frosting in half. You will end up with just enough to pipe a generous layer of buttercream onto 18 chocolate chip zucchini cupcakes.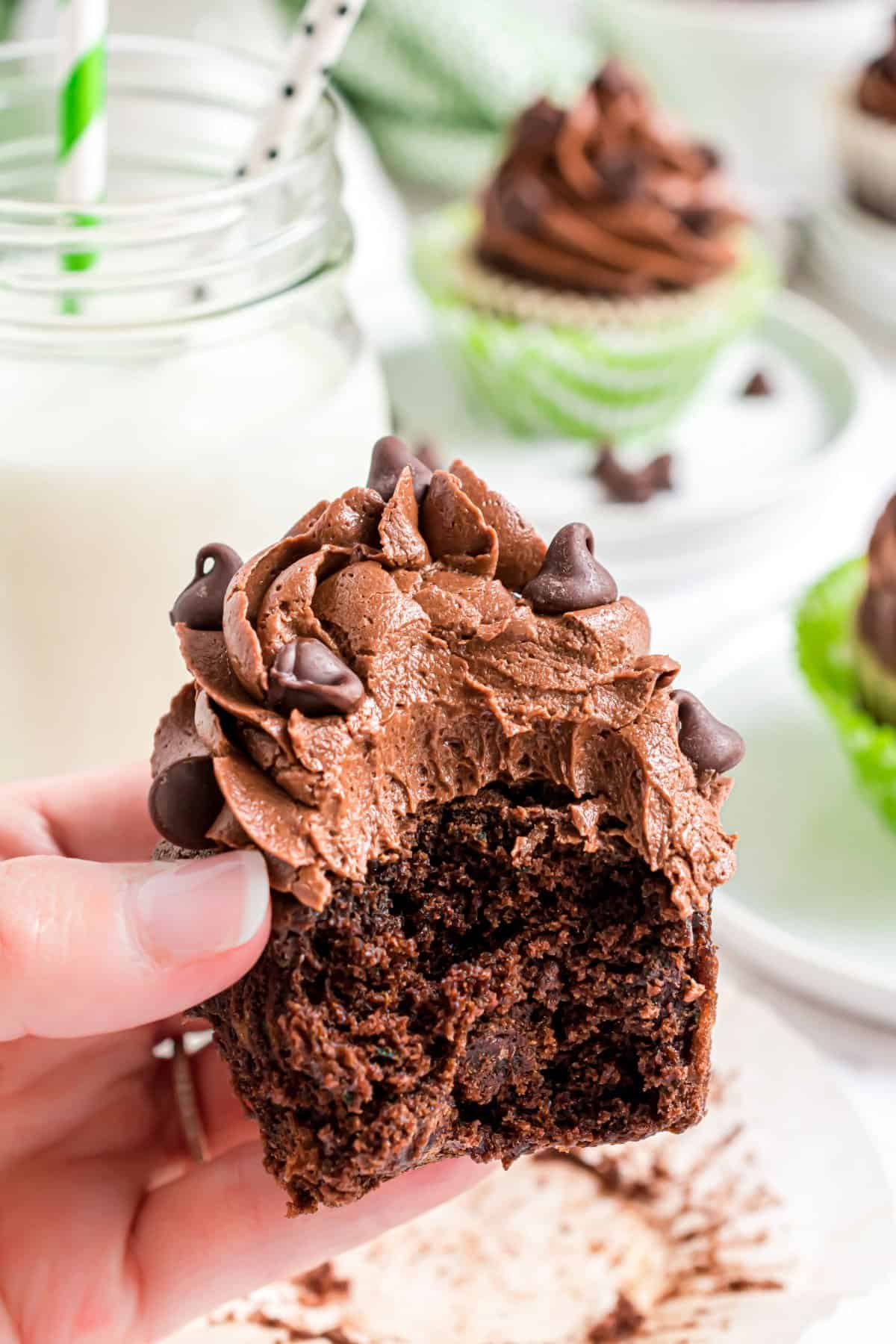 Recipe FAQs
How long do zucchini cupcakes keep in the freezer?
Stored in an airtight container, these will stay good for about 3 months in the freezer.
Should I freeze them with our without the frosting?
You can do it either way. I prefer to freeze them without the frosting because the frosting looks better when it's piped on fresh.
Do these cupcakes need to be refrigerated?
Our Chocolate Chip Zucchini Cupcakes do not need to be kept chilled. If you're not freezing them for longer storage you can keep them at room temperature.
Stored tightly covered, they will stay good for about 5 days.