I love Kit Kat candy bars so much, I created these bite sized treats to enjoy anytime! I love creating copycat recipes of my favorite foods!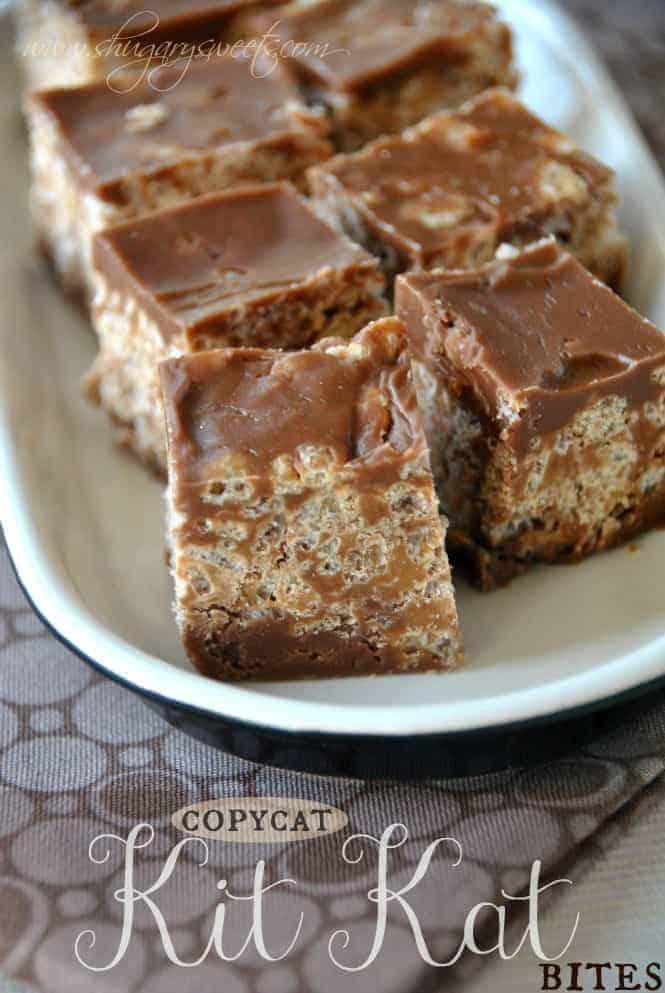 Or should that be Kit Copy Kat? Homemade Kit Kat bites taste so much like the candy bars I've loved since I was a kid and are surprisingly easy to make in your own kitchen.
I was recently asked to create some Kit Kat inspired fudge. I'm always up for a good challenge!
I'm also always up for making chocolate fudge, and my family has no complaints about helping me taste test new fudge ideas.
On the off chance you're not familiar with Kit Kat bars: They're crispy wafers dipped in milk chocolate and oh so delicious. I love the crunchy crispy cookie wafer inside the velvety chocolate.
When I set out to make a homemade Kit Kat recipe, my first challenge was what to do about those wafers. I have bought wafers online before, but since they aren't readily available, I decided to find an alternative. I wanted to create these Kit Kat Bars with ingredients you can find anywhere.
Rice Krispies were meant for this challenge. They are light and airy and create the perfect crunch!
And with my Rice Krispie Treat addiction, I'm almost never without rice cereal in my pantry.
Lucky for me–and for you if you make these–rice krispies were the perfect wafer substitute. The crispiness of the candy was just right and the flavor almost identical to the original Kit Kat. Success!
The little Kit Kat inspired treats came together so easily without any baking required! In the end, I decided to call them "Kit Kat Bites" instead of fudge because they really are more like a candy Bar than a fudge.
Homemade Kit Kats are a no-bake kid approved dessert that I know you're going to love.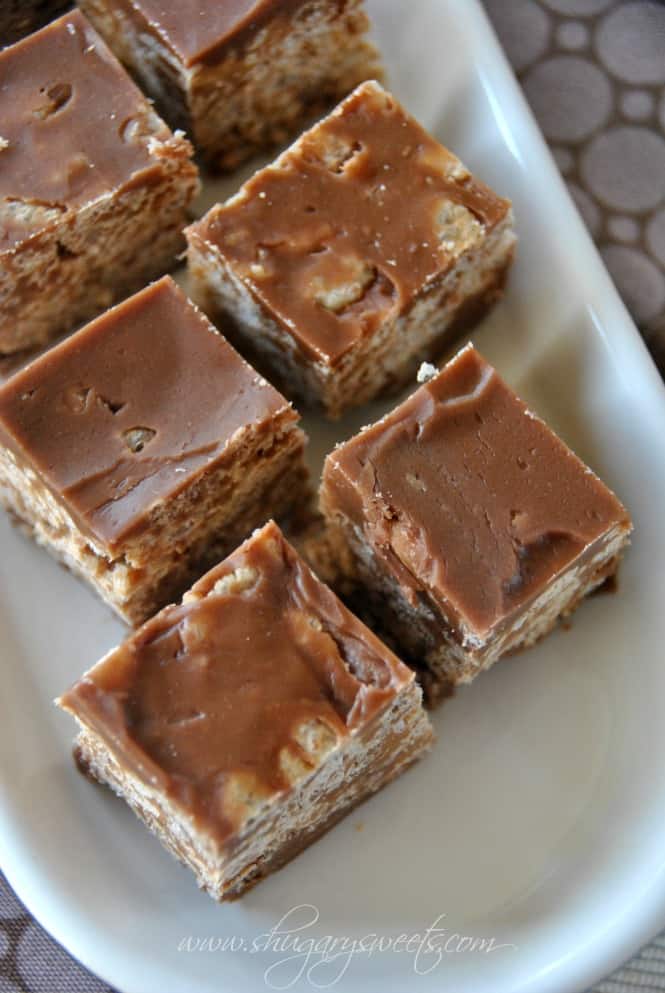 What you'll Need
Here's what I used to make my homemade Kit Kat bites:
unsalted butter
heavy cream
sugar
marshmallows
milk chocolate morsels
unsweetened baking chocolate
rice krispies cereal
butterscotch morsels
peanut butter morsels
To make the Kit Kat bar bites:
Before you start cooking, combine the marshmallows with milk chocolate morsels and the baking chocolate. Set this combo aside in a large mixing bowl.
STEP 1: In a large pot, bring to a boil the sugar, cream and butter over medium high heat. Once boiling, continue to boil for 4 minutes, stirring constantly, then remove from heat.
STEP 2: Pour hot mixture over marshmallows and chocolate. Using an electric mixer, beat until chocolate has melted and mixture is smooth. This took about 2 minutes for me.
STEP 3: Melt butterscotch and peanut butter morsels together in microwave bowl for one minute. Stir and heat at 30 second intervals until fully melted. In a large bowl, combine rice cereal, melted butterscotch and about 1/3 of the chocolate mixture. Mix completely.
STEP 4: In a parchment paper lined 13×9 baking dish, pour a third of chocolate mixture onto bottom, spreading with a knife until bottom of dish is covered. Top with cereal mixture. Press firmly. Pour remainder of chocolate mixture over cereal, spreading with a knife.
Allow the Kit Kat bar to set up in refrigerator, about 1-2 hours. Remove and cut into bite sized pieces. ENJOY!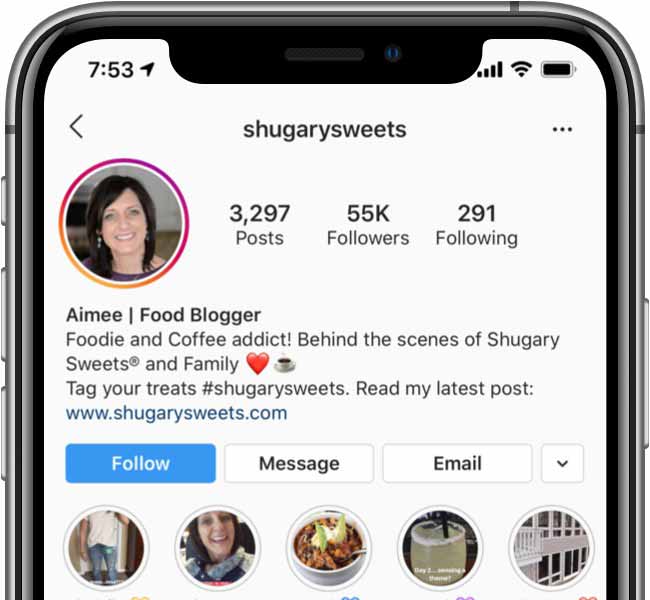 Aside from being a great copycat of Kit-Kat bars, this homemade candy is just plain delicious! My kids and I couldn't resist snacking on these all week long. That combo of crispy, sweet and chocolatey is hard to beat!
Recipe Notes
I stored the Kit Kat bites in a tupperware container in the fridge. They stayed wonderfully crispy even a few days later!
Use a a very sharp knife to cut these bars! You want smooth and even edges. Your go-to knife for cutting Rice Krispy Treats will work well here, too.
Keep an eye on the butter and sugar while it's boiling! Spilled over boiled sugar makes for a sticky mess.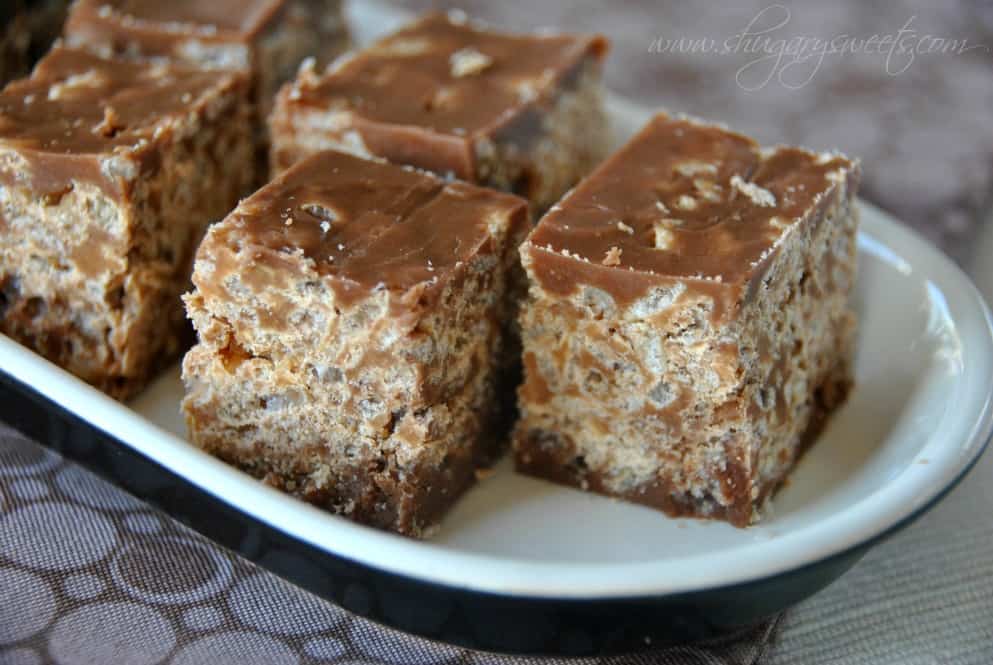 More Copycat recipes
Little Debbie Oatmeal Cream Pies: these are spot on to the store bought version! Only better cause they are home made!
Panera Cobblestone Muffins: delicious, dense apple raisin muffins…these are just so good!
Strawberry Toaster Struedel: these don't actually go in the toaster, but they are even more delicious than the original!
Portillo's Chocolate Cake Shake: chocolate cake, frosting, and ice cream…trust me on this one!
Chipotle Barbacoa and Cilantro-Lime Rice: why not make burrito bowls at home? Oh, and did I mention this is a crockpot meal? You're welcome!
Bennigan's Monte Cristo: No need to make your own batter when crescent rolls do the trick! Must try!
A completely satisfying knock off of the brand name chocolate bar, Homemade Kit Kat bites are an easy no-bake treat.