Double Chocolate Oreo Cookies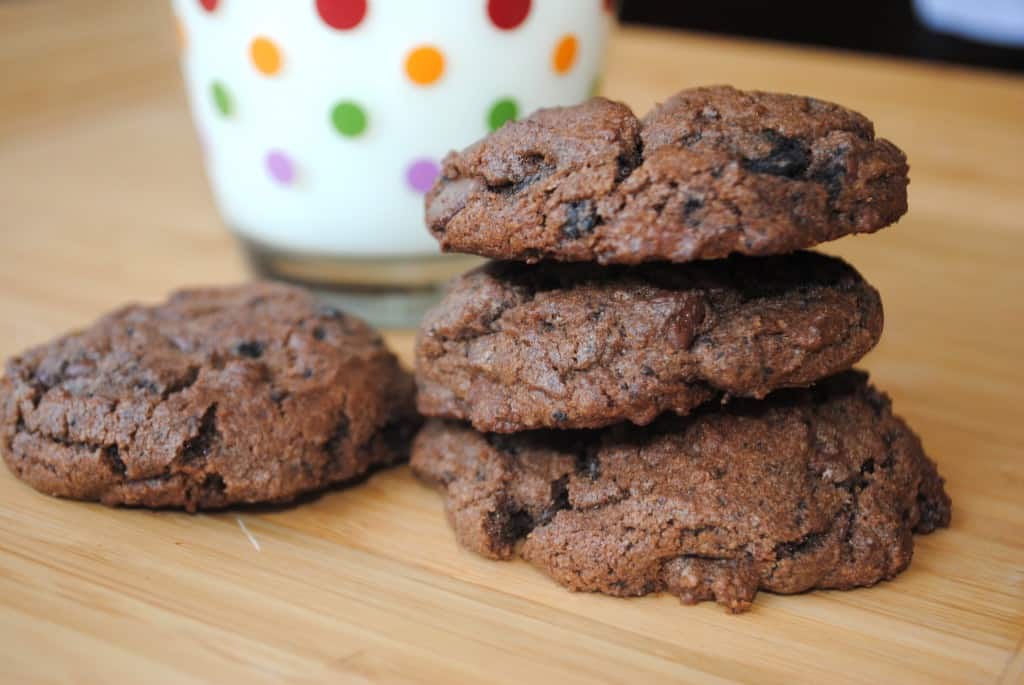 My daughter, Alyssa, asked me to make some chocolate chip cookies last week. Actually what she said was, "mom, could you just make us some regular chocolate chip cookies?" Then she walked out the door to catch a bus. I sat there for a minute trying to understand what she was asking? I posted on facebook, "what does this mean." Is she trying to tell me she doesn't like it when I make unique treats? And what exactly are regular chocolate chip cookies?
This brings me back to last year at swim practice. One of the moms had brought in a batch of chocolate chip cookie bars. The whole ride home, Alyssa reported how good these were and how I need to find out what she used. Now, remember, I thought I had already perfected the chocolate chip cookie years ago, how could this be better?
So, naturally, I asked the mom the next day at practice what recipe she uses for her cookies. She told me it was Nestle toll house ready make cookie dough, pressed into a baking sheet. (anyone remember Friends, the one with Phoebe with her grandmother's recipe???)
Toll house? That's the big craze for Alyssa? So of course I couldn't just make her chocolate chip cookies. I needed to SHOW her that unique is better. So, I made chocolate cookies, with chocolate chips and crushed Oreos. These are not for the faint of chocolate heart. These are serious milk dipping cookies! And, I must report, Alyssa LOVED them.
Double Chocolate Oreo Cookie Recipe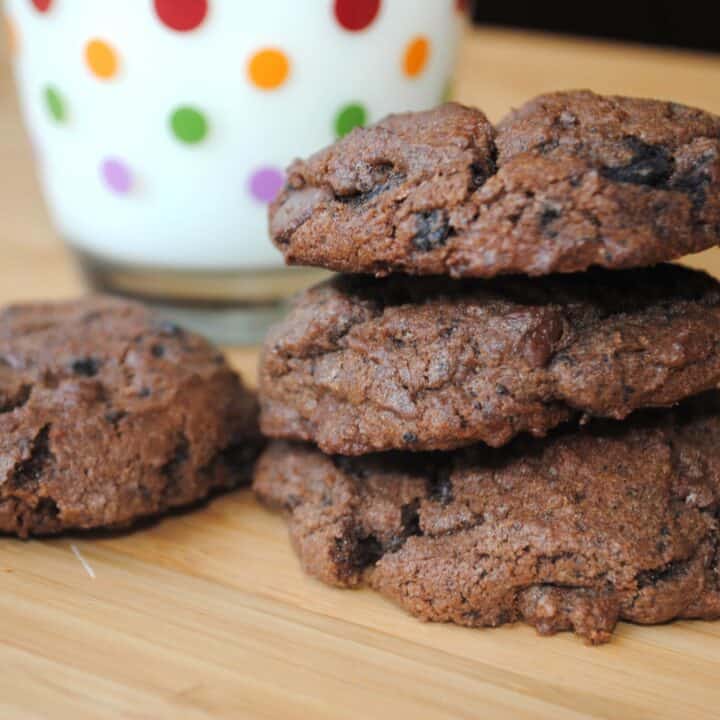 Ingredients
1/2 cup butter
1/2 cup Crisco (butter flavored)
1 cup sugar
1/2 cup brown sugar
1/2 tsp salt
2 eggs
1 tsp vanilla
2 cup flour
1/2 cup unsweetened cocoa
1 tsp baking soda
12 Oreos, crushed
1 1/2 cup semi-sweet chocolate morsels
Instructions
Cream butter, crisco and sugars together. Beat in eggs, salt and vanilla. Mix in the flour, cocoa and baking soda. Fold in Oreos and chocolate chips.
Drop by rounded tablespoon onto baking sheet and bake in a 375 degree oven for 10-12 minutes. Remove from oven (I tap the tops lightly to flatten and get crackled tops). Cool and enjoy!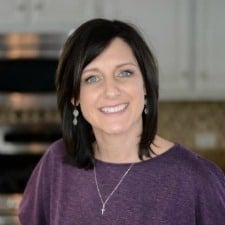 Aimee is a dessert lover (specifically rice krispie treats), workout enthusiast, self-taught foodie, and recipe creator. Her recipes have been featured in over 15 magazines, and her passion is to share her love of cooking with the everyday home cook! Learn more about Aimee.