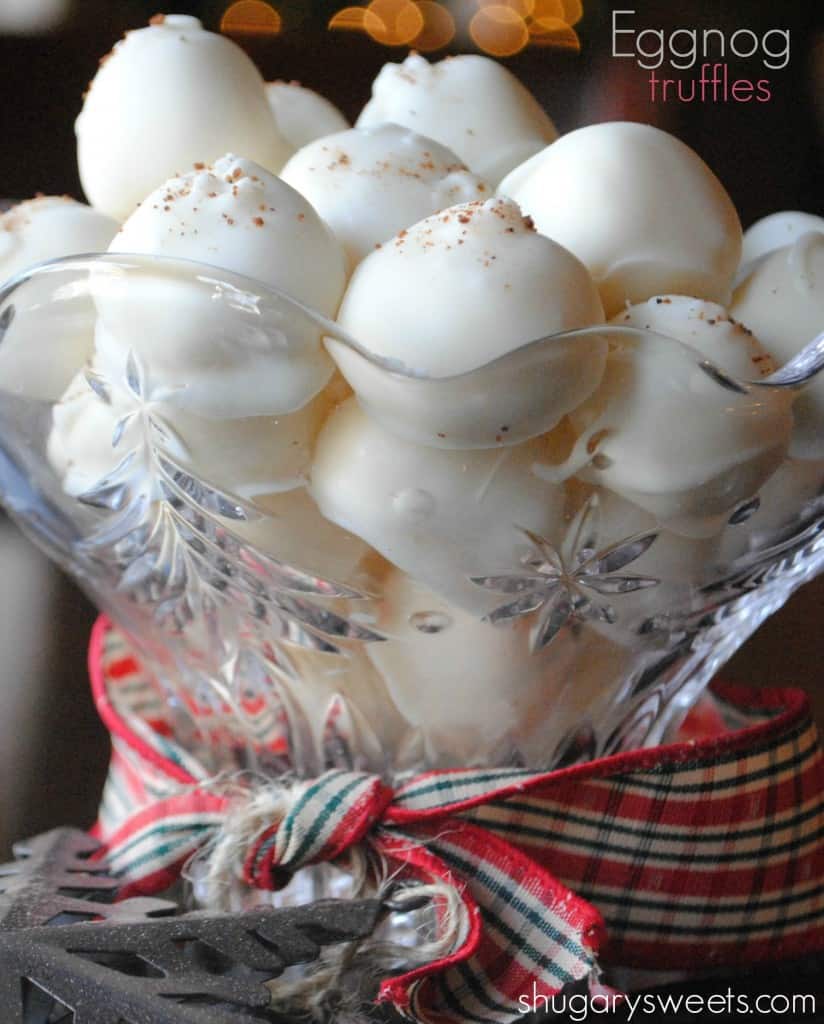 You CAN do this! You MUST do this! Enjoy!
Yield: 6 dozen
Eggnog Truffles
Ingredients
2 cups granulated sugar
3/4 cup eggnog
1/2 cup unsalted butter
1 tsp rum flavoring
1 tsp nutmeg
1 cup marshmallow cream
3 cups white chocolate morsels
2-(16oz pkgs) vanilla candy coating
1 Tbsp nutmeg, for garnish
Instructions
In large pot, bring sugar, eggnog and butter to a boil. Boil for 2 minutes (rolling boil). Remove from heat and mix in rum flavoring and 1 tsp nutmeg.
Pour mixture into a mixing bowl (or use an immersion blender). Add in marshmallow cream and white chocolate morsels. Blend until completely melted and incorporated (took about 1 1/2-2 minutes). Pour into a baking sheet lined with parchment paper. Refrigerate for 1-2 hours.
When set, remove by lifting parchment out of pan and lay on cutting board. Cut into bite size pieces. Roll each piece into a ball and return to cookie sheet. When all truffles have been rolled, put in freezer for one hour.
Melt vanilla candy coating (according to package directions) and put in a deep glass or bowl. Using a toothpick, dip each truffle into melted chocolate, tapping the excess off. Set onto parchment lined cookie sheet.
Immediately sprinkle with a tiny pinch of nutmeg. Repeat for remaining truffles. Allow to set about half an hour in refrigerator. Serve cold and enjoy!
Notes
I like to use Ghirardelli white chocolate wafers for the vanilla candy coating.