Homemade Lemon Cake with a layer of creamy lemon frosting and fresh lemon curd! Delicious and made entirely from scratch, this is one impressive cake.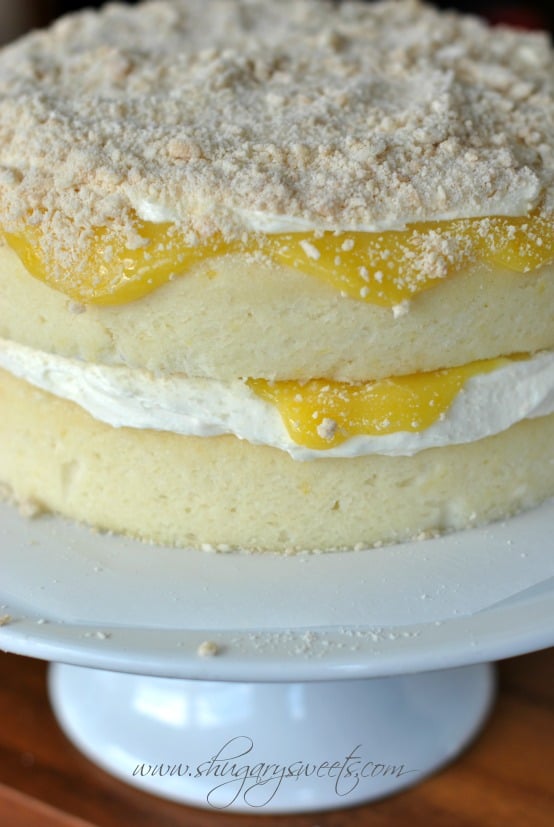 This cake. Words hardly do it justice.
Lemon Cake has a stronghold over my heart. Okay, all lemon desserts do.
Seriously, have I mentioned how much I love lemon desserts? Has it been made clear to you all yet that I would choose a lemon treat over a rich chocolate brownie? Not to say I don't love brownies. Please. I just happen to LOVE LOVE LOVE all lemon desserts.
For instance, the only item on the hypothetical dessert buffet I'd choose over a good lemon dessert is a Rice Krispie Treat. That's because Rice Krispie Treats and I have a bond that goes WAY back. In all other cases, lemon will win out every time.
Olive Garden Lemon Crumb Cake
So, you can imagine that whenever I order dessert at a restaurant, I gravitate toward anything with "lemon" in the name. On those rare occasions I don't over indulge on garlic breadsticks at Olive Garden and save room for dessert, I order a slice of their Lemon Crumb Cake.
After ordering it a few times, I decided I could probably make an even better version of the cake at home.
Oh boy, was I right. This copycat Olive Garden Lemon Crumb Cake is so much better than the original.
Okay, it's not QUITE identical to the Olive Garden recipe. I fancied it up a bit. I pimped it out. I added all the bells and whistles, from creamy lemon filling to extra tangy lemon curd.
Best lemon cake recipe
As a base for this layered cake extravaganza, I made a lemon cake batter from scratch using my favorite lemon cupcake recipe. The batter gets baked into two layers–that way you can add creamy filling and lemon curd in the middle.
How to get level cake layers: The trickiest part of making a layer cake is getting the layers even and level. To do this, I always use Wilton Bake Even strips on my cake pans. Works like a charm. No leveling and cutting the cake!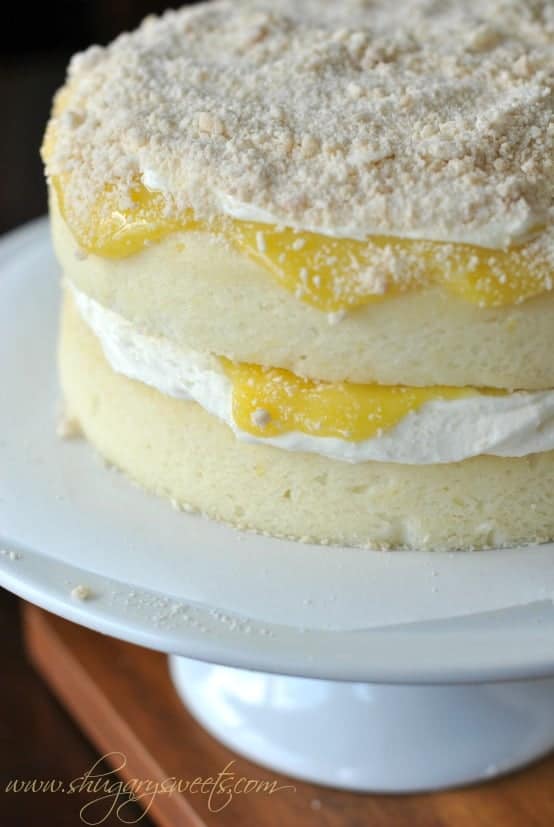 How to make Lemon Cake with Lemon Curd
The extra layer of homemade lemon curd is another one of my extra touches to this cake. It's optional, technically, but I think it's gorgeous! The curd adds even more lemon flavor and moisture to an already heavenly cake.
Then there's the crumb topping–the buttery crumb with a hint of vanilla flavor and powdered sugar is the finishing touch.
There are a few steps to this recipe, but I think it's more than worth it, especially for a special occasion.
First, make cake:
Beat together the ingredients for the batter and pour into greased layer cake pans. Bake for about 25 – 28 minutes, then let the cakes cool completely before frosting.
While the cakes are cooling, you can mix together all the ingredients for the butter crumb topping so it's ready to go.
To make the filling:
Beat butter, cream cheese, powdered sugar and 2 tbs of lemon curd together until well combined and fluffy.
Assemble the cake:
Put the bottom layer of the cake on a cake stand or serving platter. Spread half of the cream cheese filling over this layer, along with part of the remaining lemon curd and crumb topping.
Top this with the second cake layer. Spread this with the rest of the lemon curd, the frosting and the remaining crumb layer.
Chill:
Pop your cake in the refrigerator for at least 2 hours to let everything set. Slice, serve and enjoy! Lemon Crumb Cake is best served cold.
Store any leftover cake in the refrigerator. I cover it with the cover from a cake stand, but you could also transfer the whole thing to a large tupperware.
Can you freeze this cake?
Yes, the cake will freeze well. You can freeze it with the filling and lemon curd already applied, or freeze the layers and then thaw them when you're ready to assemble the cake.
If you plan to freeze the cake whole, I'd recommend leaving the crumb topping off until a couple of hours before serving so that it doesn't get mushy.
Leftover slices of cake can be frozen individually for quick single serve desserts! Convenient and delicious.
With rich lemon curd and an irresistible crumb topping, it doesn't get any better than this copycat Olive Garden Lemon Crumb Cake!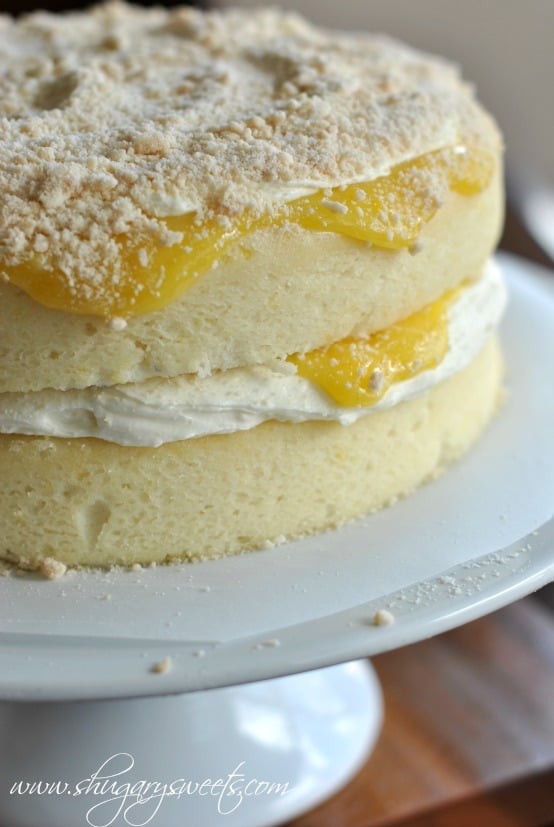 More Lemon Recipes