These Mint Chocolate Chip Truffles have a soft, creamy mint chocolate chip center and are coated in decadent chocolate! What are you waiting for? Go make some today!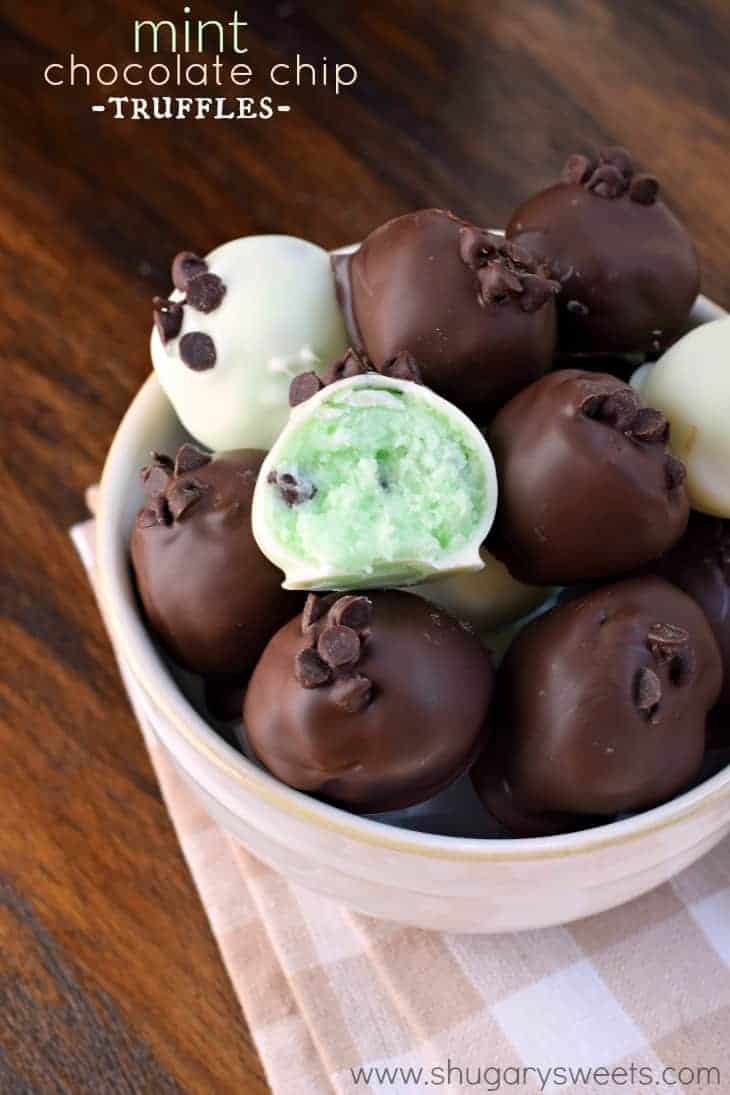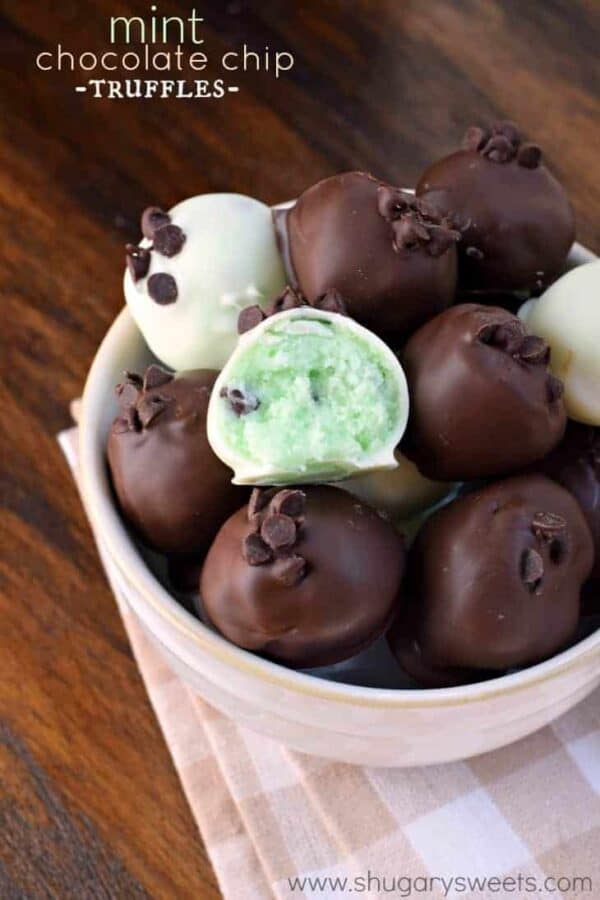 Click HERE to save recipe to Pinterest
Last month I made some Mint Chocolate Chip Brownies that were simply OUT OF THIS WORLD delicious. They were so good, they got me thinking about truffles.
I could just shovel that mint chocolate chip frosting into my mouth, but why not create a treat that serves the same purpose, but is a little more dainty?
Okay, maybe not dainty. How about "acceptable"?
I mean, do people think it is okay to eat frosting by the spoonful? Sure, in the privacy of your own home, but at parties?
These Mint Chocolate Truffles are the perfect party food! You'll be the star of the show if you bring a big bowl of Mint Chocolate Truffles along!
And I promise that Mint Chocolate Truffles are so easy to assemble.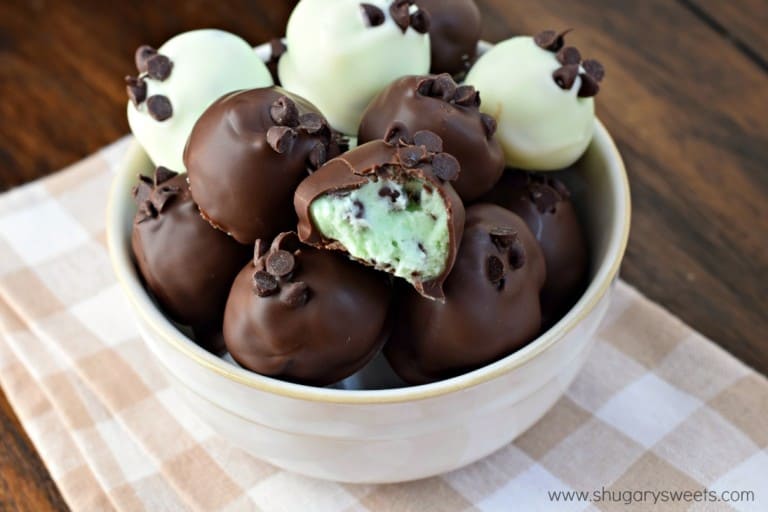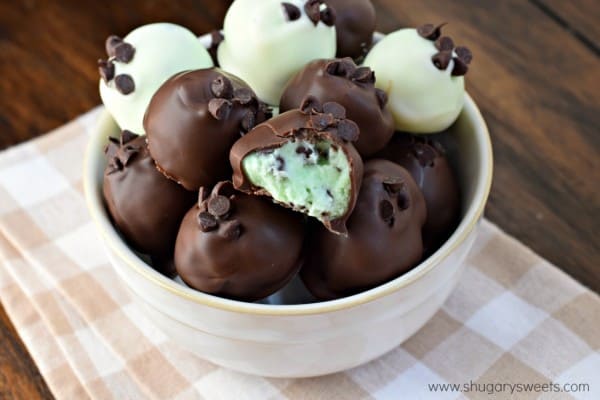 HOW TO MAKE MINT CHOCOLATE TRUFFLES
Start with softened butter and cream cheese. If it's too cold, it doesn't get as smooth and creamy as you need it for the mint chocolate chip filling!
Make sure when it's time to add the extract you use PEPPERMINT, not mint. Unless you like spearmint. Then these could be known as after dinner truffles…no need to brush your teeth, these would taste like toothpaste. Yeah. Let's avoid that and just use peppermint, m'kay?
Let's talk food coloring. I get the best results when I use Americolor gels. I dip a toothpick into the gel and "swipe" it into my butter mixture. This little bit is all I need to get the soft green coloring.
If you only have drops, just add one drop at a time. Ain't nobody wanna eat grass colored mints. Ha!
Use a 1 Tbsp scoop to portion out your mint chocolate chip filling. You'll want to drop your Mint Chocolate Truffles onto a parchment paper lined baking sheet. And FREEZE them for about an hour (more than that is fine, too).
Use fingertips to shape frozen truffles into a ball. Then use a toothpick to dip Mint Chocolate Truffles into melted chocolate.
Again, USE GOOD CHOCOLATE. I love the bags of Ghirardelli Melting Wafers. Not only do they melt smooth, but they taste delicious too.
I loved using a combination of white and dark chocolate. Feel free to do both, or choose your favorite and decorate the tops with mini chocolate chips.
MINT CHOCOLATE CHIP RECIPES
If you've followed along here for a while, you'll know that I LOVE mint chocolate chip recipes. If you love mint chocolate chip as much as I do, I've got plenty of options here for you.
In addition to my Mint Chocolate Truffles and Mint Chocolate Chip Brownies, try my Mint Chocolate Chip Fudge, Mint Chocolate Chip Rice Krispie Treats, Mint Chocolate Chip Whoopie Pies, or Mint Chocolate Chip Cookie Sandwiches.
Whip up a batch of these Mint Chocolate Truffles and wow your friends at your next party. I know they'll love them!


Today's recipe was originally posted on Shugary Sweets on March 21, 2016 and has been republished in November 2018