Buttery cookie dough meets gooey marshmallow, melty chocolate chips, and brown sugar meringue – need I say more? These Mud Hen Bars taste like a dream and are extra impressive to boot. They'll quickly become your new favorite dessert.
Unique desserts are right up our alley. From our butter pecan skillet cake to a delicious, moist Kentucky butter cake, we love it all.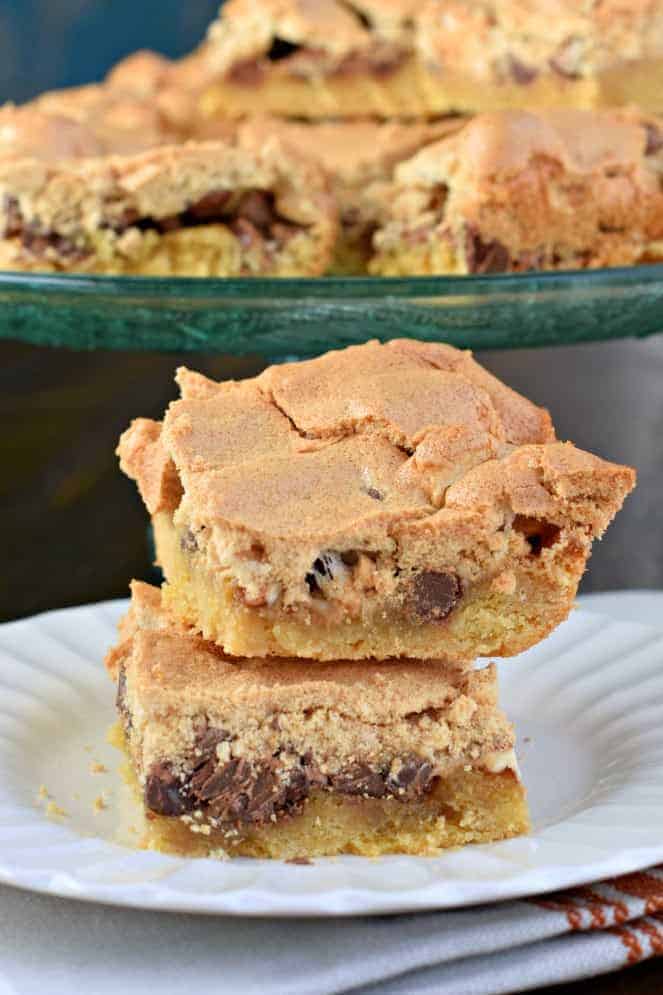 Why these Bars are Best
Everyone by now knows my love of gooey Rice Krispie Treats. There's something about that pull of marshmallow.
Today's mud hen bars have that same gooey marshmallow, paired with cookie dough and chocolate!
These bars are a unique treat that'll surprise and impress everyone who tries a bite.
You won't find these bars at the grocery store, so you'll savor every unique bite.
This recipe comes together in under an hour but tastes like you spent all day whipping it up.
Mud Hen Bars are a surprising dessert to bring to potlucks, gatherings, and events. It's sure to garner compliments!
It's the perfect make-ahead recipe. You can serve it right from the fridge.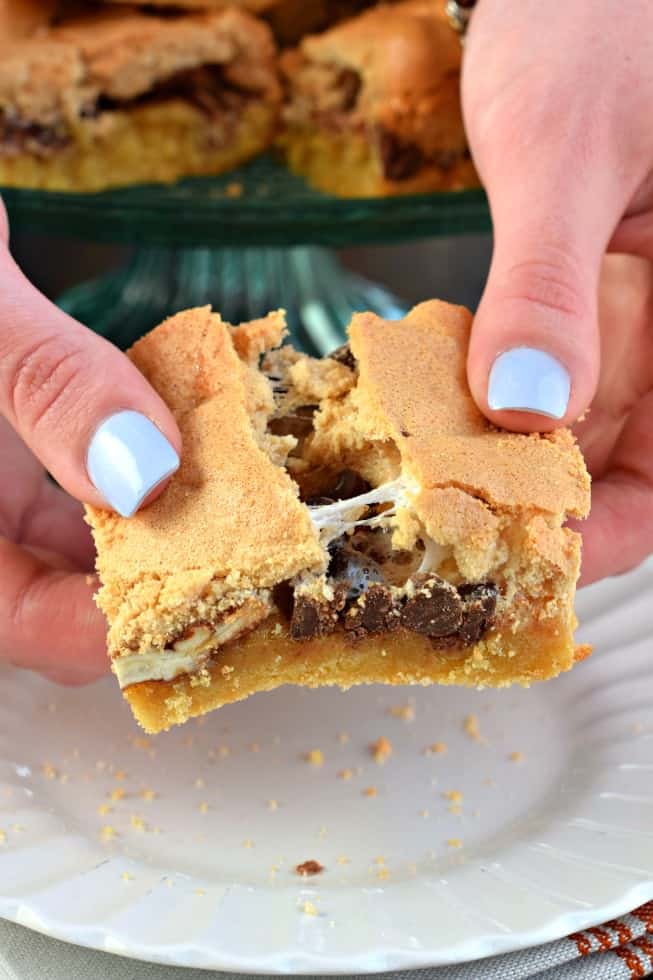 Ingredient Notes
Shortening – I use Crisco butter-flavored shortening, but any kind will work.
Butter – Use unsalted, softened butter for this recipe.
Eggs – Altogether, you'll need 1 whole egg and 2 separated eggs. You can combine the 2 extra yolks with the whole egg and keep the whites separate.
Baking Powder – This is essential for the perfect cookie consistency. Baking soda won't work for this recipe, so stick to the powder.
Salt – Use Kosher salt instead of the over-salty iodized table salt for better flavor.
Marshmallows – I like to use mini marshmallows because they melt quicker than the large ones, but use whatever kind you have on hand.
Chocolate Chips – I like the mini version of these too. Whether you use milk chocolate, semi-sweet, or dark, these bars will be delicious, so pick whatever you prefer.
Light Brown Sugar – To get an accurate measurement of brown sugar, make sure to pack or press it into the measuring cup.
Easy Instructions
Make the Cookie Dough – Beat together shortening, butter, and sugar until light in color and creamy. Then, beat in the whole egg and 2 egg yolks. Slowly mix in the flour, baking powder, and salt until thoroughly combined.
Press Into Baking Dish – Press and spread the cookie dough into an ungreased, parchment-lined 13"x9" baking dish.
Top With Marshmallows & Chocolate – Cover the cookie dough with the mini marshmallows and chocolate chips.
Whip Up the Meringue – In a clean mixing bowl, beat the egg whites until stiff peaks form. Then, fold in the brown sugar. Pour the meringue mixture over the top of the marshmallows and chocolate chips. You might need to gently spread the mixture to ensure it reaches all sides of the pan.
PRO-TIP: When the meringue touches the edges of the pan, it'll rise higher since it can use the edges to climb. If the meringue doesn't touch the edges, it'll grow then shrink as it cools.
Bake Then Cool – Bake at 350°F for 35-40 minutes until the meringue is lightly browned on the top. Then remove it from the oven and allow the Mud Hen Bars to cool completely.
Cut & Enjoy – Once the bars have cooled (you could even pop them in the fridge if you're in a hurry), cut them into 24 servings. Take a bite, and enjoy!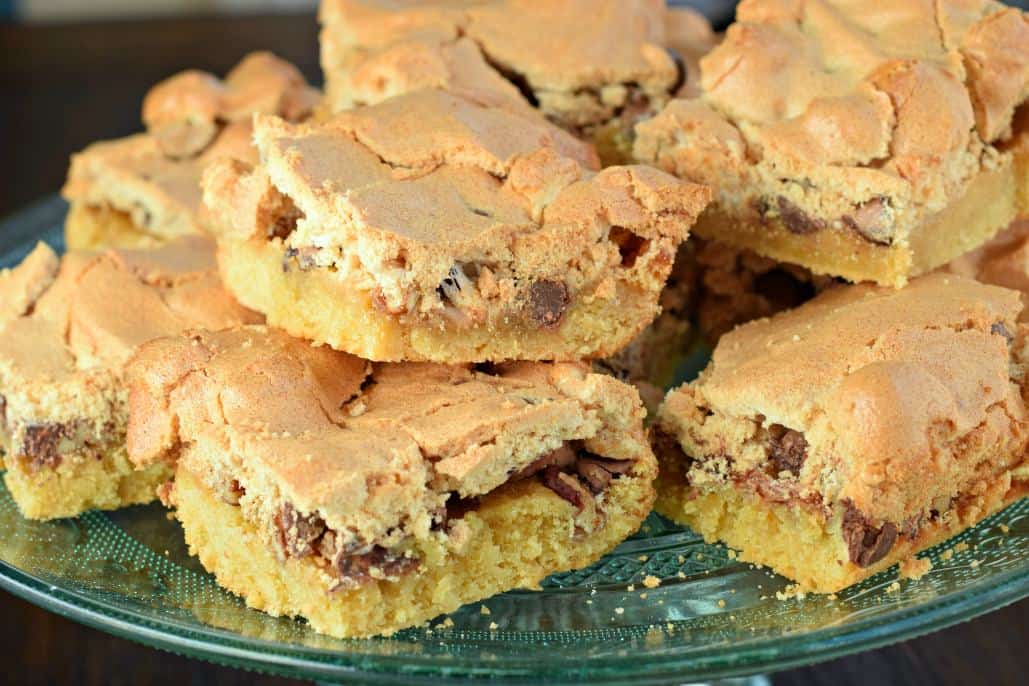 Tips and Tricks
The cookie dough is thick, so instead of pouring it into the baking pan, you'll need to spread it, and your hands are the best tool for the job.
If you're using a smaller baking dish, you might need to bake the bars for more than 40 minutes.
Make sure the raw meringue touches all edges of the dish for the best rise.
Store any leftover Mud Hen Bars in an airtight container in the fridge or freezer.
Recipe FAQs
Can I use regular shortening instead of butter flavored?
Regular shortening will work just as well for this recipe. I opt for the butter-flavored kind to add even more richness to the dough. You'll hardly notice the difference with all the other sweet toppings if you use regular shortening.
Can I use a different size baking pan?
You can use a 9" square baking dish if you want thicker bars. You might need to add a couple of minutes to the cooking time, so double-check the doneness of the bars before pulling them from the oven.
Can I make these Mud Hen Bars ahead of time?
This is a great make-ahead recipe since you can serve them straight from the fridge. Once finished, store the bars in an airtight container in the refrigerator, and serve them within 3-5 days.
Can I freeze the mud hen bars?
Yes! The cookie dough, marshmallow, and meringue layers all freeze and defrost well. You can store them in an airtight container in the freezer for a few months, then thaw and serve as needed.
More Easy Desserts