These Neapolitan Donuts are so easy! Baked chocolate donuts with strawberry frosting and a white chocolate drizzle. A perfect weekend breakfast!
Homemade donuts are worth getting out of bed for! Give these Cherry Frosted Donuts and these Chai Donuts a try next.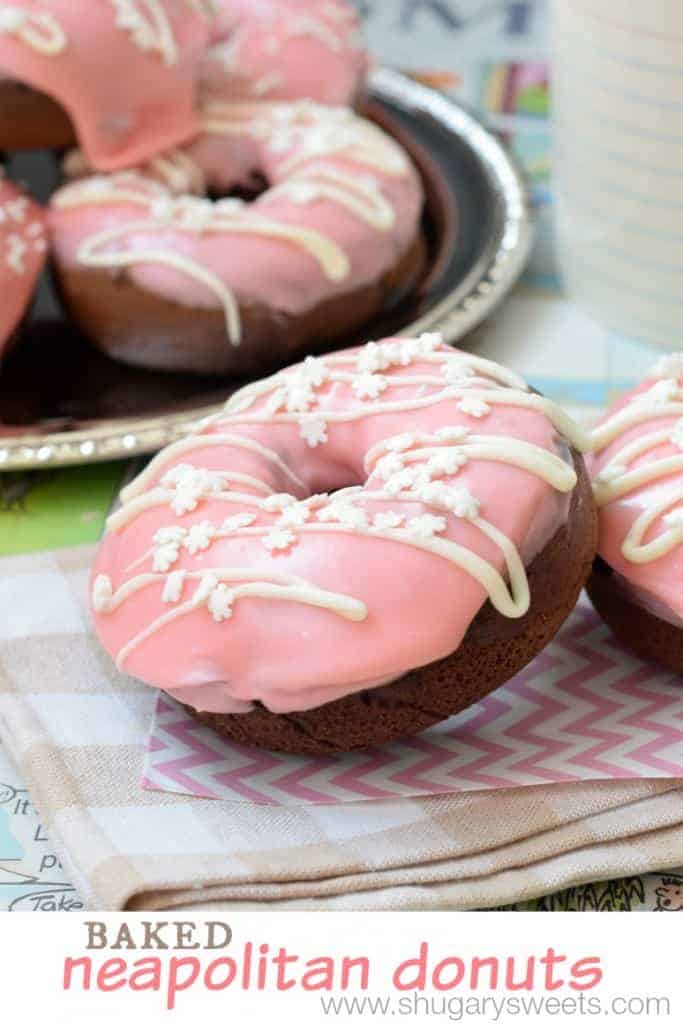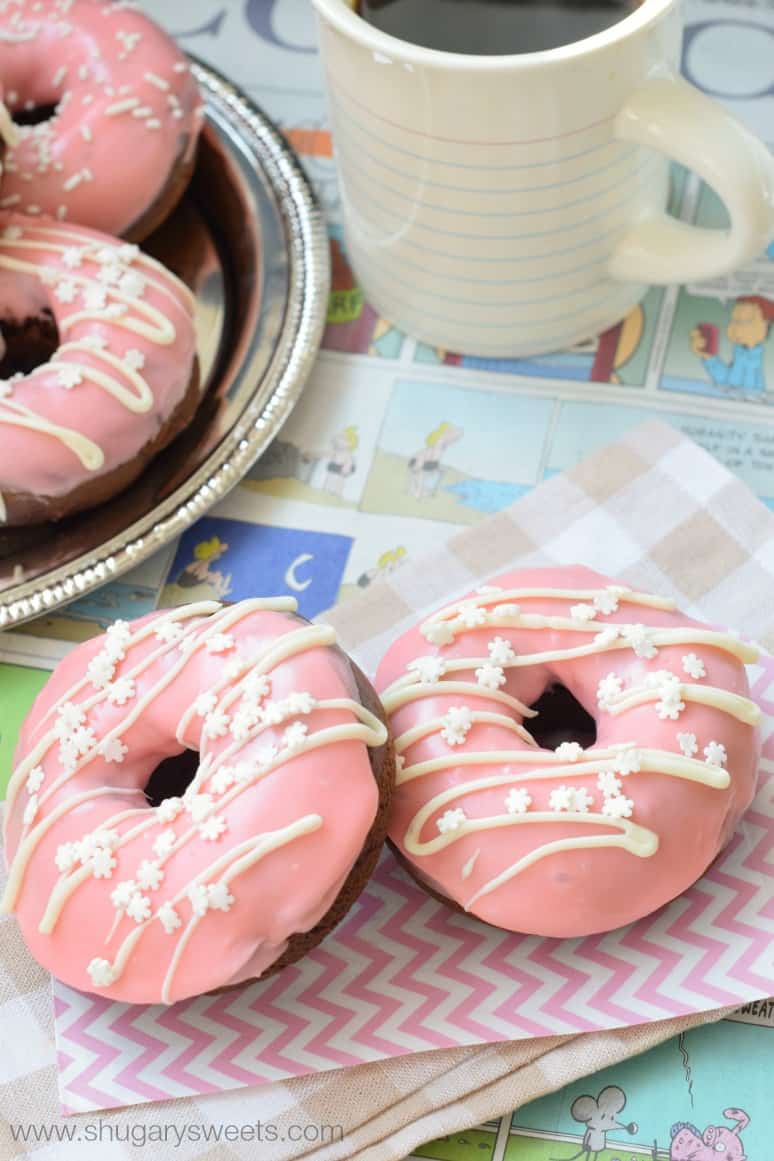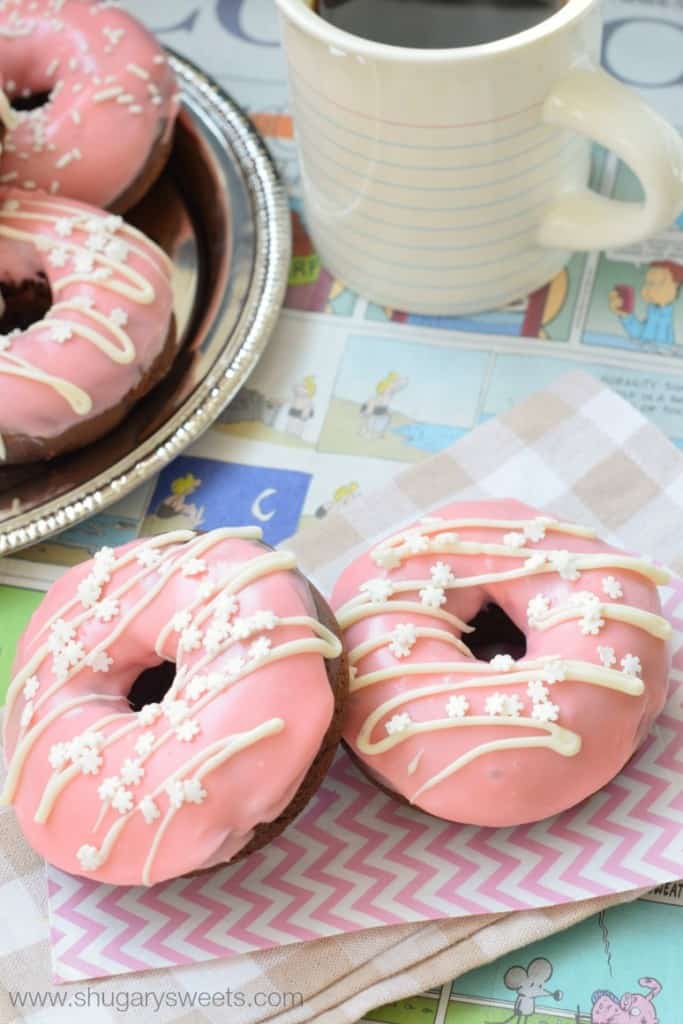 Strawberry Frosted Chocolate Donuts
Who else loves Neapolitan ice cream? I love seeing the colors side by side and the mix of flavors.
Most of all I love getting to eat three delicious ice cream flavors at once!
Today's donut recipe gets its name from Neapolitan, a variety of ice cream with equal parts vanilla, chocolate and strawberry flavors.
It's based on my Easy Baked Chocolate Donuts recipe.
I topped these with a pretty pink strawberry frosting.
Melted white chocolate and sprinkles make the donuts look picture perfect!
Looking for a fried donut recipe? These Cookies 'N Cream Donuts are made with biscuit dough and fried on the stove top! Another amazing breakfast for a special occasion or any time you need a little boost of sugar in the morning.
When it comes to baked donuts, it doesn't get much better than these strawberry frosted chocolate goodies!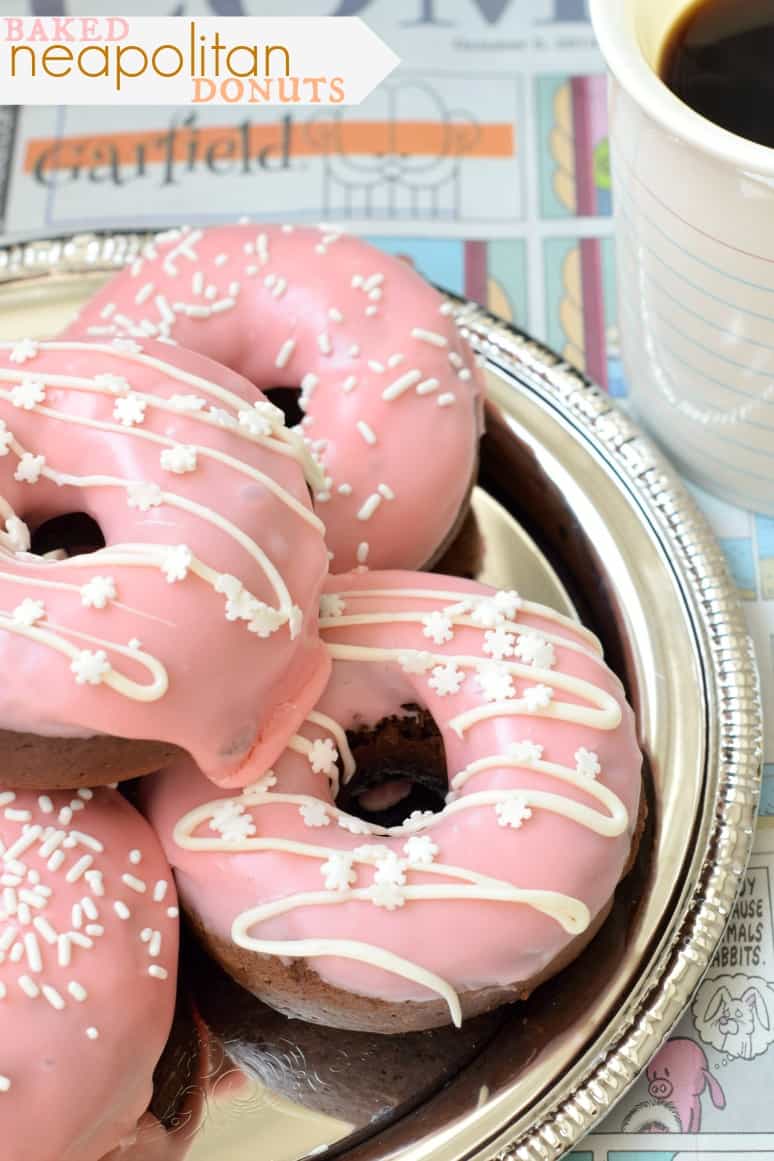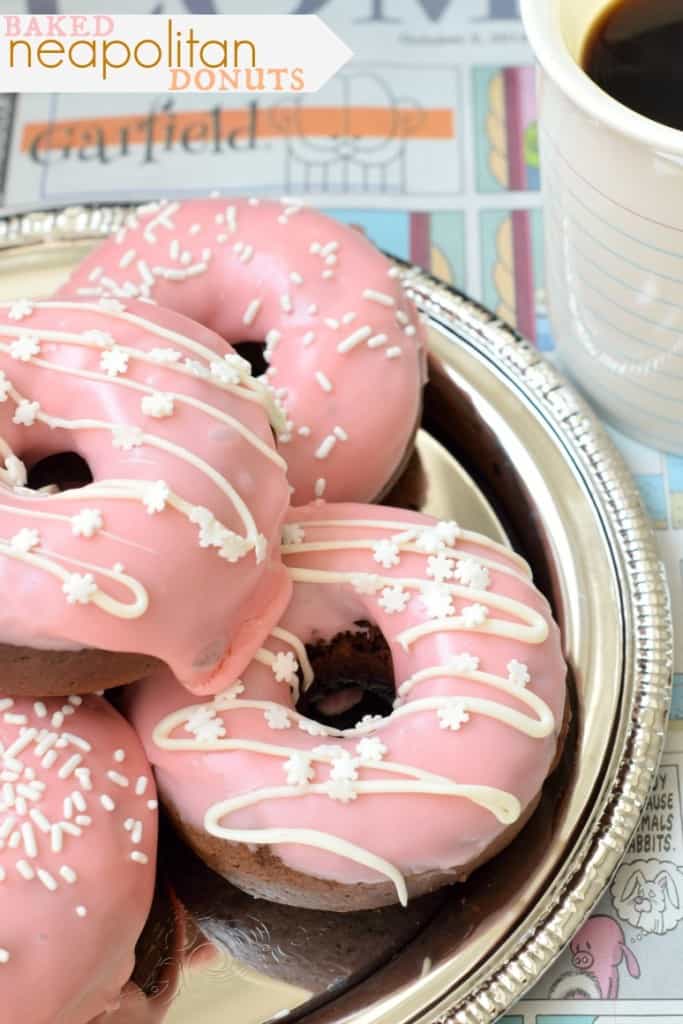 Ingredient Notes
This recipe starts by mixing up a chocolate donut batter. You'll need:
Flour
Sugar
Cocoa powder
Baking powder
Milk
Eggs
Vanilla – I love baking with homemade vanilla extract
Butter – Melted in the microwave before using.
And to make the strawberry frosting, you will need:
Heavy cream – For a rich flavor and thick consistency.
Milk – You can use any kind.
Butter
Vanilla extract
Strawberry gelatin powder – Regular JELL-O mix (not sugar free) adds color and flavor.
White chocolate bar – This is melted and blended in with the frosting. Save some extra melted white chocolate for drizzling over the frosted donuts!
I also decorated the donuts with white sprinkles. They look so pretty with the bright pink strawberry frosting.
Not into sprinkles (or don't have any)? No problem! You'll enjoy these pink frosted donuts either way.
Tips and Tricks
Spray your donut pan with baking spray first. If you don't have baking spray, use the wrapper from your butter stick! Rub the inside of the wrapper over the bottom of each mold form.
To fill the donut pans, transfer the batter to a ziploc bag. Snip of the end and evenly pipe the donut batter into the molds. You can use this same method for drizzling the white chocolate over the frosted donuts later.
Bake and cool slightly on a wire rack before frosting.
You can substitute an equal amount of white chocolate chips for the chocolate bar. Use a food scale if possible for accurate measuring. 4 oz. will be equal to about half a cup of chocolate chips.
These donuts disappear almost as doon as they hit the table. Have a strong pot of coffee ready to wash down your chocolatey breakfast baked goods!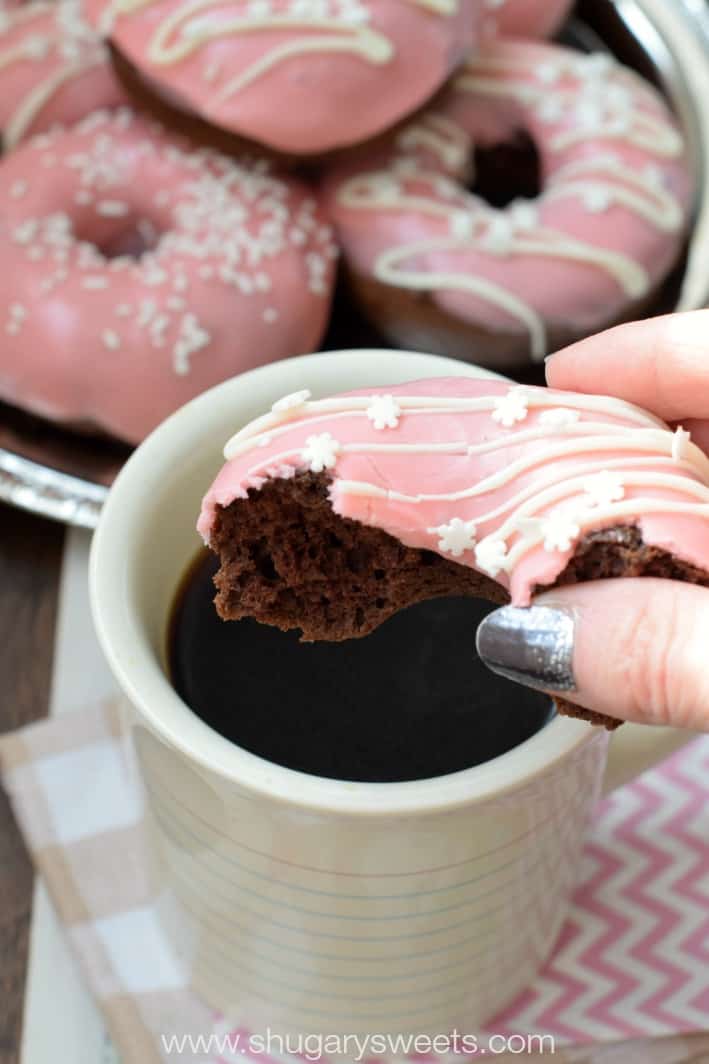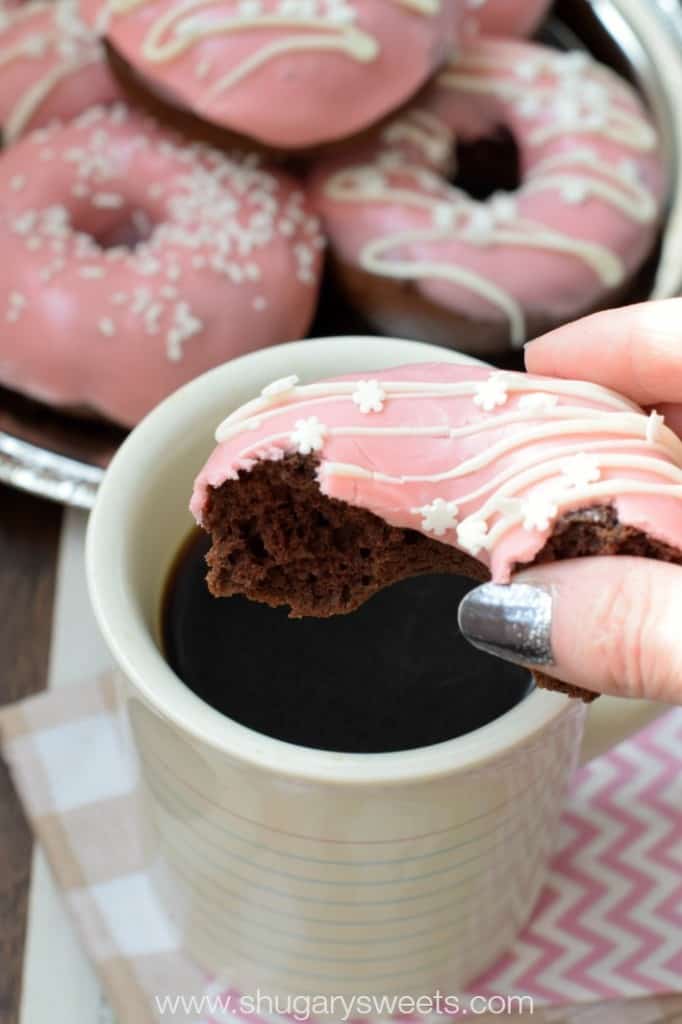 Recipe FAQs
Why are they called "Neapolitan" donuts?
These strawberry frosted chocolate donuts are named after Neapolitan ice cream which has chocolate, strawberry and vanilla ice cream side by side. Neapolitan donuts have a similar flavor combo and an identical brown, pink and white color combo.
Can I freeze leftover donuts?
Yes, these donuts freeze well with or without the frosting. No one ever regrets having a few extra baked chocolate donuts stashed away in the freezer for a quick breakfast!
How can I make a different flavored frosting?
To make different frosting flavors, substitute the strawberry gelatin powder with whatever flavor you'd like.
Cherry, orange and raspberry are other fruity flavors that pair well with chocolate.
How many donuts does this recipe make? Can I double it?
In a standard donut pan, this recipe makes 10 donuts. You can definitely double the ingredients in recipe to get more donuts!
Strawberry frosting and rich chocolate make these Neapolitan Donuts a new favorite treat for breakfast or any time of day!