Neapolitan Donuts
These Neapolitan Donuts are so easy! Baked chocolate donuts dunked in a sweet strawberry frosting with white chocolate drizzle. The perfect "snow day" breakfast!
Love this recipe? Sign up for my free Shugary Sweets email subscription and never miss out again!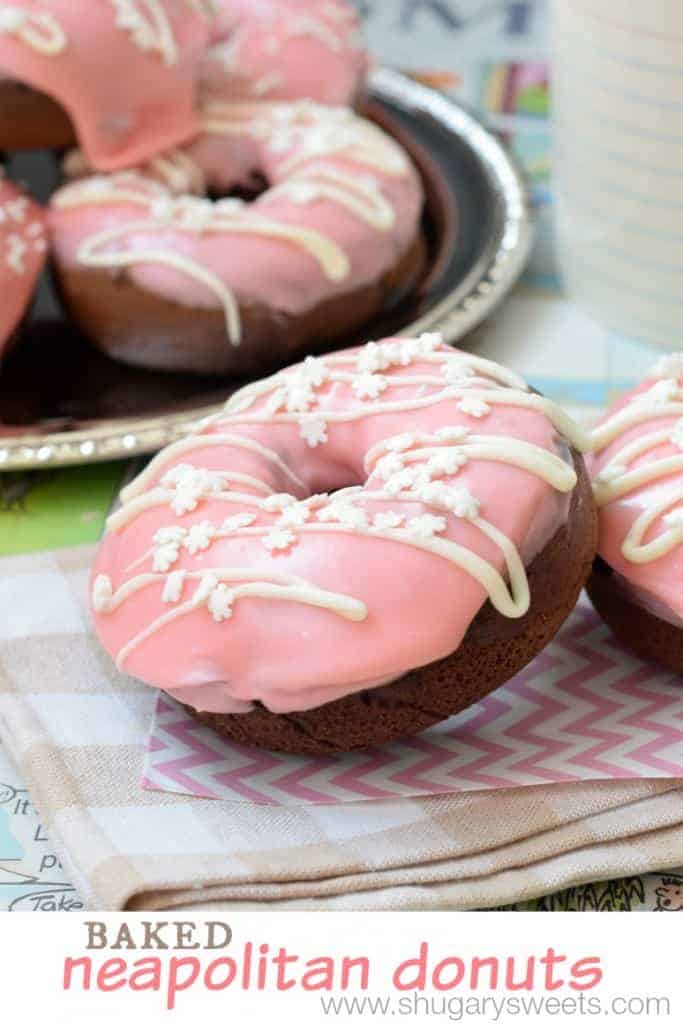 So this past week, we had a blizzard in Chicago. It was the 5th largest snowfall on record. 19 inches of snow fell…beautiful, glistening snow!
The weather was gorgeous too, so the kids were able to be outside playing…ALL DAY! It's what childhood memories are made of!
And now, I'm ready for summer. Seriously. The snow was gorgeous. But I'm done now, k? Thanks.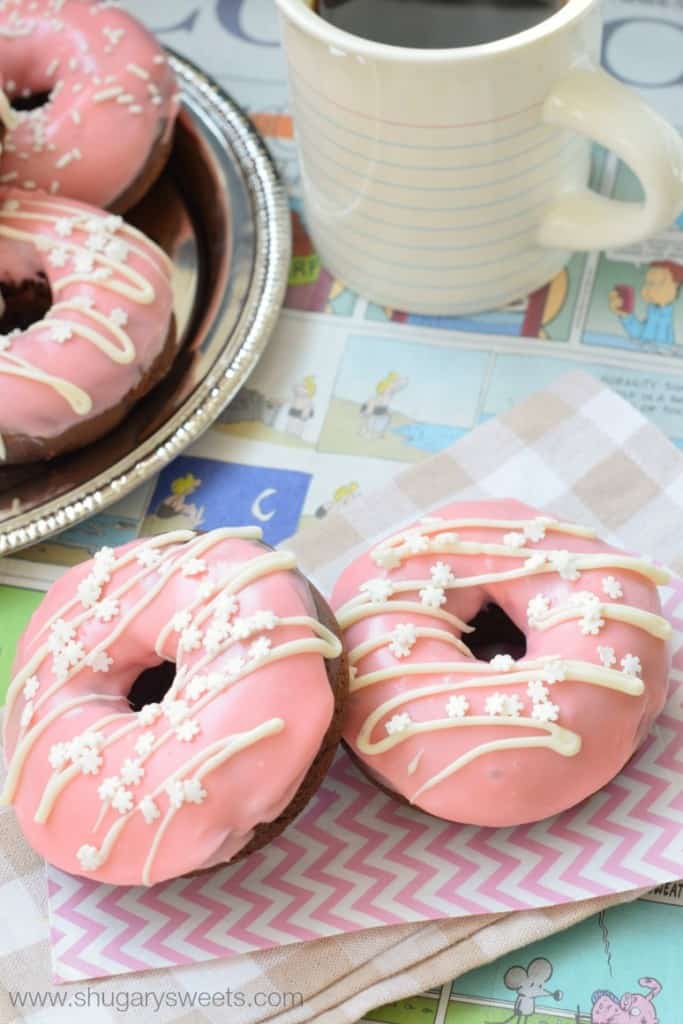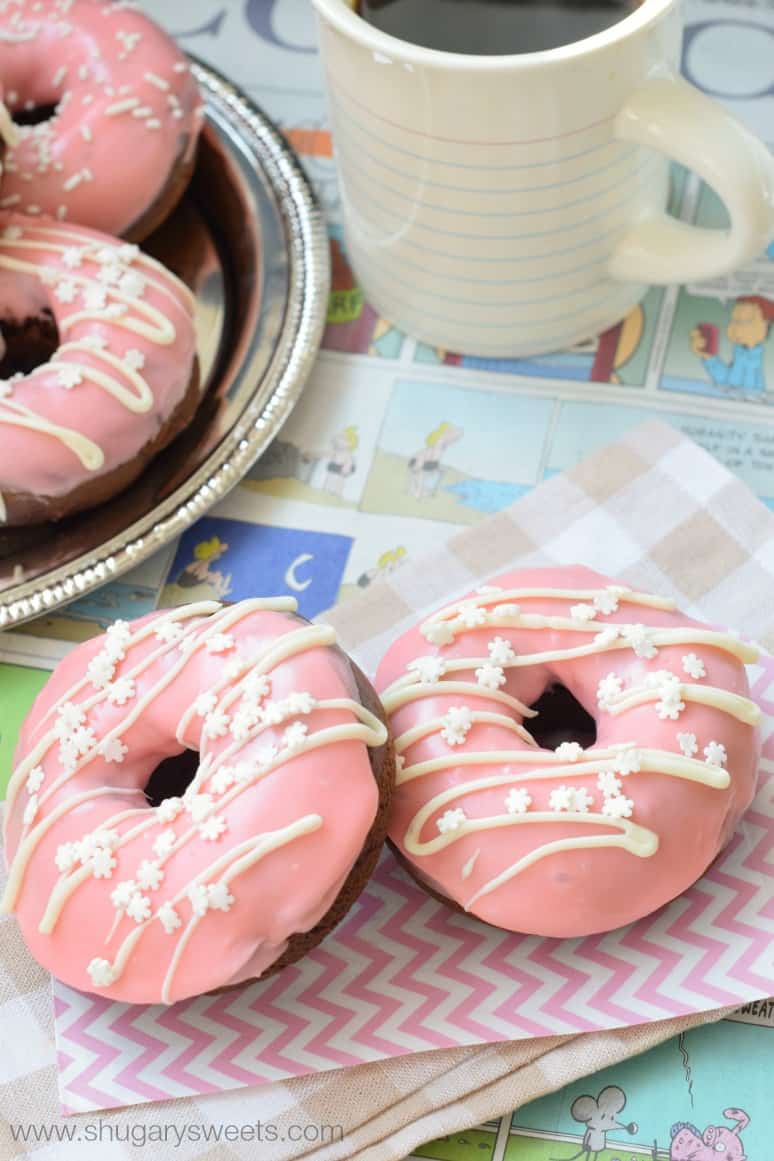 I made these "SNOW DAY" donuts without even realizing, they fit the Neapolitan trend I've been on all week. Chocolate donuts dipped in a strawberry frosting with a white chocolate drizzle (and snowflake sprinkles)! These would make a perfect Valentine's Day breakfast idea too!
But first…do you have a donut pan?
 I have two of those pans, and they are awesome when you don't feel like making a fried batch of donuts.
Don't get me wrong…I LOVE fried donuts! But sometimes I don't have time or energy to make a mess in my kitchen. I just want to bake up some donuts and have them on the breakfast table in under 30 minutes!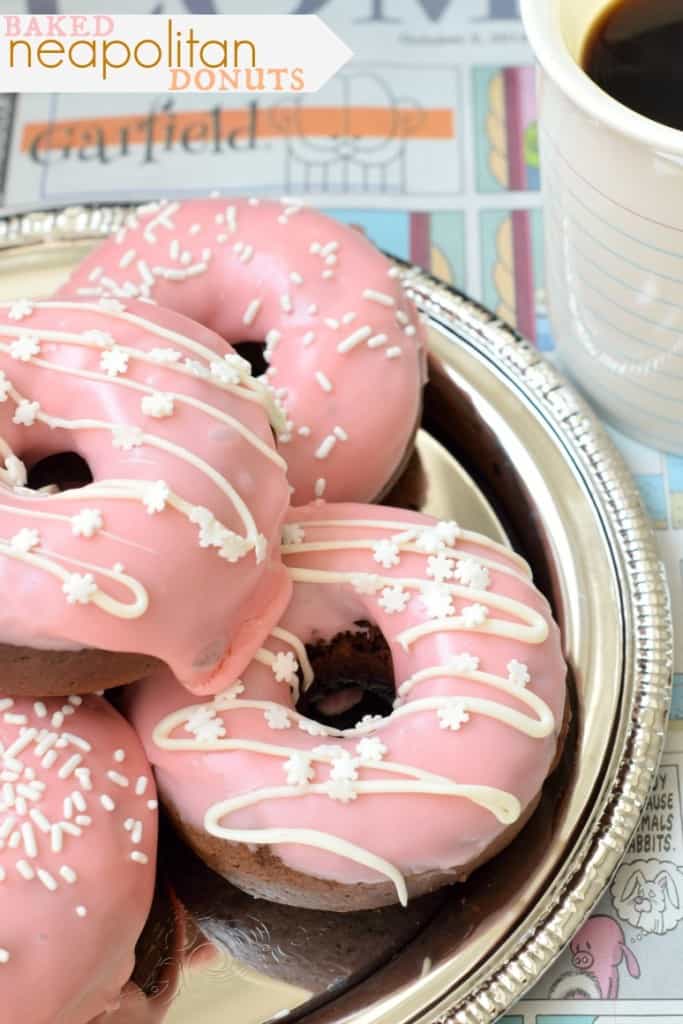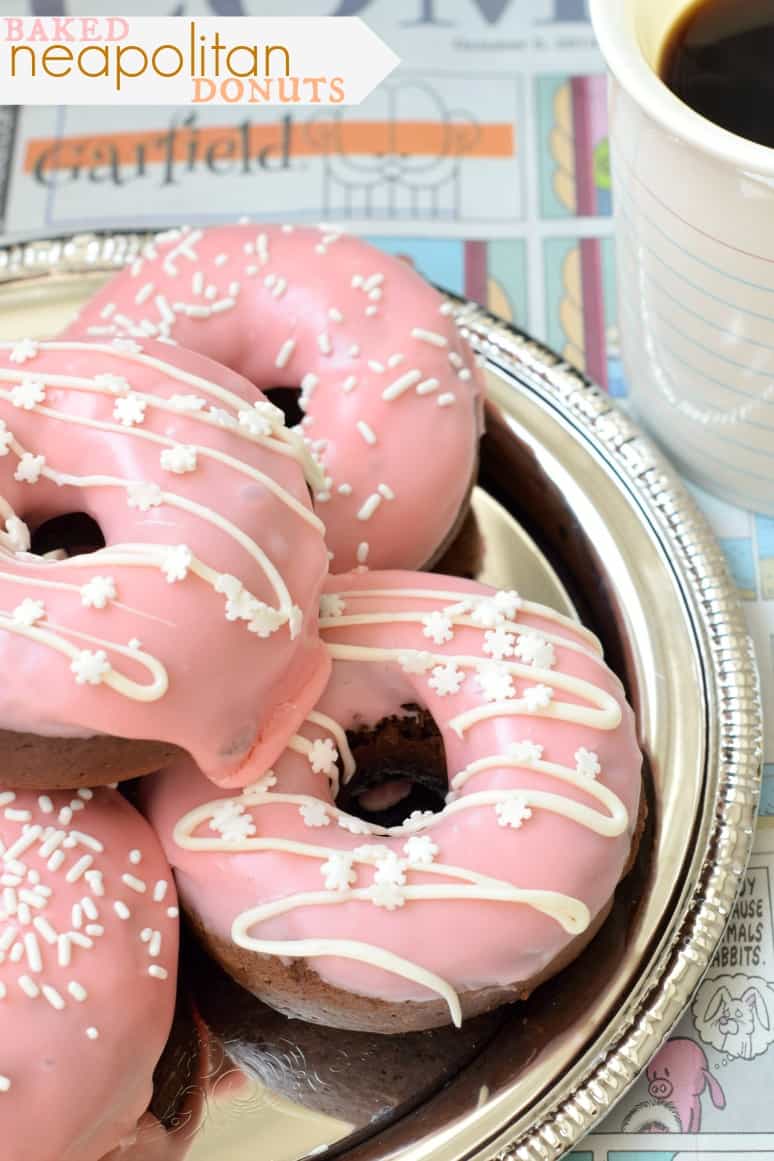 These chocolate donuts are my favorite recipe! SO fudgy and moist! While the donuts were baking I whipped up a sweet, strawberry flavored frosting! I saved some of the white chocolate from the frosting and melted it separately so I can drizzle it over the top of the donuts. Immediately add your sprinkles before it hardens!
Can I tell you guys…I ate my fair share of these. They were devoured with in 24 hours (and I made a double batch)!! I even enjoyed some dunked in my morning cup of coffee! I hope you enjoy them too! (I'm often asked where I get my cute mugs…this one came from Dot and Bo)…and the cute nails are from Jamberry. I'm a consultant now!)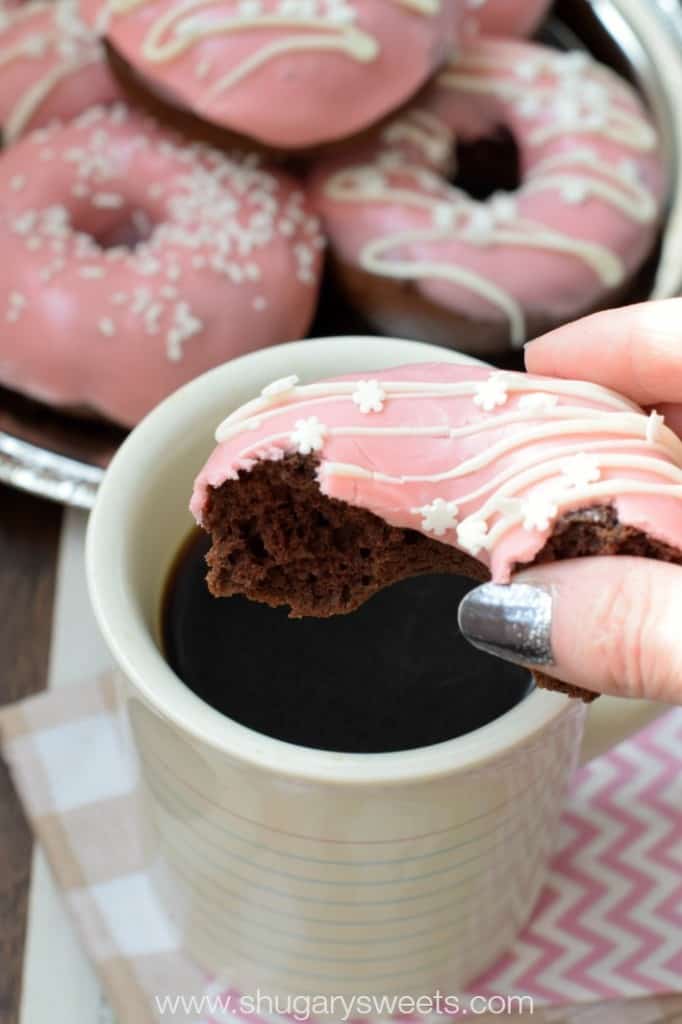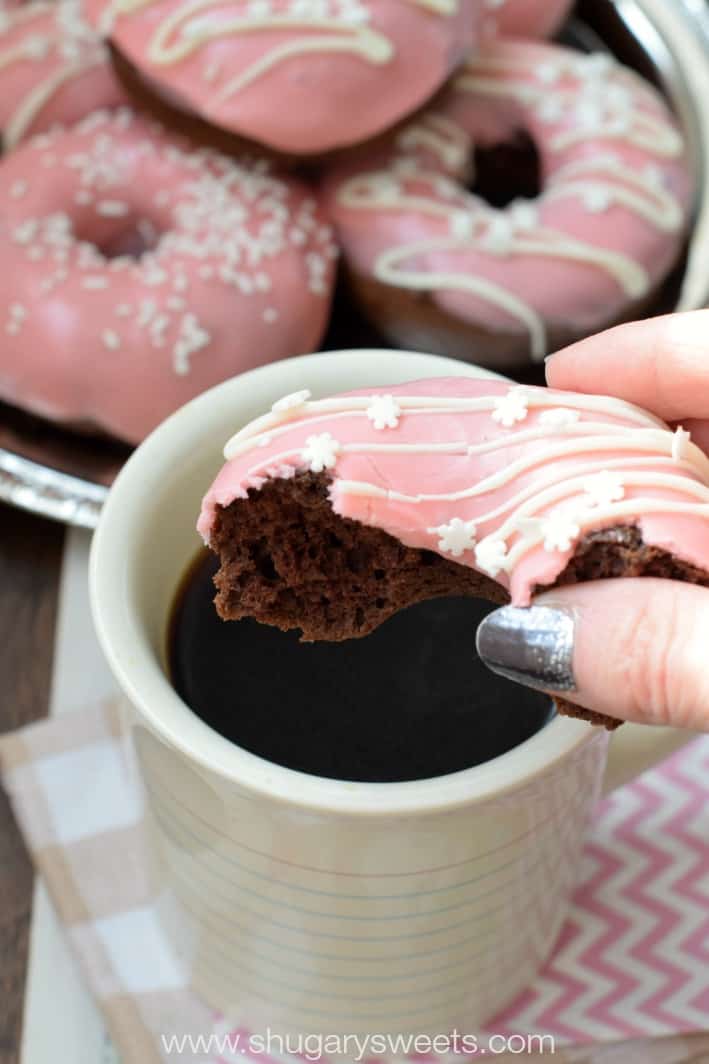 Connect with Shugary Sweets! Be sure to follow me on my social media, so you never miss a post!
Facebook | Twitter | Google+ | Pinterest | instagram | Bloglovin'
Sign Up to receive an email in your inbox for each new recipe: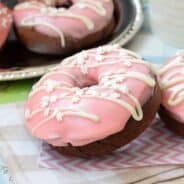 Neapolitan Donuts
Yield: 10 donuts
Prep Time:15 minutes
Cook Time:12 minutes
Ingredients:
For the donuts:
2 cup all-purpose flour
3/4 cup granulated sugar
1/2 cup unsweetened cocoa powder
1 tsp baking powder
1 tsp baking soda
1 tsp kosher salt
3/4 cup plus 2 Tbsp milk
2 large eggs
1 tsp vanilla extract
2 Tbsp unsalted butter, melted
For the frosting:
2 Tbsp heavy cream
2 Tbsp milk
1/4 cup unsalted butter
1 tsp vanilla extract
2 tsp strawberry gelatin powder (not sugar free)
4 oz white chocolate bar (I use Ghirardelli), divided
1 1/2- 2 cup powdered sugar
sprinkles, optional
Directions:
For the donuts:
In a large mixing bowl, combine dry ingredients. Add eggs, milk, vanilla and melted butter. Beat for several minutes until well blended.
Spray a donut pan with baking spray. Fill each donut cavity about 3/4 full (I use a large ziploc bag and snip off the corner to do this neatly). Makes about 10 donuts.
Bake in a 325 degree oven for 10-12 minutes. Allow to cool slightly and remove from pan onto a wire rack.
For the frosting:
While the donuts are baking, make the frosting. In a small saucepan on medium-low heat, combine the cream, milk, butter, vanilla, and gelatin powder. Heat until butter is completely melted. Turn heat to low. Add in 3oz of the white chocolate. Stir constantly until the white chocolate is melted and blended. Remove from heat.
Add powdered sugar 1/2 cup at a time, whisking between each addition until desired consistency (using the 1 1/2 -2 cup as a guide).
Dip cooled donuts into strawberry frosting and place on parchment paper. Melt remaining 1 oz white chocolate in a small bowl for 30-45 seconds in the microwave (stirring once halfway through). Place white chocolate in a small ziploc bag and snip off the corner. Drizzle over strawberry frosting and add sprinkles immediately. ENJOY
MAKING THIS RECIPE? Share it with me on Instagram using the hashtag #ShugarySweets so I can see what you're cooking up in the kitchen!
 Here are a few of my other delicious Neapolitan recipes: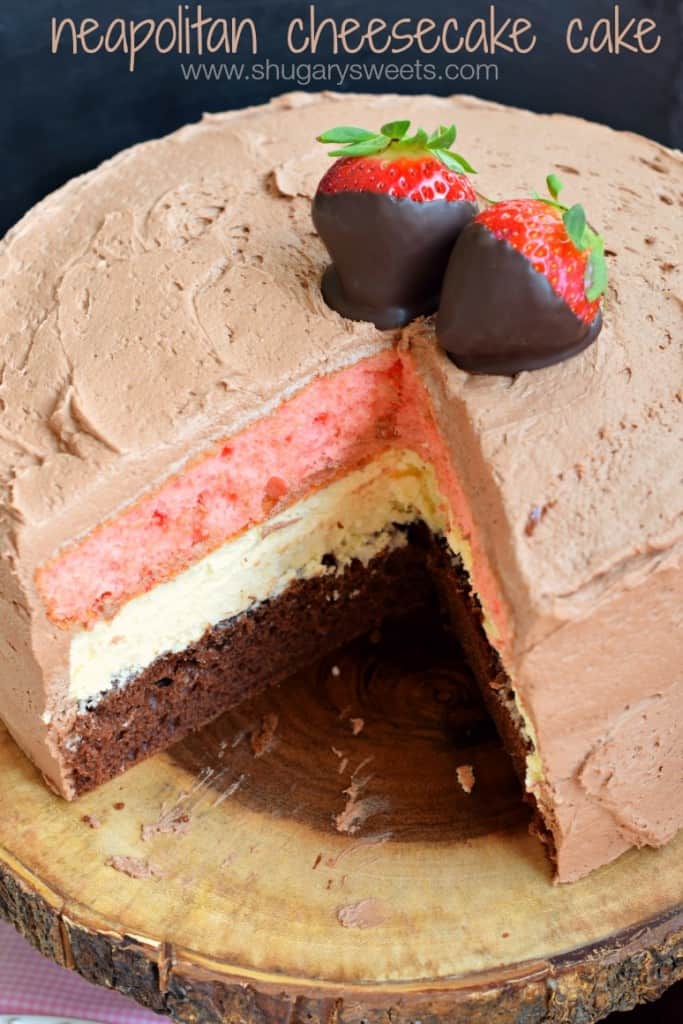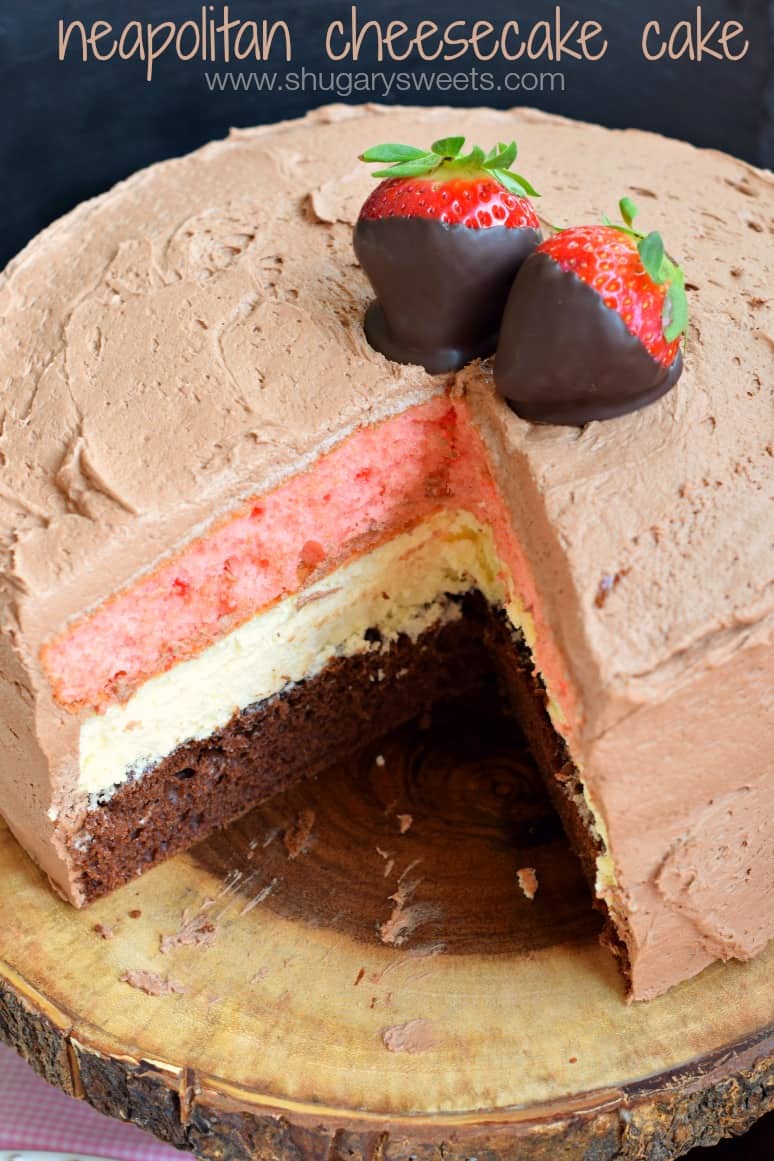 Neapolitan Cheesecake Cake: chocolate and strawberry cake with a cheesecake middle!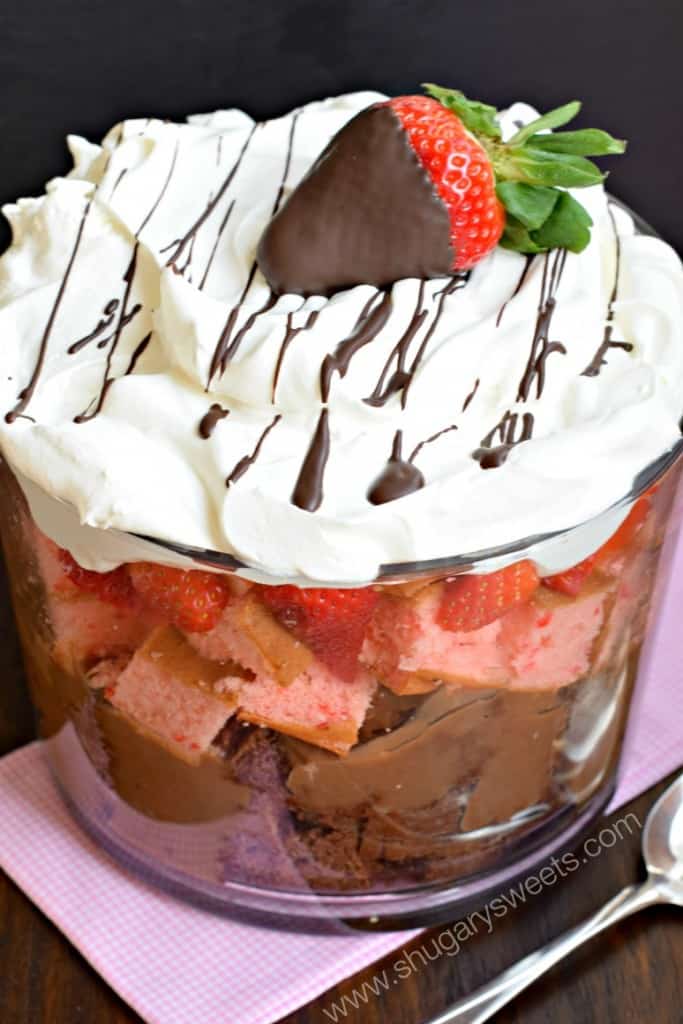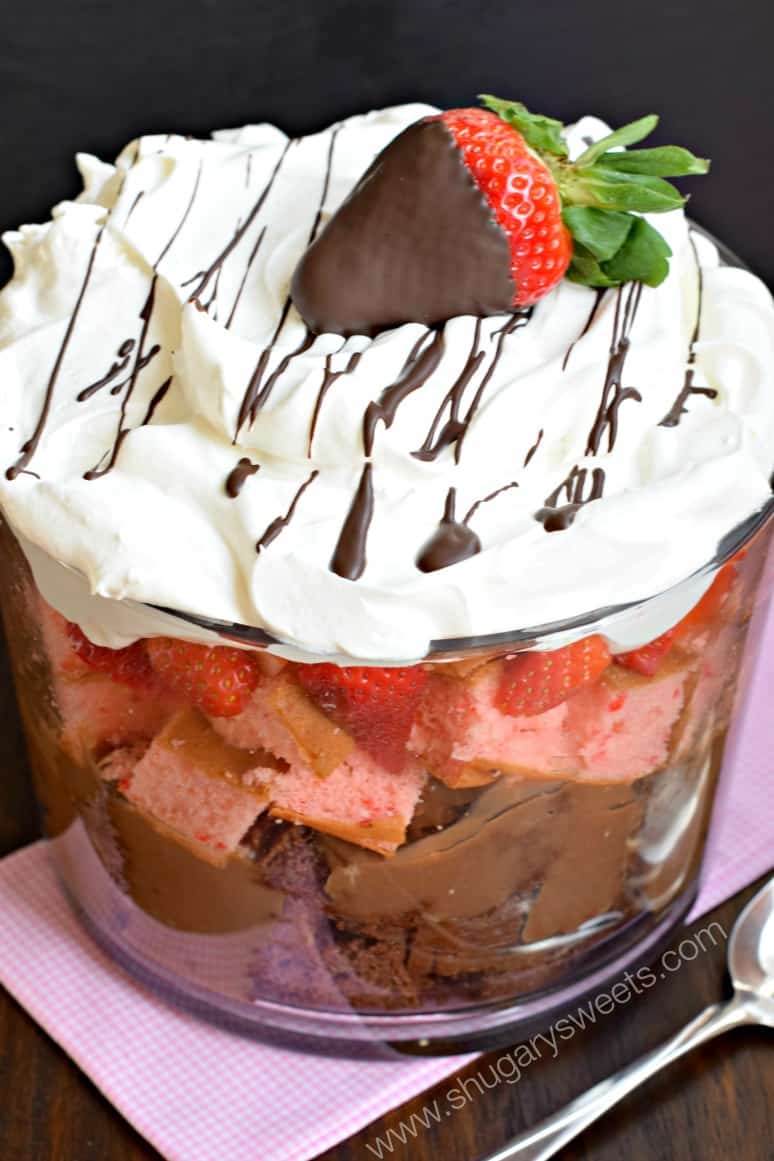 Neapolitan Trifle: cake, pudding, strawberries and Cool Whip. DELICIOUS!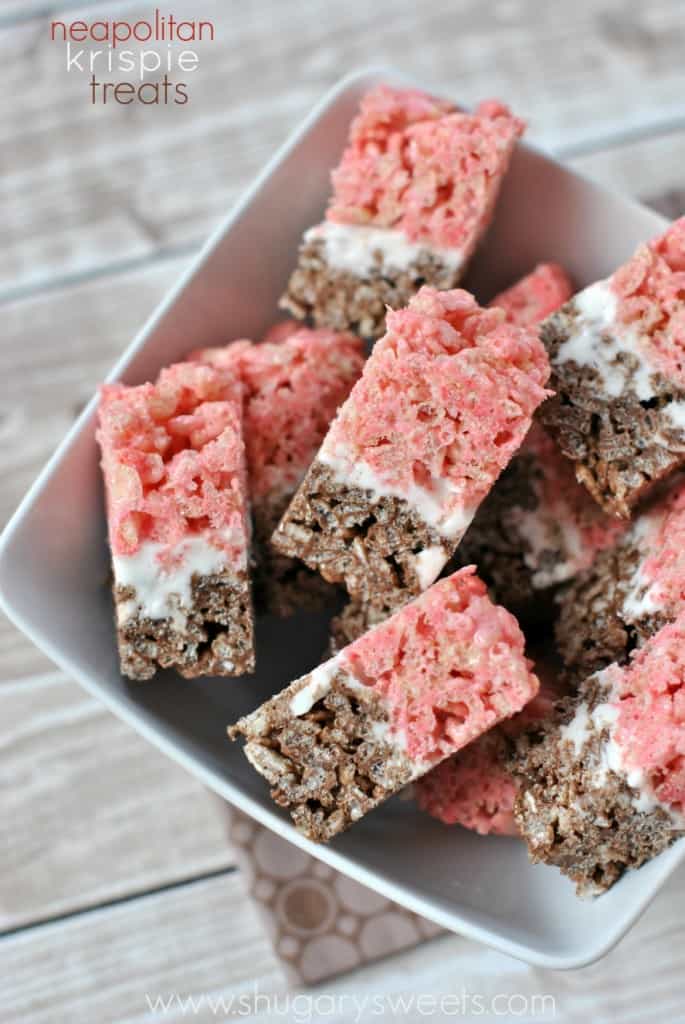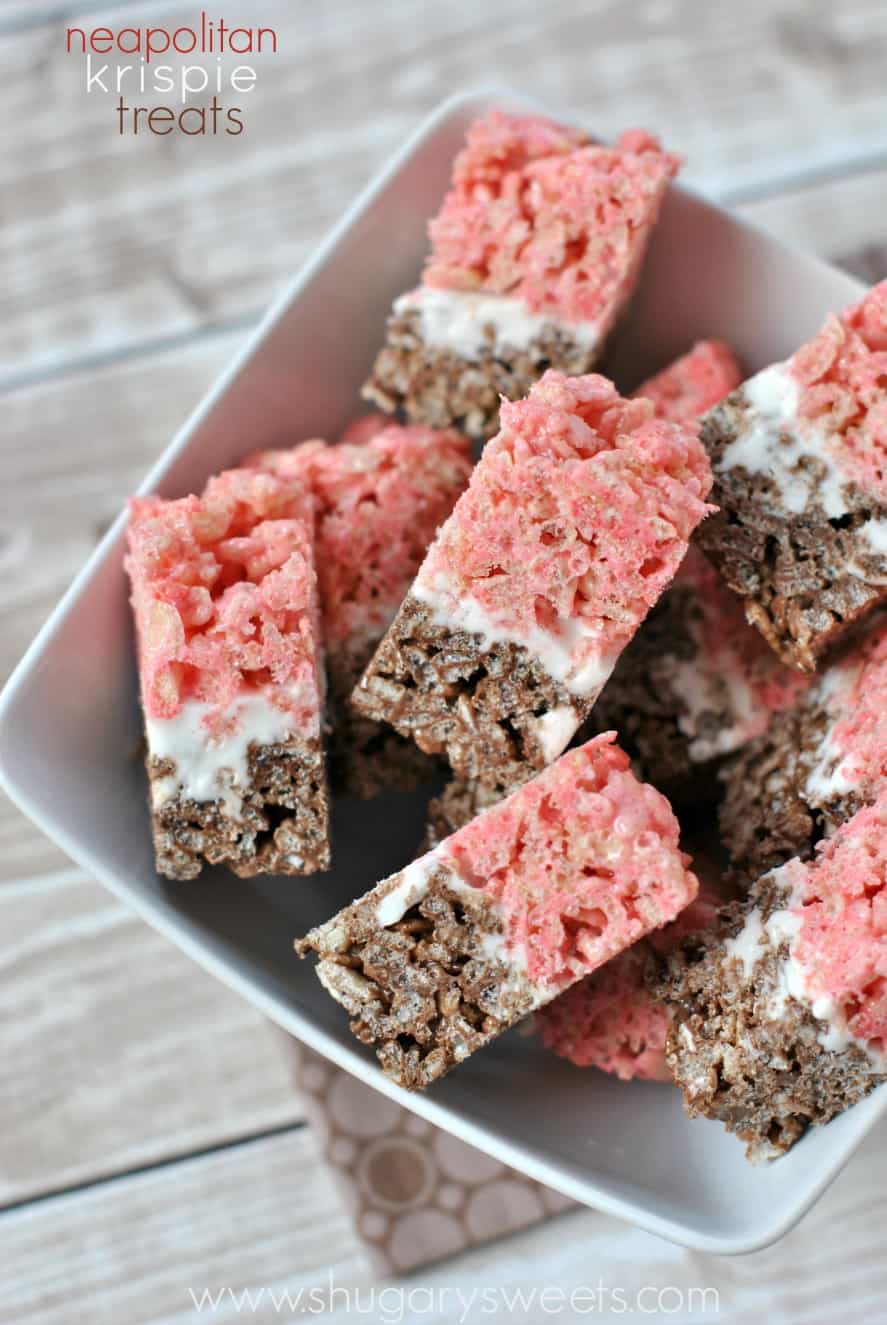 Neapolitan Rice Krispie Treats: this is my youngest daughter favorite dessert! Smart girl!
Here are a few DONUT ideas from my friends:


 **There may be affiliate links in this post! By clicking on them, or purchasing recommended items I may receive a small compensation. However, I only recommend products I love! Thank you for supporting Shugary Sweets! See my disclosure policy for more info**