Peanut Butter No Bake Cookies are a classic, childhood treat made with oatmeal, peanut butter, and Reese's candy!
Love easy cookie recipes? Be sure to try our 3 ingredient peanut butter cookies next! Our no bake Cheerio Bars are perfect as a treat or breakfast!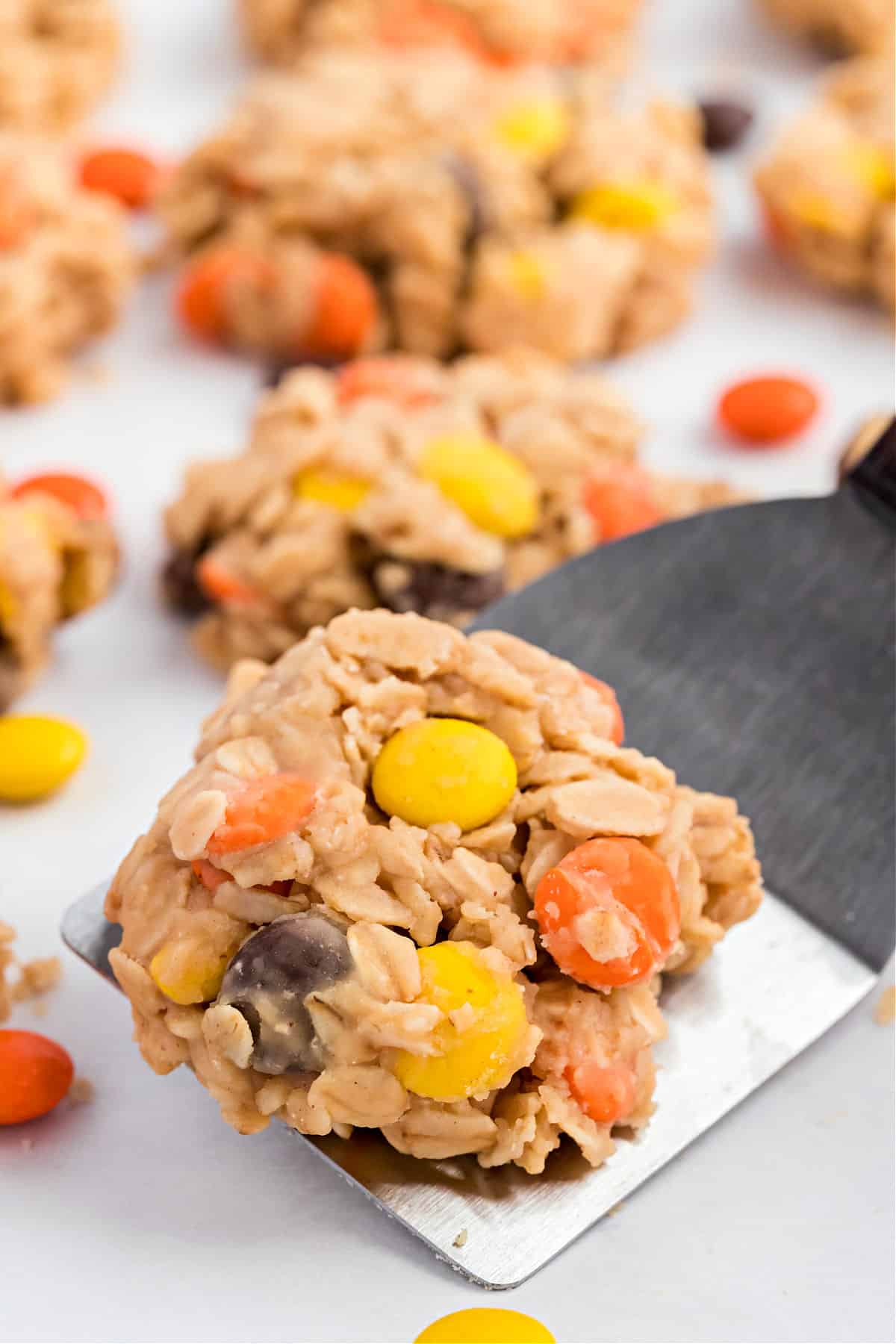 Why these Cookies are Best
I love the simplicity of a no-bake cookie.
As the weather gets warmer, no bake desserts are awesome to have on hand for summer. You know, when you need something sweet but don't feel like turning on your oven!
These peanut butter no bake cookies are just the thing. Unlike traditional no bake cookies, there is no chocolate in this recipe.
I have a family of peanut butter cookie lovers and we needed full peanut butter flavor. Plus, should I remind you they have oatmeal? Peanut butter + Oatmeal = health food. Breakfast. Yeah, I know it's a stretch, but go with it.
Ingredient Notes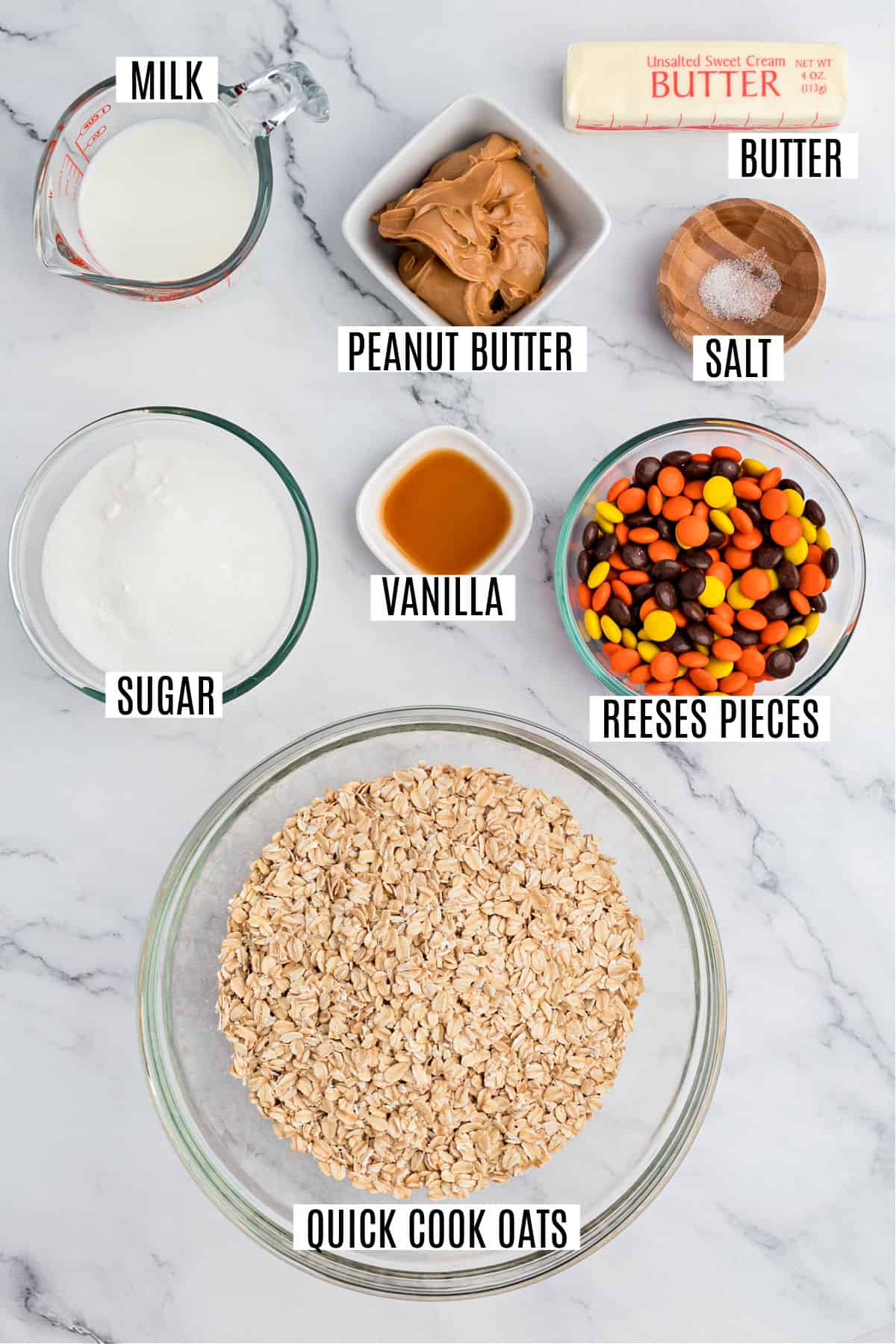 Scroll all the way down for complete no bake cookie recipe.
Granulated Sugar
Milk
Unsalted Butter
Salt
Creamy Peanut Butter
Quick Cook Oatmeal
Reese's Pieces Candy
How to make Peanut Butter No Bake Cookies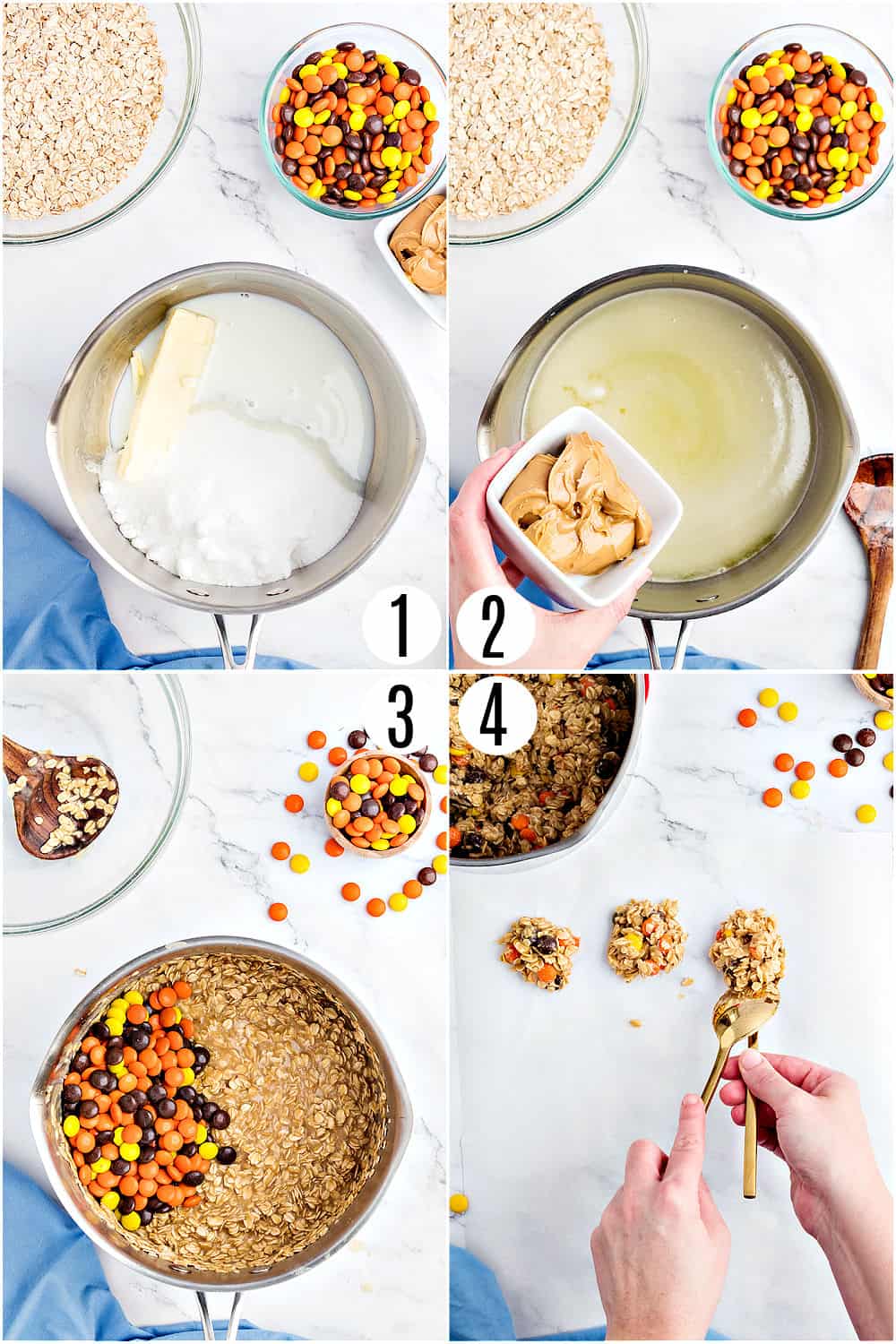 STEP 1: In a large saucepan over medium heat, add sugar, milk and butter. Bring to a boil and continue to boil for one full minute.
STEP 2: Remove from heat. Add vanilla, salt and creamy peanut butter. Stir until smooth.
STEP 3: Fold in quick oats, stirring until completely combined. Add in Reese's Pieces candy.
STEP 4: Lay out a large piece of parchment paper on counter. Using two spoons, drop cookie dough by large tablespoon onto paper. Allow to set (about 20 minutes). Store in a covered, airtight container. ENJOY!
Substitutions
Milk: I always have fat free milk in our refrigerator, so that is what I use. You can use other varieties of milk as well, 1%, 2%, and whole milk all provide similar results! You can also use almond milk in this no bake cookie recipe!
Butter: Typically I use unsalted butter so that I can control the salt in a recipe. If you opt for salted butter, remove the extra pinch of salt from the cookies.
Peanut Butter: Can you make peanut butter no bake cookies without peanut butter? Actually you can! Try our biscoff no bake cookies next.
Oatmeal: I always opt for quick oats in my no bake cookies. It results in great texture and flavor. While you can use old-fashioned oats, you'll get a chewier texture, if you're okay with that!
Reese's Pieces Candy: The sky is the limit (or maybe it's your pantry is the limit). Chocolate Chips, peanut butter morsels, M&M's, you decide. Or leave it all out and keep them as plain no bake oatmeal cookies!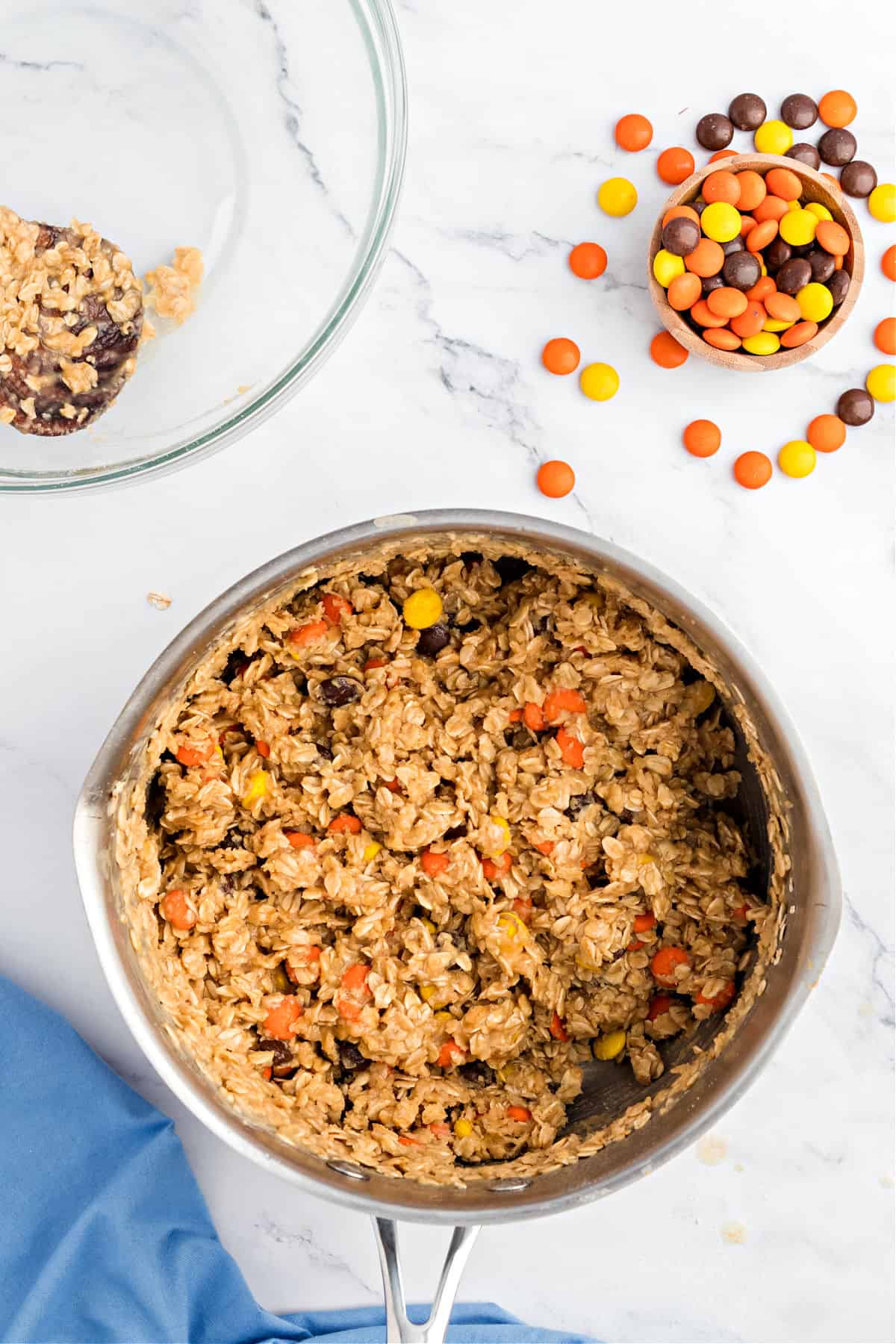 No Bake Cookie Dilemmas
You either have the dilemma of cookies being too gooey? Or your cookies are hard rocks. Wondering where you went wrong and why your cookies won't set?
For Dry Cookies:
When you bring your mixture to a boil for one full minute, you have likely overheated your sugar. Overcooking the sugar can result in a crumbly mess.
If this is something you struggle with, try using a different saucepan or turn your stove top heat source down!
For Gooey Cookies:
Most common cause of gooey no bake cookies is not boiling your mixture long enough (see? it's the opposite of dry cookies).
Rain and humidity! The moisture in the air can keep your cookies from setting. If it's an exceptionally humid day, add a little time to your boiling mixture. Or avoid making these cookies on humid days!
Also, I have found that natural peanut butters can result in gooey cookies. Be sure to stir your peanut butter really well before using, and you may need to add more boiling time.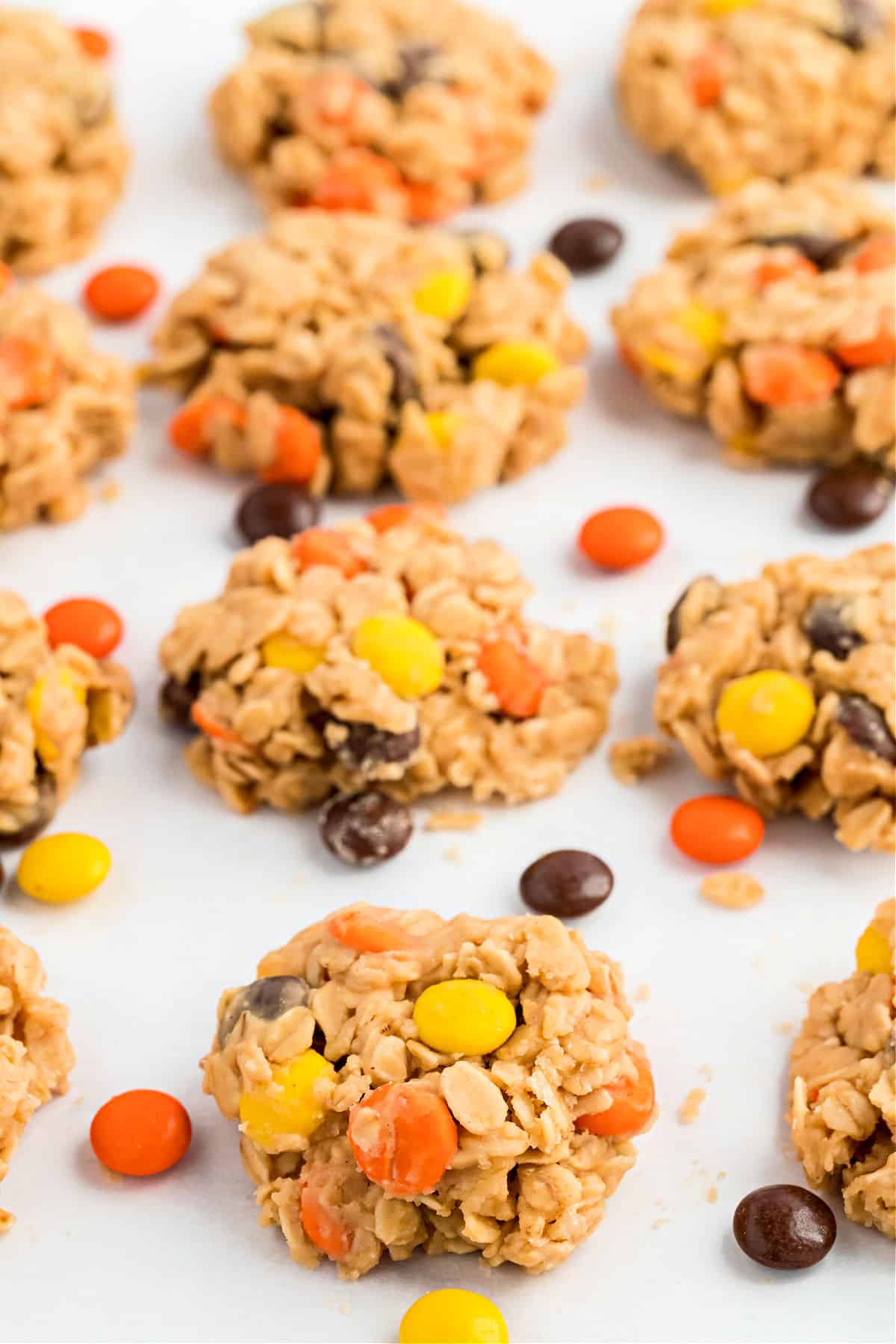 Recipe FAQs
Do no bake cookies need to be refrigerated?
You do not need to refrigerate no bake cookies. Keep them in an airtight container at room temperature. However, they are delicious when chilled, so feel free to store them in the fridge.
Can you freeze no bake cookies?
You CAN freeze no bake cookies! Slide cookies into a freezer safe ziploc bag (or airtight container). Freeze cookies for up to two months.
More No Bake Recipes
Peanut Butter No Bake Cookies are the quick and easy dessert everyone loves!