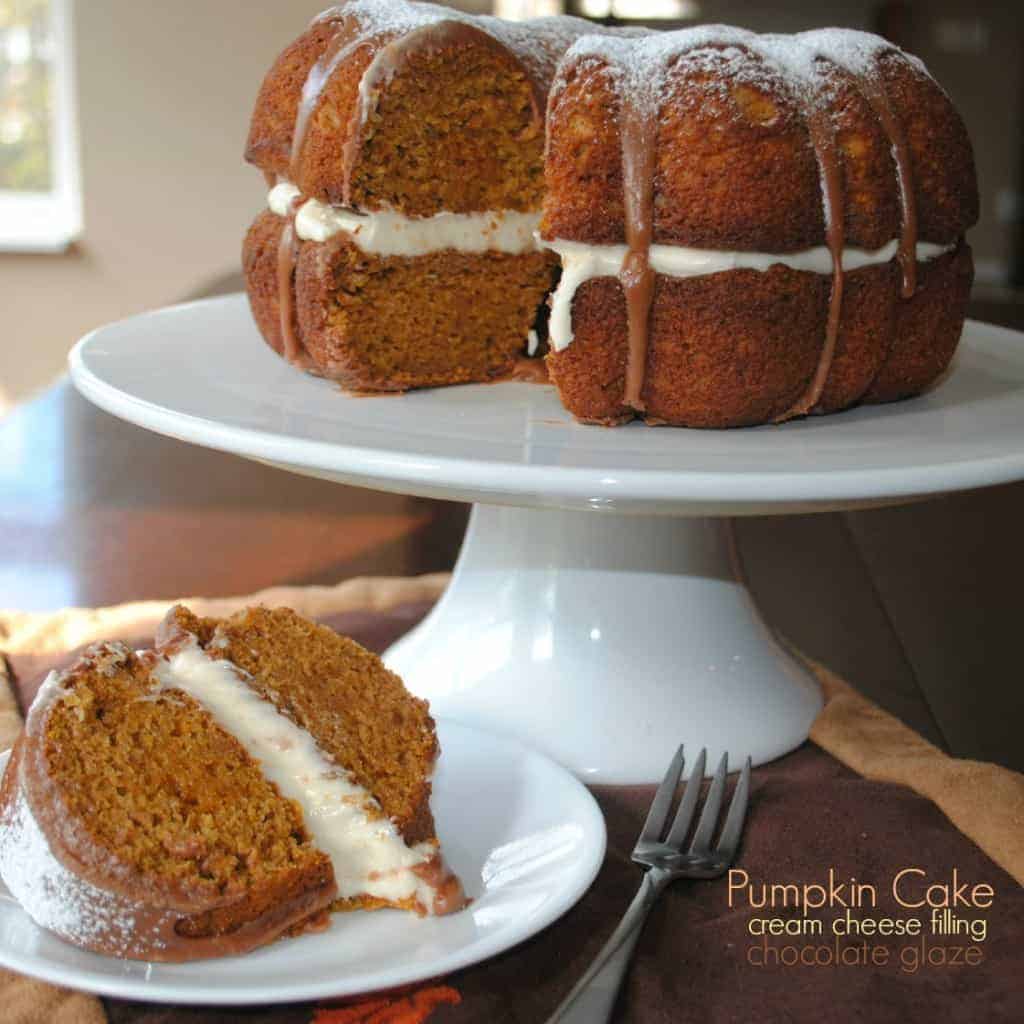 I love cake. And bundt pans, I mean come on. You've all seen My Big Fat Greek Wedding right? Bunnnndddttt. A what? A Bunnnnddddtttt.
I love baking in my bundt pan. Mine is a stoneware bundt from Pampered Chef, but you can use any pan you like. This cake I doubled the cake recipe below by baking TWO bundt cakes. I baked one, while that one cooled I baked a second cake. I like the height of the cake, plus it kinda looks like a pumpkin!
I think there is something so grown up and sophisticated about bundt cakes. I'm not sure what it is though. Maybe the lines on the outside of the cake? The curves? I just love a slice of cake with my coffee.
And this pumpkin cake? It's so rich and moist! Paired with the cream cheese frosting and chocolate ganache, you just can't go wrong. So go do something right and have a slice of cake!!! Enjoy!
Favorite Pumpkin Recipes: Pumpkin Crumb Cake | Cold Brew Coffee
Pumpkin Cake with Chocolate Ganache
Ingredients
For the cake: DOUBLE IF MAKING TWO BUNDTS
1 cup canned pumpkin puree
1/3 cup sugar
3/4 cup brown sugar
1/2 cup applesauce
2 eggs
1 cup flour
1 tsp baking powder
1 tsp baking soda
1/2 tsp salt
2 tsp cinnamon
1/2 tsp ground cloves
1 tsp ground ginger
1 tsp ground nutmeg
For the frosting:
4 oz cream cheese, softened
2-3 cup powdered sugar
2 Tbsp milk
2 tsp vanilla extract
For the ganache:
1 Tbsp heavy cream
1 Tbsp milk
1/4 cup butter
1 tsp vanilla extract
2 tsp corn syrup
1 oz bittersweet chocolate
1 oz semi sweet chocolate morsels
1 1/4 cup powdered sugar
Instructions
In mixer, beat together pumpkin, sugars, applesauce and eggs. Blend in the flour, baking powder and soda, salt, and seasonings.
Pour batter into well greased and floured bundt pan.
Bake in a 350 degree oven for about 38-45 minutes. Allow to cool in pan about 5 minutes before flipping onto a rack. Repeat by making a second cake if you want two layers.
Cool completely before frosting. To make frosting, beat cream cheese until smooth. Beat in vanilla, milk and powdered sugar and mix for 2-3 minutes. Invert one cake so the flat part is facing upwards. Spread frosting evenly on cake and top with second cake. *If only using one bundt cake, carefully slice cake in half horizontally, lifting up the top layer. Spread frosting between layers, return top layer above the frosting.
To make chocolate glaze, in a small saucepan on medium low heat, mix together the cream, milk, butter, vanilla and corn syrup. When butter is completely melted, turn heat to low and add in the chocolate. Remove from heat and whisk in the powdered sugar. When completely smooth, spoon over top of cake. Allow to set about 15 minutes. Enjoy!