This Pumpkin Chocolate Chip Cookie Dough Dip needs to be at every fall party! Serve with some pretzels, graham crackers, or gingersnaps for a festive seasonal delight.
Speaking of ginger cookies, have you tried my Gingerdoodle Cookies yet? They're like a gingersnap crossed with a snickerdoodle!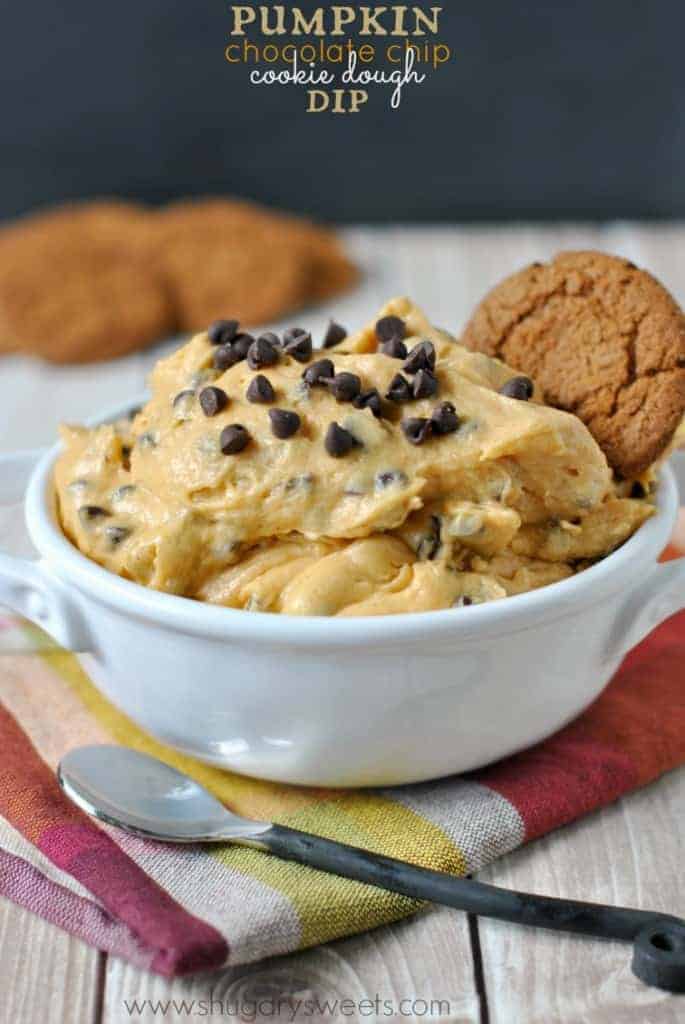 Why this Recipe Works
Want to hear a confession? I might prefer cookie dough to actual baked cookies. At least some of the time.
Based on the popularity of this Chocolate Chip Cookie Dough Dip recipe, I have a feeling I'm not alone in my cookie dough affinity!
Unlike traditional raw cookie dough, today's Pumpkin Chocolate Chip Cookie Dough is egg free and safe to consume.
It's a thick and creamy dip full of pumpkin flavor and rich cream cheese.
Of course, I added mini chocolate chips because no cookie dough dip is complete without chocolate!
The orange and black colors in this dip make it perfect for Halloween or any other autumn occasion.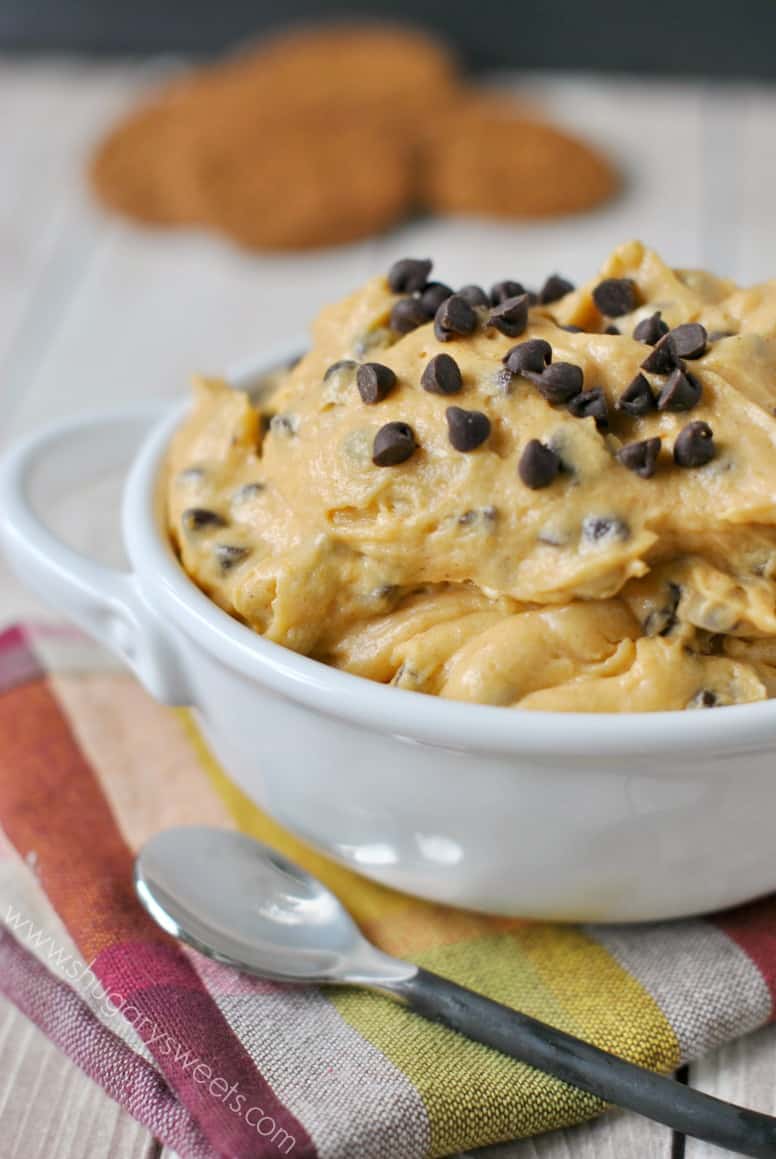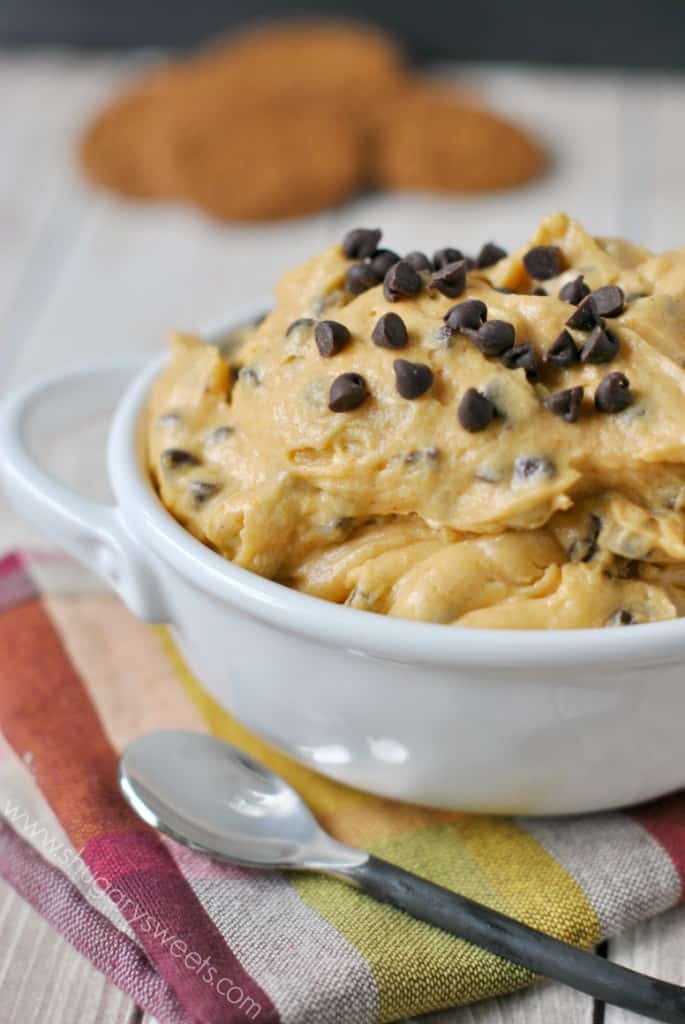 Ingredient Notes
Pumpkin puree. Double check the label of your canned pumpkin to ensure it's JUST pumpkin, not pumpkin pie mix.
Cream cheese. Use full fat regular cream cheese for best consistency and creaminess. This is a dessert dip after all!
Chocolate chips. We use mini morsels which make for easier eating in dip form. Feel free to use full sized morsels if that's all you have.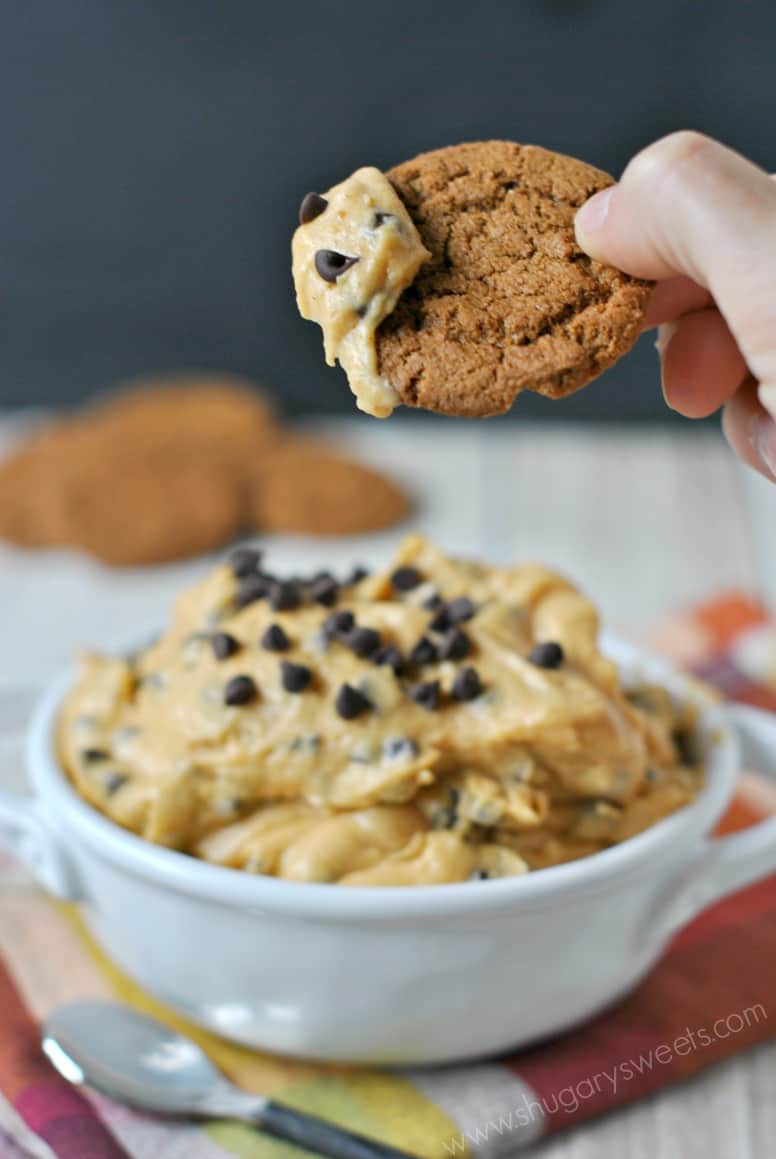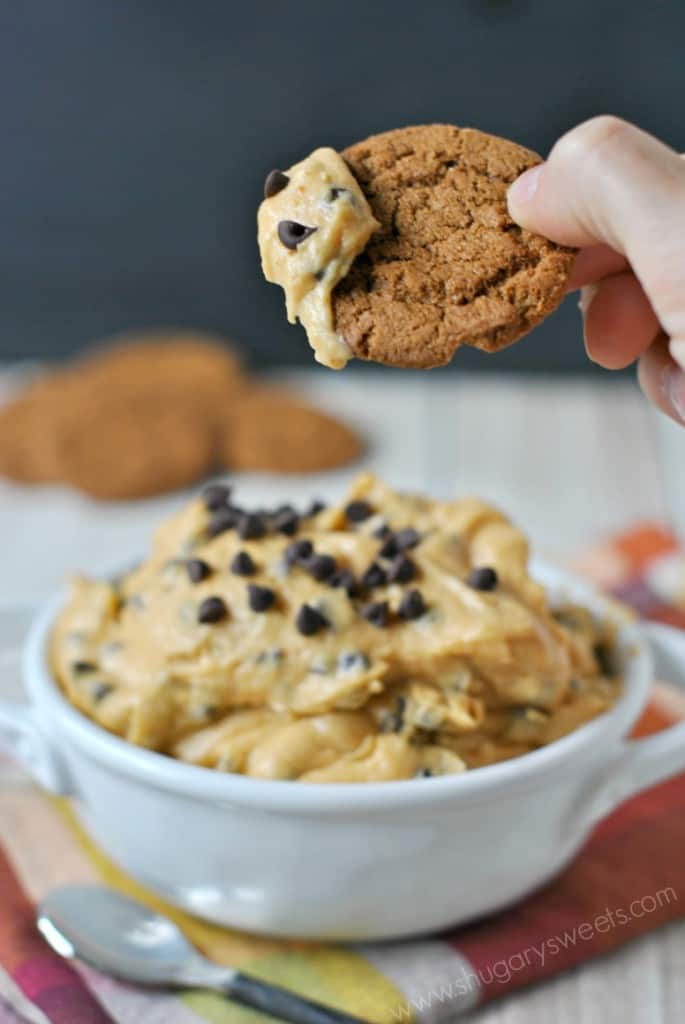 Tips and Tricks
Keep your saucepan on low when melting the butter with the brown sugar, cinnamon, and pumpkin. You don't want to BOIL this mixture, just whisk until melted and smooth
Heating the pumpkin and cinnamon instead of adding them in with the cooled cream cheese mixture results in a much creamier texture. Trust me.
Allow the pumpkin mixture to cool COMPLETELY before adding it to the cream cheese. It will never set up if you add it warm.
Refrigerate dip for two hours (more or less). It allows the flavors to mingle, and gives the cream cheese time to firm up again with the pumpkin mixture.
Serve with gingersnaps. You will LOVE the tasty snap of the cookie with the pumpkin dip. Also good dippers include pretzels, apples, Nilla wafers, and graham crackers.
Have a big crowd? Double the recipe. You'll thank me later! No one ever regretted having some extra cookie dough dip stashed in the fridge for later!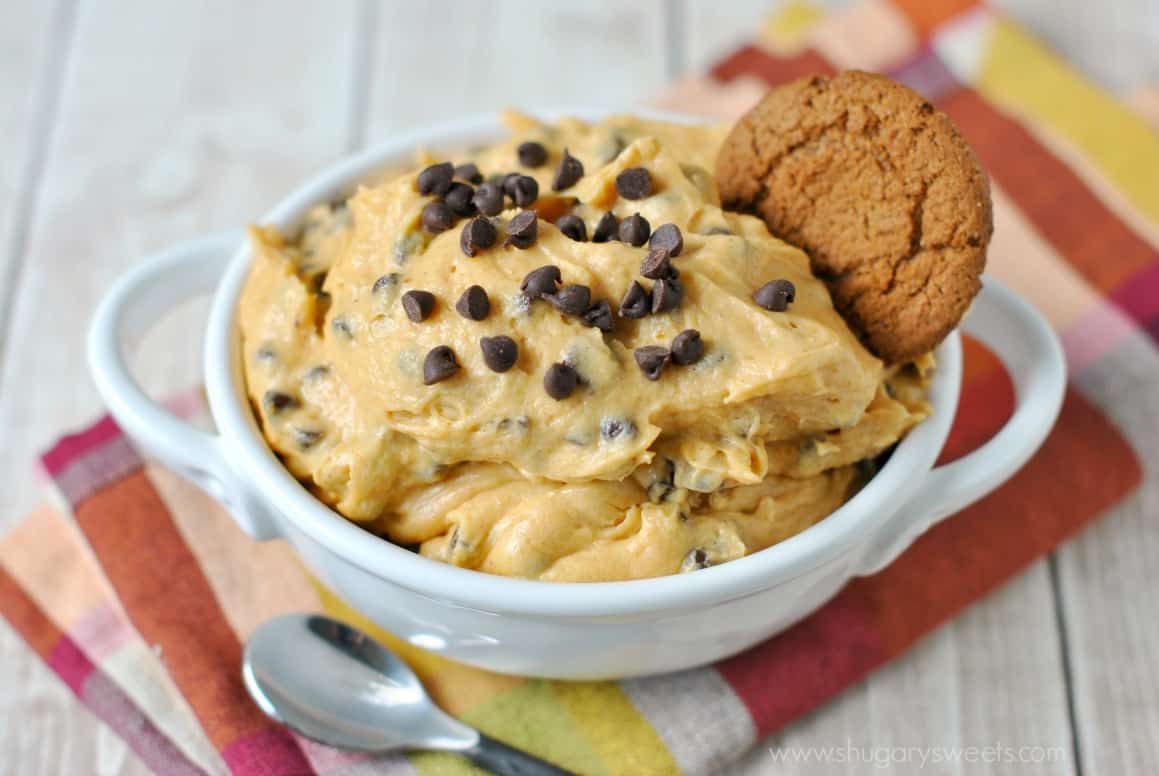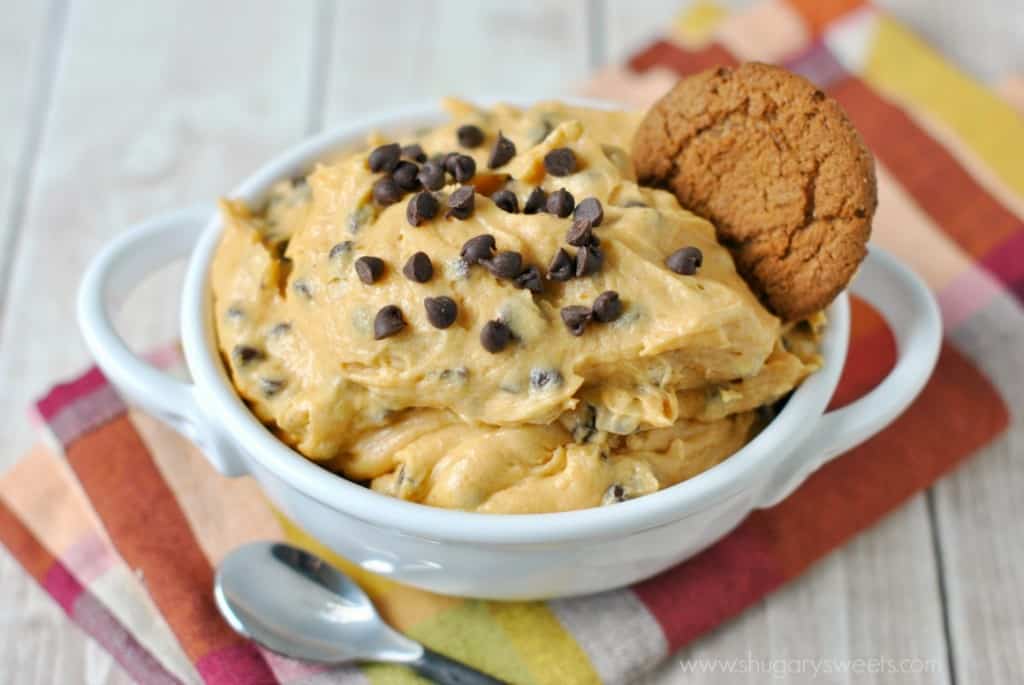 Recipe FAQs
How far in advance can I make this dip?
You can prep this a day or two in ahead of time and store it in the fridge. It will stay good for about 5 days, but you'll probably eat it all up long before then!
Why is my dip runny?
If your pumpkin chocolate chip cookie dough dip doesn't "set", you may have added the pumpkin mixture before it was completely cool. Unfortunately, once that happens there's not much you can do to help the dip firm up.
Try making the recipe again and waiting longer before incorporating the pumpkin with the other ingredients.
Does this recipe use regular pumpkin or pumpkin pie mix?
You need pure canned pumpkin for this recipe.
How do I store this dip?
Be sure to keep this dip chilled until you're ready to eat! Store it in an airtight container or tightly covered with plastic wrap to preserve freshness
More Dips
The satisfying combination of pumpkin and chocolate is at its best in this dessert dip! Pumpkin Chocolate Chip Cookie Dough Dip keeps everyone coming back to the table for "just one more bite."