Dinner in the crock pot never looked–or tasted–so good. Try making this Sausage and Peppers recipe tonight! Served over rice or on a french roll, this slow cooker dinner never disappoints.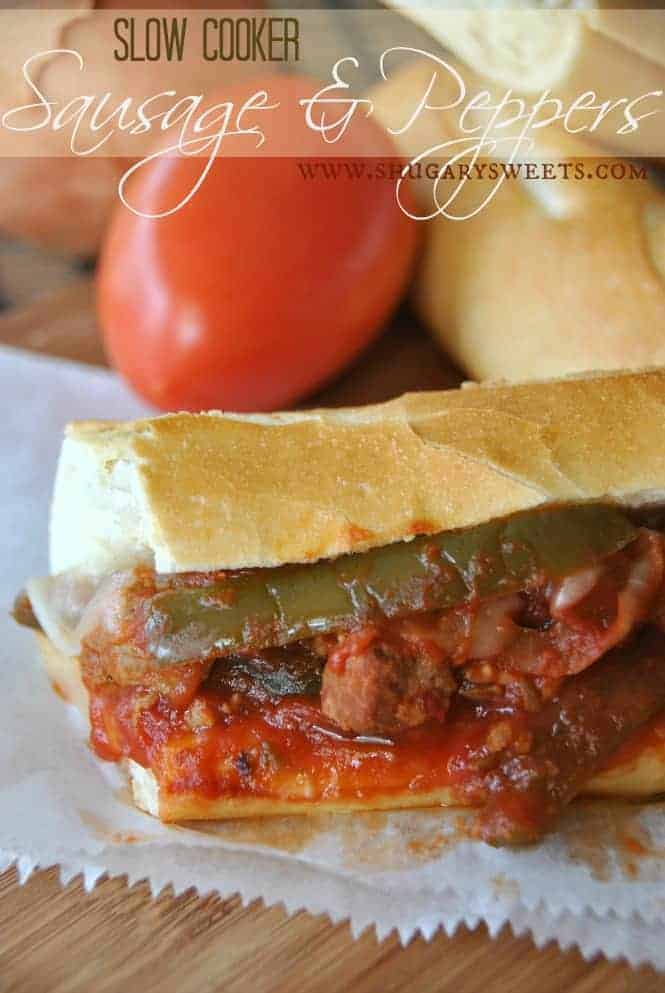 This Sausage and Peppers dish is a crowd pleaser in our house! We like it best eaten on rolls topped with a slice of provolone cheese. It's also delicious on rice topped with a little shredded cheese and an Italian salad on the side.
Slow Cooker Dinner
Slow cooker meals are the ultimate in hands-off cooking. As you go about your day, the crock pot simmers all the flavors of your dinner together to create a hot homemade meal that's ready by dinner time.
If you think all slow cooker dinner recipes taste the same, you have NOT tasted this Sausage and Peppers dish. With spice from Italian sausage, tangy tomato sauce and the addition of cheese on top, this easy dinner is full of unique peppery flavor!
What sausage to use
I use the HOT Italian sausage. It really isn't too spicy, but then again we love spicy foods and my tolerance might be higher than most people.
If you're nervous about the spice, feel free to use mild or regular. Or half and half. Whatever. Just be sure you buy bulk, or remove the casings from your sausage before browning it up!
How to make slow cooker Sausage and Peppers
The most labor intensive part of this recipe is browning your Italian sausage in a skillet. . . hardly labor intensive at all when it comes to a homemade dinner!
After browning, you put the sausage in your crock pot along with tomatoes, tomato sauce, onions and peppers. Let it cook for 6 – 8 hours ad you're ready to eat!
Serving suggestions
Like I mentioned before, I usually just slice some french rolls and spoon the sausage and peppers on top along with a slice of cheese. The heat from the sausage will make the cheese soft and just a bit melted.
When I have the time, I also like to serve these sandwiches toasted!
For toasted rolls: Slice rolls in half and top one or both sides with a slice of provolone. Heat in a 400 degree oven for 4 – 6 minutes until the roll is toasty and the cheese is melted.
Not in the mood for bread? Try serving your Sausage and Peppers over rice as a tasty alternative.
Top bowls of white or brown rice with a portion of Sausage and Peppers. Sprinkle your preferred variety of shredded cheese over top. I like mozzarella and parmesan!
Substitutions
This dish gets a good portion of its spicy flavor from the hot Italian Sausage. However, you could also substitute another variety of sausage and compensate by adding your own seasonings.
If using another variety of sausage that's not Hot Italian, add a teaspoon of Italian seasoning to the crock pot along with the other ingredients.
You could also try these other sausage varieties to change up the flavor of this dinner:
Andoulli Sausage – Adds a a smoky Cajun flavor
Chorizo – Adds a garlicky, spicy Mexican flavor
Kielbasa – Adds smokiness and a garlic flavor
I used canned tomatoes and plain unseasoned tomato sauce in this recipe. If you prefer, you can substitute jarred tomato sauce or the same amount of your own homemade sauce
Storage
Transfer any leftovers from the crock pot to an airtight container and keep in the fridge for up to 3 days. It's quite tasty reheated in the microwave or on the stove top.
If this recipe makes too much for your family to enjoy that quickly, it freezes very well too! You can stick the leftovers in a freezer safe container or ziploc and reheat another time.
I say this serves 8, but as with most servings it depends on your family!
I've even got a slightly similar, but ridiculously easy Instant Pot Sausage and Peppers recipe too!
However you serve it, make hearty Sausage and Peppers part of your dinner plans this week!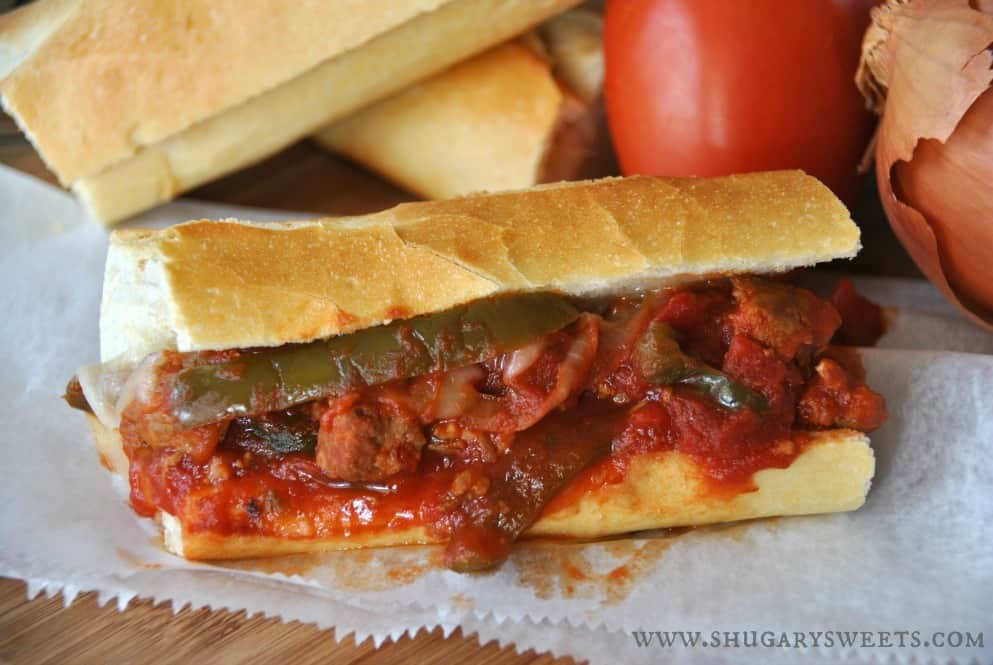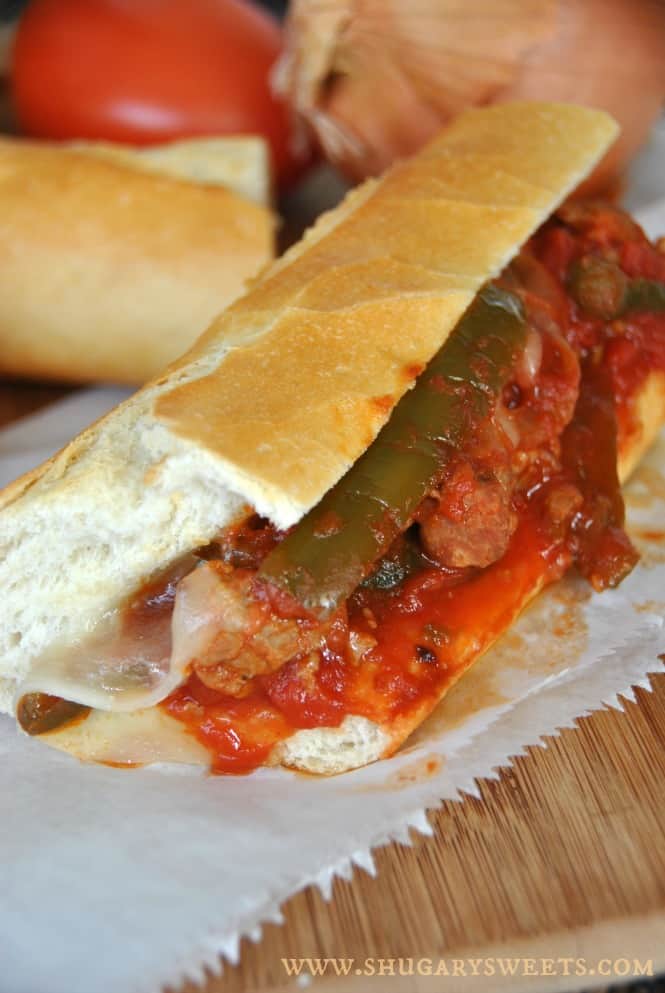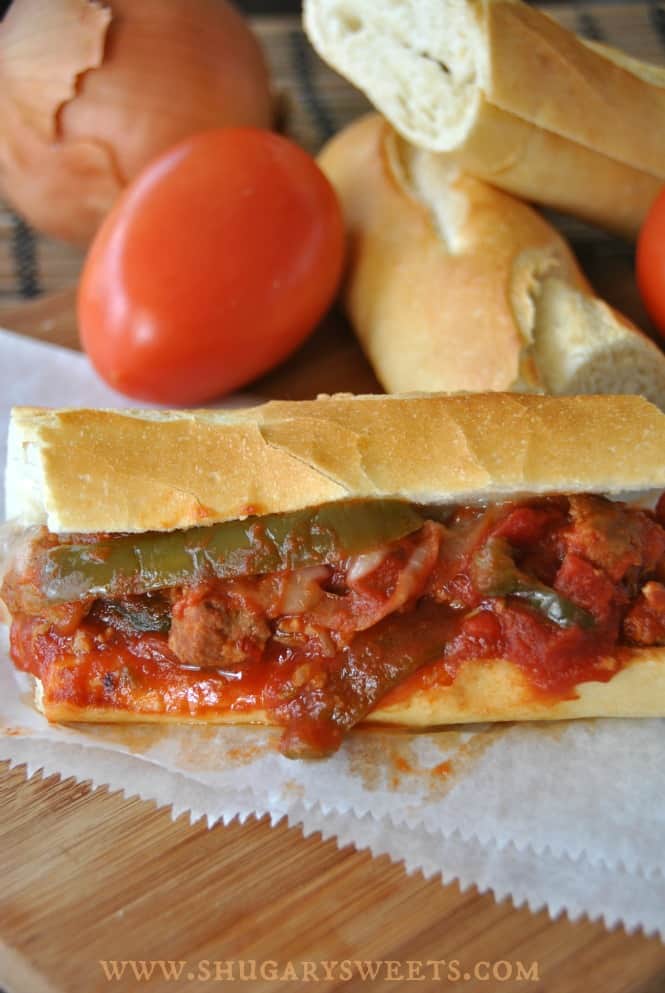 Balsamic Glazed Pork Tenderloins: We love this meal. In the summer when we have fresh cherry tomatoes in our garden we also make the recipe for the tomato salad! But the pork recipe itself is worth trying. Fork tender, melt in your mouth!
Slow Cooker Carnitas: This dinner feeds a crowd too, and the pork is GREAT leftover, or frozen!
Slow Cooker Beef Enchiladas: This beef recipe makes enough for not only these enchiladas, but also for some French Dip Sammies. Cook once, eat twice!
Slow Cooker Spaghetti Sauce: this is my favorite way to make spaghetti sauce. And as you probably guessed, you can freeze it too! You can also add meat if you desire!