The best, chewy Sugar Cookies with a no-chill dough. Topped with a creamy sugar cookie icing, you'll love this Copycat Swig Sugar Cookie recipe!
Looking for something softer? Try our Lofthouse Cookies for that copycat, homemade taste! Or give our Ricotta cookies a try next!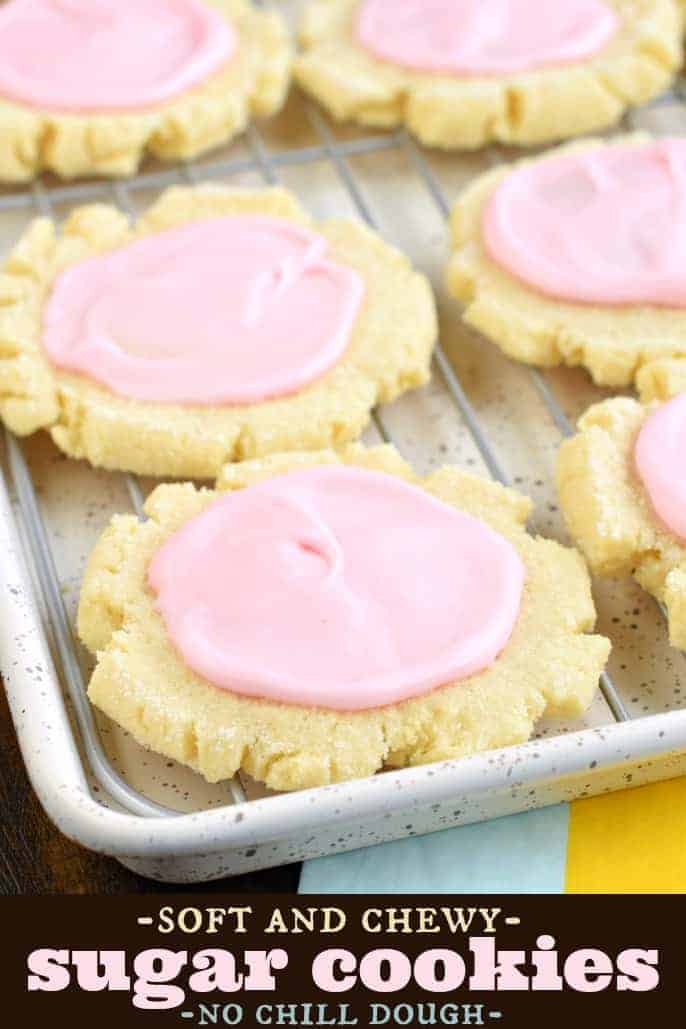 Why this Recipe is BEST
As a dessert blogger, my goal is to always give you the best of the best when it comes to recipes.
Like when I shared THE BEST Chocolate Chip cookie recipe. Or THE BEST Banana Bread recipe. Or even, THE BEST Carrot Cake ever.
See what I'm saying? I love creating those tried and true desserts that you can trust will deliver.
Today's Sugar Cookie recipe is perfection. These are not your typical roll out the dough and make cut outs. If you're looking for that, you'll want to try my perfect Cream Cheese Sugar Cookie recipe!
For today, how about I just share a sugar cookie that is beautiful AND tasty. One that can be topped with an easy sugar cookie icing recipe. You can change up the color of the icing easily too…blue for a baby boy shower…red and green for Christmas…pink and red for Valentine's Day….the sky is the limit!
Now, let's get to it.
How to make Sugar Cookies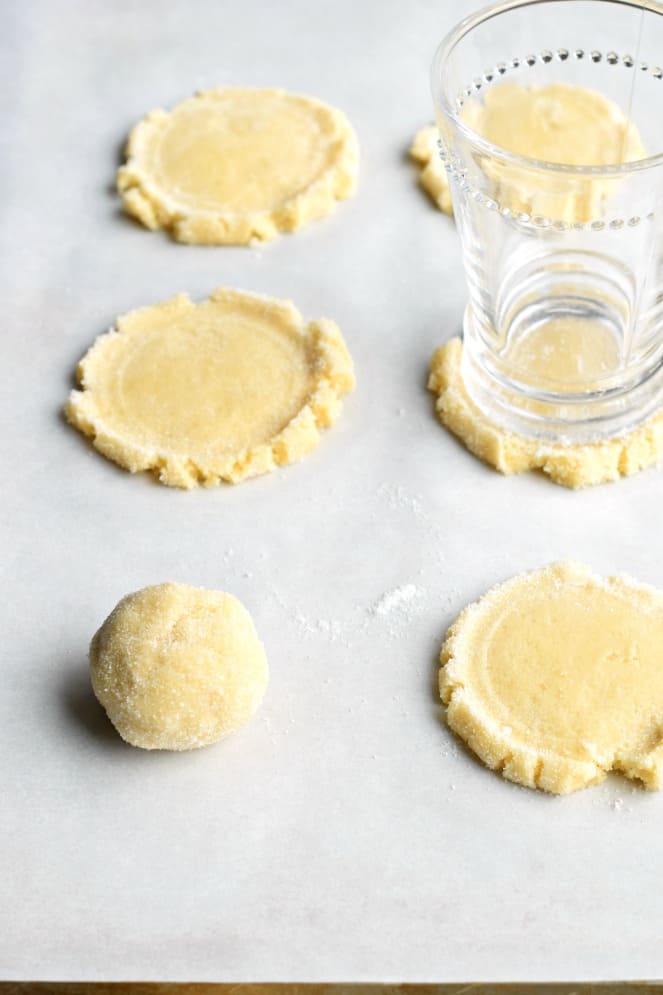 STEP 1. Preheat oven to 350 degrees F. Line a baking sheet with parchment paper, set aside.
STEP 2. In a large mixing bowl, cream together the softened butter, vegetable oil, granulated sugar, powdered sugar, water, and eggs. Slowly add in dry ingredients: flour, baking soda, cream of tartar, and kosher salt.
Mix until everything is well blended. Your dough may be slightly crumbly and NOT sticky at this point.
STEP 3. Use a 2 Tbsp cookie scoop to portion out the sugar cookie dough. Roll it into a ball (like golf ball sized balls).
In a small bowl, combine 1/4 cup sugar with a pinch of salt in a small bowl. Roll cookie dough balls in this dish and place the ball on your cookie sheet.
Find a small glass that has a flat bottom. Dip the bottom of a glass in the bowl of sugar and press gently onto the cookie dough ball. If it sticks, peel it off carefully and make sure you dip the glass in the sugar between pressing each cookie. You want to press enough that the dough spills out over the sides of the glass, creating a small lip (this is where the sugar cookie frosting is going to go).
I use this same "glass smashing" technique when making our favorite Pecan Sandies!
STEP 4. Bake cookies for 8-10 minutes. Remove from oven and cool on pan 2 minutes, then move to wire rack to cool completely. Recipe makes about 4 dozen large cookies.
Cookies can be eaten plain or iced. You can also freeze cookies before adding the icing. Place in an airtight, freezer safe bag or container.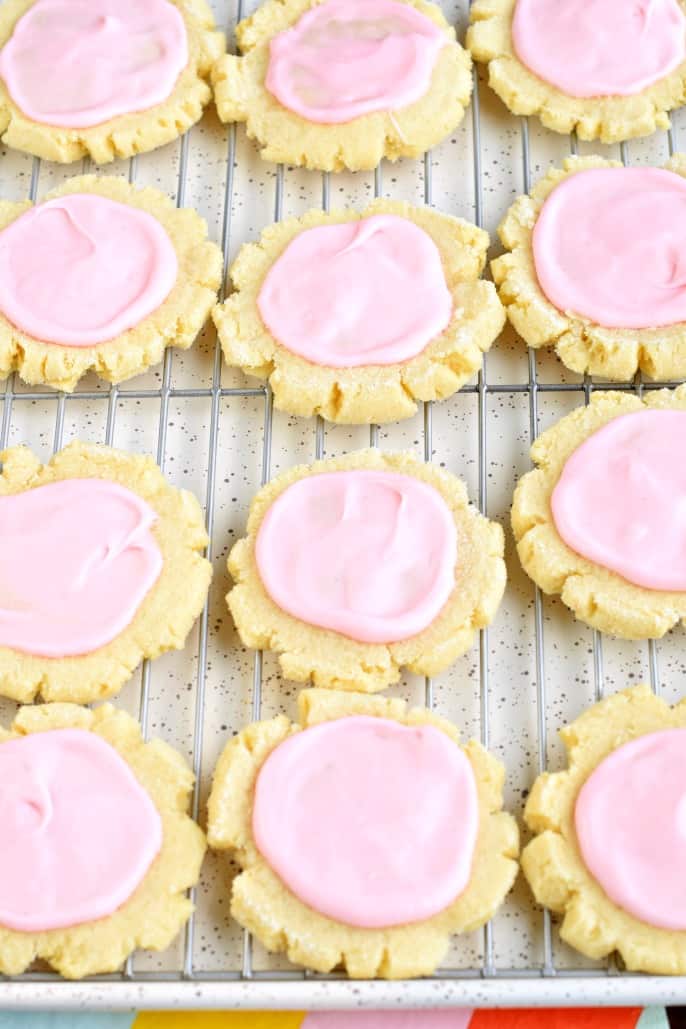 How to make Sugar Cookie Icing
So regular sugar cookies are usually iced with royal icing or you can use a sugar cookie frosting like I did with these Sugar Cookie Bars.
Today's recipe is a copycat of Swig Sugar Cookies. It's made using SOUR CREAM. So fun and tasty, giving them a creamy, frosting that is addicting.
I used a small drop of pink gel food coloring that I purchase on Amazon. Using gel helps you achieve your desired color with as little food coloring as possible!
To make the frosting, cream together room temperature butter and sour cream for 3 minutes. Add in powdered sugar and beat until well blended. Add food coloring and a splash of milk, if needed. Having made this frosting several times, the amount of milk needed has varied from zero to 2 Tbsp. You don't want the frosting thick, but you also don't want it runny.
Spread sugar cookie icing over cooled cookies. ENJOY.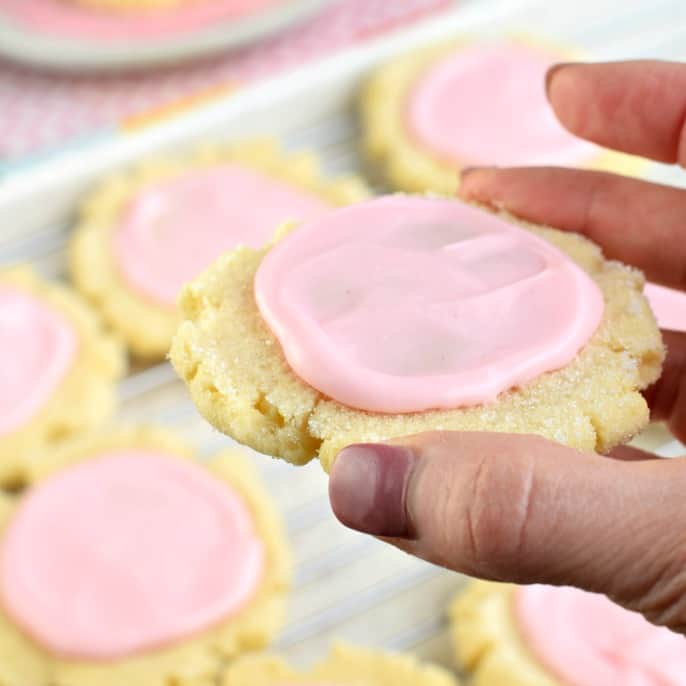 Recipe FAQs
Do I need to chill sugar cookie dough?
Chilling the dough is NOT necessary for my sugar cookie recipe.
Can I add flavoring to the sugar cookie dough?
Absolutely! I would add 1-2 tsp of your favorite flavoring to give new life to these cookies. My favorites would be lemon, almond, or orange extracts.
How do I store sugar cookies?
These sugar cookies should be kept at room temperature in an airtight container for best flavor and texture. Once the icing has firmed, you can stack them with a sheet of wax paper (or parchment paper between layers.
More Cookie Recipes
This Almond Bars recipe is a sweet treat that has a shortbread-like texture and a delicious almond glaze on top! You'll want to make extra and freeze them for later!
Whether you call these by Swedish Heirloom Cookies or by many of their other names (Snowballs, Mexican Wedding Cookies, Russian Tea Cakes), you just need to try them. The buttery almond flavor melts in your mouth!
A sweet jumbo Sugar Cookie is loaded with all the fixings. This Caramel Apple Sugar Cookie Pizza will make your whole family happy tonight!
These delicious, soft and chewy M&M Pudding Cookies are the perfect texture and flavor in a sweet cookie recipe!
Thick, moist, and flavorful describe these delicious Gooey Butter Cookies. Made from scratch, but I've got a cake mix option if you're in a pinch!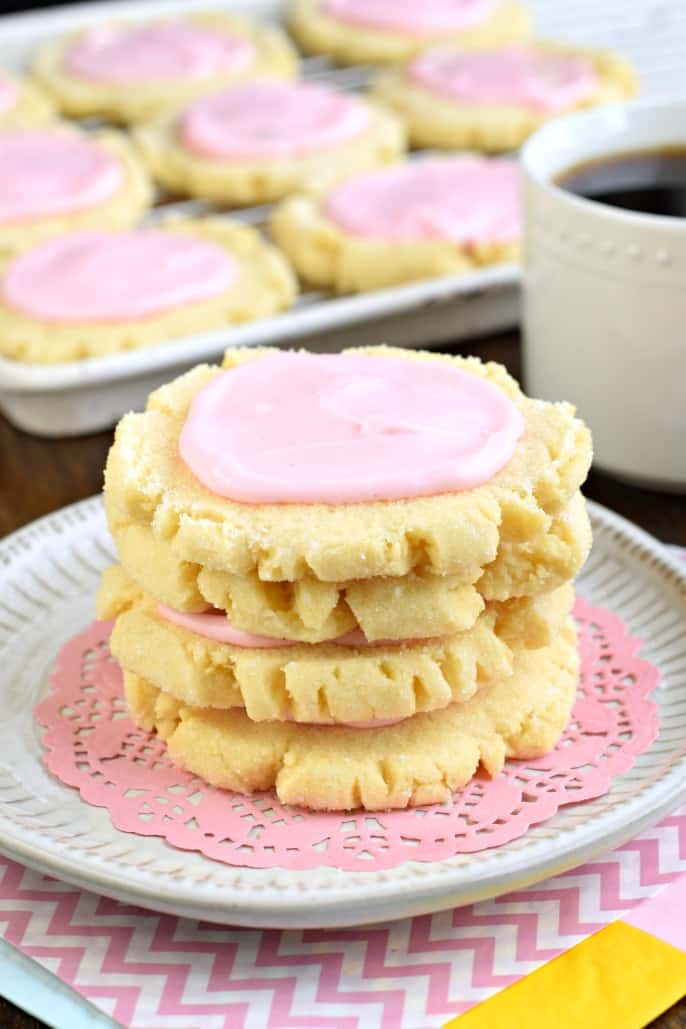 More Cookie and Easy Dessert Recipes
The best, chewy Sugar Cookies with a no-chill dough. Topped with a creamy sugar cookie icing, you'll love this Copycat Swig Sugar Cookie recipe!