Divinity Candy
Divinity Candy is a Southern classic. Just one bite and you'll be hooked on this chewy, soft vanilla treat packed with crunchy pecans!
Be sure to sign up for my email…new recipes in your inbox!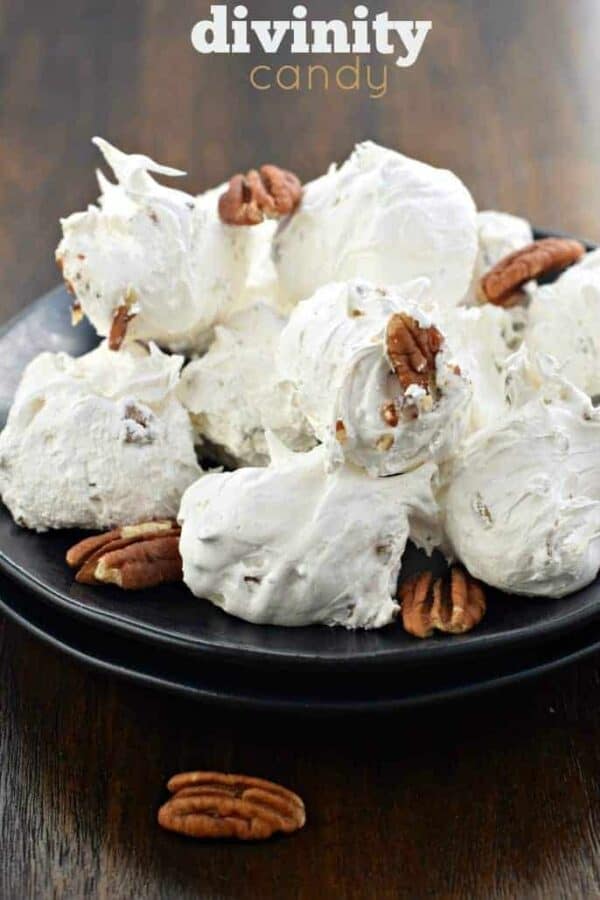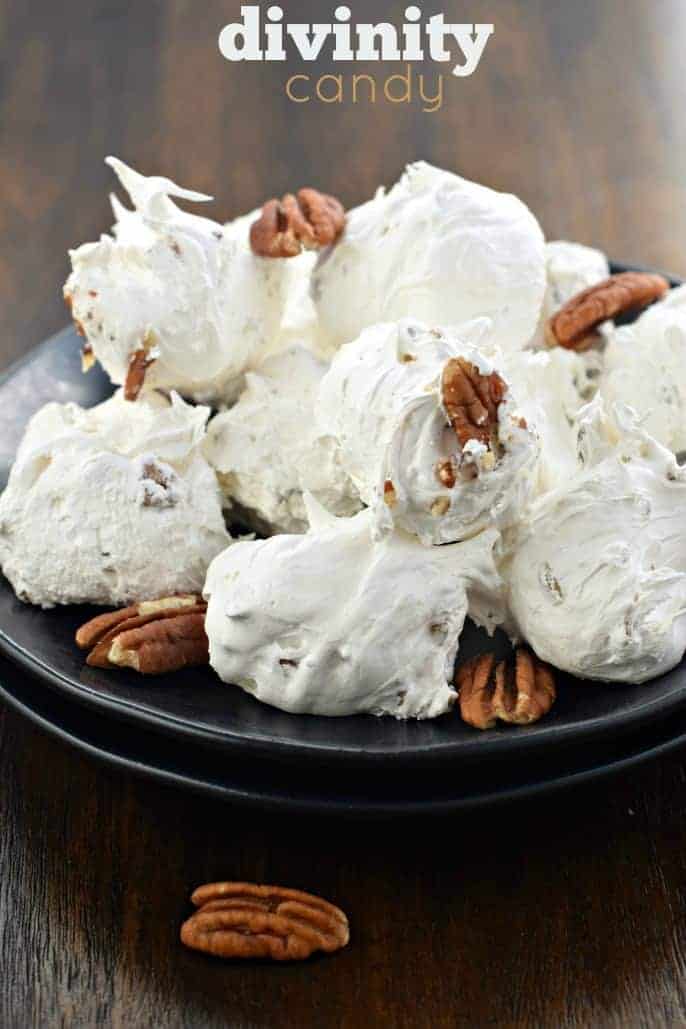 If there's ever one standout recipe request that I receive, it's always for the ever popular southern treat, Divinity.
Here's the thing though. I've never had Divinity, let alone made Divinity, so this one took some research.
I wasn't sure what the texture should be, so a quick search on google revealed that it's in the marshmallow, fudge, and taffy family.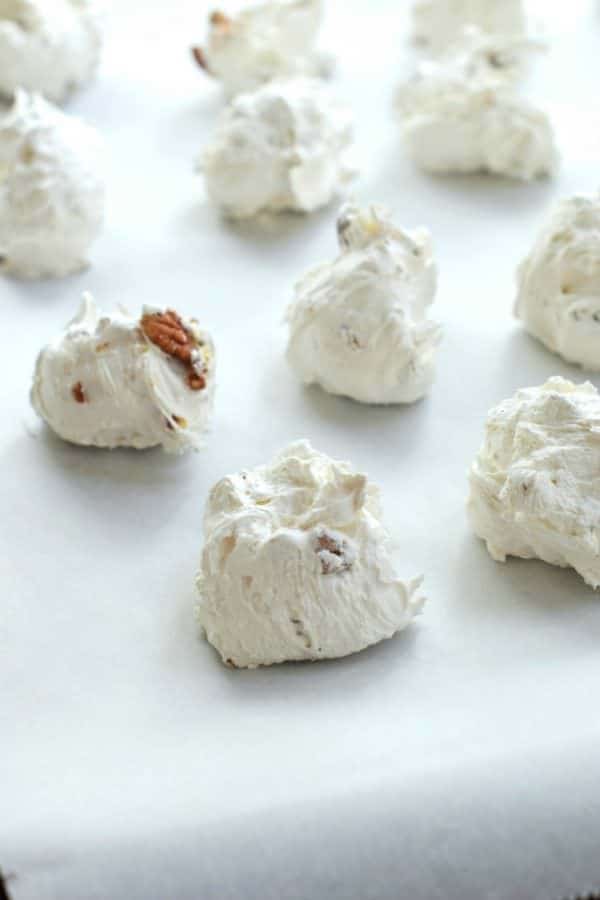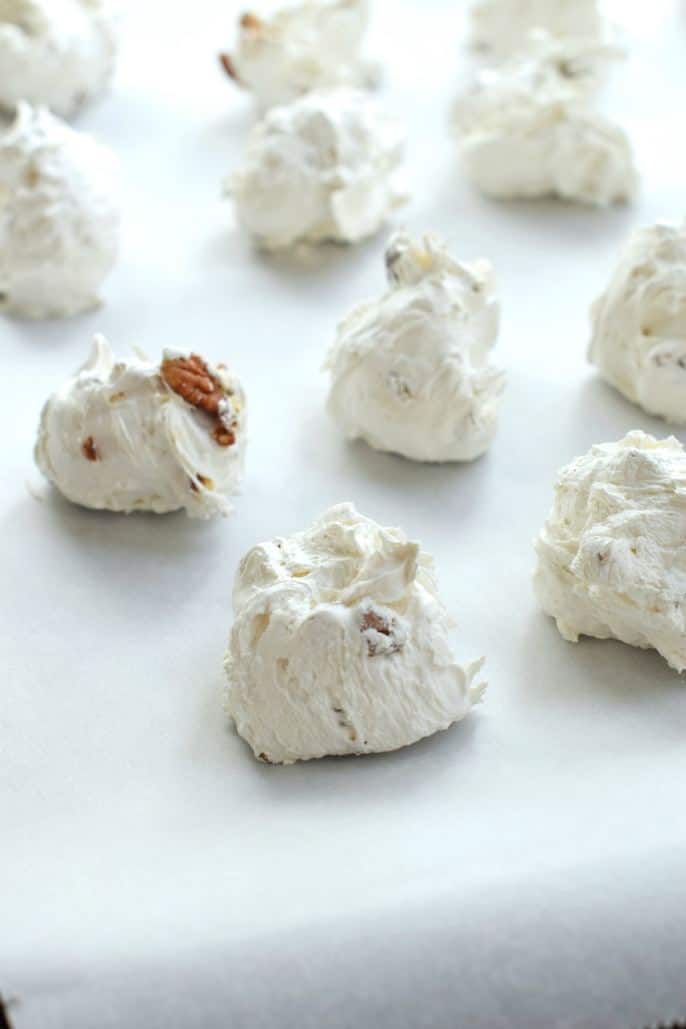 I quickly set out to give this a try, and if I'm being honest, my first attempt was a fail. There is a lesson to be learned from me…don't rush it. In your final step, you need to beat the mixture for about 6 minutes, until it loses it's glossy finish. You want to be able to scoop some out of the bowl and it will stand on it's own. My first attempt spread into a puddle on my baking sheet after several minutes.
However, once I repeated my attempt at making this, without rushing, it was a huge success! If I were to describe the texture, I would say once you sink your teeth into the candy, it's got a fluffy texture like a homemade marshmallow. However, as you continue to bite into it, you'll find a soft fudge like texture is revealed. I didn't think "taffy" described this well…as my first attempt was more of a taffy…that spread and was too soft. A soft, tender pillow of Marshmallow Fudge would be my description!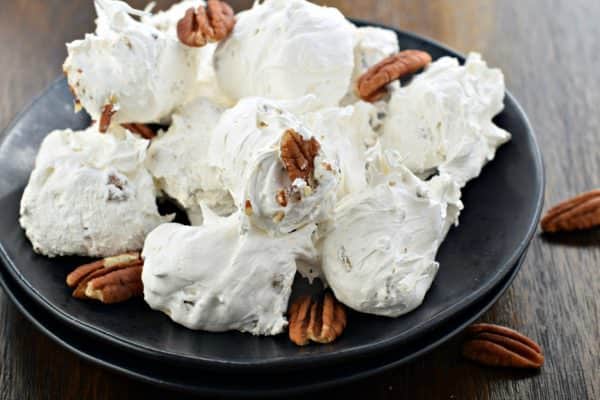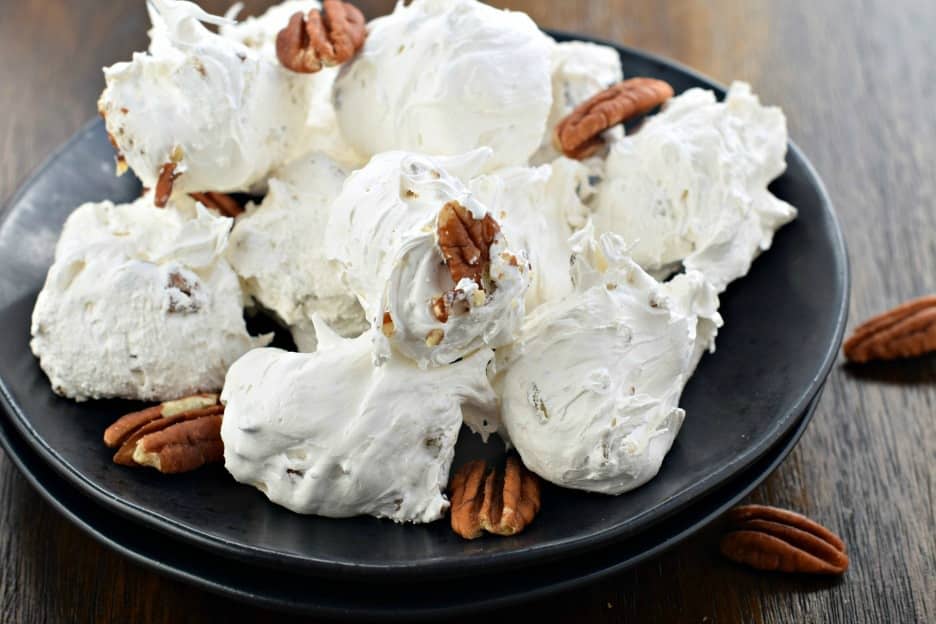 A few quick tips about making Divinity Candy:
First, you're going to need an electric stand mixer. A handheld mixer will not do the job on this one, as you need a little higher power, and you allow it to run for minutes at a time!
Second, don't attempt to make this on a humid day. Much like meringue cookies, this candy will not set up nicely if it's too humid. Or so I'm told!
Use a good quality PURE Vanilla Extract (or Almond Extract). This will make the flavor stand out.
Check your candy thermometer before using it, to make sure it's calibrated correctly. To do this, place your thermometer in boiling water for a few minutes. It should register at 212° If it is above or below that, add or subtract the same difference in degrees from the recipe temperature! Also, make sure while you are boiling the mixture, the bulb of the candy thermometer is completely covered with liquid and is not touching the bottom or side of the pan.
Store your Divinity Candy in a tightly covered container at room temperature. ENJOY!
Check out some of my other favorite truffle and candy recipes! Be sure to stop over at Food Fanatic to print the Divinity Candy recipe!
Connect with Shugary Sweets! Be sure to follow me on my social media, so you never miss a post!
Facebook | Twitter | Google+ | Pinterest | instagram 
Sign up to receive an email in your inbox for each new recipe: