Chocolate Orange Biscotti – A delicious breakfast treat packed with sweet orange flavor and drizzled with chocolate! Put on a pot of coffee and make some of the best biscotti you've ever tasted. 
Today's recipe is right up there with Caramel Macchiato Biscotti on my favorites list. If you love chocolate, you'll like this Turtle Biscotti too.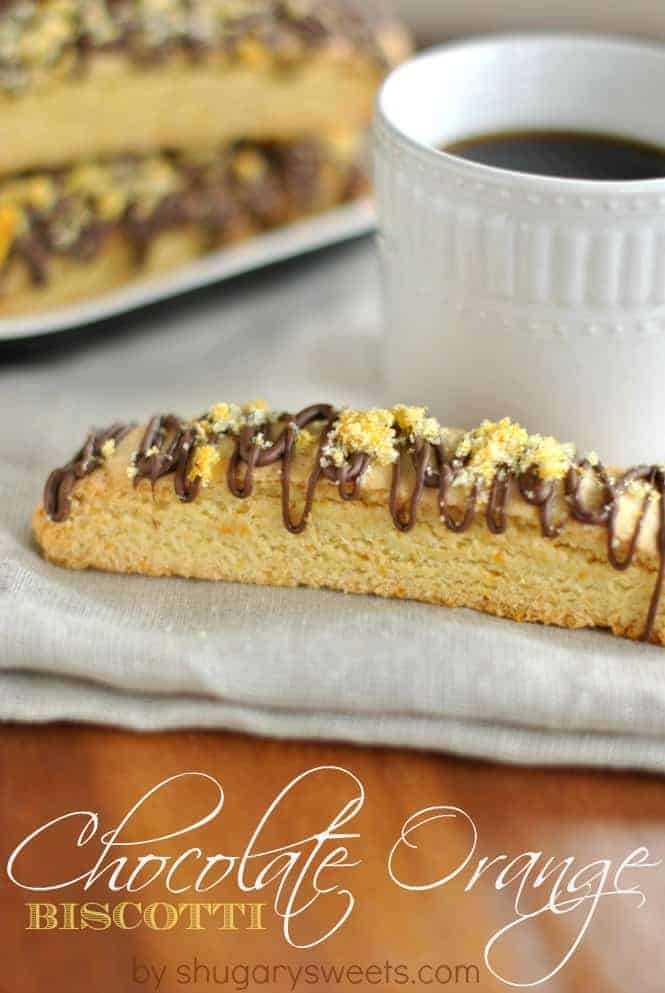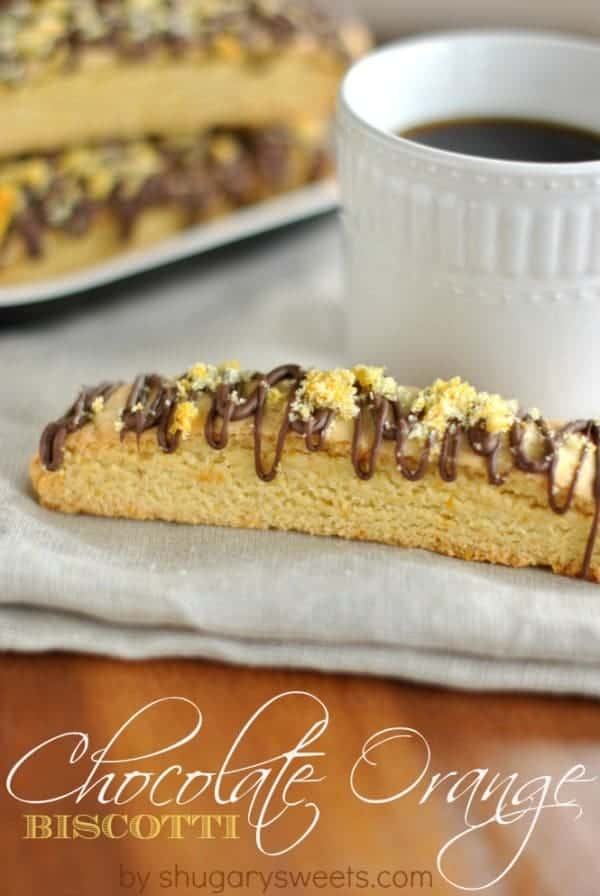 Why this Recipe is Best
My mind always is thinking of the next great biscotti recipe. Anyone else with me on this?
Okay, so maybe not everyone thinks the same way I do. But, biscotti is a delicious, crunchy treat that is perfect for breakfast.
Seriously, cookies for breakfast! What could be better?
Ingredients you would never think to eat on their own first thing in the morning become fully acceptable when baked into biscotti!
Easy instructions make this recipe perfect for beginner biscotti makers.
Orange extract makes the citrus flavor pop.
These are drizzled with milk chocolate to make your morning better!
This recipe features milk chocolate and sweet orange. The combination of bright citrus and rich chocolate flavors is absolutely perfect with a strong cup of coffee.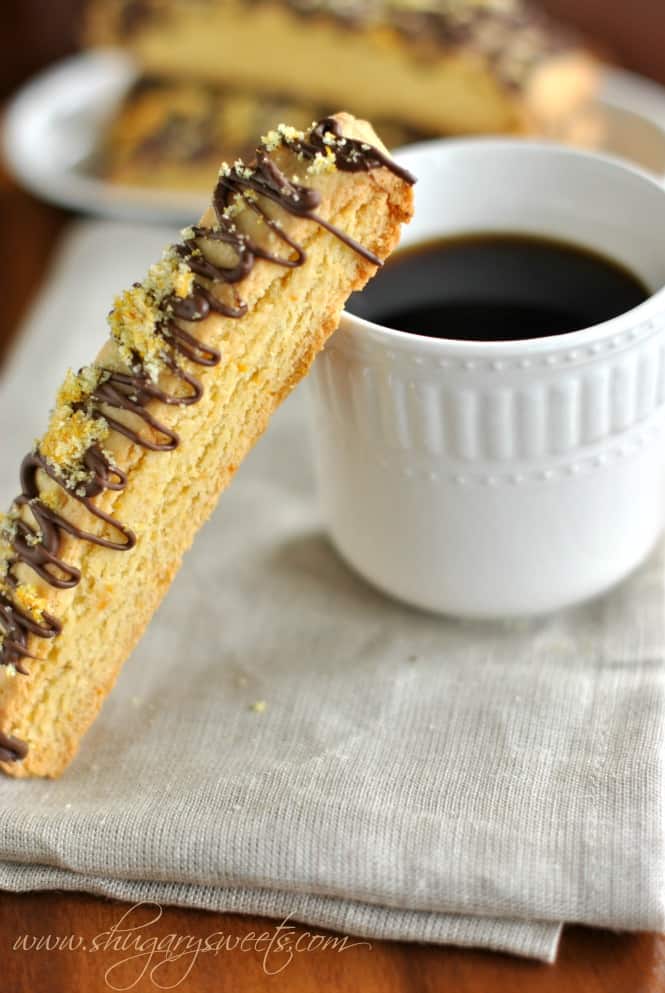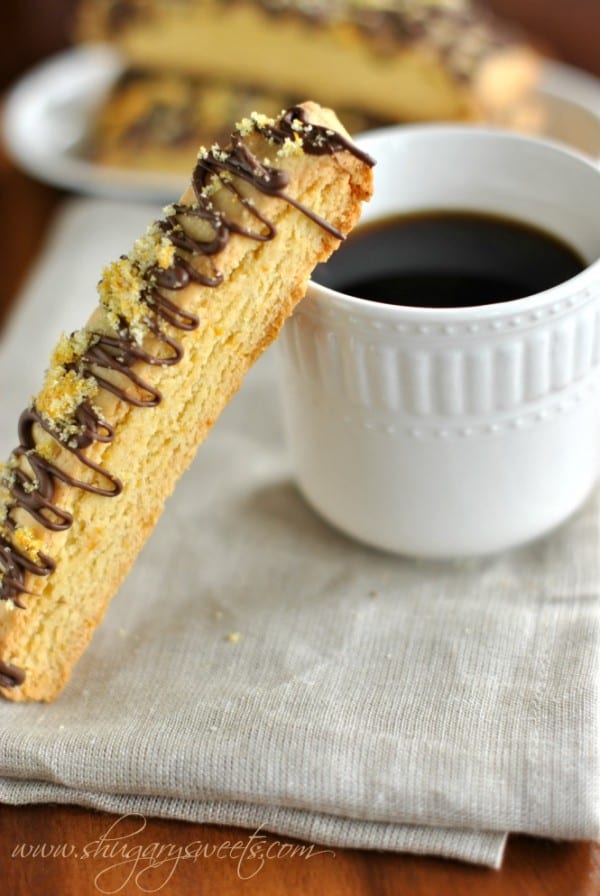 Ingredient Notes
Orange extract. You can find this near the vanilla extract in your grocery store. It's highly concentrated to give the biscotti dough its orange flavor and fragrance.
Milk chocolate. Regular milk chocolate morsels work fine here but melting wafers will give the chocolate drizzle a smoother shiny finish.
Orange zest. Use a microplane grater or zesting tool to remove the zest from a fresh orange. You'll sprinkle this over the baked biscotti and the melted milk chocolate. Use our guide on how to zest a lemon for best practices.
Easy Biscotti Instructions
Biscotti is not difficult once you learn how to make it!
Make the dough – the cookie dough may be crumbly.
Shape dough -Using your hands, press the dough into a rectangular log, about 1/2 inch thick.
Bake – the key to biscotti is the double (or triple) bake. First you bake the log uncut, then cut your slices and lay them on their side and bake again. Flip the biscotti to other side and bake a third time.
Garnish – Combine the orange zest with the sugar in a small bowl. Drizzle melted chocolate over each biscotti slice, then sprinkle tops with orange sugar.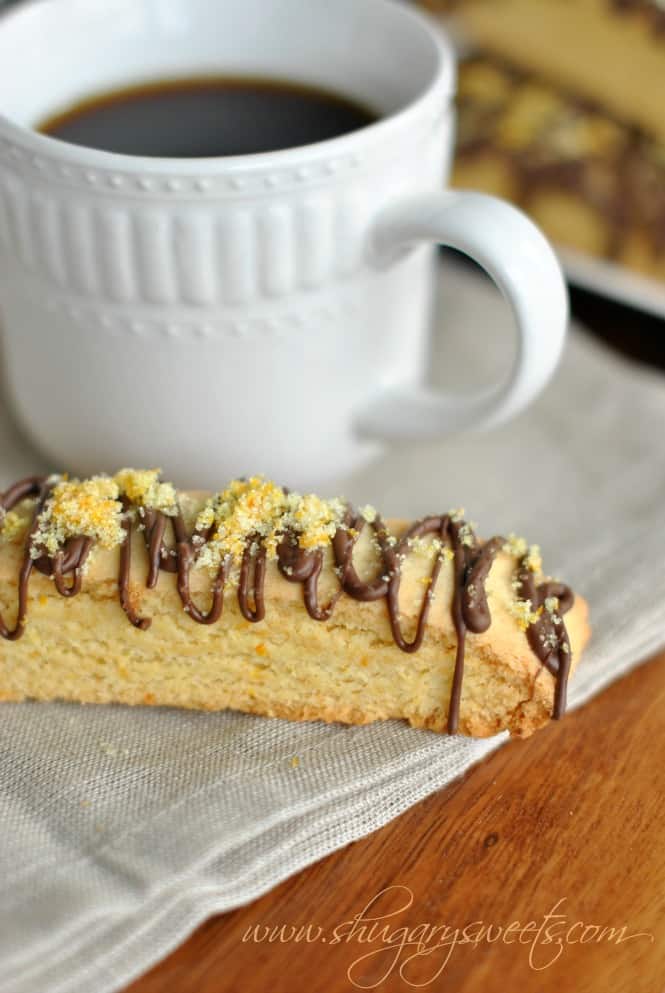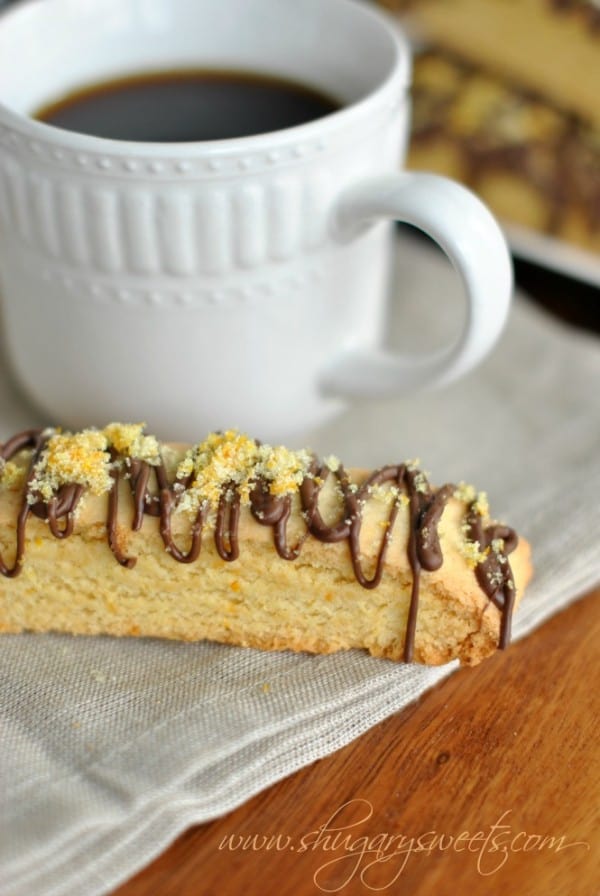 Tips and Tricks
How to store: Cooked and cooled biscotti should be kept in an airtight container at room temperature. If well sealed, it should last up to two weeks.
How to freeze To freeze biscotti, slide cooked treats into an airtight, freezer safe container (or ziploc bag). Seal and freeze until ready to enjoy. Thaw overnight.
Serve with hot coffee for dipping. Or make yourself a Mocha Latte for an extra sweet morning!
Recipe FAQs
I don't have orange extract. Can I use orange juice instead?
Unfortunately, orange juice can't be substituted for orange extract. The extract is much more concentrated; a little goes a long way.
To get the same amount of orange flavor from juice you'd need a lot more and would wind up ruining the balance of liquid to dry ingredients in the dough.
Would dark chocolate taste good on these biscotti?
It sure would! I used milk chocolate today but if you're a dark chocolate fan, go ahead and drizzle it all over your chocolate orange biscotti!
How do you drizzle chocolate on biscotti?
I use a ziploc bag. Melt the chocolate in the microwave, then transfer it to the ziploc bag.
Snip of the corner of the bag. Drizzle over the baked cooled biscotti in your desired pattern.
My dough is too crumbly. What did I do wrong?
This biscotti dough is supposed to be crumbly when first shaped. Use warm hands to help gradually bring the dough together as you form it into a rectangle.
More Cookie Recipes
The BEST Chocolate Orange Biscotti is so much easier to make than you might think! Enjoy it for breakfast or an after dinner treat.