Perfectly moist and flavorful Cranberry Apple Muffins! Topped with a buttery streusel, these are great for breakfast, or to store in the freezer for a rainy day.
If you love today's recipe, be sure to whip up a batch of our classic blueberry muffins. Or give our easy banana nut muffins a try soon.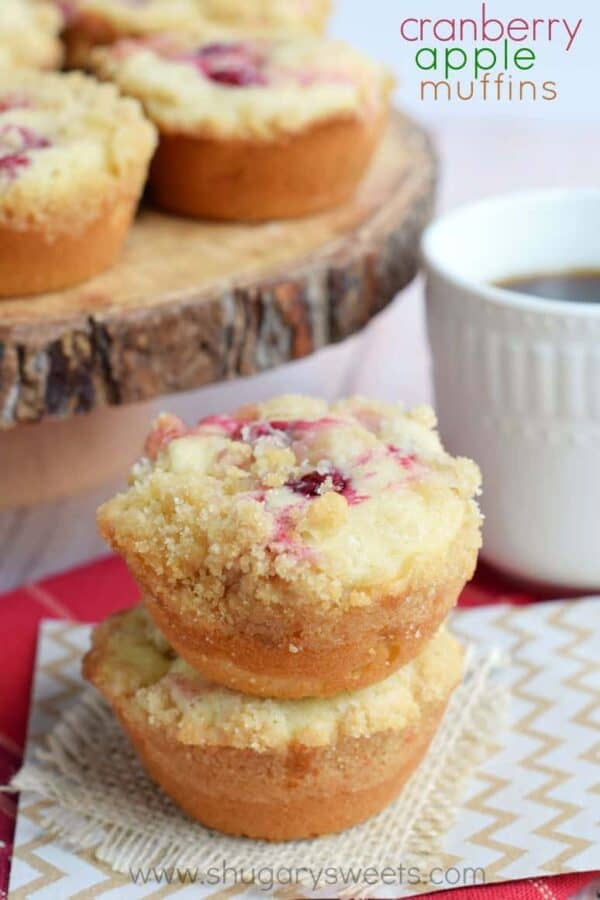 Why this Recipe Works
Cranberry and apple are a match made in heaven. The tart-and-sweet combo tastes extra delicious folded into fluffy muffins. Not to mention the beautiful pop of cranberry color in each one!
I love baking all kinds of muffin recipes and I especially love when I can create a coffee-shop style baked good at home!
These Cranberry Apple Muffins are amazing–even better than anything in the Starbucks pastry case.
The base is a sweet, moist muffin with a great crumb and texture.
I added in some fresh diced apples and some frozen cranberries.
The topping is a buttery streusel that adds a delicious crunch with every bite!
Whenever I go through the effort to make muffins from scratch, I try to make a BIG batch to make it even more worth it. This recipe makes 24 muffins, so you'll have plenty to enjoy, share or freeze for future muffin cravings.
These are perfect for fall, Thanksgiving and Christmas brunch but of course you can enjoy them anytime of year!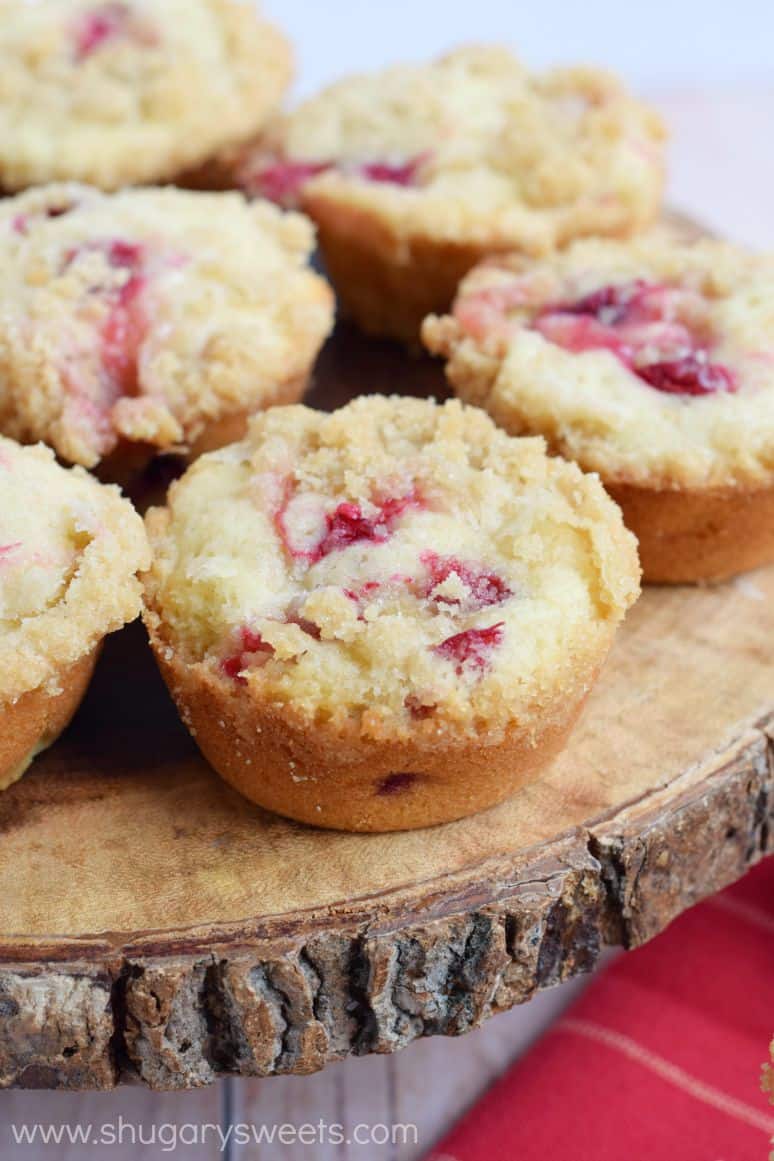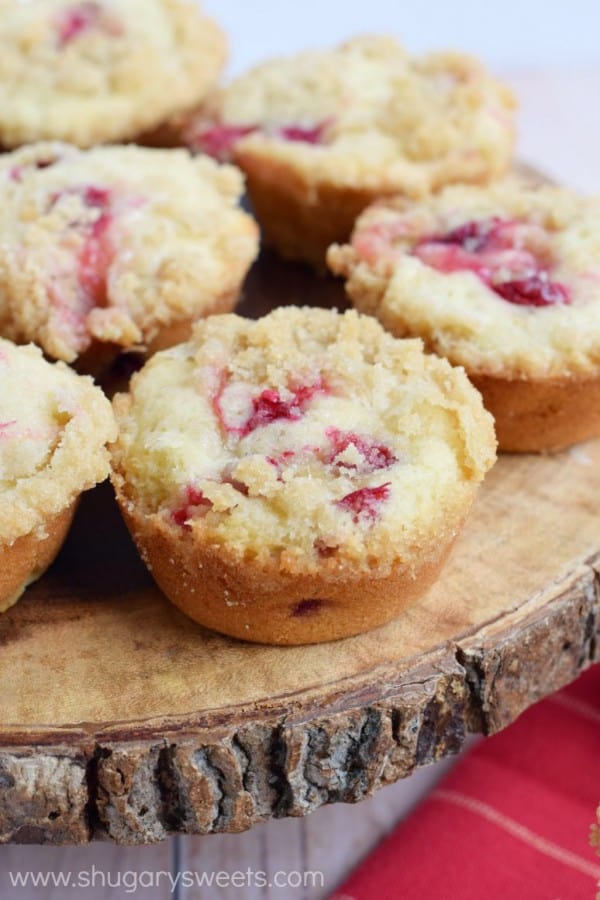 Ingredient Notes
Cranberries – You can use fresh or frozen cranberries!
Apples – Remove the peels and dice apples into small pieces before using in the recipe.
Buttermilk- Store bought or use my recipe for Homemade Buttermilk.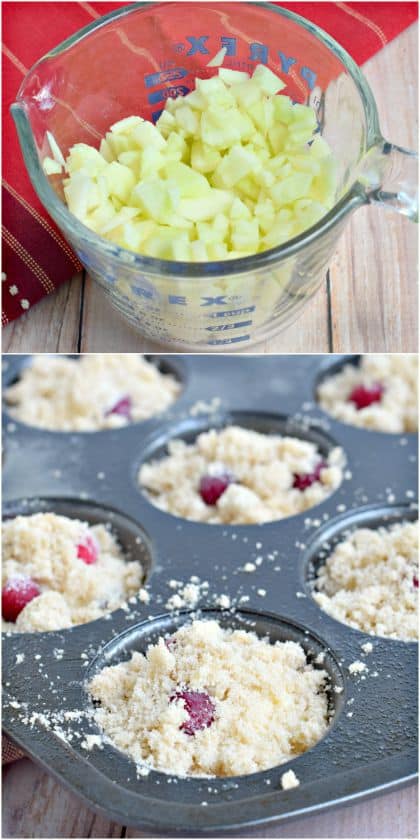 Step by Step Instructions
STEP 1. Muffin batter
Beat the butter with the sugar, eggs and extracts in a large bowl. Add the dry ingredients and mix while slowly drizzling in the buttermilk. Continue mixing for a few minutes to make a fluffy batter.
Fold in the diced apples and cranberries, then spoon the batter into a greased muffin tin.
STEP 2. Streusel
Combine all ingredients for the topping in a small bowl with your hands. Sprinkle the crumbly mixture over the tops of the unbaked muffins.
STEP 3. Bake
Bake the muffins in a preheated oven until a toothpick inserted into the center of one of the muffins comes out clean (about 20 minutes).
Let the muffins cool in the pan for 5 minutes, then remove them to a wire rack to cool completely.
Store the cranberry muffins in an airtight container or cake saver at room temperature for up to a few days. They're perfect with your morning coffee!
Recipe FAQs
How do you freeze Apple Cranberry Muffins?
I like to freeze mine in Ziploc bags. Then, you can remove as many muffins as you need without having to thaw all of them.
Can you use fresh or canned cranberries instead?
I wouldn't. The texture and water content of fresh vs. frozen is different and will affect the taste of the muffins. Canned cranberries are usually cooked with added syrups or sweeteners so those won't work either.
Can this recipe be made in a loaf pan?
Yes, you can bake this in a 9 x 5 or 8 x 4 loaf pan, you'll just need to add some additional baking time.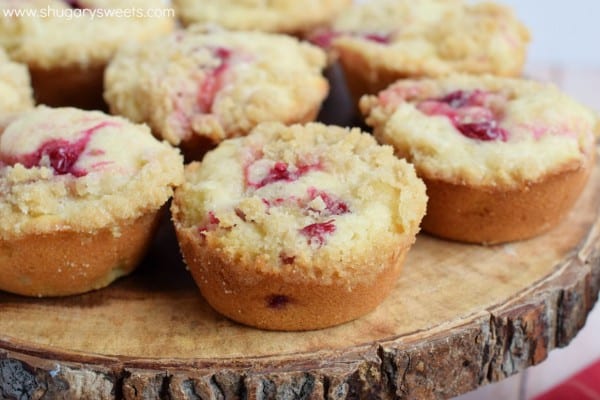 More Apple Recipes
Apple Cheesecake Napoleons: easy dessert idea that is sure to impress family and friends!! A great alternative to making a pie!
Apple Shortbread Bars: hands down these delicious cookie bars are one of my favorite treats!!
Apple Crumble: a classic dessert topped with ice cream. It doesn't get much better than this!!
Apple Blondies: looking for something different, yet amazing? These blondies are chewy, sweet, and topped with frosting. OMG YUM!!
Seasonal fruit flavor meets buttery crumb topping in these perfect Cranberry Apple Muffins! These moist and sweet breakfast treats smell amazing while they're baking and taste even better. I can't wait for you to try them!