Tender juicy chicken legs sweetened with pineapples and barbeque sauce. You'll love this easy Instant Pot Sweet and Sour Chicken recipe for a delicious weeknight dinner.
Love chicken legs? Be sure to try our crockpot bbq chicken next! Or give our Huli Huli chicken recipe a try on the grill.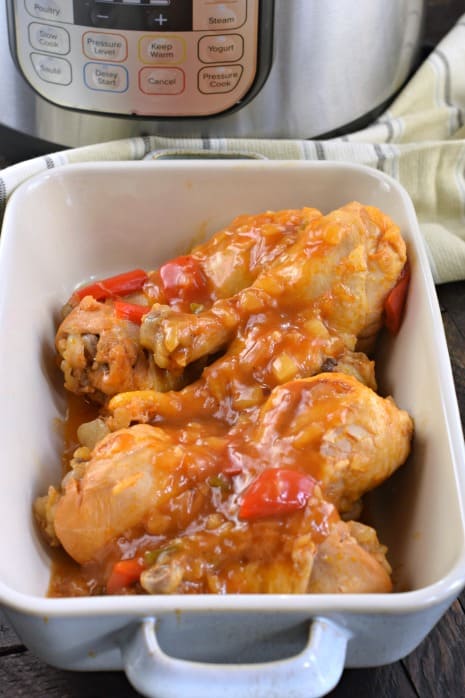 Why this Recipe is Best
When my kids were young and our evenings were spent hectic with sports, homework, and after school activities, I wish I had an Instant Pot back then.
I hope all my Instant Pot Recipes are helpful and delicious to those of you going through the "busy weeknight" phase.
Even if you're not in that phase, using my Instant Pot to create delicious meal is such a time saver. More time for Netflix!
Today's chicken recipe is so versatile and easy. I used chicken legs because I find them to be budget friendly! You can use chicken thighs too, or boneless chicken is fine.
Tender juicy chicken legs are the perfect weeknight meal:
One pot to clean!
Ready in about 30 minutes
Restaurant quality made at home
Ingredient Notes
Chicken. Using a dark meat results in a juicy, tender chicken. You can use boneless chicken if you prefer (cut the cook time down to 10 minutes, instead of 15 minutes).
I chose chicken legs (drumsticks) because kids LOVE them and they are budget friendly.
Pineapple. I used a large can of crushed pineapple, no need to drain the juice. You can use the chunks too if you prefer that blend.
Frozen pineapple also works in this recipe, as it contains enough liquid for good results. I would avoid fresh pineapple.
Barbecue Sauce. Choose your favorite! If you like spicy, you can't go wrong here, as the sweetness of the pineapple will help offset any spice from the bbq sauce.
Vegetables. I added onion, sweet red peppers, and jalapeno to today's recipe. Add more or less of what YOU like!
Instant Pot. For today's recipe I used a 6qt Duo Instant Pot. It's the one I use for all my recipe development, it's the perfect size for my family of 6!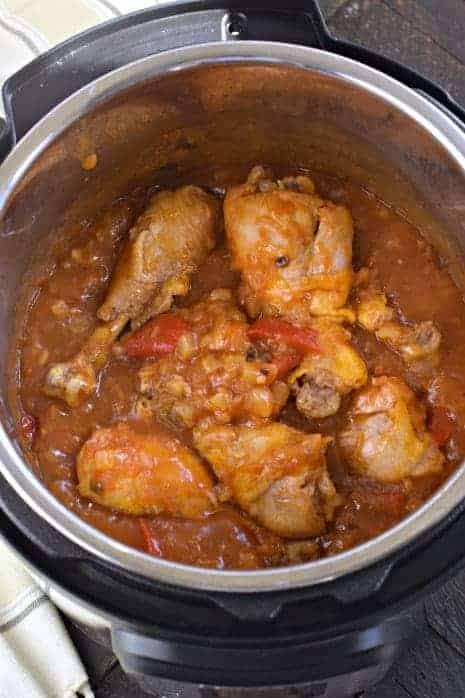 How to Make Instant Pot Chicken Drumsticks
STEP 1. Pressure Cook
In the pressure cooker pot, add chicken broth, crushed pineapple (with juice), chopped onion, diced red pepper, jalapeno, crushed red pepper flakes, chicken drumsticks, and bbq sauce.
Add the ingredients IN THE ORDER written to avoid a burn notice!
Secure the lid in place, making sure the sealing ring is snug and the valve on top is pushed down and set to "SEALING."
Select HIGH PRESSURE and a cook time of 15 minutes.
After cook time ends, allow to naturally release for 10 minutes.
STEP 2. Thicken the sauce.
If you want a thick sweet and sour sauce to put over the chicken, remove the legs from the instant pot.
In a small bowl, whisk together the cornstarch and water. Pour into the Instant Pot.
Turn pressure cooker on "SAUTE" and allow to bubble while stirring constantly. Turn off when desired thickness is reached (sauce will thicken as it cools too).
Return the chicken to the pot and serve!
Can this be made in the Crock Pot?
Yes! In the slow cooker, add chicken, pineapple with juices, onion, red pepper, barbecue sauce, jalapeno, and crushed red pepper. OMIT the chicken broth!
Turn on low and cook for 6-8 hours.
ENJOY.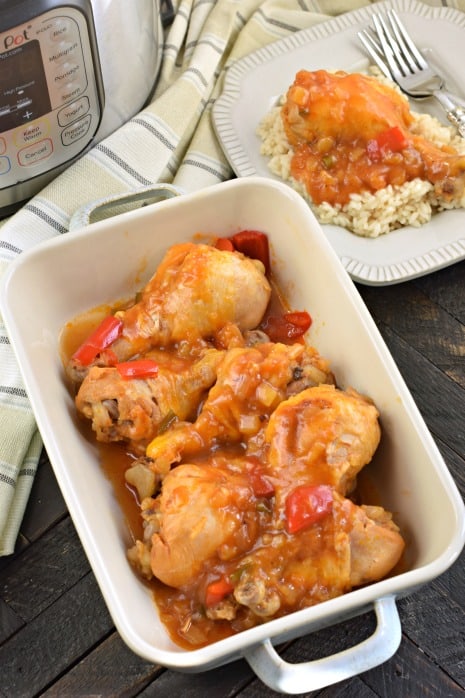 What to serve with Sweet and Spicy Chicken
We love serving this dish with a side of rice. It's the perfect way to enjoy the extra sauce.
You could also serve sweet and sour chicken with a side of fried rice (with or without chicken in it).
Whip up a batch of Roasted Broccoli and enjoy a complete meal.
More Chicken Recipes
Tender juicy chicken legs sweetened with pineapples and barbeque sauce. You'll love this easy Instant Pot Sweet and Sour Chicken recipe for a delicious weeknight dinner.