Irish Cream Fudge is an after dinner treat just for adults! This boozy fudge recipe combines Bailey's and milk chocolate—the perfect finish to a meal! No candy thermometer needed!
For more great dessert recipes with Irish Cream, try these Boozy Brownies and this Bailey's Cheesecake Recipe!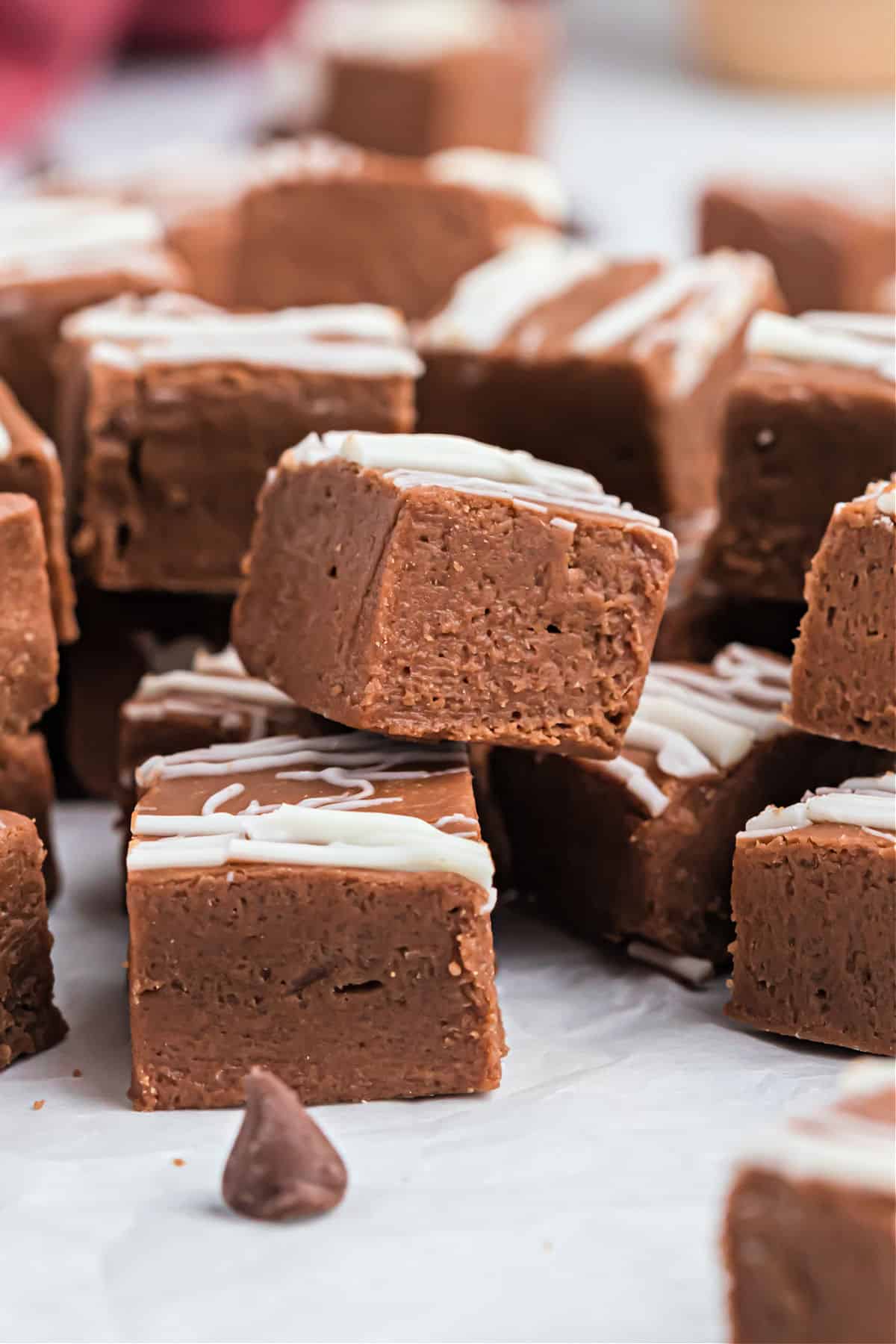 What is Irish Cream
Irish Cream is a sweetened cream blended with Irish whiskey. The liqueur comes premixed with plenty of sugar and a noticeable almond or hazelnut flavor.
If you've ever had "Irish coffee" (coffee with cream and whiskey), chances are good you've had Bailey's Irish Cream before! I love that it infuses a whiskey flavor into all kinds of desserts, without tasting overpowering.
This Irish Cream Fudge is based on my favorite chocolate fudge recipe. I stirred in some Bailey's to give it a boozy touch and an unforgettable flavor. We could hardly stop eating this fudge. . . and you can bet we slept well that night, too.
It goes without saying that this is a fudge that's for grown-ups only! Kids get to enjoy so many delicious candies and goodies that it's about time the adults get a treat of their own to enjoy.
Ingredient Notes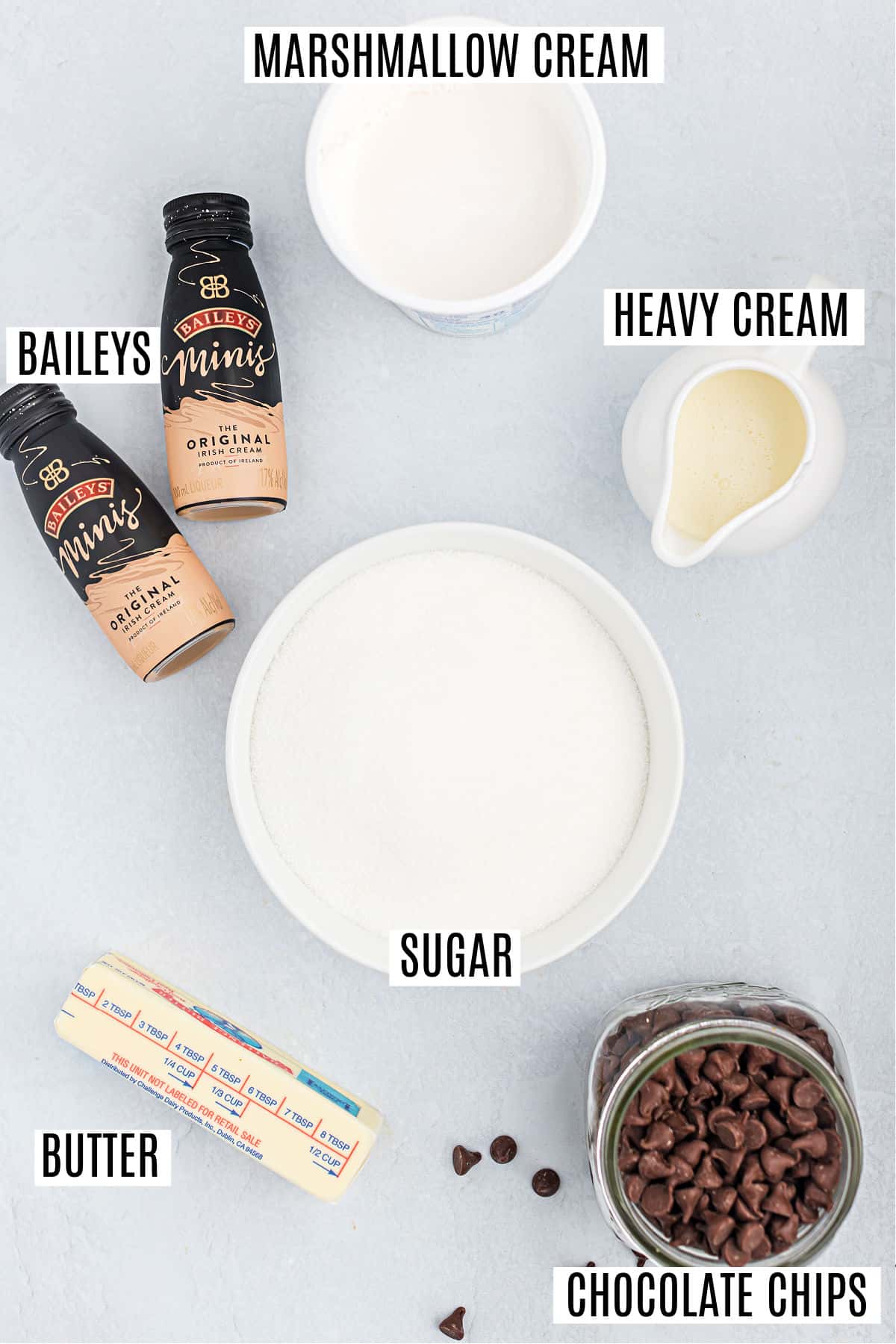 You only need 6 ingredients to make this easy Bailey's Fudge recipe.
Sugar
Heavy cream
Butter
Irish Cream – I always use Bailey's brand. It's the most readily available and always delicious.
Marshmallow cream – The jars labeled "fluff" will work too. Or use our homemade marshmallow cream instead!
Chocolate chips – Milk chocolate taste best here.
Tips and Tricks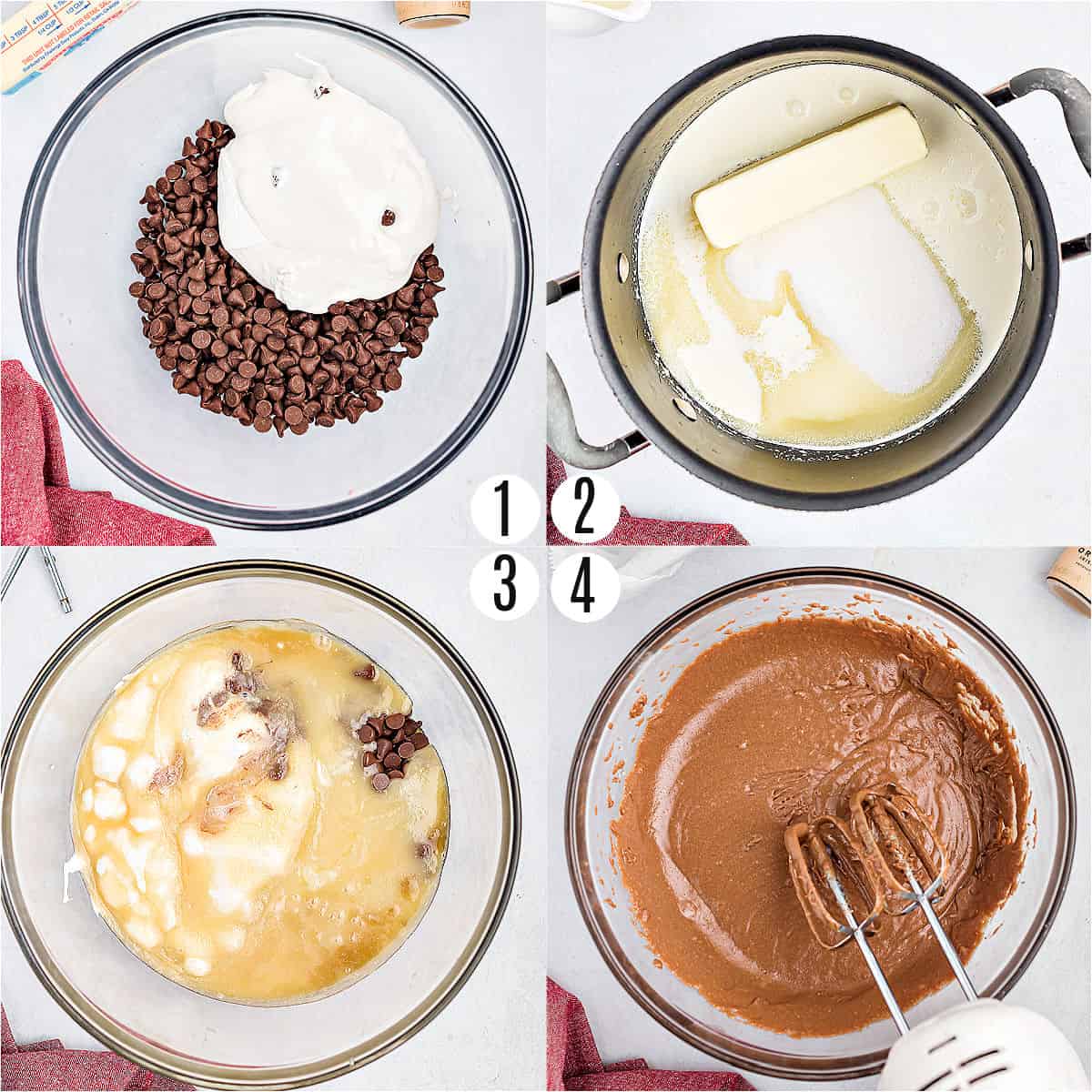 Boil the sugar, heavy cream and butter for 4 minutes! You don't need a candy thermometer–just stir it constantly at a full rolling boil.
Add the Irish cream AFTER boiling. You don't want the alcohol to cool off!
Use an electric mixer to blend the boiled cream mixture with the chocolate and marshmallows. The mixer makes it easy to get everything smooth and combined.
Make a garnish: Drizzle melted chocolate over the set fudge for the finishing touch! I like to add a few chocolate sprinkles for good measure, too.
Serving suggestions: I love Irish Cream Fudge served with hot coffee or espresso. Add a splash of this (booze free) Irish Cream Coffee Creamer to your mug for double the Bailey's flavor!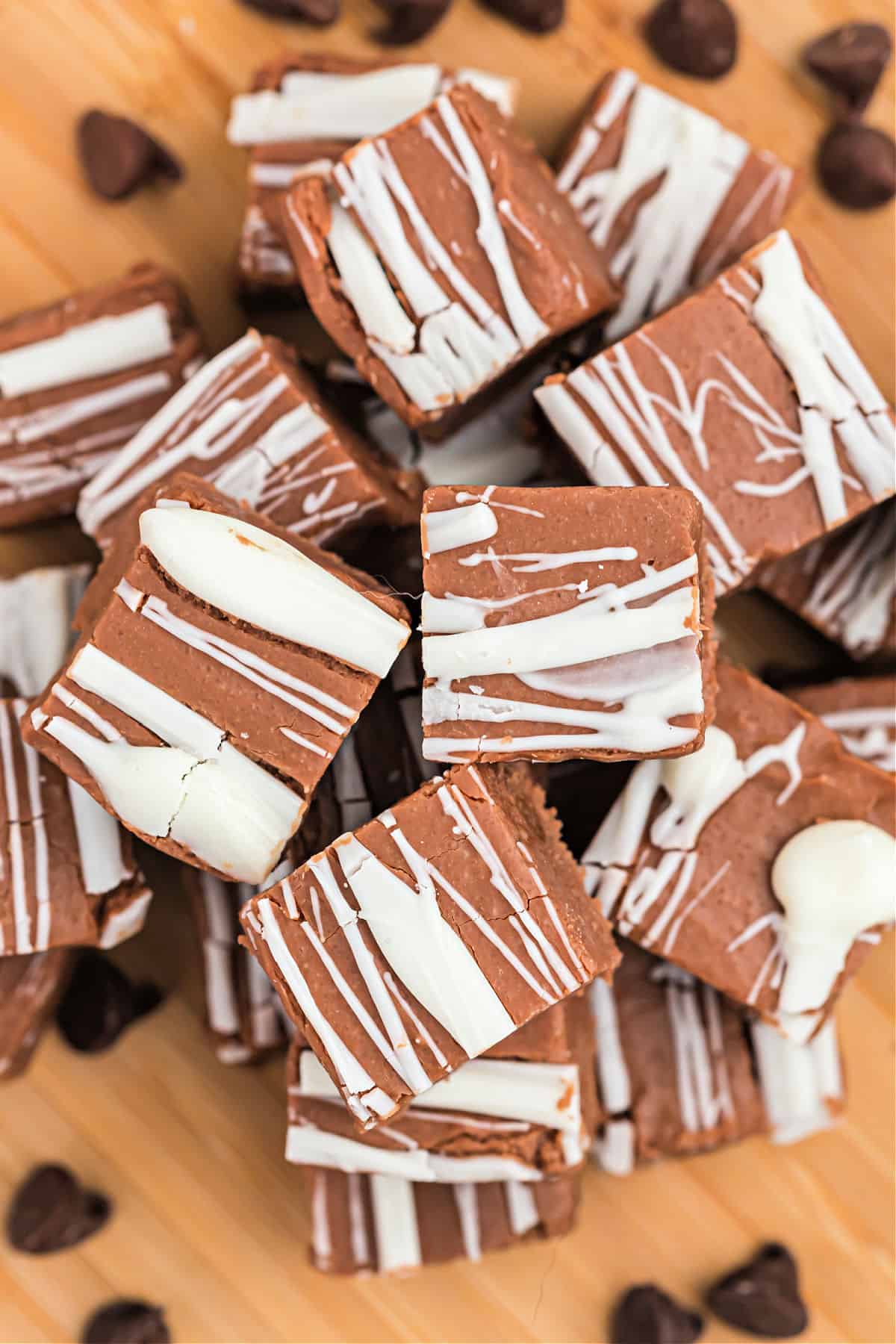 Recipe FAQs
Does this fudge contain alcohol?
YES! A few squares of this fudge aren't going to get you drunk, but it does contain a noticeable amount of alcohol. Drink—or, in this case, EAT—responsibly!
Can I use homemade Irish cream instead?
I haven't ever tested this fudge recipe with homemade Irish Cream. Only Bailey's. If you try it, leave a comment to let me know how it turns out!
How long does this fudge keep?
This fudge will keep well for a couple of weeks if you store it in an airtight container. But who's going to resist eating all of this tasty fudge for that long?!
Can I make this without the alcohol?
You could, but then it wouldn't be Irish Cream Fudge! I do have plenty of alcohol-free fudge recipes on the site, if you need a treat that everyone can enjoy.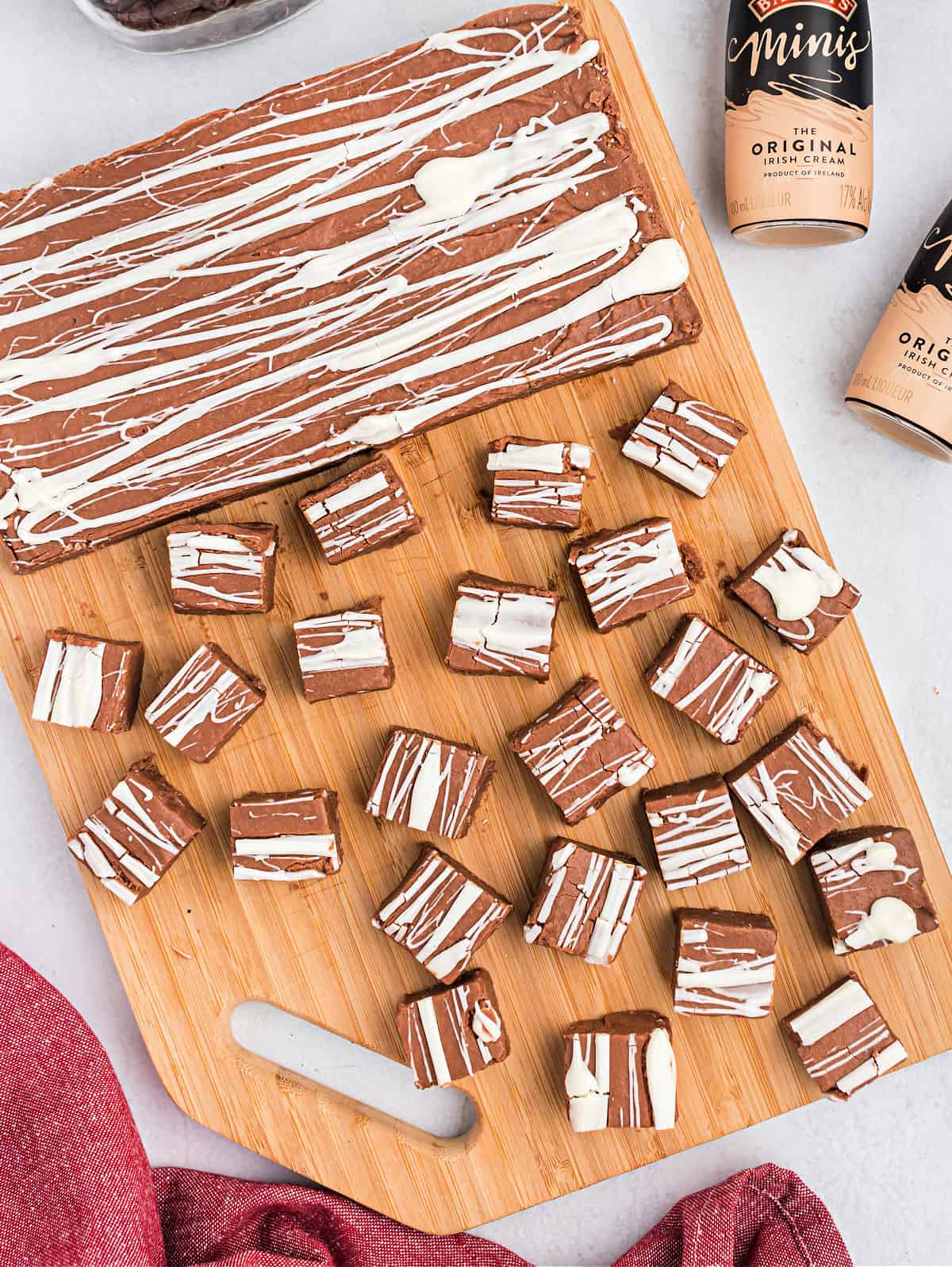 More Easy Dessert Recipes