Lemon Blueberry Skillet Dump Cake with Almond Whipped Cream is an easy, no mess recipe with pantry ingredients!
If you love lemons and blueberries together be sure to try our lemon blueberry bundt cake. Or give our sweet blueberry hand pies a try (with their hint of lemon)!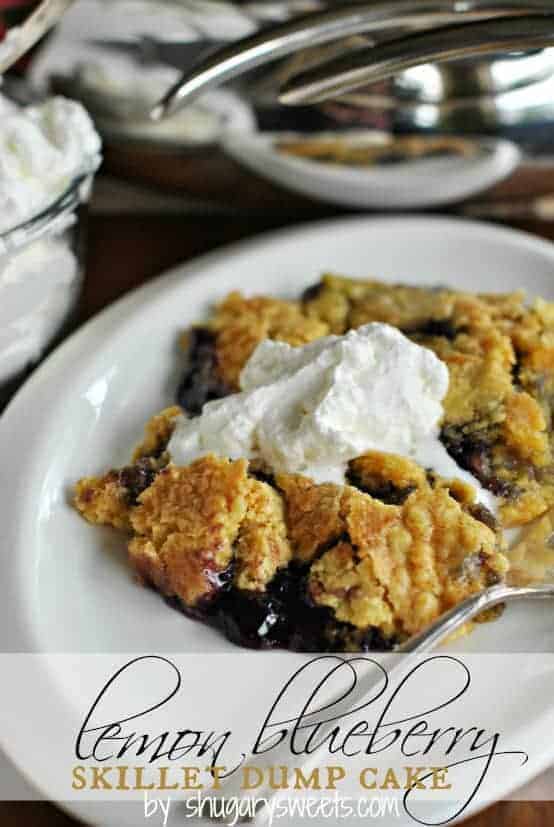 What is Dump Cake
Have you ever made a dump cake before? Or a dump dessert?
It's a horrible name that doesn't make it sound appetizing…but when you think about why it's called that, it makes sense.
You literally dump ingredients into a skillet and bake.
When it comes to dump desserts, this Pistachio Fluff Salad is a perfect example of a no bake treat.
How to make Dump Cake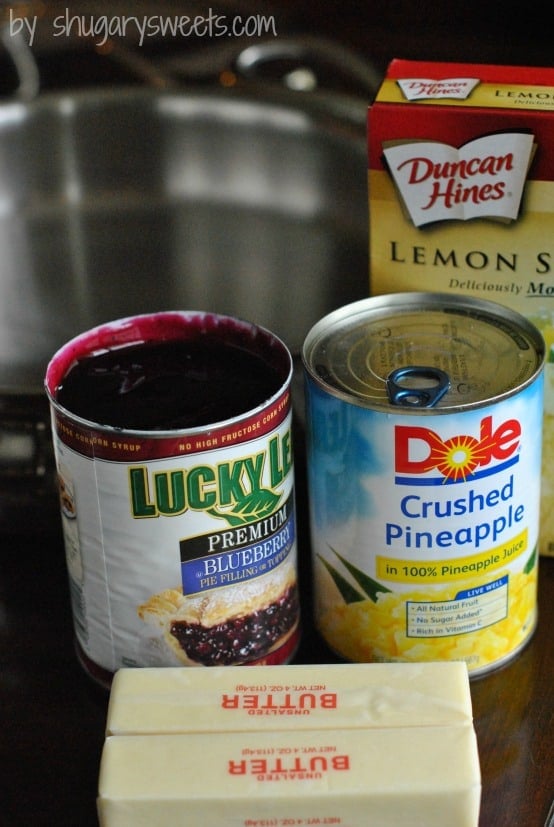 Preheat oven to 35o degrees F.
In a large 12-inch skillet, dump blueberry pie filling. Top with crushed pineapple. You can mix it, or not!
Sprinkle dry lemon cake mix over the top of the fruit. DO NO MIX.
Lay tablespoons of cut butter over the dry cake mix.
Bake cake for about 50-55 minutes until top is brown and fruit is bubbling.
Top with homemade whipped cream or ice cream!
For the homemade whipped cream, beat heavy cream, almond extract, and powdered sugar in a stand mixer for about 3-5 minutes until soft peaks form. Use immediately or store for 24 hours in refrigerator.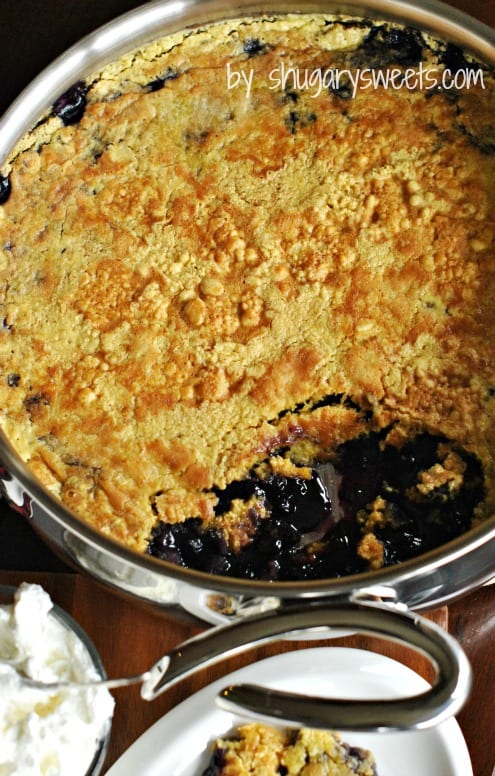 Can I make this in a 9×13 baking dish?
Absolutely!
Can I make other flavors?
Yes. Just think of all the possibilities of dump cake flavors. Swap out the cake mix for your favorite.
Then substitute the pie filling. You can skip the pineapple in any of these option!
Chocolate Cake with Strawberry Pie Filling is a great combo.
Spice Cake with Apple Pie Filling is true comfort food.