Homemade, soft and chewy, Copycat Little Debbie Oatmeal Cream Pie recipe. This classic childhood treat is chock full of flavor and filled with a delicious creamy center!
Love oatmeal cookies? Be sure to try our reader favorite Iced Oatmeal Cookie recipe! Or give these chewy Revel Bars a try for dessert.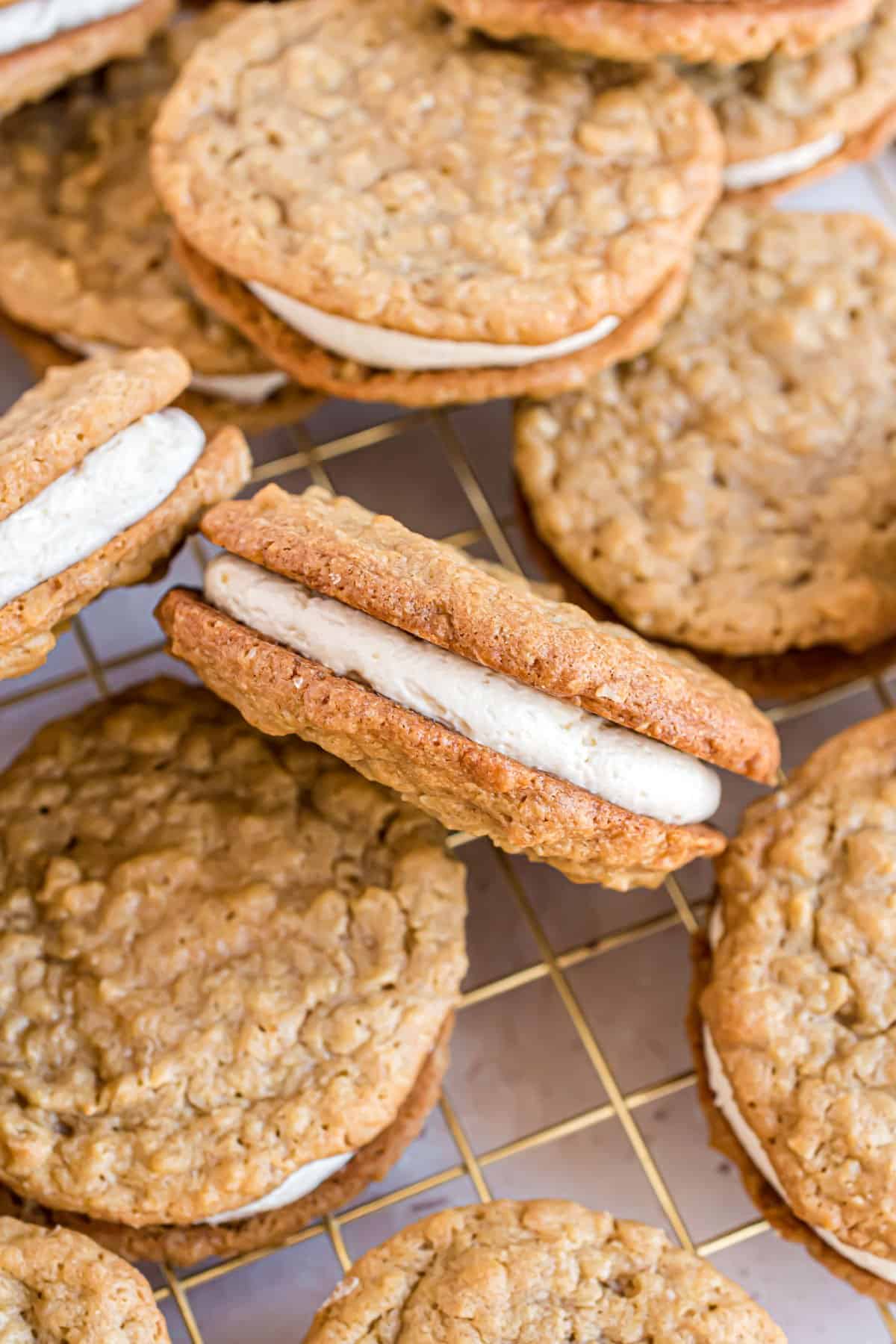 Copycat Little Debbie Dessert
Do you remember eating Little Debbie's Oatmeal Cream Pies as a kid? I sure do!
If you've never had one—and for that I apologize for your childhood—it's two soft oatmeal molasses cookies sandwiched around a layer of sweet and gooey vanilla cream filling.
(maybe you were more of a ding dong or twinkie fan? Or you loved cosmic brownies?)
Fun fact for you. The Little Debbie Oatmeal Cream Pies were the very first snack baked under the Little Debbie name.
If you love these easy soft oatmeal cookie pies, you may also love our chocolate whoopie pies or our pumpkin whoopie pies! Both feature a cream filling that is out of this world!
Ingredient Notes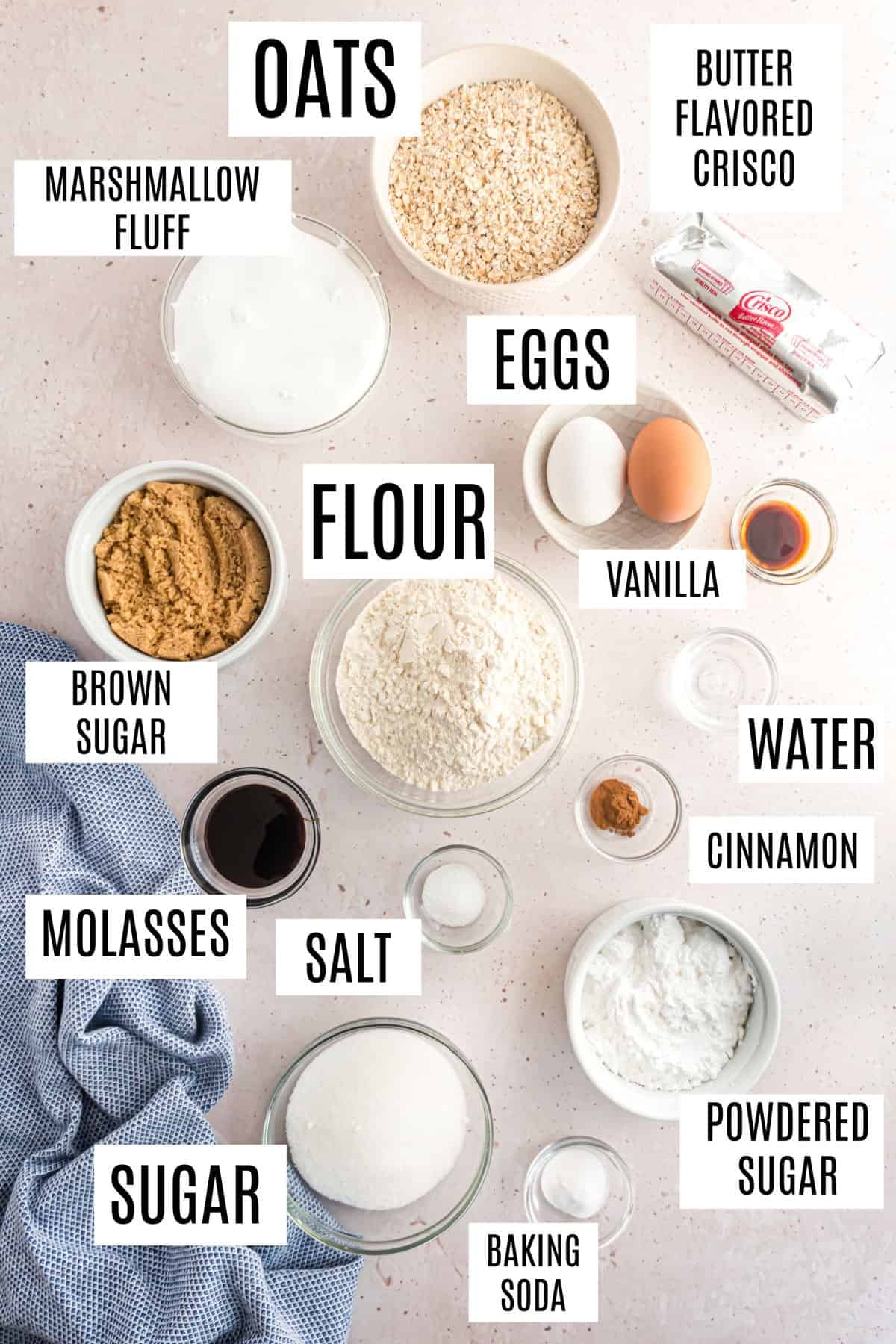 There's a good chance you already have everything you need to make these copycat Little Debbie oatmeal cream pies.
Oats- In our testing we found the quick cook oats to work best.

PRO TIP: Use a food processor to process the oatmeal into smaller pieces. I usually give it a few pulses (you don't want fine crumbs). 

Butter flavored Crisco- do not swap this for real butter. While it may work, it won't result in the same classic flavor. Trust us, we tested it!

Sweeteners– A combination of brown sugar and granulated sugar results in the chewiest cookie!

Molasses- provides the rich caramel color and flavor for these oatmeal cookies.
Dry Ingredients- flour, kosher salt, baking soda, and cinnamon for the classic oatmeal cookie texture. Be sure to choose kosher salt and all-purpose flour!
Eggs & Vanilla- help bind the ingredients together and give flavor. Use our homemade vanilla extract for best results!
Filling Ingredients- Marshmallow fluff, hot water, salt, Crisco, powdered sugar, and more vanilla extract!
Tips and Tricks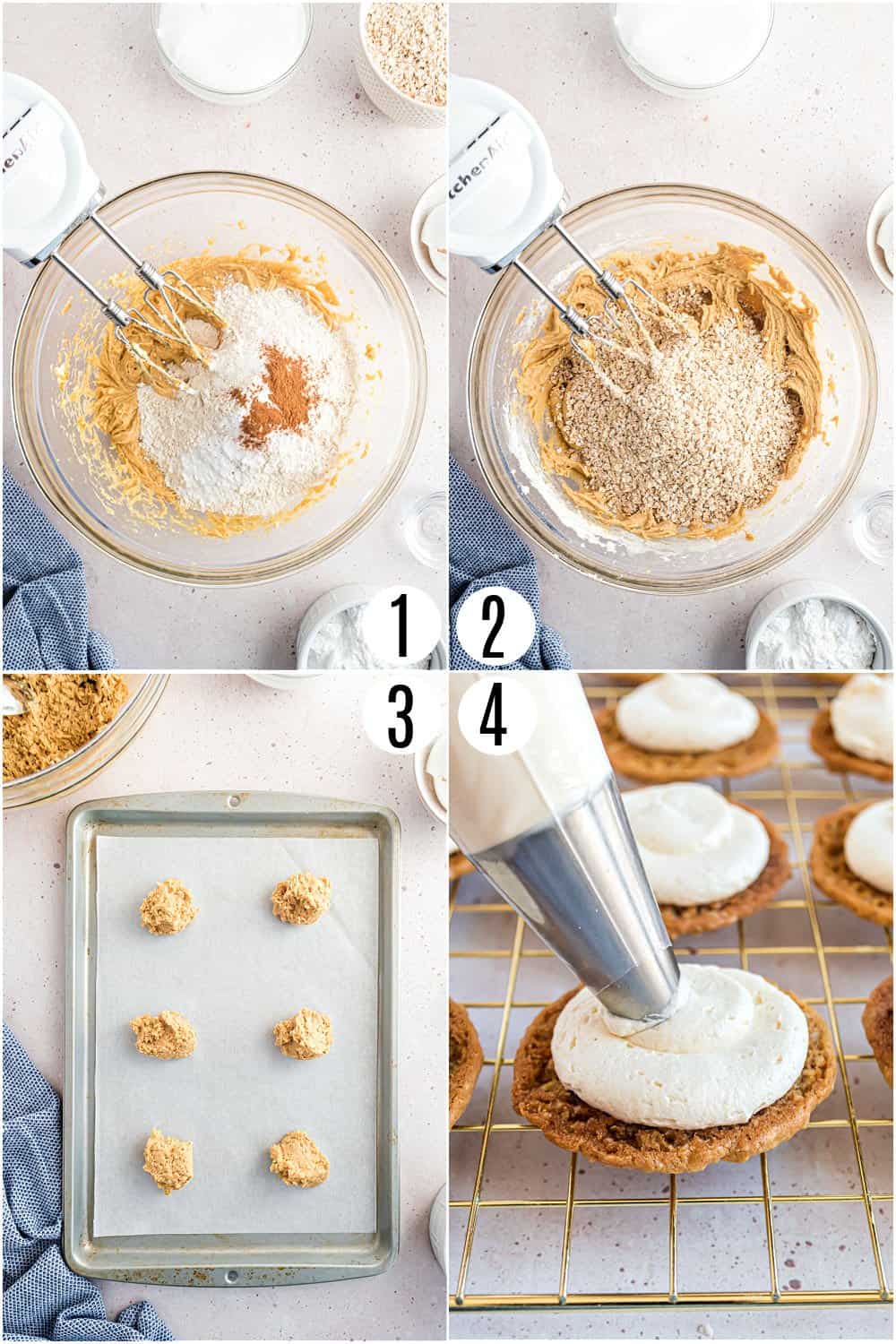 Use a piping bag or ice cream scoop to evenly add the cream filling to the cookies. Tip: make an easy piping bag by snipping off the end of a ziploc bag and then putting the cream filling through it.
Pair similar-sized cookies together. These will be much harder to eat if you have a small cookie on the bottom and a big one on top, or vice versa.
Watch the cookies closely while they bake so they don't get overcooked.
Use quick oats for the best taste and texture with this recipe. Old fashioned or steel cut oats will change the texture of the oatmeal cookie and affect baking time.
Use a food processor to process the oatmeal into smaller pieces. I usually give it a few pulses (you don't want fine crumbs).
Allow the oatmeal cookies to cool completely before adding the cream filling. If they aren't completely cooled, the cream pie filling will melt and you'll have a sticky mess!
Use margarine or butter-flavored Crisco for the best texture.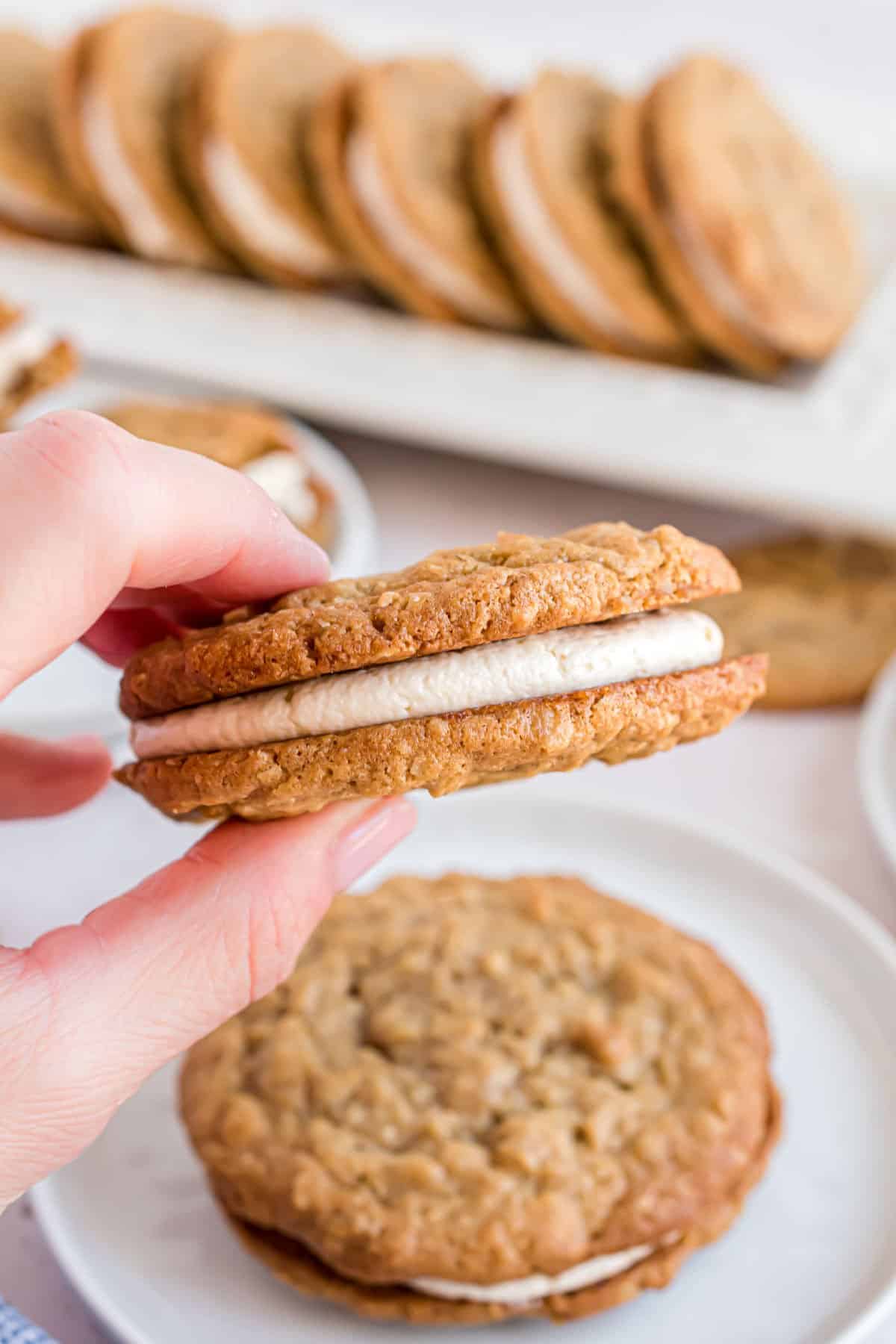 Recipe FAQs
How do you store homemade Oatmeal Cream Pies?
Store homemade oatmeal cream pies in airtight container in the refrigerator for up to one week, for best results. Allow to come to room temperature before serving.
Can you freeze Oatmeal Creme Pies?
Yes! Oatmeal cream pies, after baking and cooling, can be frozen. Wrap each individual cream pie in plastic wrap, then slide into an airtight container or ziploc freezer bag. Freeze for up to 60 days. Thaw in refrigerator overnight, or at room temperature and serve.
Can I use butter instead of Crisco in oatmeal cream pies?
You can. However, if you want the classic taste you remember from childhood, crisco gives you the perfect texture. If using butter, you'll need to soften it first.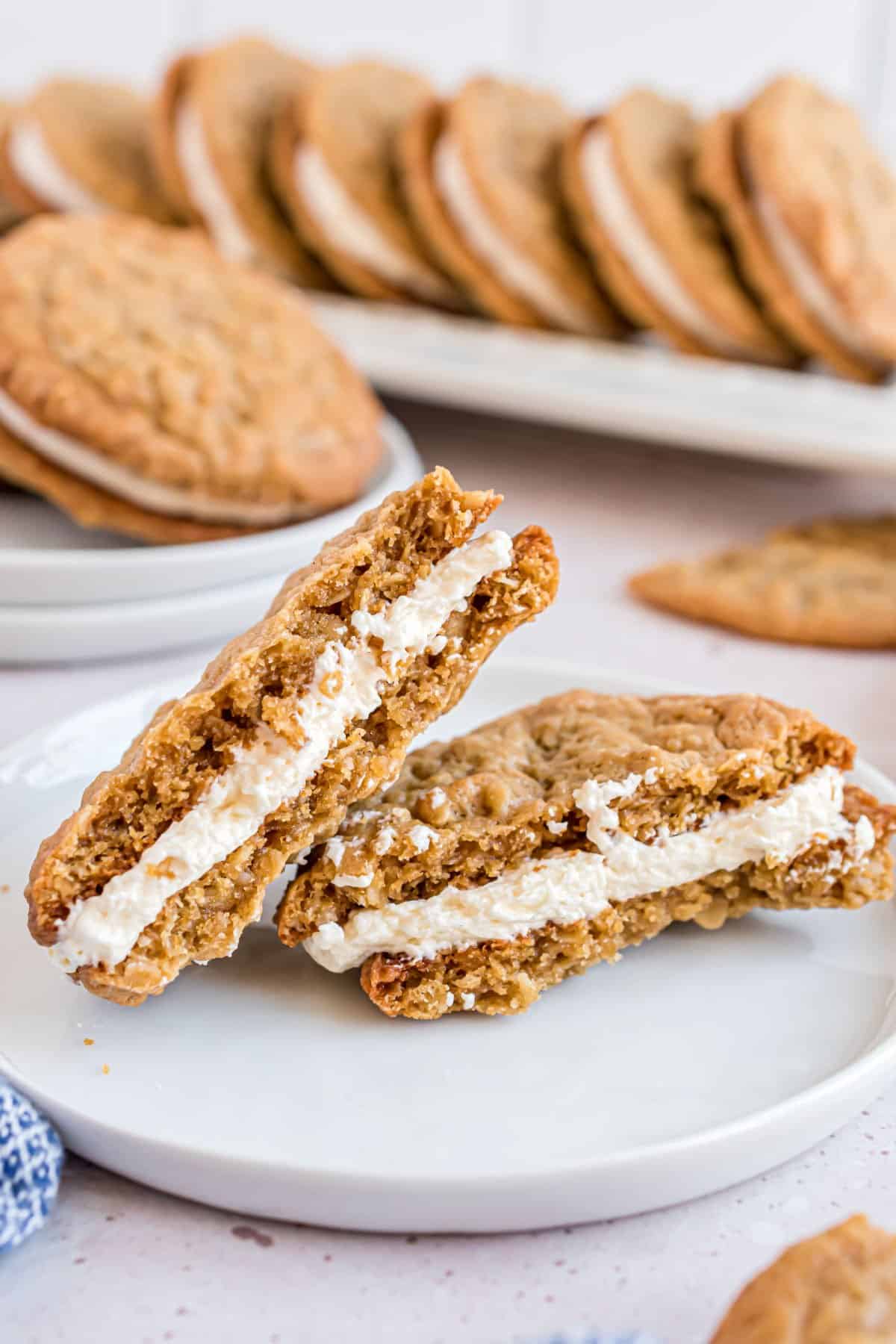 Copycat Little Debbie Oatmeal Cream Pie recipe. This childhood treat is the perfect soft and chewy cookie!