Pumpkin Blossoms – A fall twist on the classic peanut butter blossom cookie. Add your favorite flavor of Hershey kiss to the center for a decadent pumpkin cookie!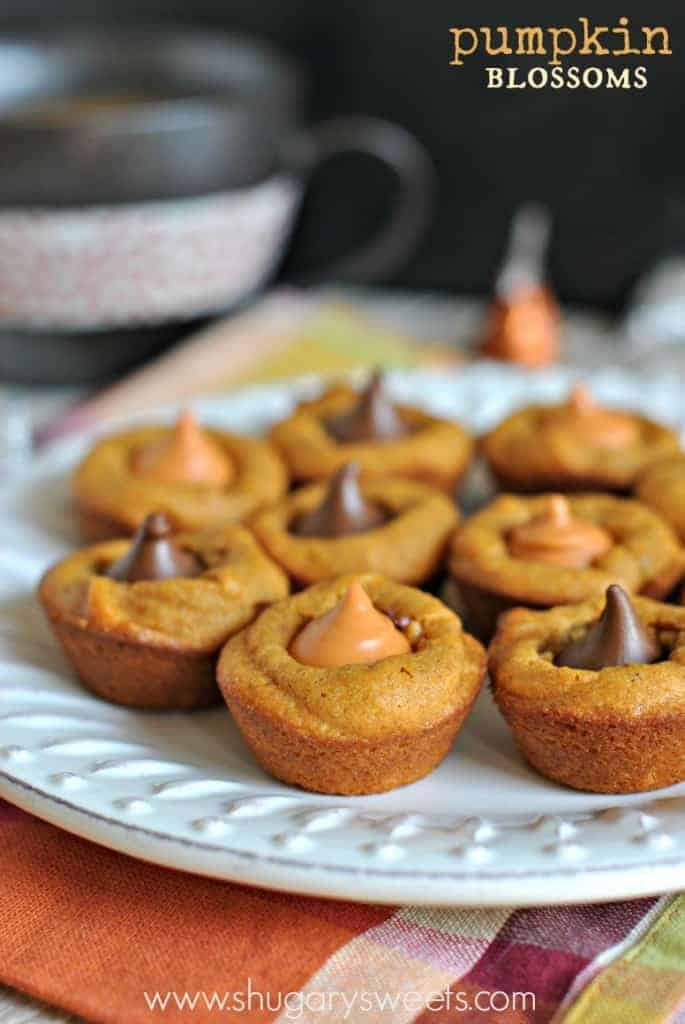 Hi, my name is Aimee, and I love pumpkin desserts.
Last year I shared a delicious pumpkin blondie recipe with you. It occurred to me I should turn them into little cookie bites. The result was these Pumpkin Kiss Cookies. . . or, if you prefer Pumpkin Blossom Cookies!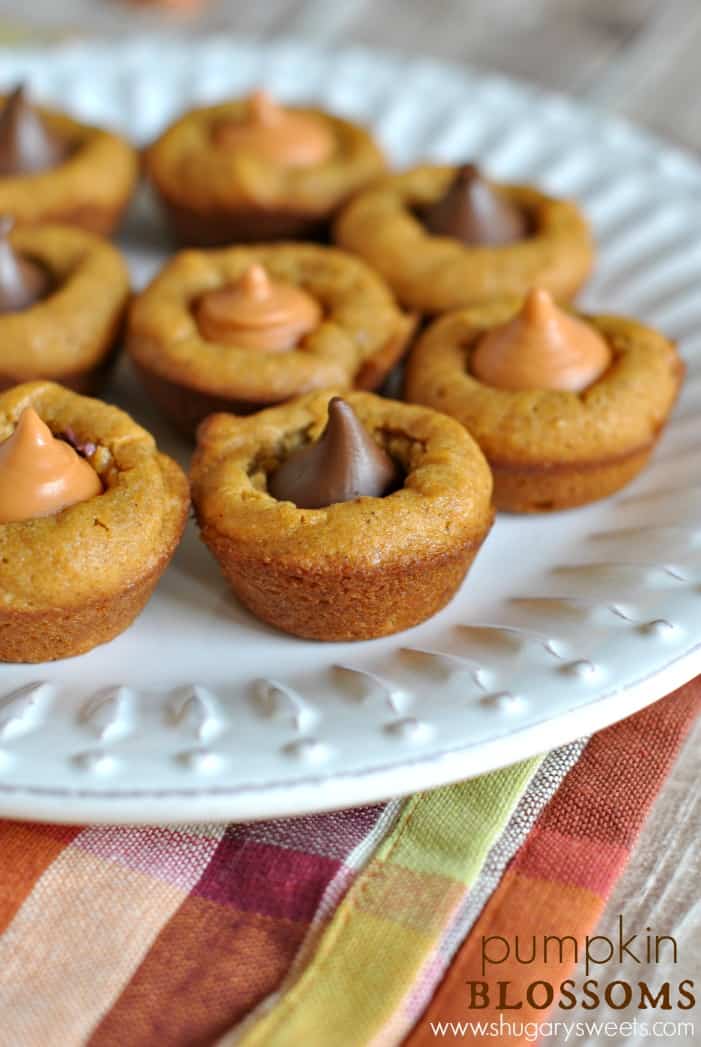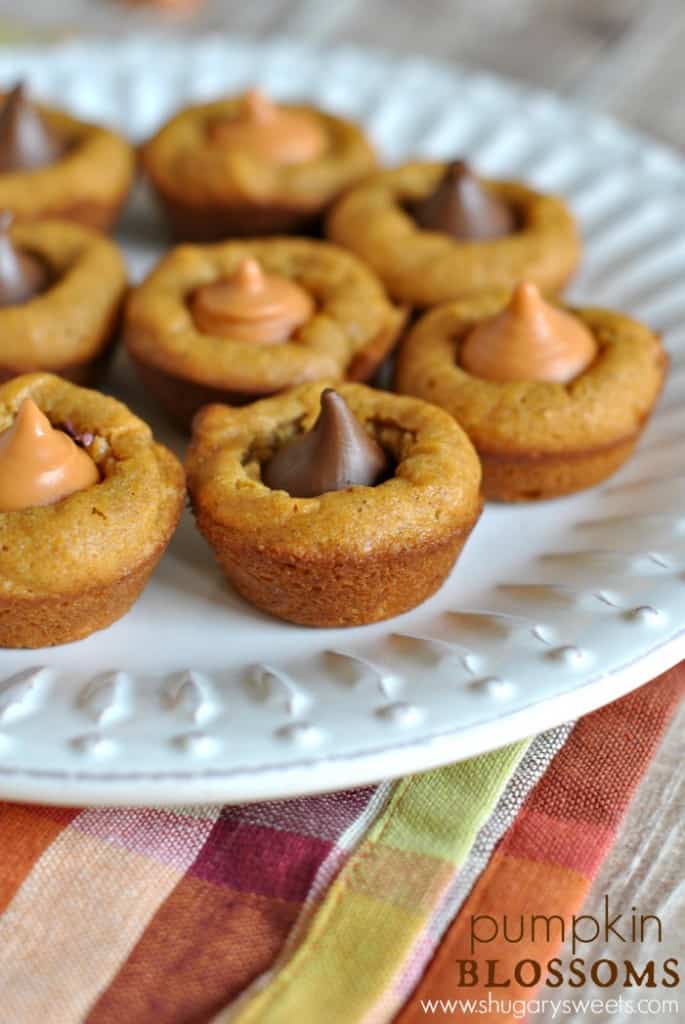 I know peanut butter blossoms are always a huge hit in my house. A cookie with a big chunk of candy in the center. I hear ya. And I've done the brownies with the candy center too.
While a lot of you are nuts about the combo of peanut butter and chocolate, I admit it's not usually my go-to. I love a good peanut butter cookie from time to time, but my heart belongs to pumpkin.
Today my friends, it's all about the love of pumpkin.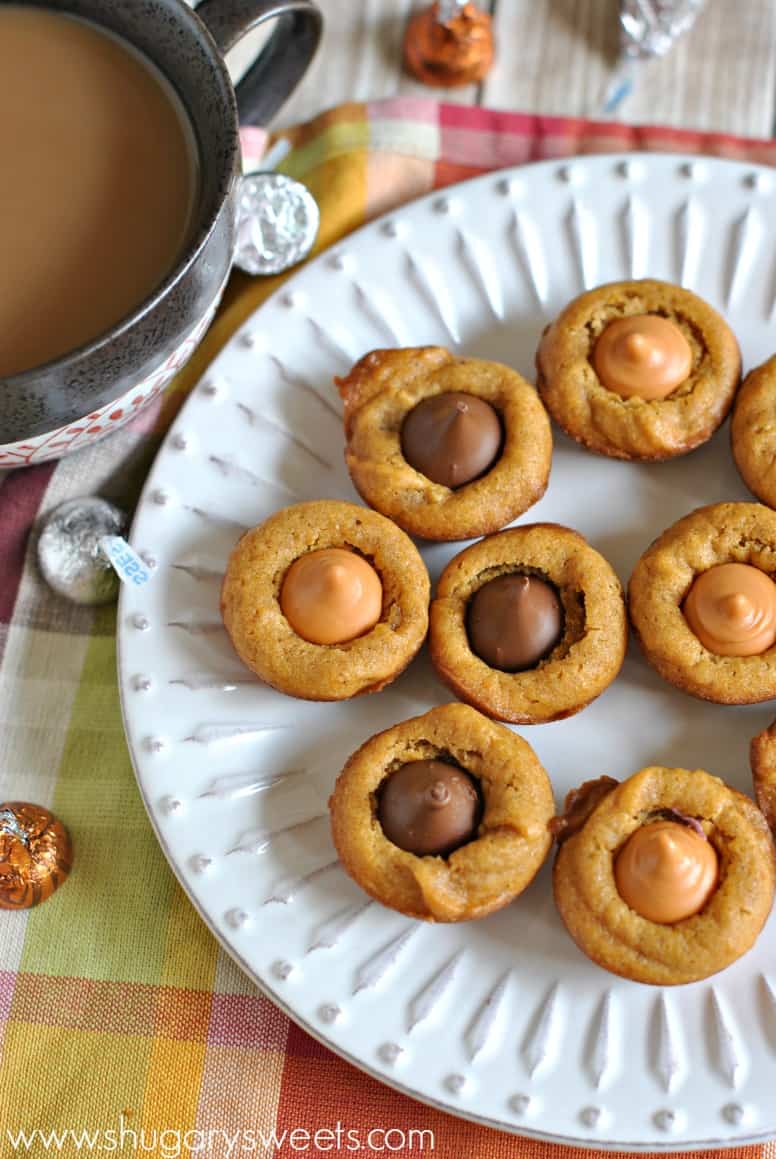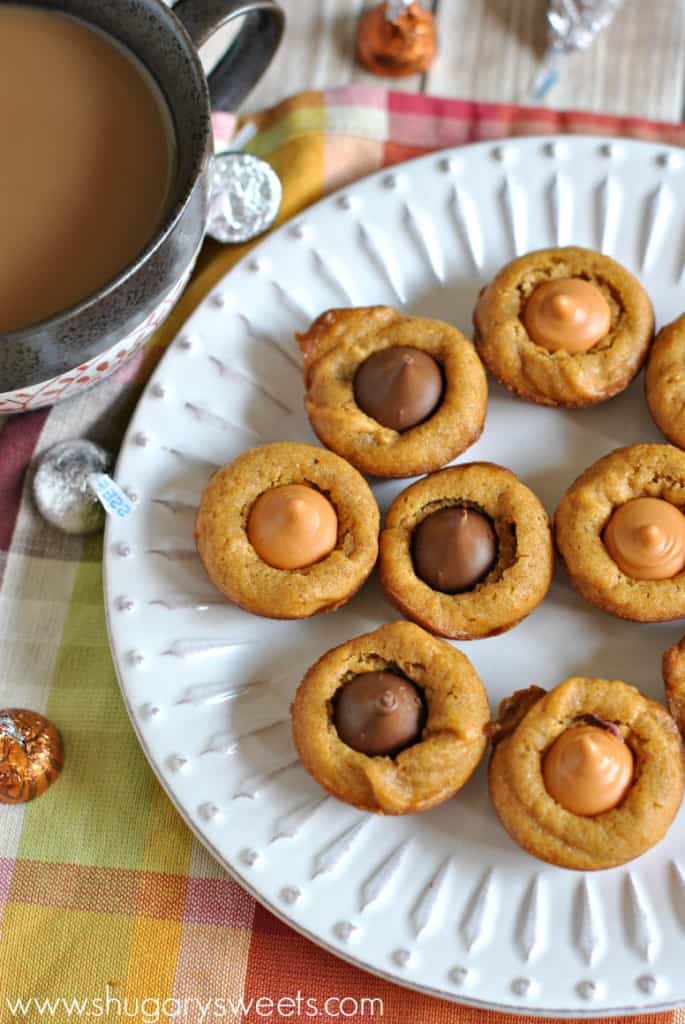 Have you been to Target or Walmart lately and walked down the holiday candy aisle? Good golly there are new treats every year.
These pumpkin blondies were inspired by the Hershey's Pumpkin Kisses. They added the perfect touch to these pumpkin cookies. If you love chocolate and pumpkin and cookies (3 of life's best things, in my opinion), these fall treats will become a seasonal favorite.
Pumpkin Kiss Cookies
While I'm not a huge fan of eating Hershey's Pumpkin Kisses on their own, inside one of these blossom cookies, it's another story! The soft pumpkin-flavored candy at the center of a chewy cookie makes for a fall treat that no one can resist.
Because I'll never pass up the opportunity to include chocolate in a recipe, I also put original chocolate kisses at the center of half the cookies. Both tasted fantastic and I loved alternating between them! You're going to love these Pumpkin Blossoms!
Pumpkin Blossoms Recipe
These Pumpkin Blossom Cookies are so easy to make but they're all but guaranteed to turn heads!
First, you make a pumpkin cookie batter with real pumpkin and a touch of my favorite autumn spices: cinnamon, nutmeg and cloves.
Then, you bake the cookie dough in mini muffin tins. This created adorable little cookie bites just begging for a Hershey's kiss to be placed in the center.
While the cookie bites are still warm, press the Hershey's Kiss (or miniature candy bar of your choice) into the center of each one. The candy will soften as the cookies cool.
When you bite into the cookie you get a chewy pumpkin flavored exterior with a sweet, creamy candy center than melts in your mouth. Seriously, is there any way you are NOT going to love these?
How to Store
After cooling and removing the cookies from the muffin tin, enjoy immediately or store in an airtight container for up to 3 days.
I recommend storing them in a single layer so the kiss center doesn't get squished.
You can also freeze Pumpkin Blossoms! After cooling completely, place them in a freezer safe container. If you have more than one layer of cookies to freeze, put a sheet of wax paper between the layers to keep the kiss center in tact.
Let thaw at room temperature when ready to serve.
Can these be made without a muffin tin?
I really love how the mini muffin pan makes the cookies evenly sized and creates a little "nest" for pressing the Hershey's kiss into the center. If you don't have one, you can still make these.
Form into balls and place on a cookie sheet, use your hands to flatten the cookies slightly. After baking, immediately press a Hershey's kiss into the center of each one. Still pretty and delicious!
Candy Center Substitutes
You don't need to stick with just original or pumpkin Hershey's kisses here (although I love both deeply paired with these cookies). Here are a few other ideas:
Other Hershey's Kiss Flavors: Dark chocolate kisses or white chocolate hugs would be wonderful in the Pumpkin Blossoms too! Or Hazelnut. Or caramel. Okay, basically any kind of kiss will taste amazing here (except peppermint. . . I wouldn't make these with peppermint kisses).
Mini candy bars: Miniature snickers, Twix bars, or even Reese's cups are other great candies to try at the center of these blossoms.
Candy corn: For a real fall treat extravaganza, press candy corns (laying flat) onto the cookies. I'd arrange them in a star or wheel pattern for a pretty cookie, perfect for Halloween parties.
Which candy would you choose for these chewy pumpkin blossoms?