Melt in your mouth Pumpkin Spice Meringue Cookies are the perfect fall treat! Learn how to make the best cookies every time using my tips and tricks for meringue success.
Love pumpkin flavors? Serve these cookies with a big glass of our copycat Starbucks Pumpkin cream cold brew coffee!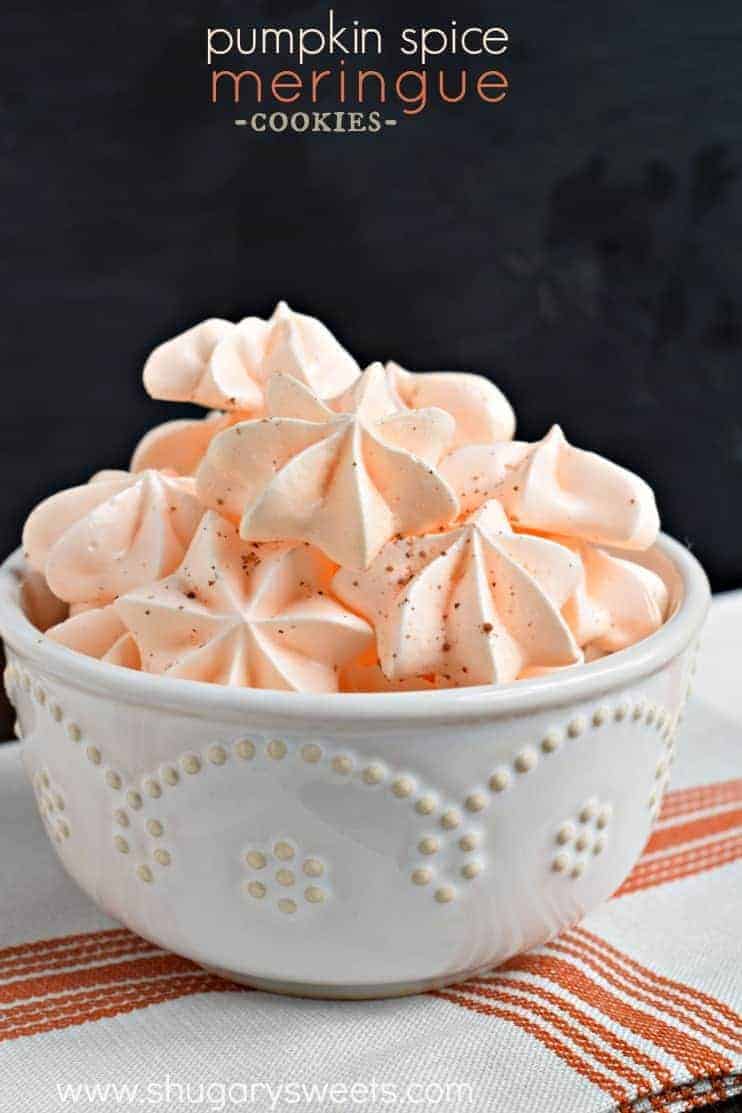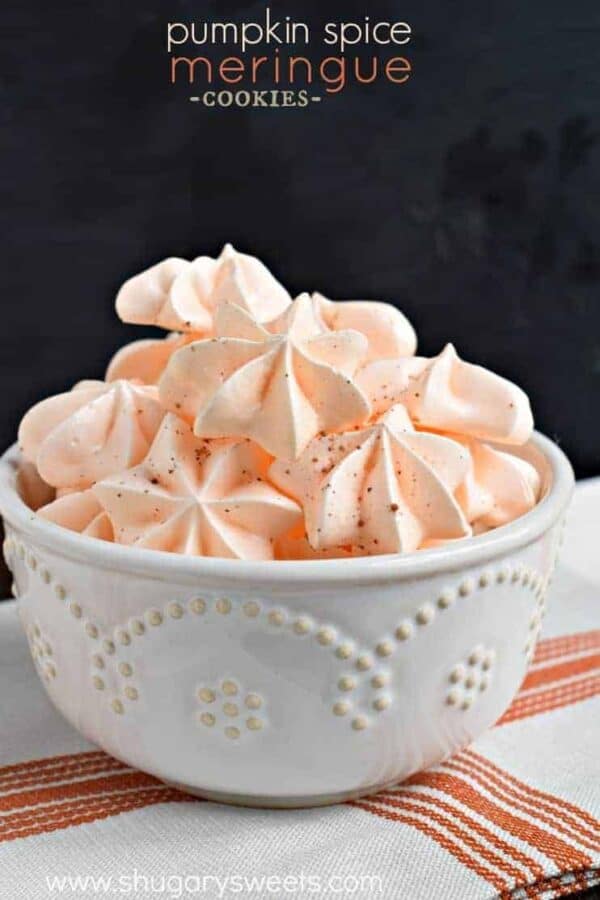 Why this Recipe is Best
This is a classic meringue cookie recipe with a pumpkin spice twist!
If you've tried making meringues before with questionable results, you're not alone. Getting that melt-in-your-mouth airy consistency can be tricky.
I've had my share of meringue fails over the years too before I finally mastered these egg white based cookies. Now, I know what it takes–and I get to share what I've learned with you!
In this recipe walk you through every step of making meringue cookies from beginning to end.
Impress your friends and family by showing up to your next autumn gathering with a bowl of homemade pumpkin spice meringue cookies to share!
After you learn how to make homemade meringue cookies, you'll want to try all the different variations. Add these Minty Meringue Cookies to your list for the holidays.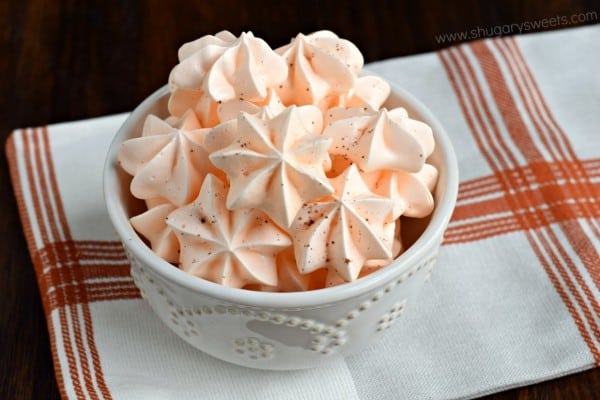 Ingredient Notes
Egg whites. Don't throw away the yolks! Save them and make some Homemade Lemon Curd
Pumpkin pie spice. I use my homemade Pumpkin Pie Spice mix. Store bought works just fine too.
Orange food coloring. I use gel colors. You can leave this out if you don't care about their color but I love the festive touch it adds!
Easy Instructions
Start by lining a baking sheet with parchment paper.
Add the egg whites to a mixing bowl and whisk them for about 30 seconds.
Once the whites look frothy, add the remaining ingredients except for the sugar and nutmeg. Beat on high with an electric mixer.
Slowly add granulated sugar to the bowl as you beat. Continue beating until stiff peaks form. This takes several minutes, depending on the strength of your mixer.
From here, you can drop your meringue by spoonful onto the baking sheet or make pretty designs.
I fill a disposable pastry bag and use various decorating tips to make stars and swirls. Pipe all your meringues onto your baking sheets. Sprinkle each cookie with nutmeg.
Bake the pumpkin spice meringues in a 200 degree oven for 80 minutes.
Turn off the oven. Leave the cookies inside without opening the oven door for at least 4 hours to set.
Finally, remove from the oven and enjoy!
Tips & Tricks
Always start with a clean, dry mixing bowl. Any trace oils will prevent your egg whites from developing stiff peaks!
Use room temperature eggs. I find the egg white separates from the yolk much easier.
I recommend using an electric mixer with whisk attachment when making meringues. I find it gives a more "even" beating. You'll also save your wrists!
Line baking sheets with parchment paper (this is a must!). The parchment paper allows the meringues to rise, without sticking to the pan. Once you're done, they lift off so easy without cracking!
DO NOT OPEN THE OVEN DOOR while the meringue cookies are baking or while they're setting afterward. Seriously. Whatever happens, keep that door closed.
I like to make my meringues after dinner, turn off the oven then go to bed. When I wake up, they are perfect! If you make them during the day, let them sit in the oven for about 3-4 hours before taking them out.
Do not bake them when it's humid. Baking and storing meringues in a humid environment makes them unpleasantly sticky.
Use an oven thermometer for most consistent results. Most home ovens don't gauge temperature accurately.
Recipe FAQs
Why did my meringue cookies crack in the oven?
An over heated oven is usually the culprit when it comes to cracked meringue cookies Make sure to set your oven no higher than 200 degrees. Use an oven thermometer to check the temperature and adjust the oven setting as needed.
How do you make that pretty pointed tip on the cookies?
I use the star shaped tip on a frosting bag. Pipe the meringue onto the baking sheet and pull upward at the end to create a tip.
How do you store homemade meringue cookies?
Once hardened and cooled, transfer them to a dry airtight container. Store at room temperature. Enjoy homemade meringue cookies within 1 week.
Do these have any pumpkin in them?
No, pumpkin spice meringue cookies are not made with pumpkin. They're just flavored with the spices used in pumpkin pie!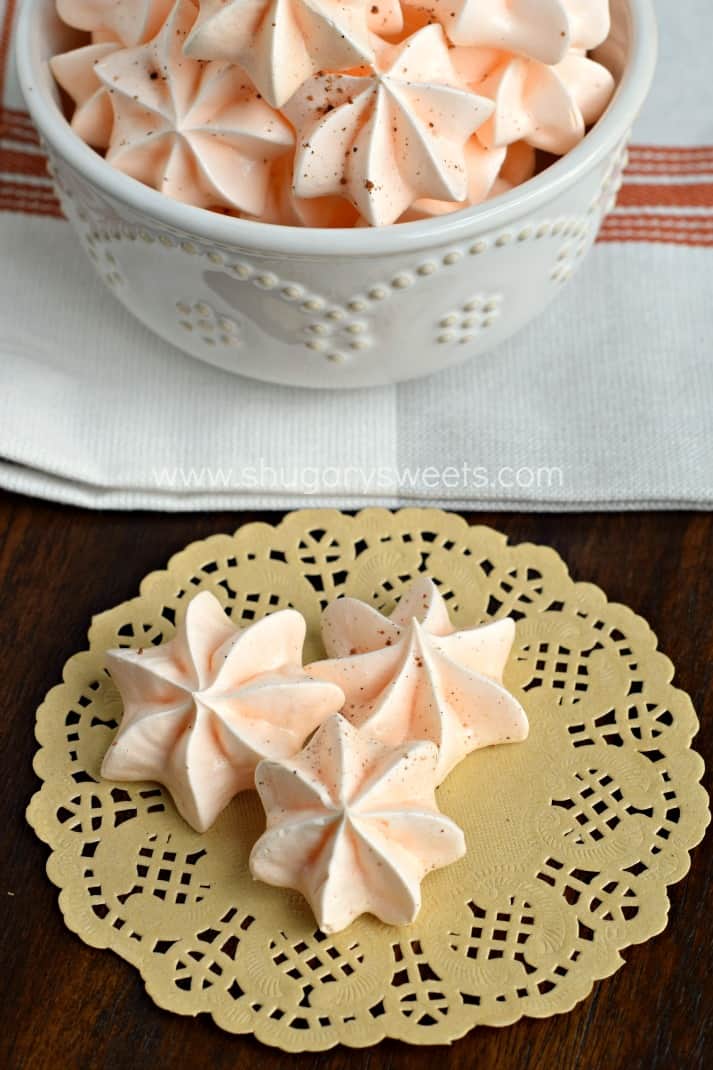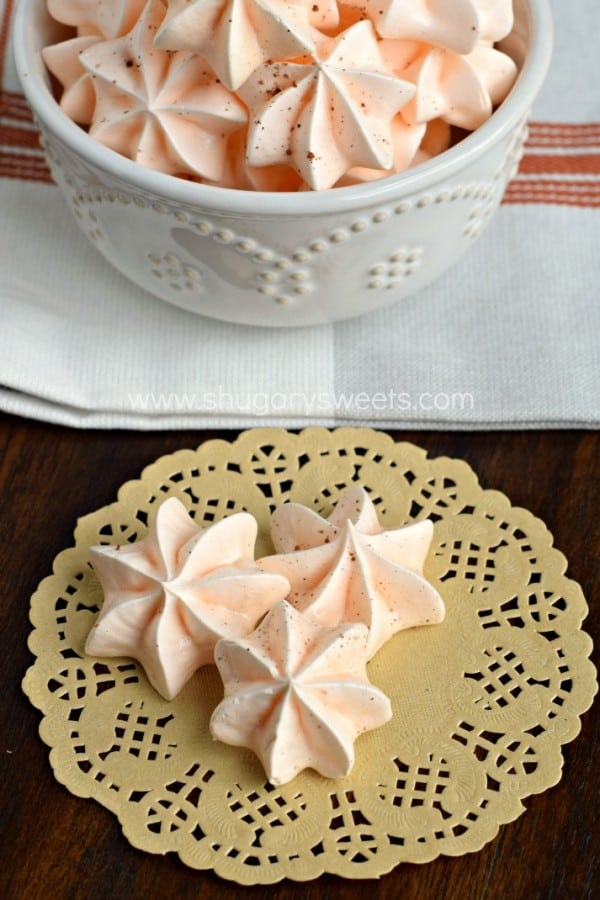 More Dessert Recipes
Pumpkin Spice Meringue Cookies are look as impressive as they taste! Flavored with seasonal spices, these orange cookies will have you ready to welcome fall.