Your favorite childhood treat gets the pumpkin spice treatment! Pumpkin Spice Rice Krispie Treats made with instant JELLO-O and topped with melted white chocolate are perfect for Halloween.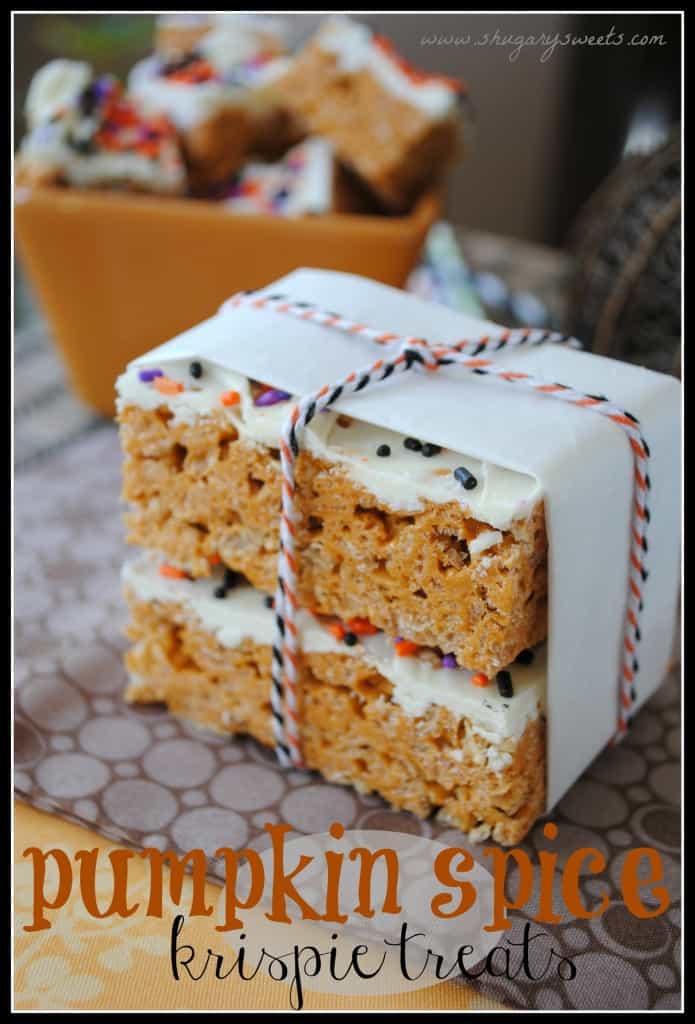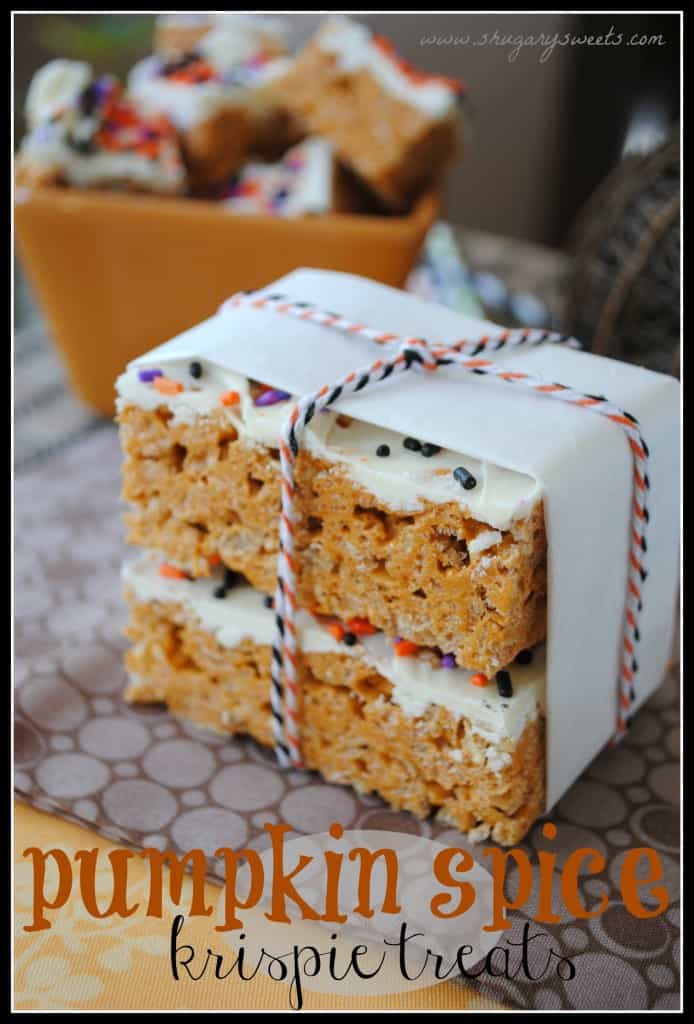 I have a simple love of putting pudding mix into my Rice Krispie treats. Gives them a whole new flavor, and keeps them moist! It's a secret to how to make rice krispie treats that are perfect every time.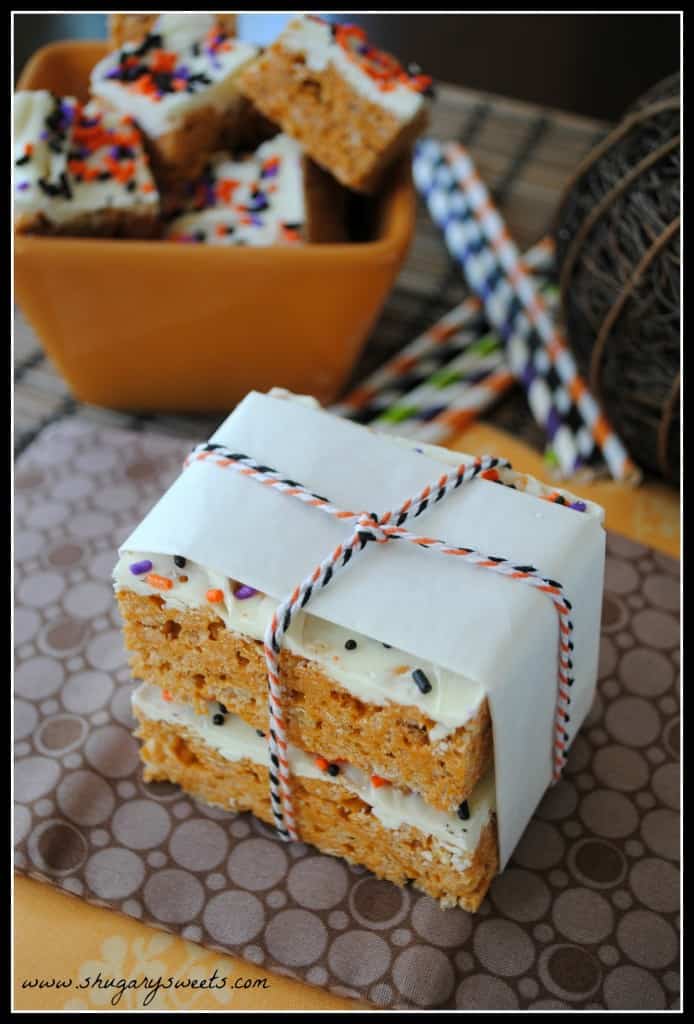 I did it with Banana Rice Krispie Treats and Pistachio Rice Krispie Treats and now it's time for a fall version!
Pumpkin All the Things
Want to hear my new motto? Every dessert is a pumpkin dessert if you try hard and believe in yourself.
From September to December, I want pumpkin in EVERYTHING. Give it to me in my cookies, in my cupcakes and even in my coffee. I'm not quite at the point of spooning it from the can straight into my mouth yet, but that's only because it's so much more appealing to get my pumpkin fix in the form of these rice krispie treats!
In fact, much of the time I don't need the real pumpkin so much as I need the pumpkin spices. You can't have fall without cinnamon, nutmeg and a touch of ginger to warm things up.
If you like pumpkin spice even half as much as I do, you NEED to try these! Soft, sticky, gooey rice krispie goodness filled with pumpkin spice flavor and topped with a thin layer of white chocolate.
Swooning guaranteed.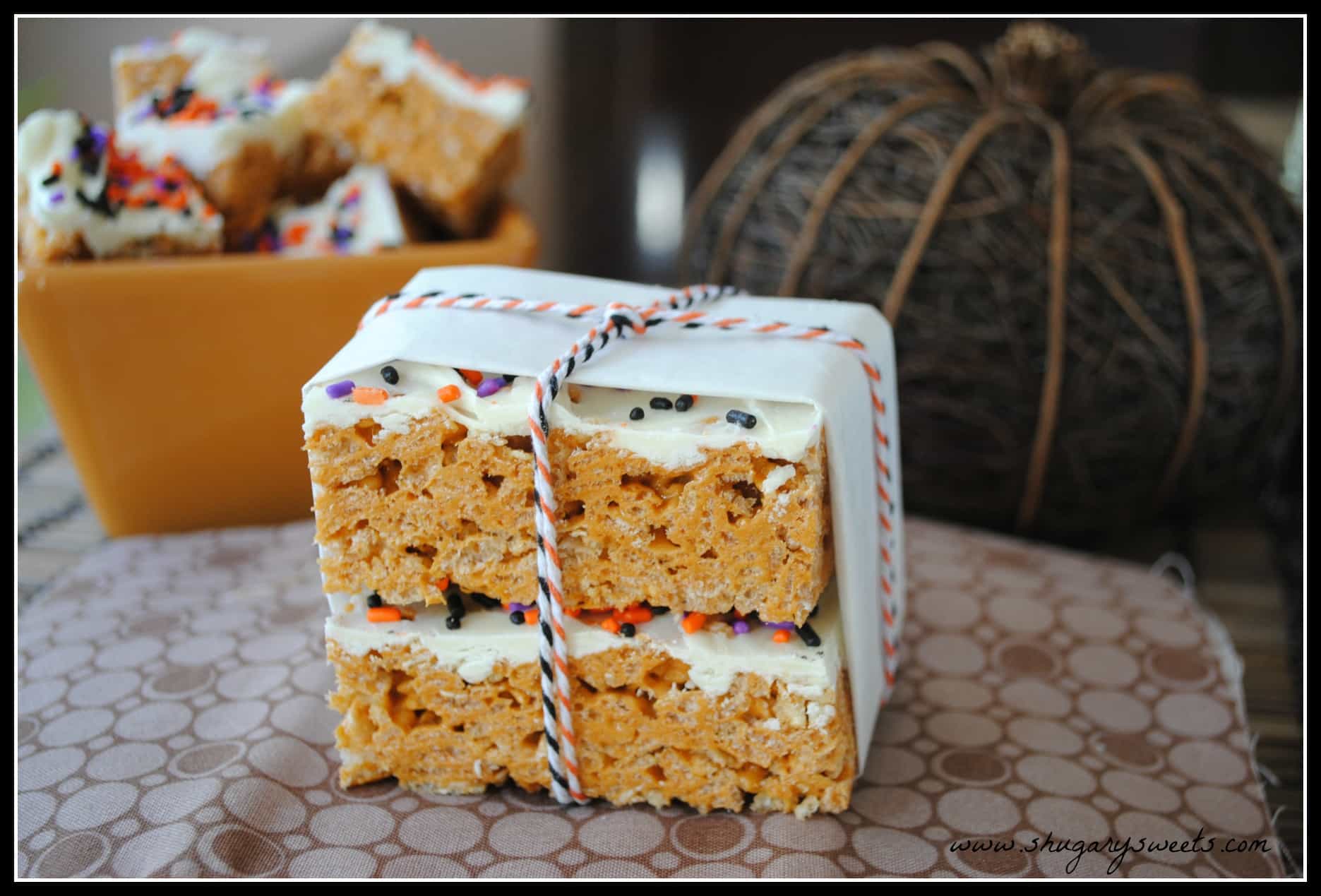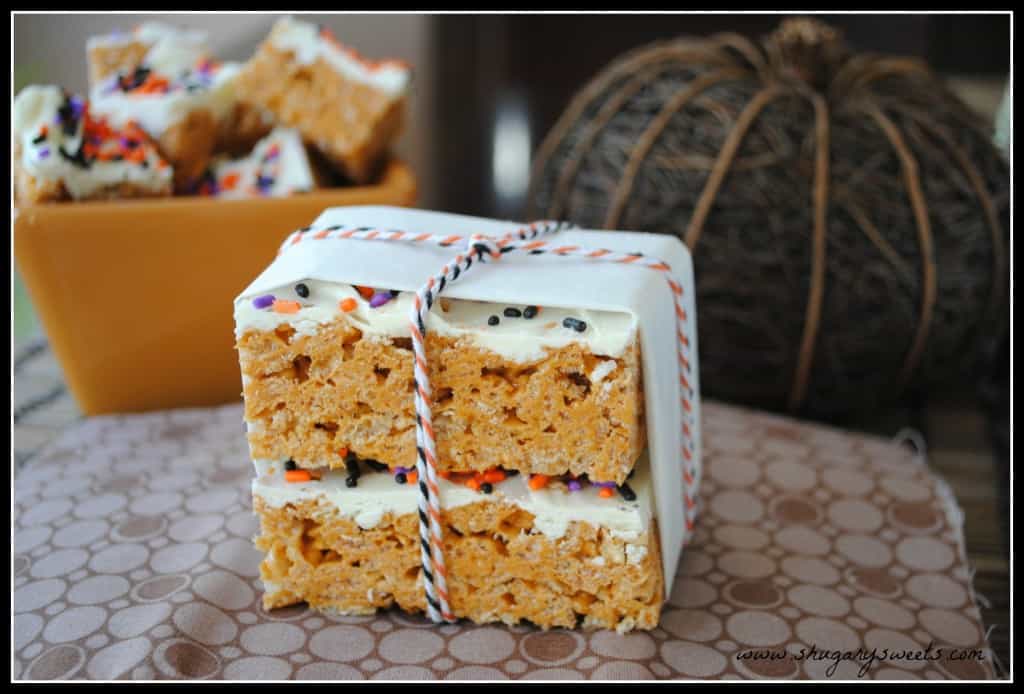 Ingredient Notes
JELL-O Mix – This seasonal instant gelatin flavor tends to be more available in the fall months. If you can't find it, go ahead and substitute a packet of regular vanilla gelatin powder and add 2 tsp. of pumpkin pie spice.
Marshmallows – I used regular sized marshmallows this time. 10 ounces of mini marshmallows work too. Make sure they're FRESH. I promise it makes a difference.
White chocolate – White chocolate morsels melted in the microwave add a beautiful and creamy touch to these treats.
Sprinkles – To make your pumpkin rice krispies more festive, use colorful sprinkles! For Halloween, consider orange and black ones, or use a mix of autumn colors like yellow, orange and brown.
Step by Step Instructions
STEP 1. Melt butter
Use a large pot to melt the butter over medium high heat.
Step 2. Add cereal
Remove the pot from heat and mix in the marshmallows, stirring until melted. Fold in the rice cereal.
STEP 3. Pour in to the pan
Pour mixture into buttered foil lined rimmed baking pan. Lightly press the mixture into the pan.
STEP 4. Toppings
Spread melted white chocolate over top of treats and sprinkle immediately with sprinkles. Allow to set about 1 hour. Cut into bars and enjoy!
Tips and Tricks
Use a LIGHT touch when pressing the treats into the pan. If you press too hard the treats will dry out and become hard. I repeat, DO NOT press hard. To keep your hands from getting sticky when pressing the treats into the pan, dampen your fingers with water first.
I use the butter wrapper to grease the pan. This adds just the right amount of butter to keep the treats from sticking without making them oily.
Recipe FAQ
How long do rice krispie treats last?
In my house, they only last as long as my willpower allows! You can store these at room temperature in a tight container and they'll keep well for 2 days.
Can you use another cereal?
Yes! I love making "rice krispie treats" with other cereals. Golden Grahams or Cinnamon Toast Crunch would be a perfect match for the pumpkin spice.
Can you freeze these?
Nope. I mean, you COULD freeze them but it would result in a stale treat and sadness. I'm devoted to only enjoying the best rice krispie treats so I strongly advise you just store these at room temperature.
Stop everything and go make a pan of these Pumpkin Spice Rice Krispie Treats!