Looking for a quick school morning breakfast idea? These no-crust quiche are the answer. Make them ahead of time and keep them in the freezer for a healthy, delicious breakfast!
Blend up a Green Monster Smoothie to sip with this school morning quiche for a super energizing meal you can eat on-the-go.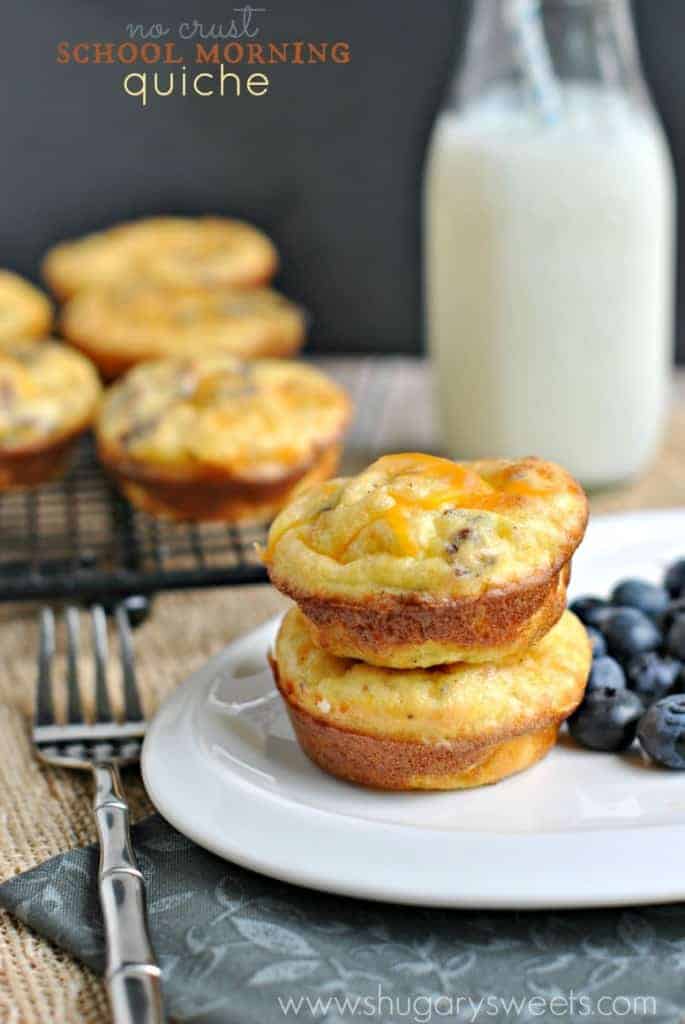 Crustless Quiche Recipe
Quiche is the perfect way to make ordinary eggs taste and look extra special. I love that you can add just about any meat, vegetable or cheese to a quiche and it'll come out tasting great.
In most quiche recipes, like my Ham and Cheese Quiche, a mixture of beaten eggs and cream are baked in a flaky pastry crust. Then you slice up the quiche like a pie and eat it with a knife and fork.
It's delicious but takes more time and effort than most of us have to spare at 7 A.M. on a school day.
This no-crust School Morning Quiche recipe was designed with exactly those hectic weekdays in mind.
Baked in a muffin tin for perfect individual quiches.
Easy to serve and eat on-the-go!
Full of cheesy, bacon flavor.
Gluten free and packed with protein.
Freezer friendly!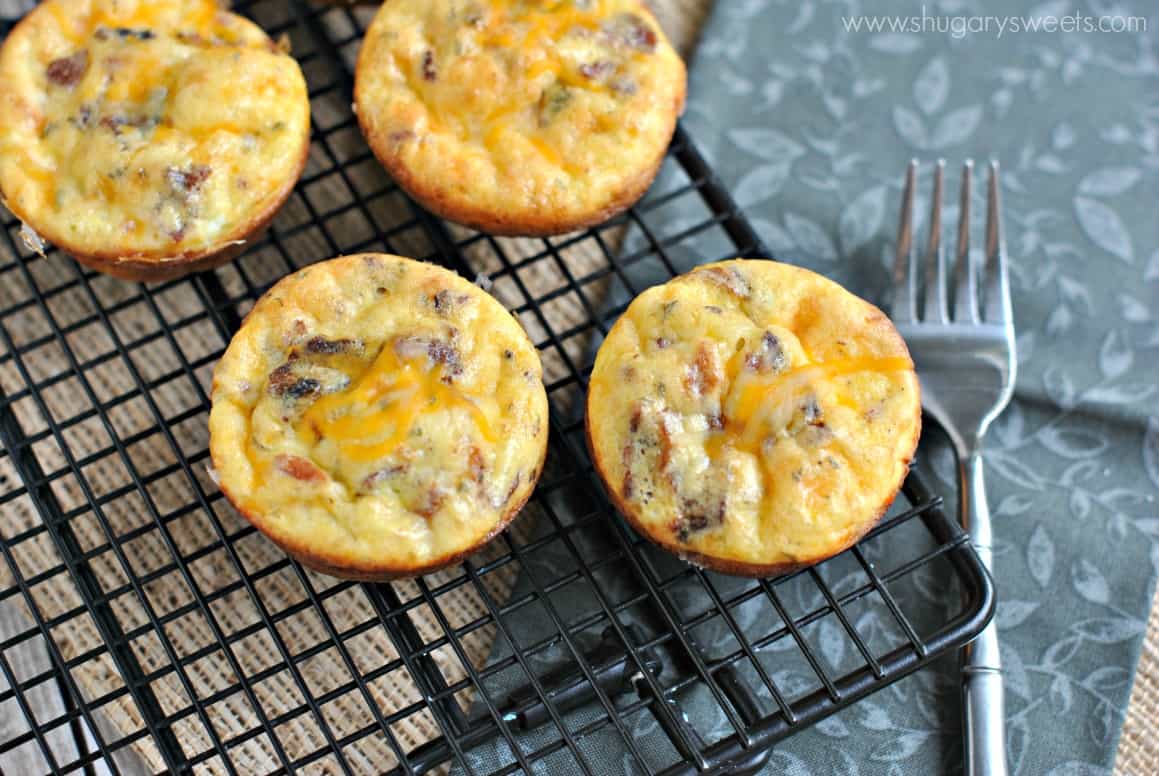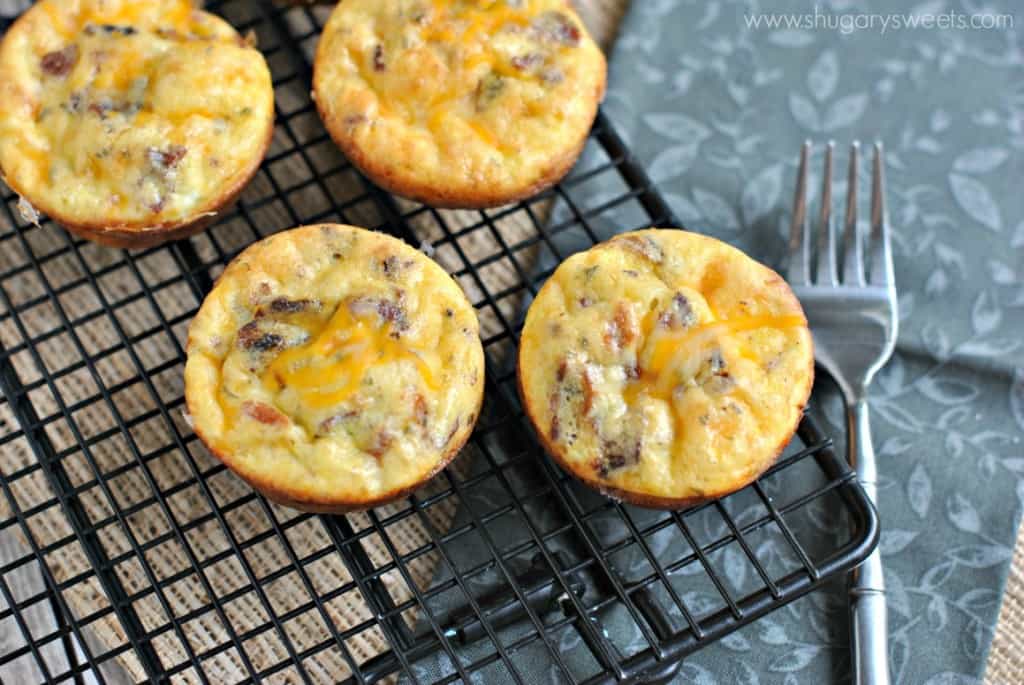 Ingredient Notes
Eggs – The base of any quiche. You will use both the yolks and whites in this recipe.
Cheese – We use both shredded cheddar and Parmesan cheeses for a rich, tangy flavor.
Heavy cream – Beating the eggs with heavy cream creates a light and fluffy quiche consistency
Bacon – Any kind of bacon, even turkey bacon, will taste good in this crustless quiche. Make sure to cook and crumble the meat before adding it to the egg mixture.
Seasonings – Use a little garlic powder and dried parsley, along with your salt and pepper, to season this quiche.
Tips and Tricks
School Morning Quiche takes just 5 minutes of prep time and 20 minutes to bake. It's as easy as combining all the ingredients, then dividing the mixture into the wells of a greased muffin tin.
As written, this recipe makes about 20 quiches. You can easily double it to have leftovers for freezing!
How to freeze: Transfer cooled quiches to freezer bags, seal and place them in the freezer. Thaw and reheat frozen quiche before eating.
How to reheat: Place a frozen mini quiche on a microwave safe plate. Cover it loosely with a paper towel and heat for 2-3 minutes or until thawed and warmed through.
Serving: Serve these crustless quiches on their own or with a side of fruit for a satisfying breakfast that won't weigh you down.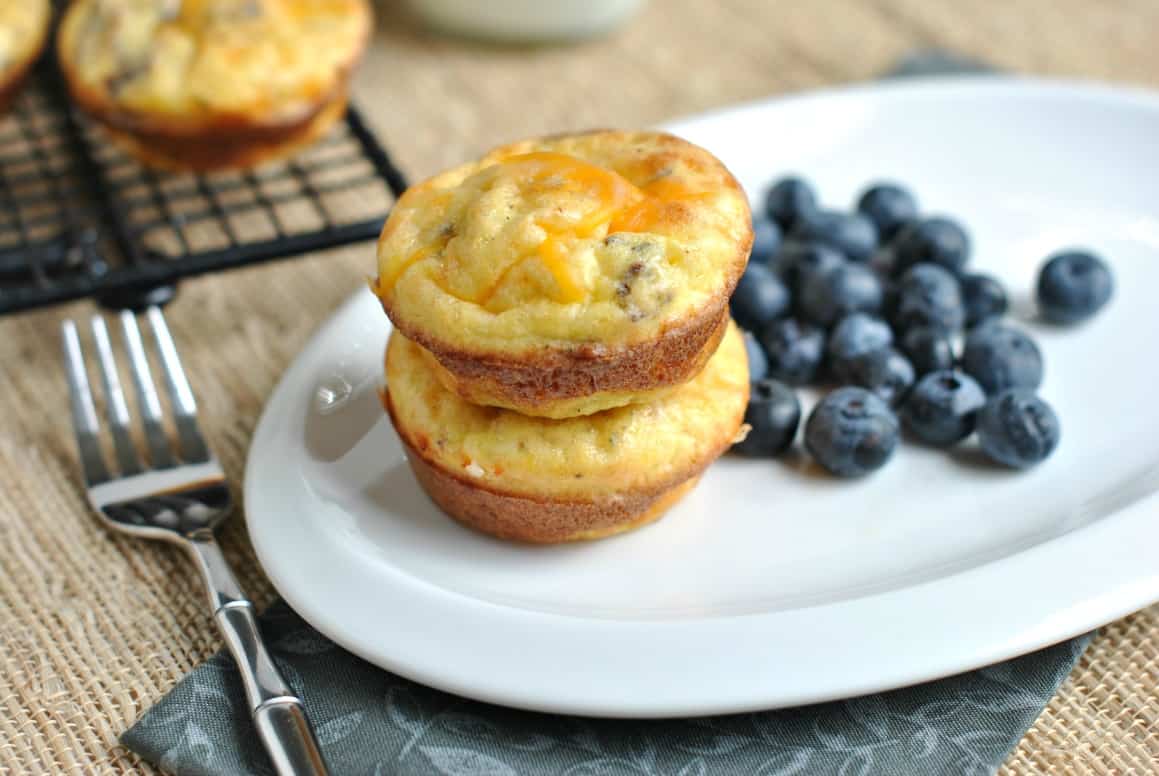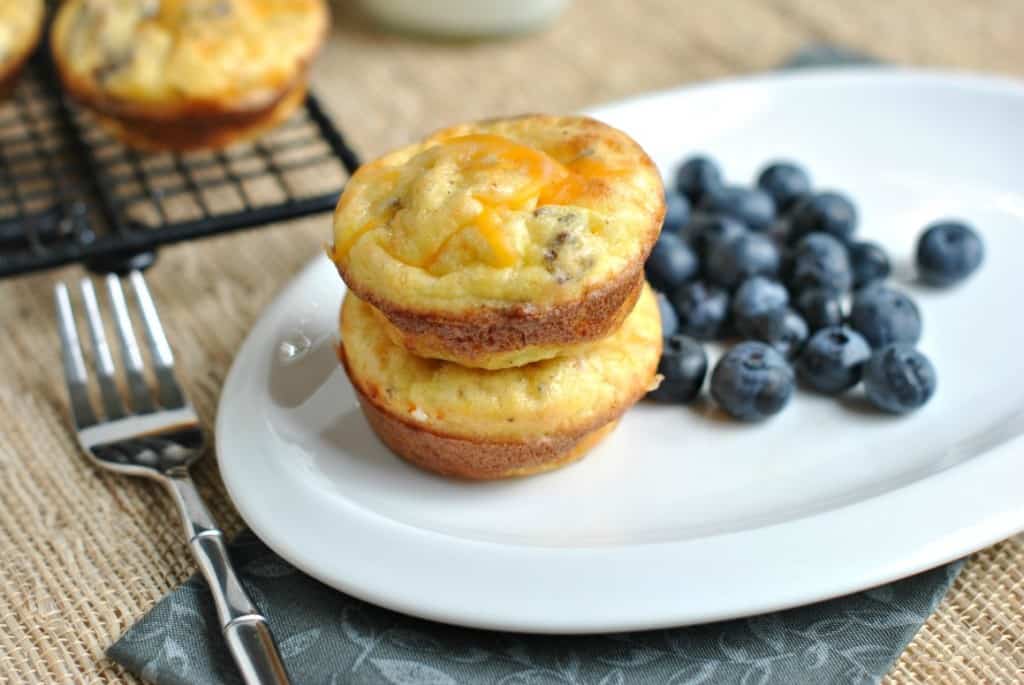 Recipe FAQs
How long do frozen quiches stay good?
Our School Morning Quiche will keep well in the freezer for about 3 months.
Can I make these vegetarian?
Absolutely! For a vegetarian version, leave out the bacon and add 1/2 cup of chopped vegetables to the quiche filling instead.
What vegetables are good in quiche?
We think almost every vegetable tastes delicious in this crustless quiche recipe. Spinach, mushrooms, tomatoes, onions and peppers are just a few favorites.
If you like quiche with vegetables, don't forget to try my favorite Veggie Quiche recipe too!
Are these quiches gluten free?
Yes! Leaving the crust out of the quiche equation makes this breakfast recipe gluten free.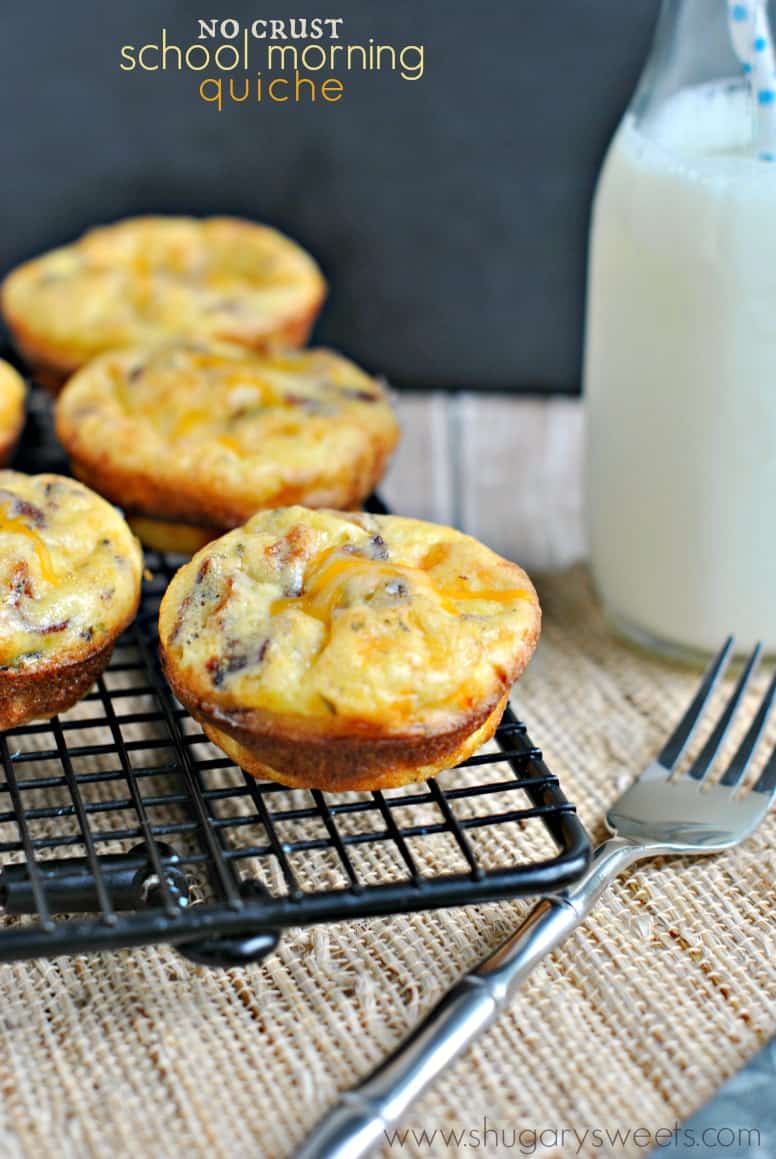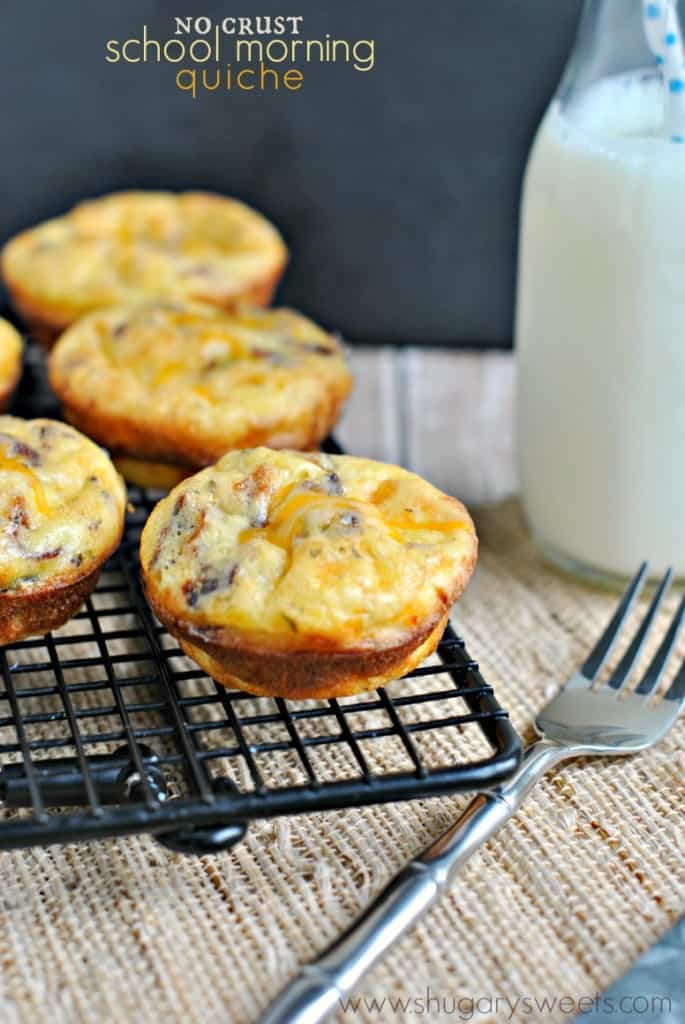 You won't miss the crust when you make this School Morning Quiche recipe. Tasty, flavorful, healthy quiches are ready to eat in just 25 minutes!