Triple Chocolate Cookies
Chewy Chocolate Cookies filled with Chocolate Chips and Cocoa Nibs. The ultimate chocolate experience!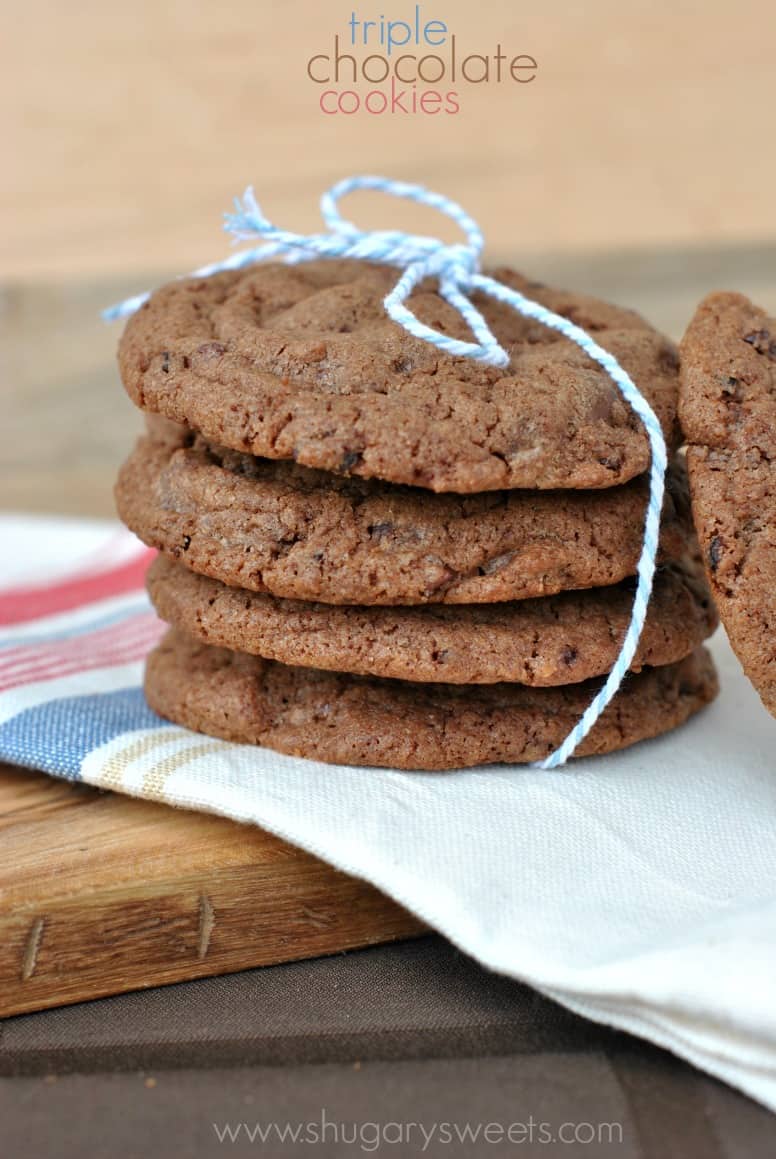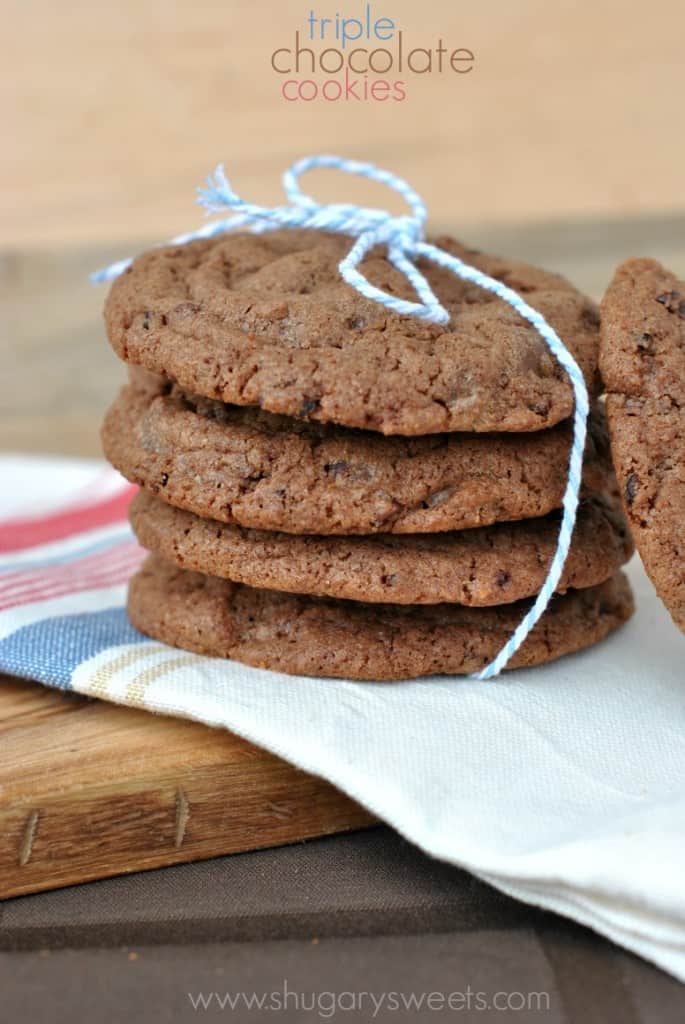 Before I start talking about cookies, I wanted to take a quick minute to share something a little "personal" here on the blog. I never know how much you all care to hear, but I also know many of you who read my blog know me and my family in real life too!
My dad has been on the lung transplant list for 20 months now and last week he finally had his surgery! With a quick middle of the night drive to Chicago, I was able to be there when he got out of surgery. He is doing as good as can be expected, if not better! He is a trooper, a fighter, and now a survivor! If I've seemed a bit "absent" on the blog lately, in responding to comments and email, please know it's not intentional. With anything, it's moments like these that remind us how blessed we are and what's important! Thanks everyone for your prayers and your patience! And, thank you to all my fellow blogging friends for helping out in so many behind the scenes ways (you know who you are)!
So, with that, can we talk about cookies for a minute? Triple chocolate cookies? Seriously, when crisis hits I am one of those people who loves comfort food. And what's better than chocolate cookies while sitting in a hospital waiting room?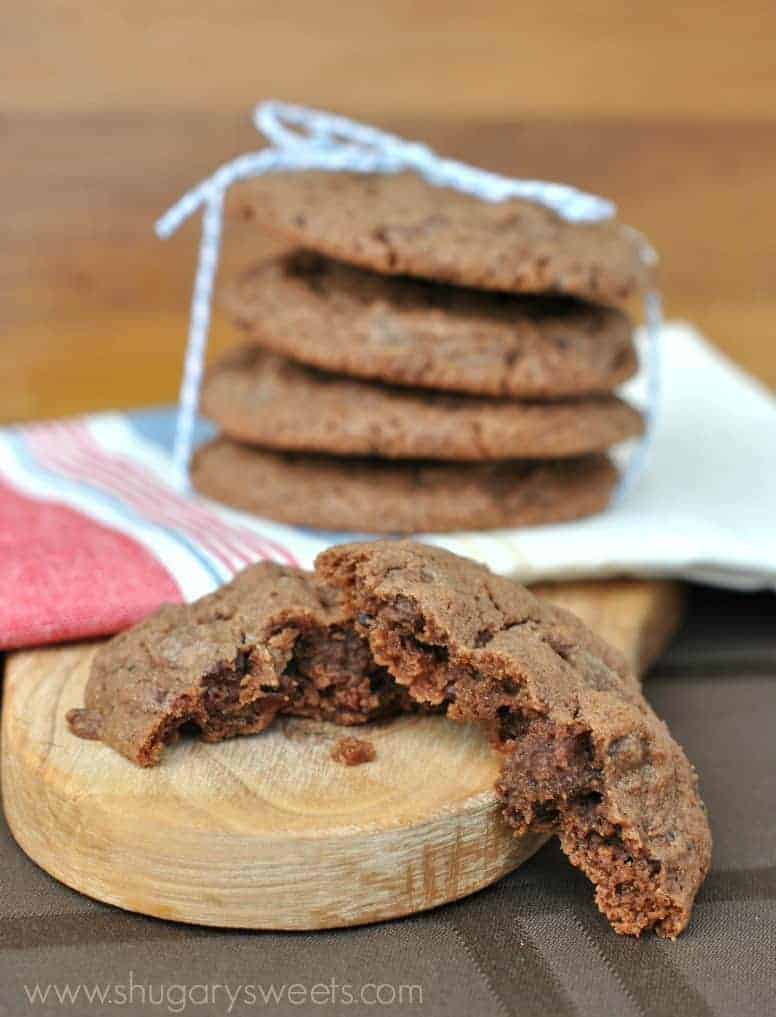 These cookies are not only chewy and chocolaty, but they also have a little crunch thanks to the TCHO Cacoa Nibs! My kids had mixed reviews on the crunchy part, but I absolutely loved the Nibs! Then again, I love nuts in my cookies, so the crunch of a roasted Cocoa Nib was delightful.
If you don't have any Nibs on hand, throw in some extra chocolate chips (or nuts). You can't go wrong!
Thanks to TCHO for giving me the opportunity to try out their Cocoa Powder as well. I love using organic products when possible, but sometimes when it comes to baking products and especially chocolate I never get the texture or results I desire. NO PROBLEMS with TCHO! The cookies turned out chewy and moist, just how I would have expected.
Enjoy the cookies, and thank you again for all the love and support! My dad is an awesome person, I wish you could all meet him!
Connect with Shugary Sweets!  
Facebook | Twitter | Google+ | Pinterest | instagram | Bloglovin'
Yield: 3-4 dozen
Triple Chocolate Cookies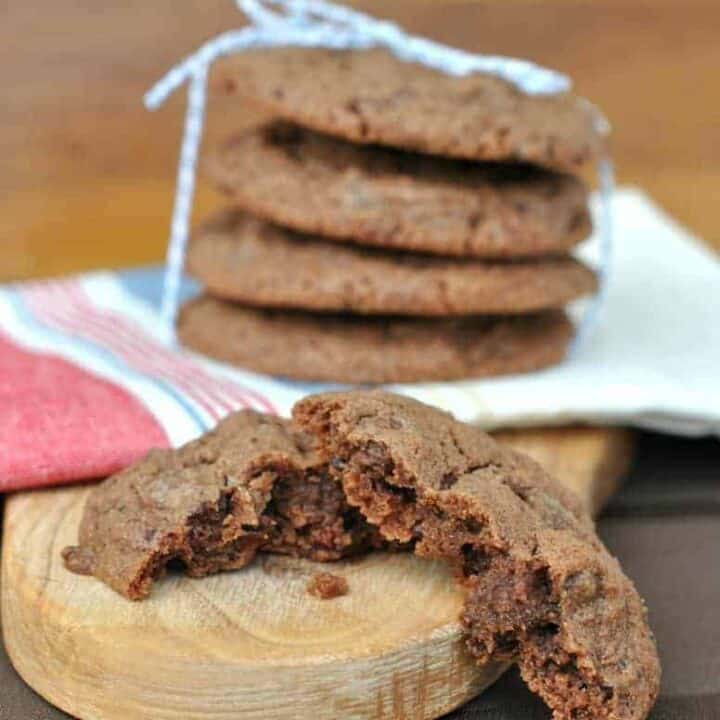 Chewy Chocolate Cookies filled with Chocolate Chips and Cocoa Nibs. The ultimate chocolate experience!
Ingredients
1 cup unsalted butter, softened
3/4 cup granulated sugar
1 cup light brown sugar, packed
2 tsp vanilla extract
1/2 tsp kosher salt
2 large eggs
2 cup all-purpose flour
1/2 cup unsweetened cocoa powder
2 tsp baking powder
12oz milk chocolate morsels
1/2 cup cocoa nibs
Instructions
Beat butter with sugars in a large mixing bowl until smooth and creamy. Add vanilla, salt and eggs. Beat in flour, cocoa powder and baking powder. Fol in chocolate morsels and cocoa nibs.
Drop cookies by large tablespoon (I use a 2Tbsp cookie scoop) onto a parchment paper lined baking sheet. Bake in a 375 degree F oven for 8-10 minutes. Remove and cool on pan for 3 minutes. Cool completely on a wire rack. Store cookies in a airtight container for up to one week.
Notes
**If you can't find cocoa nibs, feel free to add in more chocolate morsels or 1/2 cup chopped nuts. ENJOY.
Love chocolate cookies?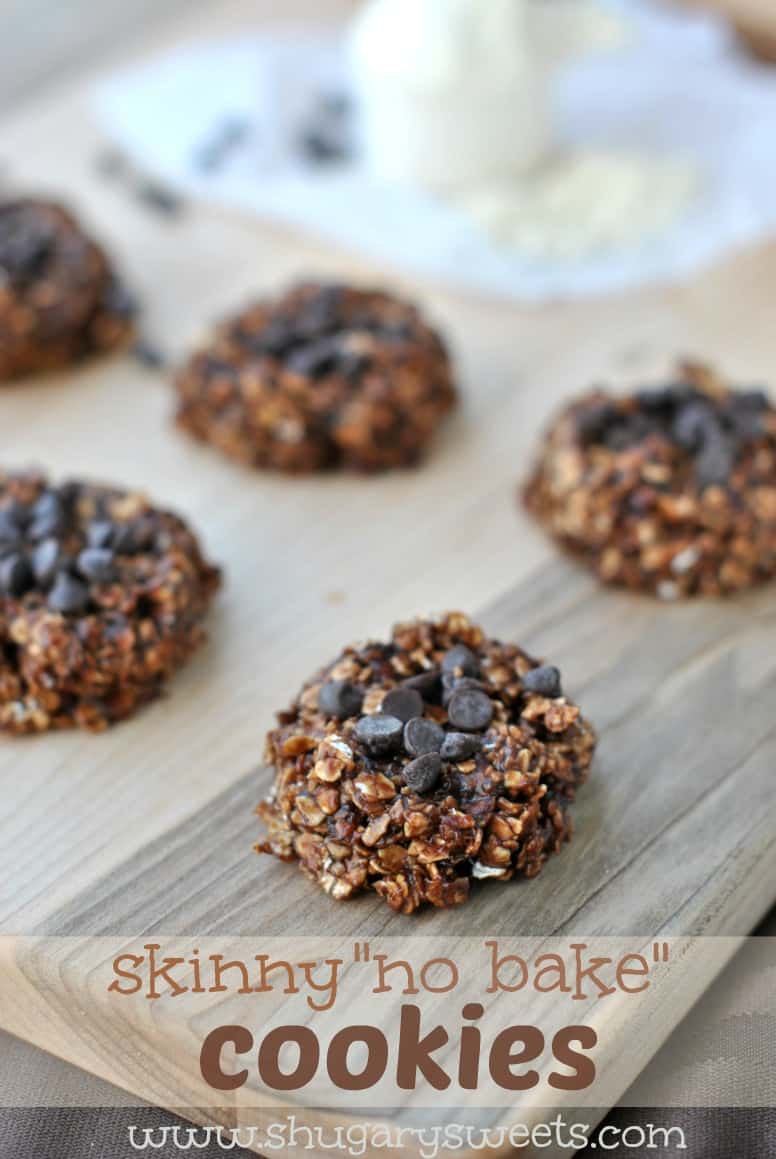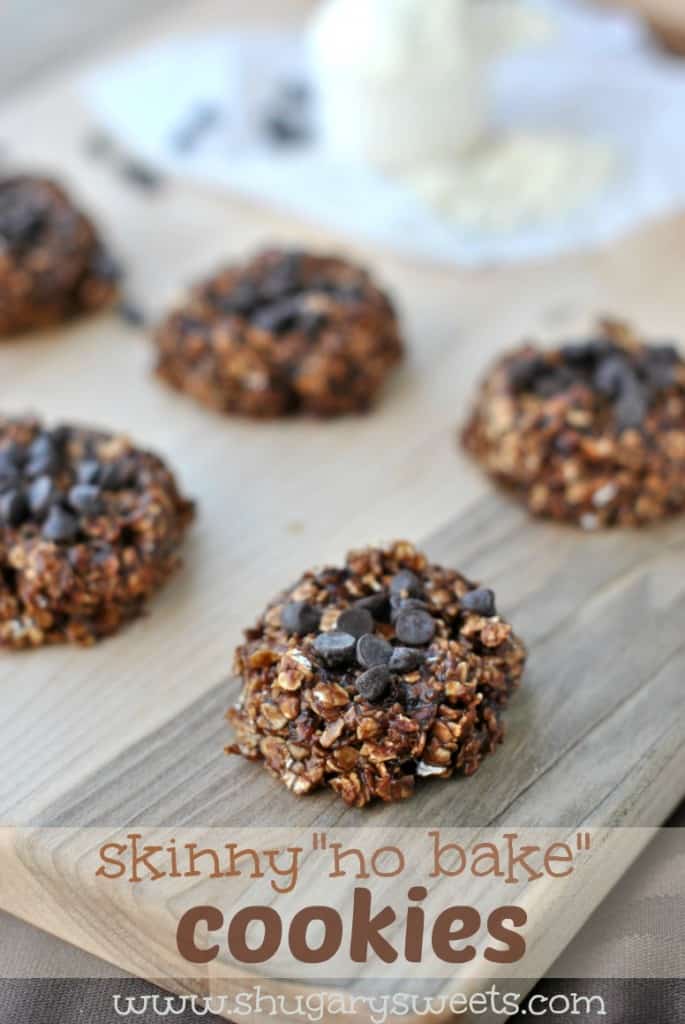 Skinny NO BAKE chocolate oatmeal cookies
More TRIPLE CHIP goodness….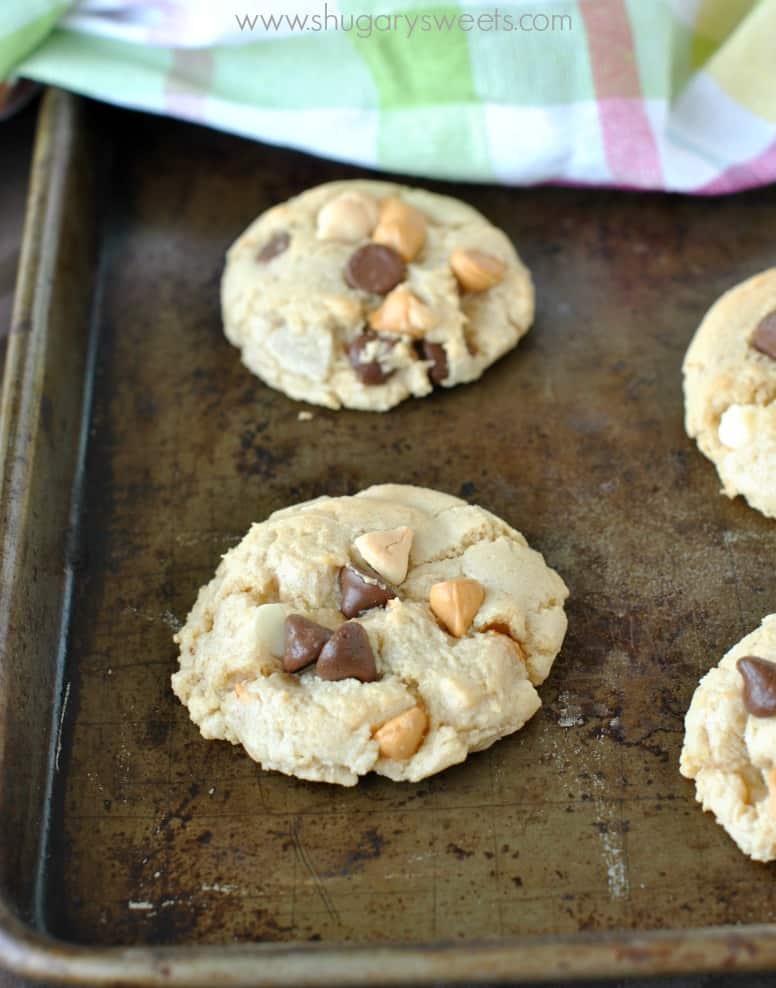 Triple Chip Cookies with white chocolate, semi sweet and butterscotch morsels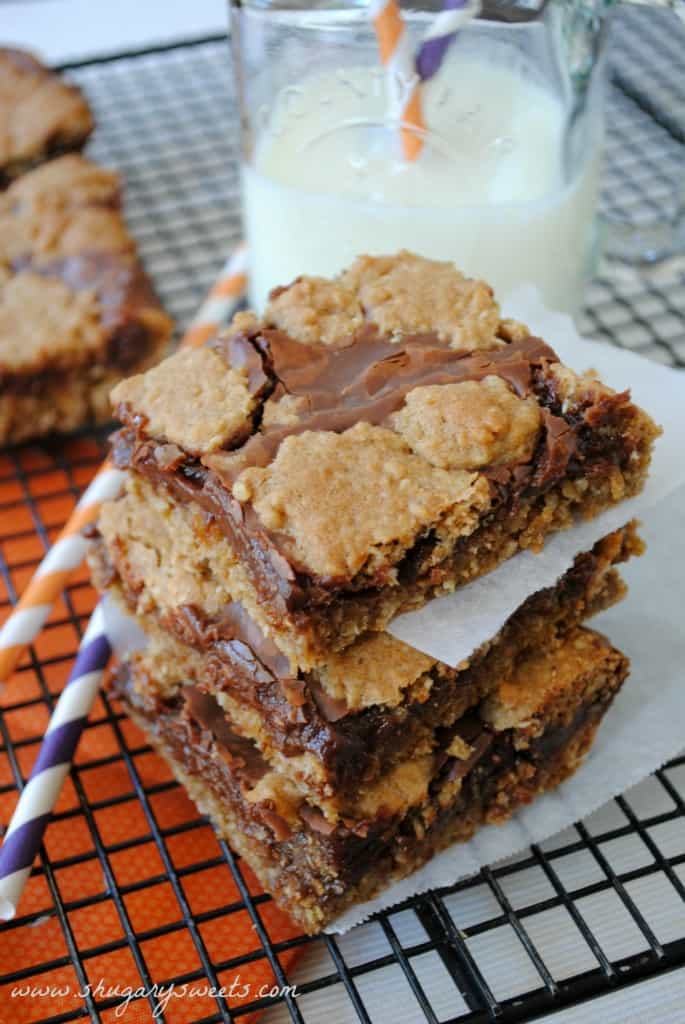 **TCHO provided me some products to try and review. No other compensation was received. All opinions are 100% my own!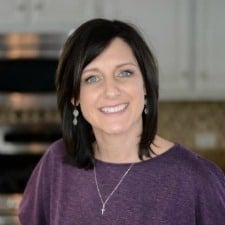 Aimee is a dessert lover (specifically rice krispie treats), workout enthusiast, self-taught foodie, and recipe creator. Her recipes have been featured in over 15 magazines, and her passion is to share her love of cooking with the everyday home cook! Learn more about Aimee.