Chewy Apple Blondies topped with a Caramel Buttercream and Toffee bits. One of my favorite Apple desserts!
If you love blondies, be sure to check out this classic Butterscotch Blondie Recipe! For a holiday treat, these Pecan Pie Blondies get rave reviews!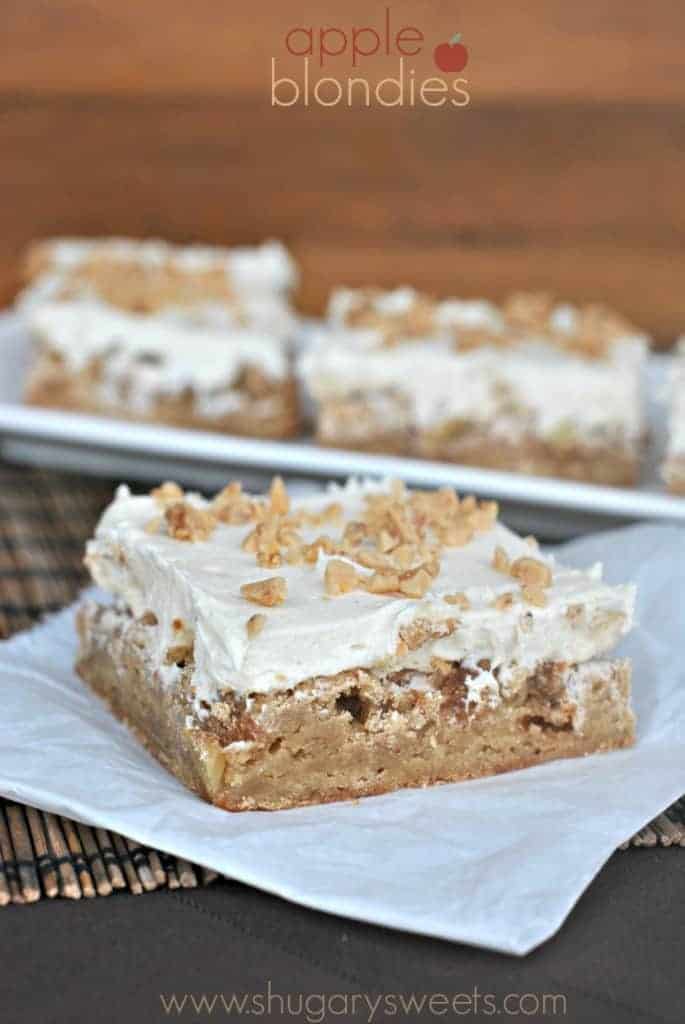 A Family Favorite
I'm often asked what's my favorite dessert. Or my favorite recipe. It's a difficult question for me to answer.
First, it depends on the day. I might be more in the mood for a certain flavor. Or texture. Some days chocolate cake sounds delicious, other days it's an oatmeal cookie. All days Rice Krispie treats sound delicious to me.
Second, totally depends on the recipe. Some recipes are easy and some are difficult. Say I'm in the mood for peanut butter, I may only want to spend 5 minutes in my kitchen making a cookie dough dip instead of a few hours making peanut butter truffles.
Finally, it always depends on who's enjoying the recipe with me. Will I be eating alone? Sharing with family? Girlfriends?
Asking a food blogger for their favorite recipe is complicated. Who knew? It's like asking a parent to pick a favorite child!
But, I can honestly say, TODAY, (and today only, hehe) these Apple Blondies are one of my favorite recipes! They were easy to whip up and the frosting. Oh my, you all know I love frosting….
In case you missed it, check out my Apple Pecan Cups!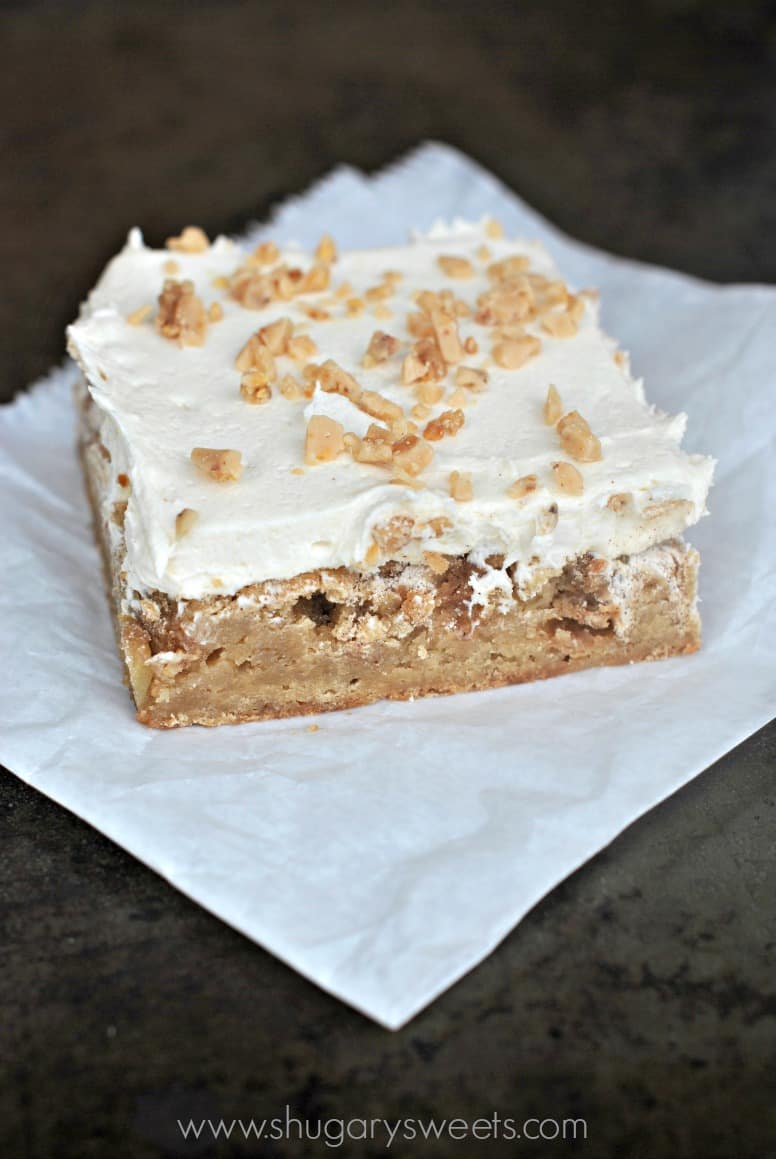 Step by Step Instructions
Step 1: Line a 9-inch square baking dish with parchment paper. Preheat oven to 350 degrees F.
PRO TIP: Use binder clips to hold parchment paper in place before baking.
Step 2: In a small bowl, mix filling ingredients together with a fork. Set aside.
Step 3: In a large mixing bowl, combine brown sugar with melted butter until smooth. Add egg, vanilla, salt and flour. Pour into bottom of prepared pan. Top with apple filling.
Step 4: Bake in a preheated 350 degree oven for 25-30 minutes. Remove from oven and cool completely before frosting.
Step 5: For the frosting, beat butter until light and fluffy, about 3-4 minutes. Add in the powdered sugar, caramel and heavy cream. Beat an additional 3-4 minutes until desired consistency.
Step 6: Remove parchment paper from pan and place blondies on a large platter (or cutting board). Frost bars and sprinkle with remaining toffee bits. Cut into large squares, then into triangles.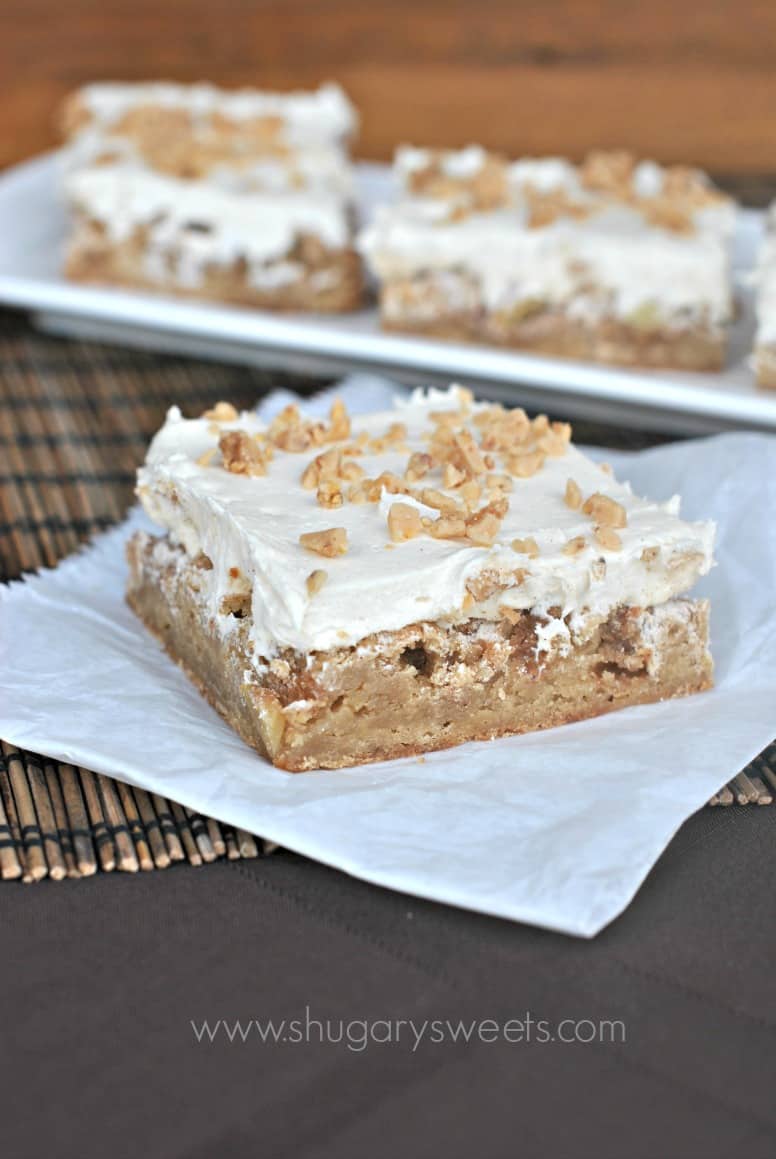 Recipe FAQs
How do I store Apple Blondies
Keep blondies in an air tight container int he refrigerator for up to 3 days.
Can I freeze Apple Blondies
Yes! These are best frozen without frosting, however, you can still freeze with the frosting. Wrap in plastic wrap and slide into a ziploc freezer bag. Store for up to 3 months.
What apples are best for baking?
I like to use a mix of gala and granny smith apples for baking.
More Dessert Recipes