Say hello to BBQ Chicken Pizza Soup. This hearty soup recipe is ready to eat in just 30 minutes. Ladle into bowls and serve with homemade pizza crust dippers for a comforting meal the whole family loves.
Bored with the same old soup recipes? Switch it up with this Bacon Cheeseburger Soup or a pot of Chicken Taco Soup this week!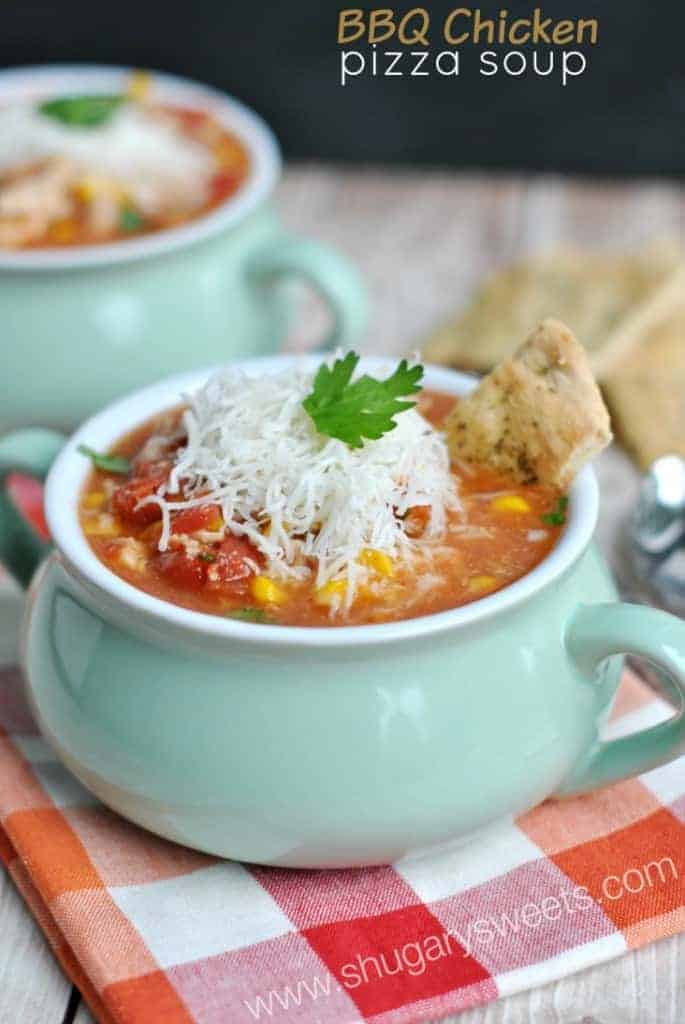 Why this Recipe Works
I've used pie crust with previous soup recipes (remember this Chicken Pot Pie Soup and this Beef Pot Pie Soup), and it always turns out fantastic. So why not try pizza crust?
The result was simply delicious.
Feeds a crowd. This recipe made enough soup to for my family of 6 hungry eaters. We even had some leftover for the next day.
One step soup. Just put everything in a pot and simmer!
Tastes like BBQ pizza. This has all the flavors of a chicken barbecue (Nashville style) pizza but easier to make.
30 minute recipe. While the soup is simmering, bake up the pizza dippers. Everything will be ready to serve at the same time.
Ingredient Notes
Chicken breasts. This is a perfect use for any leftover cooked chicken.
BBQ sauce. Use your favorite sauce, store bought or homemade.
Pizza crust mix. I used Betty Crocker mix for the pizza crust dippers.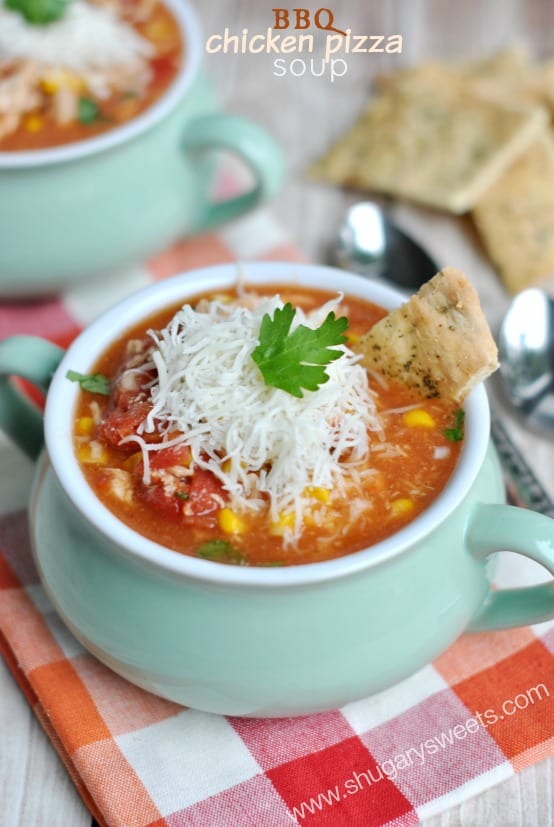 Easy Instructions
How to make the soup:
Place all the ingredients for the soup in a large soup pot. Bring to a simmer and cook for 25 minutes. Stir occasionally.
How to make the pizza crust dippers:
Combine the pizza crust mix with water to form a dough. Press the dough onto a pizza stone. Stretch it until it's about 12 inches around.
Drizzle the pizza crust with olive oil, garlic salt and Italian seasonings. Bake for about 15 minutes.
Remove and slice into bite sized pieces.
Serving:
Serve BBQ Chicken Pizza Soup in a bowls with pizza dippers on the side. Garnish with shredded mozzarella and snipped fresh cilantro.
Tips & Tricks
Use rotisserie chicken. Grab a cooked chicken from the grocery store to make this soup recipe even easier. Or use our shredded chicken recipe!
Storing soup. Transfer leftover soup to an airtight container. Store refrigerated and enjoy reheated within 3 days.
Storing pizza crust dippers. Wrap in foil or plastic wrap. Store at room temperature and enjoy within 2 days. I like reheating them in the toaster oven before serving.
Other dipping ideas. This soup would also be delicious with Garlic Breadsticks for dipping. Or try this Cheesy Garlic Bread.
Recipe FAQs
Can you freeze this soup?
Yes, BBQ Chicken Pizza Soup freezes beautifully. Transfer to a freezer safe container and store in the freezer for up to 3 months. Freeze before adding cheese for best results.
Can I make this soup with chicken thighs instead of breasts?
Boneless skinless chicken thighs are also delicious in this soup. Make sure to cook and shred the meat before adding to the soup.
Can I make the pizza crust dippers without a pizza pan?
If you don't have a pizza pan, press the dough into a rectangular on a regular cookie sheet. No pizza pan required!
Craving pizza and love BBQ chicken? Warm up with a comforting bowl of BBQ Chicken Pizza soup!