The classic blueberry dessert gets a zesty lime twist! Our Blueberry Crumble recipe has a crunchy layer of sugar and oats that is perfect served warm with homemade whipped cream or vanilla ice cream for the complete experience!
Sometimes the simplest desserts are the ones you crave the most. I can't get enough of our favorite apple crumble. And of course this delicious peach crumble is always a hit.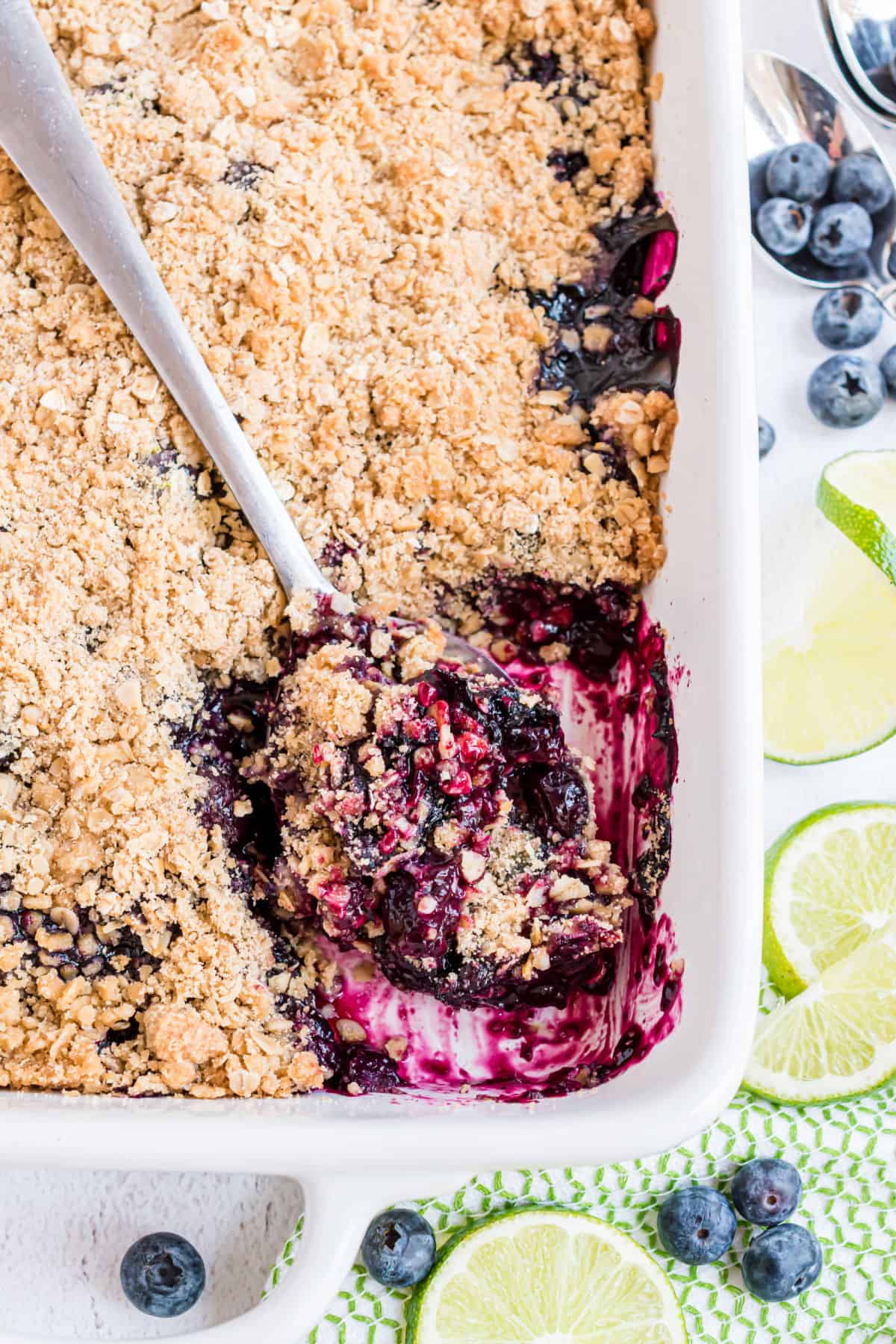 Why this Recipe is Best
For today's crumble, I paired the fresh blueberries with some lime zest, and I'm so glad I did! The citrus just pops without being overpowering.
Made with REAL blueberries. You can't beat the fresh juicy flavor.
You only need EIGHT ingredients. And they're all easy to find at any grocery store.
Quick and easy prep. It takes 15 minutes to toss this Blueberry Lime Crumble recipe together. Dessert will be ready in under an hour.
Delicious with Vanilla Ice Cream or Homemade Whipped Cream.
And of course, what's a crumble without the thick crumb layer?
Love blueberry treats? Our blueberry buckle is perfect for breakfast or dessert!
Ingredient Notes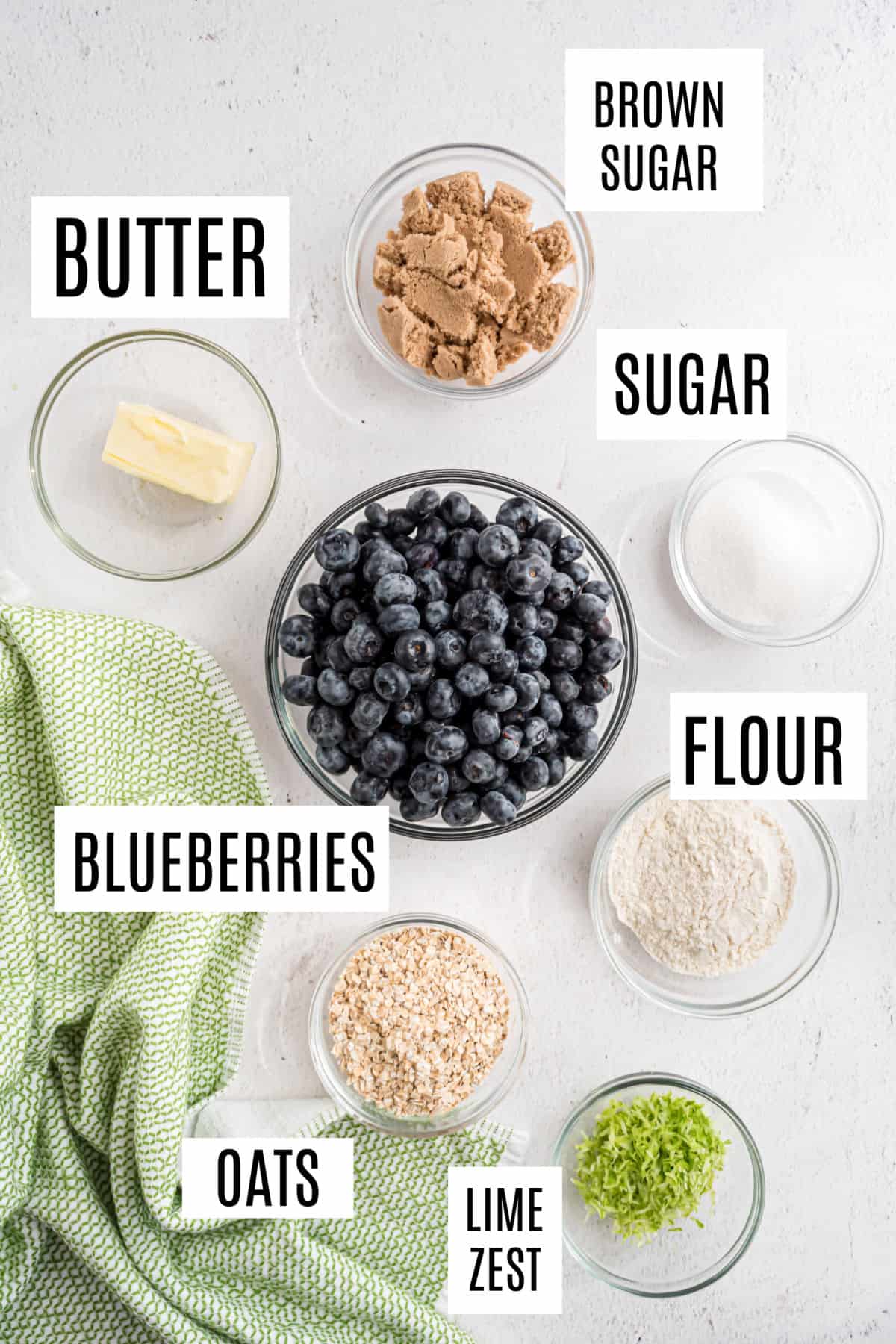 Making today's recipe is simple enough with ingredients you may already have in your pantry. Be sure to scroll down all the way to the recipe card for a complete list with exact measurements.
Blueberries. The fresher the better! Frozen berries would work too.
Lime zest. Remove the zest from your lime with a zesting tool or microplane grater. Use our guide on how to zest a lemon for best tips and tricks.
Quick oats. Make sure to use quick cooking oats, not rolled oats or steel cut.
Easy Instructions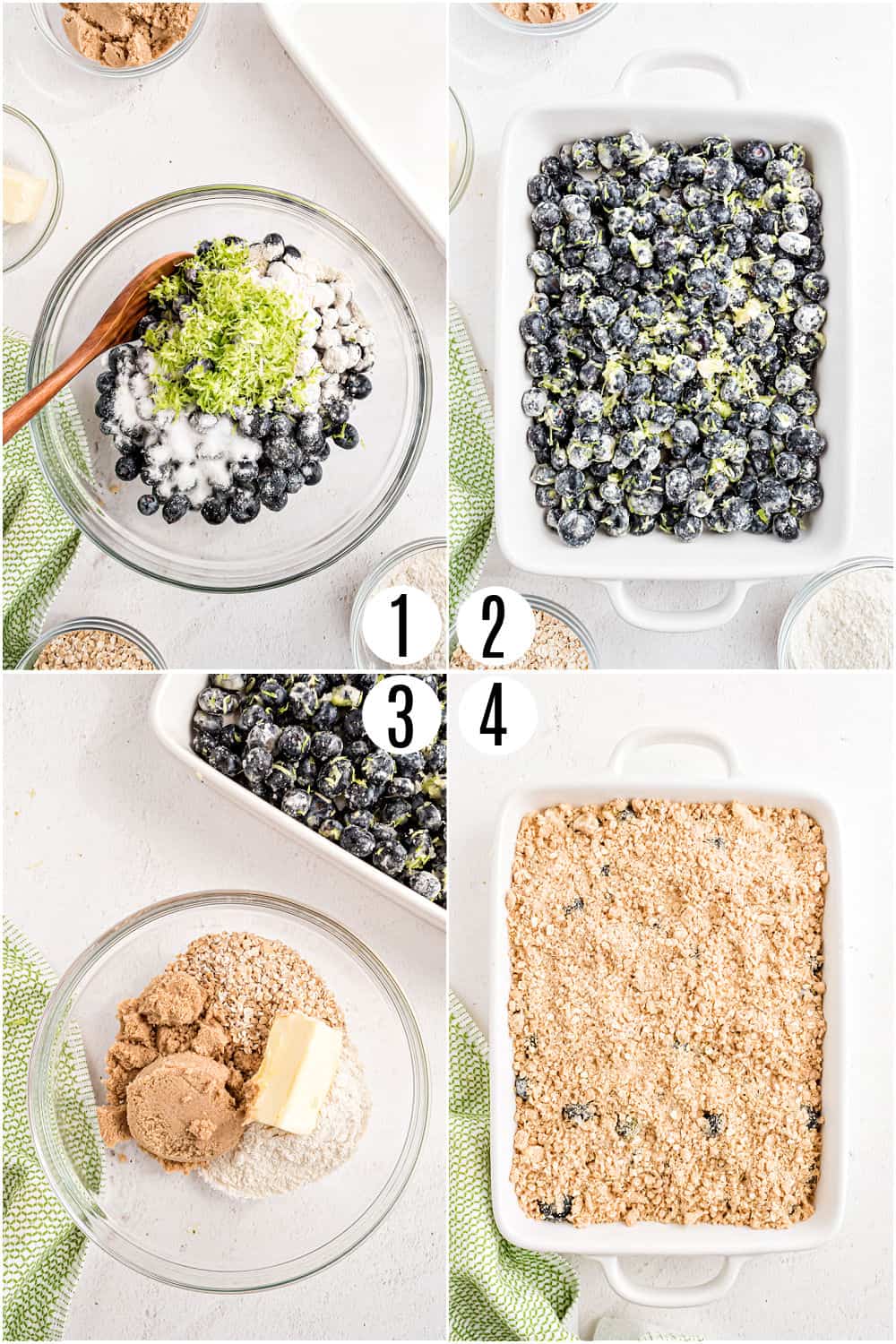 The best thing about blueberry lime crumble, besides the taste, is how EASY it is to make!
Combine fruit- Toss your blueberries with flour, lime zest and sugar. Then add the berries to the bottom of a casserole dish.
Make Crumble. Combine the crumble topping ingredients. Sprinkle over the blueberries.
Bake. Bake until bubbly and browned.
That's it. After a few minutes to let the crumble cool, top with whipped cream or ice cream and enjoy!
Tips and Tricks
If using frozen blueberries, let them thaw completely before adding to the recipe.
Try this recipe with blackberries or raspberries for a different berry-lime flavor.
Add the ice cream or whipped cream topping to individual portions just before serving. The cold cream will melt into the warm crumble as you eat. It's out-of-this-world delicious!
I love Blueberry Crumble best served warm. It's also tasty served at room temperature or chilled if preferred.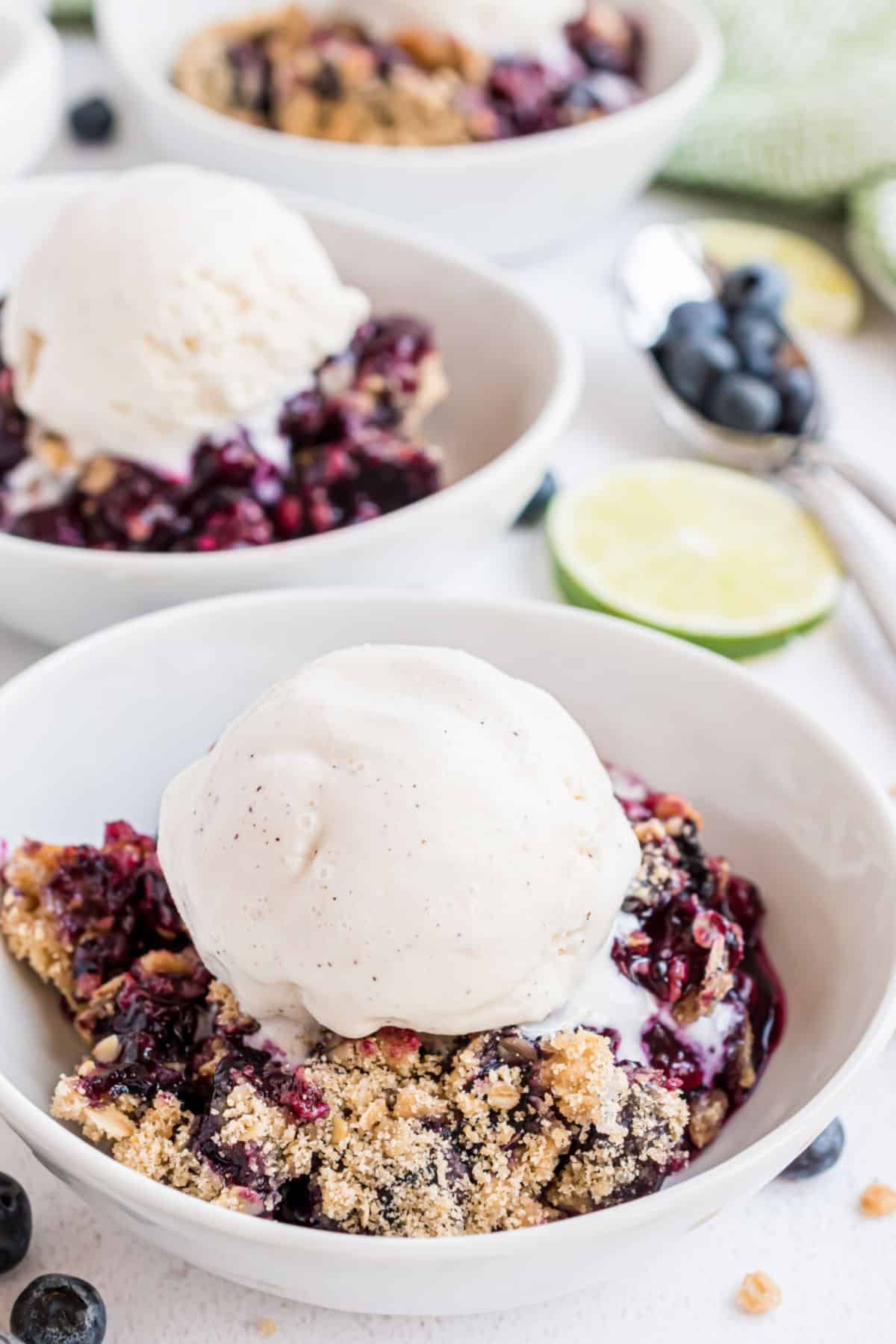 Recipe FAQs
How do you store leftover homemade blueberry crumble?
Cover leftovers with foil or transfer to an airtight container. Refrigerate and enjoy leftovers within 3 days for best taste.
Can I use lemon zest instead of lime?
You can absolutely make this recipe with lemon zest instead of lime. The flavor will be a bit different but lemon and blueberry always pair well together!
I only have salted butter. Can I still make this recipe?
Yes, salted butter will work just fine! I just prefer unsalted because the flavor is more consistent across brands. Different brands of salted butter contain different quantities of salt, which could affect the taste of your crumble a bit.
What's better than blueberry crumble? Blueberry Crumble with a hint of lime flavor. Don't forget that extra dollop of whipped cream on top!