Delicious Buffalo Chicken Ring makes the perfect meal or game days snack idea for all your favorite fans. You decide! Don't forget to whip up a batch of homemade blue cheese dressing to serve with this recipe!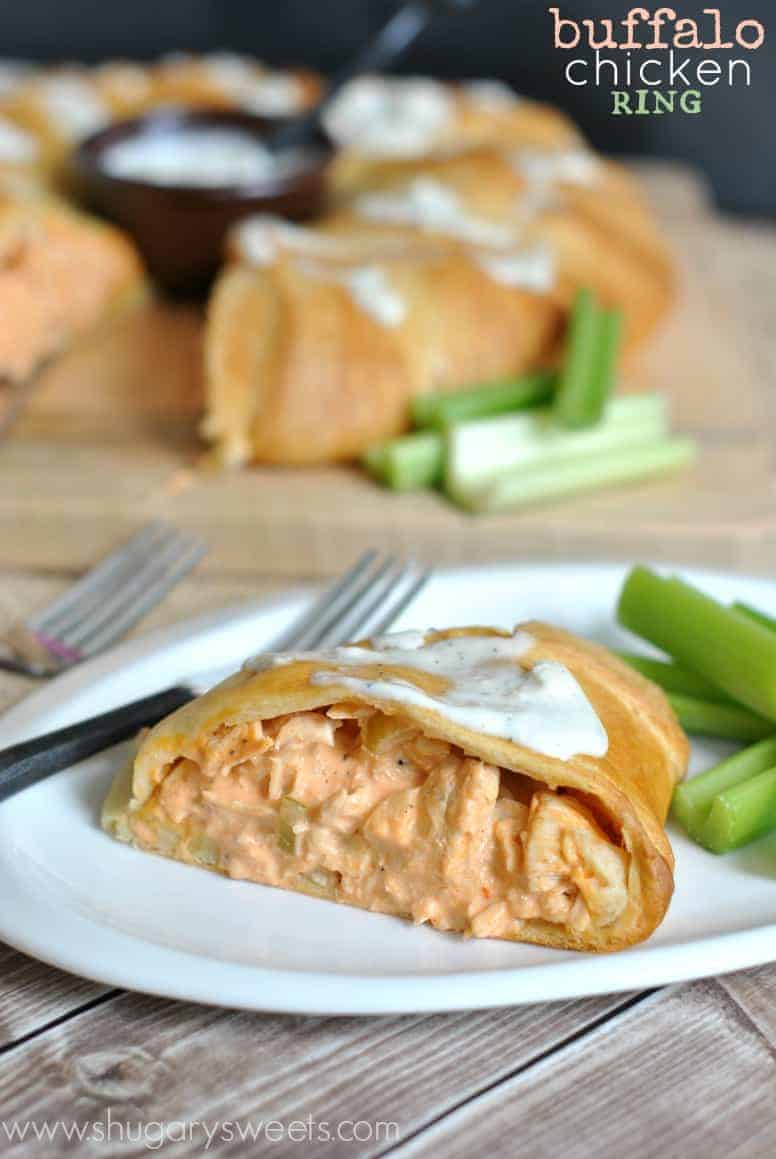 Buffalo Chicken
Remember the Buffalo Chicken Dip I was so crazy about? I figured out a way to turn it into a dinner. All the fabulous taste of the Frank's red hot flavor with tender chicken baked into a ring!
How was this NOT going to be delicious? I love when I can essentially have a big bowl of creamy dip for dinner without having to make excuses.
This is cut into slices and eaten with a fork but tastes like all the best finger foods. Flavorful chicken mixed with sauce just doesn't get any better.
Don't forget the Cream Cheese to add creaminess to the spicy chicken!
I also made a creamy Blue Cheese dipping sauce to drizzle over the top and serve with the dinner.
When it comes to the Ranch v. Bleu Cheese debate regarding buffalo chicken, I am firmly in Team Blue Cheese.
That said, if you are a ranch lover, you could serve this with a ranch dressing instead. Whatever you do, just make the recipe!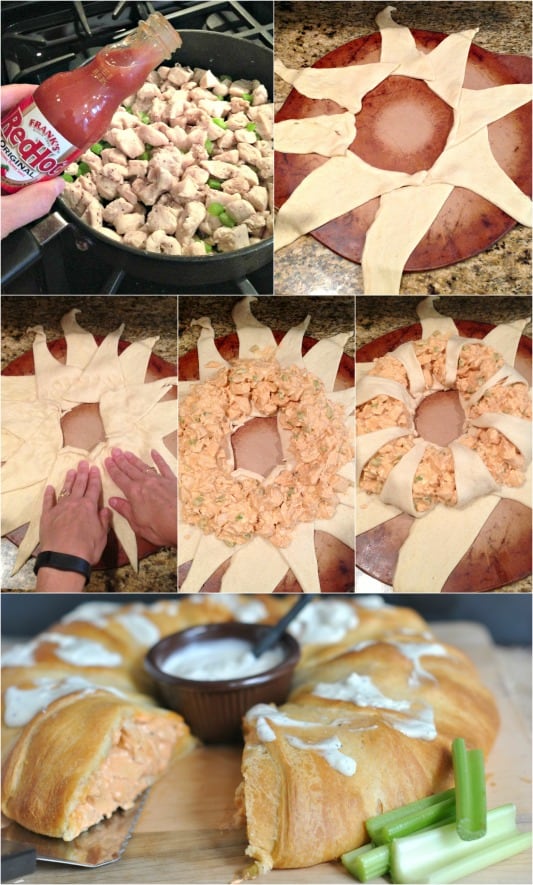 How to make a Buffalo Chicken Ring
The chicken filling can be made all in one pan. Fewer dishes to wash = a happier you. Then all you have to do is wrap it in crescent roll dough, bake, cut and enjoy!
Cook your chicken in a large saucepan, add the chopped celery during the last minute or two, just to soften it slightly. You still want your celery to have a crunch!
Drain off the excess water before combining the remaining ingredients unless you want a soggy chicken ring.
The final step in this recipe involves baking the dip in a ring of pastry dough.
It makes this dinner look so impressive but doesn't take much effort at all.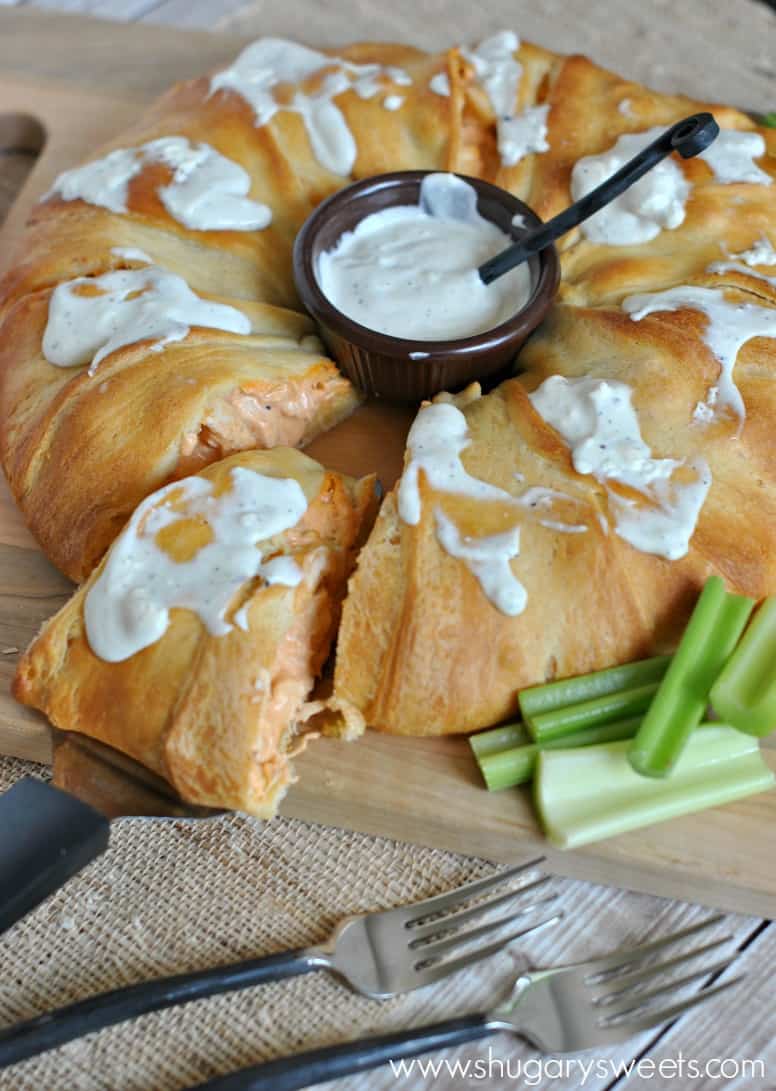 How to arrange the crescent rolls
Unroll a package of crescent rolls and lay it in a circle shape, with the wide part in the center and the point facing outward.
PRO TIP: I laid mine on a pizza stone so that I could bake the chicken ring and transfer to the table without needing a serving platter.
Repeat with a second package of crescent rolls on the pizza stone. Use your fingertips to press them gently together and create an "indentation" to fill with Buffalo Chicken.
Once you fill the center ring with buffalo chicken, wrap your first layer of crescents over the filling. Repeat with the second layer of crescents. Most of your filling should be covered at this point. You can stretch the crescent rolls to cover it completely, then bake.
While the chicken ring is baking, mix up your blue cheese dip. You can serve the dip at room temperature if you're in a rush or heat it up so it's extra creamy. That's how I like it!
If you use a pizza stone, you can put the dressing in a small dip bowl at the center of the ring to serve. Add a few more celery sticks or carrot sticks as a garnish if you like!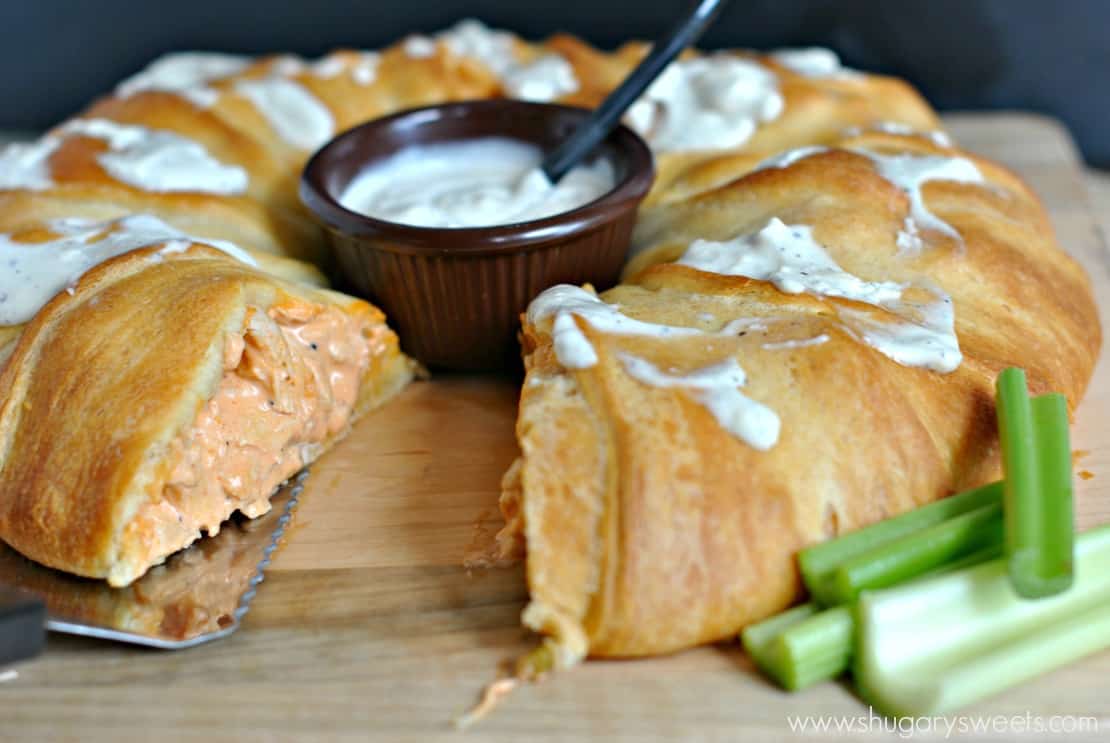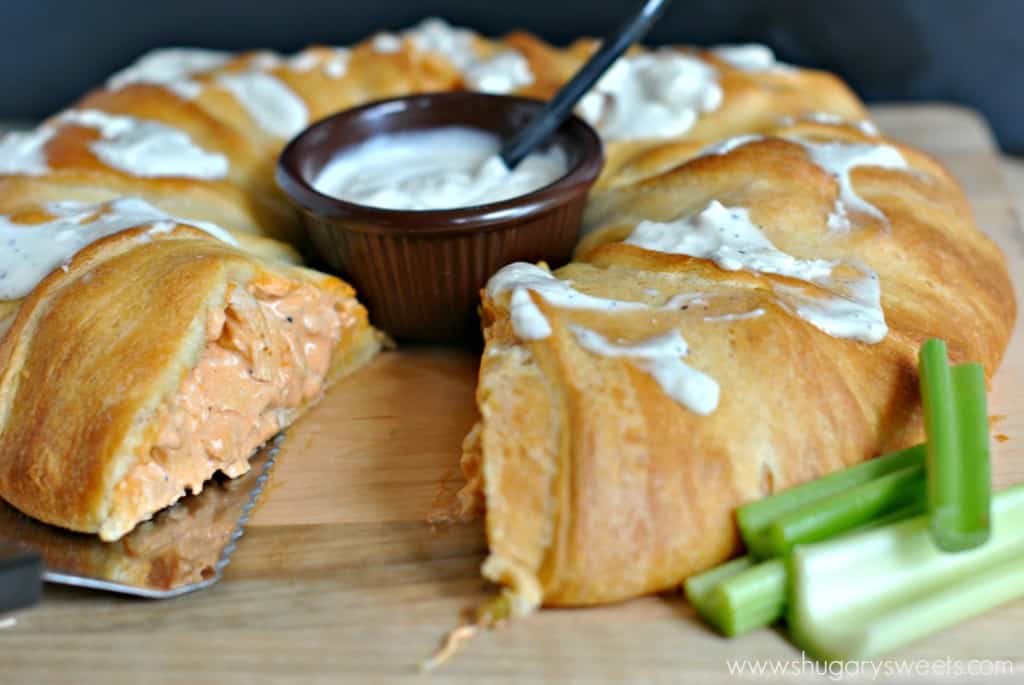 Tips & Tricks
Swap out the blue cheese for homemade ranch dressing if you prefer!
To make this even faster, you could use leftover shredded chicken for this recipe–or a ready cooked rotisserie chicken. Just warm the chicken in a pot with all the other filling ingredients until everything is softened and heated through.
If you don't have a pizza stone, you can also make this on a large cookie sheet. After it's cooled, slide it off onto a serving platter to transfer to the table.
The Frank's Hot Sauce gives this its signature "buffalo" style flavor. If you don't have it or prefer not to use it, sub with your favorite buffalo sauce!
I love this best served right away when it's still hot from the oven. Leftovers can be wrapped and kept in the fridge to reheat in the oven.
Make sure to pinch the crescent roll dough sides together well so that you don't get any stray chicken filling falling out. I used a gentle but firm touch to keep both crescent layers together without breaking.
Now, that I've enticed you with this Buffalo Chicken Ring recipe, you can forget all about your dinner plans and whip this up instead. What's your favorite way to enjoy your buffalo chicken?