Chocolate Almond Cheesecake Parfait is beautifully layered with chocolate sandwich cookies, almonds and creamy cheesecake. A perfect parfait for two!
Want homemade cheesecake without the work? Our Cheesecake Dip is another easy option you'll love!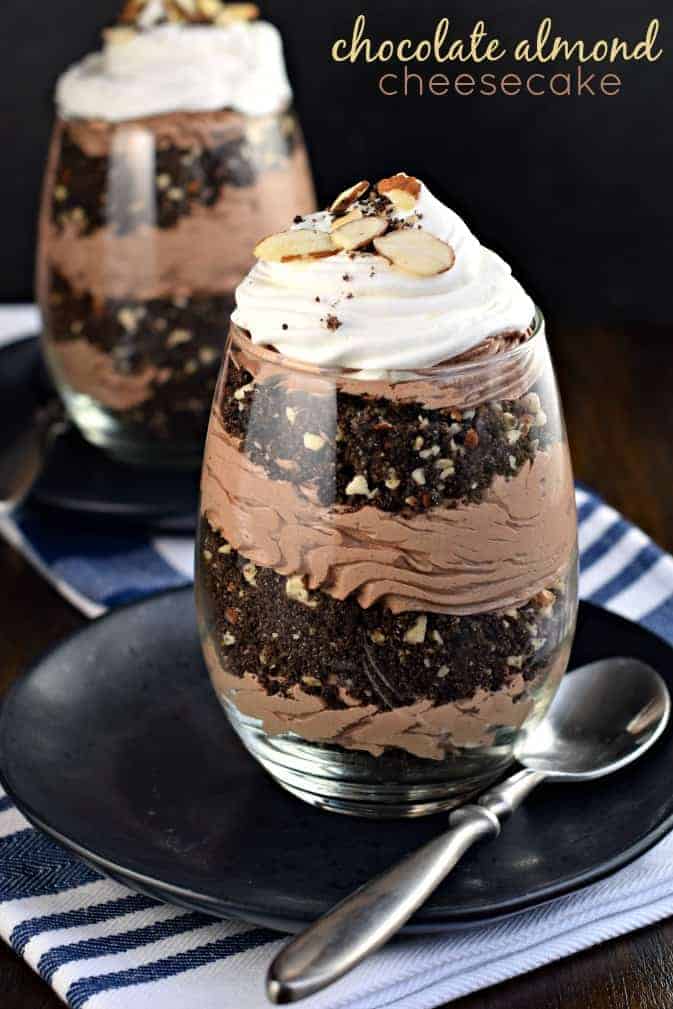 A Parfait for Two
Every day is a good day to eat cheesecake. But who wants to go through the trouble of making an entire cake when you only need a couple of servings?
This chocolate almond cheesecake recipe makes two picture-perfect parfaits. It's the perfect dessert for a date night at home or a special treat for yourself after the kids go to bed.
You can also double (or triple) the recipe to make cheesecake parfaits for the whole family, but sometimes it's nice to have those "just for you" kind of desserts!
Chocolate Almond Cheesecake Parfaits are unbelievably easy to make with impressive results. I love adding nuts to my cookies and brownies, so it's perfect that the crumb layer of this parfait has some almonds mixed into it!
Crunchy almond and crushed cookie crust.
Layered with creamy, chocolatey cheesecake filling.
Topped with Cool Whip and an almond garnish.
No baking required.
Looks beautiful and tastes heavenly!
If you love today's parfait, be sure to try our chocolate chip cookie parfaits next!
Ingredient Notes
Here's what you need to make these chocolate cheesecake parfaits.
Chocolate sandwich cookies – Oreos or any other brand you like.
Almonds – We pulse wholealmonds for the crust layers and slivered almonds for the garnish.
Cream cheese – The kind that comes in blocks, not the spreads in tubs.
Powdered sugar
Cocoa powder
Almond extract
Whipped topping – Our homemade stabilized whipped cream is a perfect alternative to Cool Whip as a topping for these parfaits.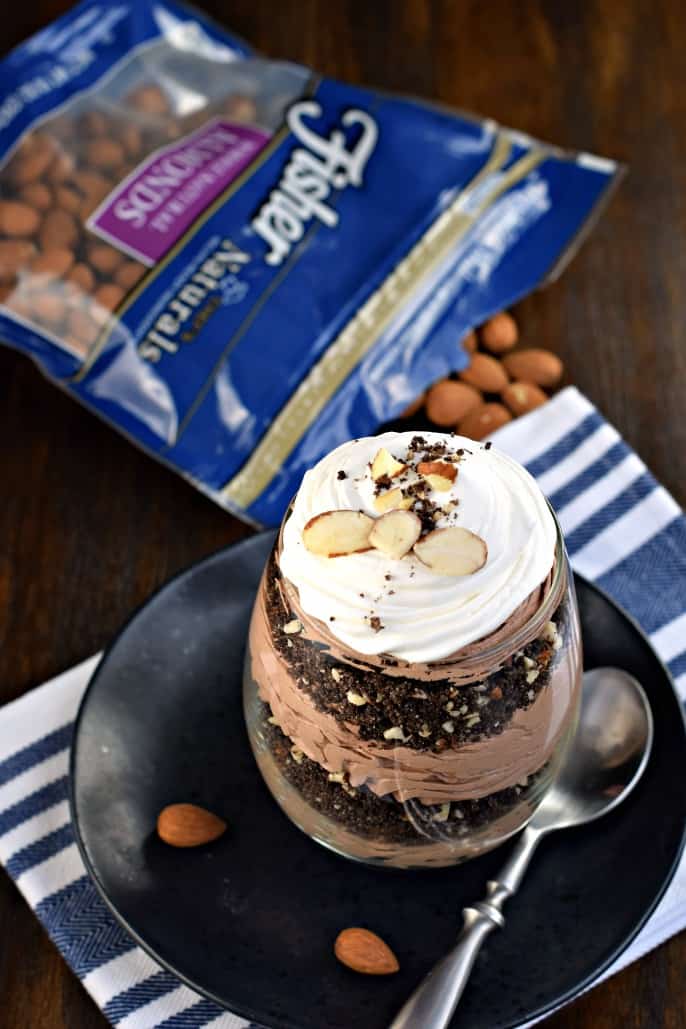 Easy Assembly
The key to a parfait that looks as good as it tastes is all in the layering.
I assembled the parfaits in stemless wine glasses but you can use any clear glass that's large enough.
First, spoon ¼ cup of cookie crumbs on the bottom of the glass.
Spoon some of the cheesecake filling on top.
Repeat as many times as you need to fill the glass almost full. In my wine glasses, I ended up with a total of six layers of cheesecake and cookie crumbs.
Remember to leave some space on top for a generous dollop of whipped cream.
Pro tip: Save some of the cookie crumbs for sprinkling on top of your assembled parfaits!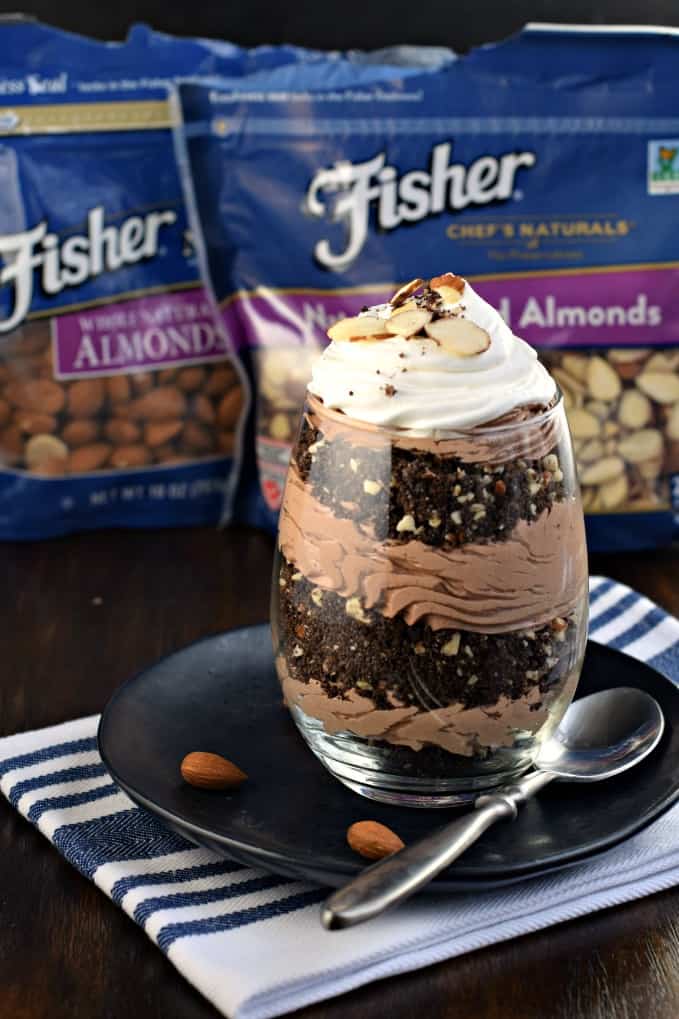 Recipe FAQs
I don't like almonds. Can I make this cheesecake without them?
Yes, you could omit the almonds from this recipe to make a straight-forward chocolate cheesecake parfait.
Just swap out the almond extract for vanilla extract in the cheesecake mixture and don't add nuts to the cookie crust.
Can I assemble the parfaits ahead of time?
Yes, you can assemble the parfaits a few hours in advance and keep them refrigerated until you're ready to serve. I don't recommend storing them for more than a few hours though. The cookie crust layers will get soft and loose their crunch.
What other cookies can I use?
We use chocolate wafer sandwich cookies. Chocolate graham crackers are another tasty option! If you don't want a chocolate flavor in your crust layers, use crushed vanilla wafers or vanilla sandwich cookies instead.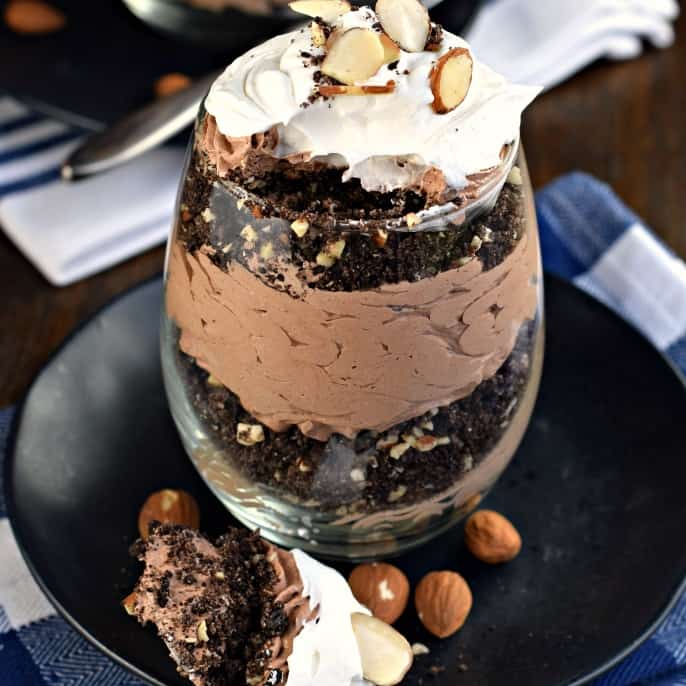 More Easy Dessert Recipes