Make fried donuts in under 30 minutes! This easy Cookies 'n Cream Donuts recipe uses canned biscuit dough, Oreos and a melted candy bar to create the easiest, best tasting donuts ever.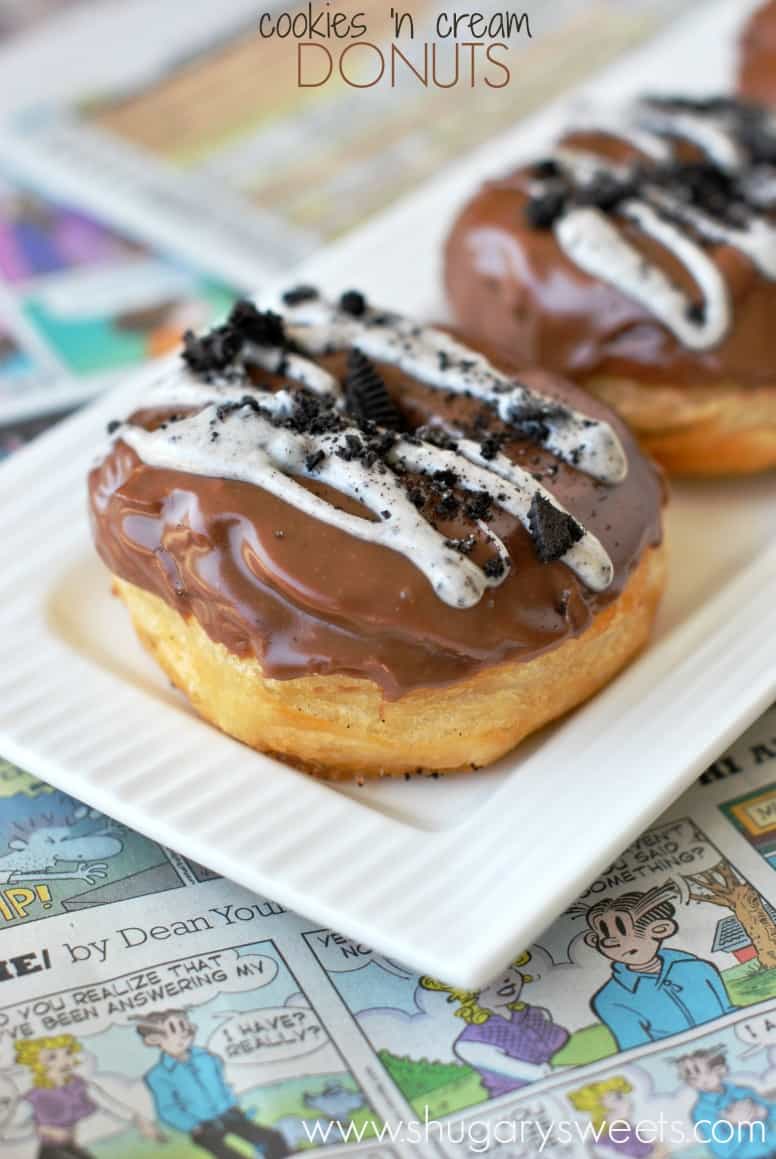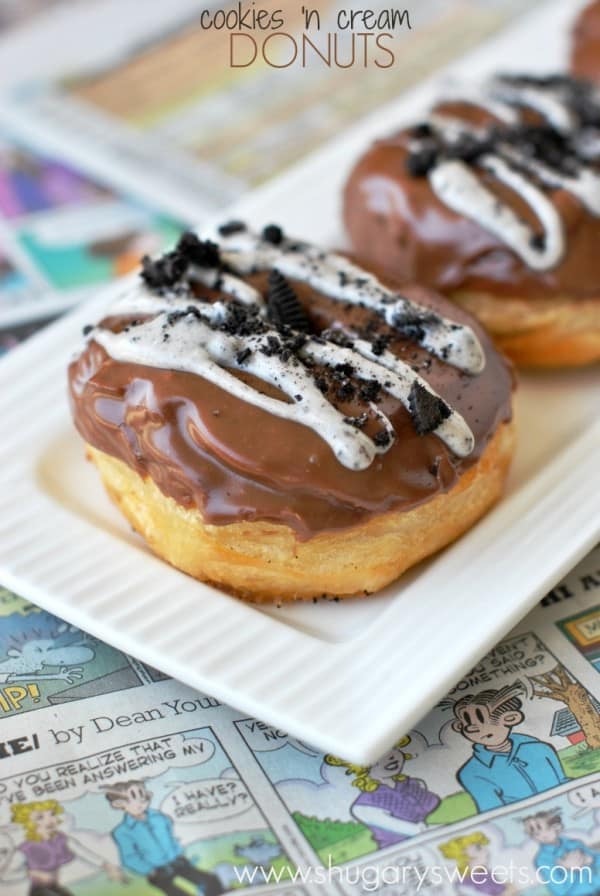 Donuts and Sunday mornings go hand in hand.
Why This Recipe Works
Some donut lovers have their go-to donut flavor. They never veer from their favorite fillings or toppings.
Me? I like a little adventure. With so many delicious donut flavors out there, how could I pick just ONE to eat forever?
From Boston Cream Donuts to donuts inspired by coffee cake, I love making up new donut creations almost as much as I love making them. And while baked donuts are all well and good, there's an extra joy that comes from biting into a fresh, oil-fried donut.
This Cookies 'n' Cream Donuts recipe is for all of you Oreo cookie fans!
A canned biscuit dough base.
Fried in a skillet — no deep fryer required!
Covered in chocolate glaze.
A melted Hershey's cookies 'n cream bar drizzled on top!
Sprinkled with crushed Oreo cookies.
Ready to eat in 30 minutes!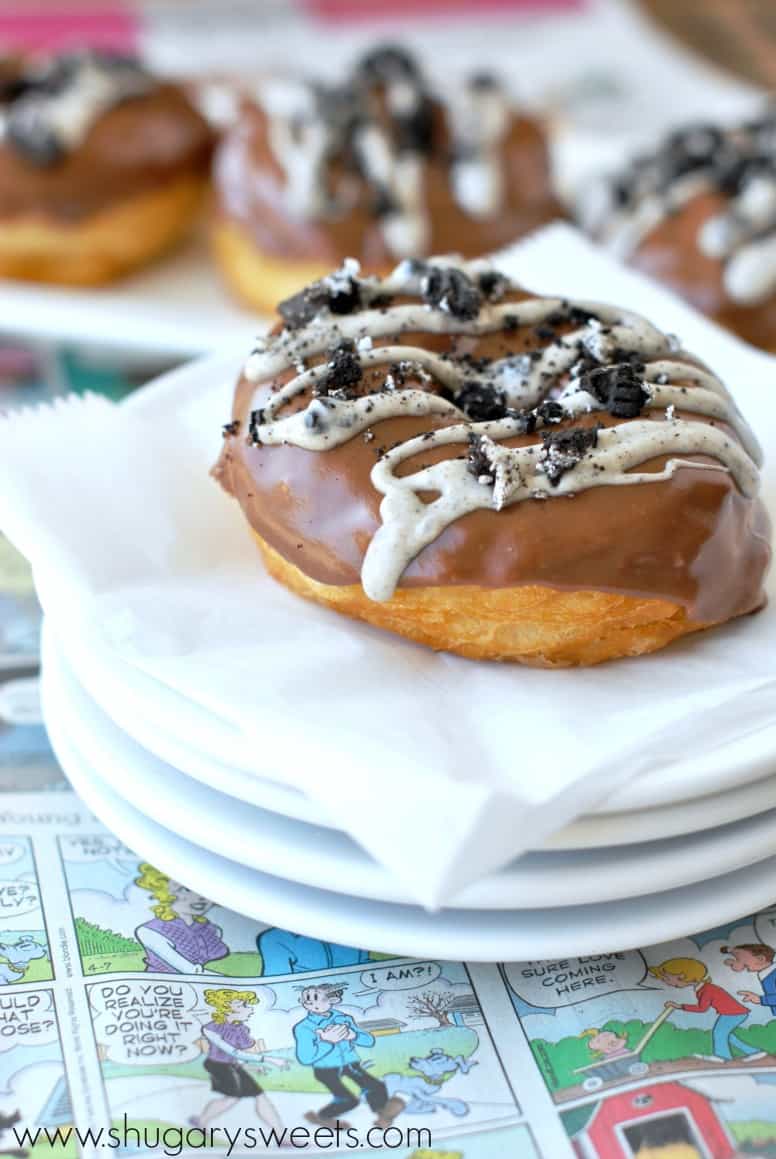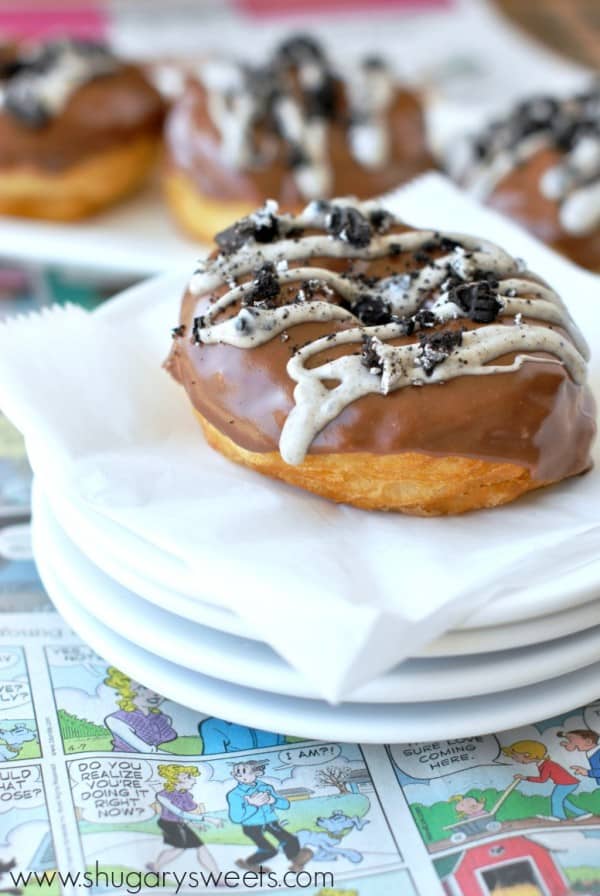 Ingredient Notes
You only need two ingredients to make the donuts themselves.
Biscuit dough – I used refrigerated Pillsbury Grand Biscuits. You can find them at just about every grocery store!
Vegetable oil
The real star of this cookies 'n cream donuts recipe is the topping. The first layer of the topping is a homemade chocolate glaze made with these ingredients.
Heavy cream and milk – We use one tablespoon of each for the right consistency.
Butter
Vanilla extract – I always use my homemade Instant Pot version!
Corn syrup – Keeps the sugar from crystalizing so the glaze sets up smooth and shiny.
Chocolate – A combination of semi-sweet and bittersweet.
Powdered sugar
You'll also need a Hershey's Cookies 'n Cream candy bar and a few crushed oreo cookies to complete this recipe.
Fried Biscuit Donuts
Fried donuts are surprisingly easy to make!
Head up some oil in a skillet. Separate the biscuits and use a small round cookie cutter to cut a hole out of the center of each one.
Fry each one for 2 -3 minutes on each side. Use a slotted spoon to remove the donuts from the oil. Place them on paper towels to cool and absorb excess grease.
Dip cooled donuts in glaze, then add your toppings. For this recipe we dipped them in chocolate glaze, then drizzled them with a melted white chocolate candy bar and crushed Oreos.
The perfect cookies n' cream donuts recipe!
Tips and Tricks
Once you learn how to make fried donuts with biscuit dough, you'll love trying all kinds of different flavors.
You can leave off the melted cookies 'n cream bar and Oreos to make plain chocolate glazed donuts. Or swap out the chocolate glaze for a different flavor of icing instead.
The maple glaze from this baked pumpkin donuts recipe would be delicious on fried biscuit donuts. So would this cinnamon glaze!
Love the chocolate glaze but want a different flavor combo? Add some chopped nuts to the tops of the donuts instead of cookie crumbs. Sprinkles are always a good idea on glazed donuts, too!
Have fun experimenting with different toppings and glazes. That's half the fun of making homemade donuts!
Recipe FAQs
Can I use another brand of biscuits?
You sure can! You will need enough biscuit dough for 8 biscuits, whichever brand you use.
How much oil do I need?
The amount of oil depends on the width of your skillet. You want at least a half-inch of oil to coat the entire bottom of the pan.
How can I tell when oil is hot enough?
Test your oil temperature without a thermometer by carefully dropping a couple of drops of water into the oil. If it sizzles, your oil is ready.
You can also drop a small piece of biscuit dough into the oil to test it. It should sizzle right away.
How do I store fried donuts?
Homemade donuts are best enjoyed fresh the same day! If you have leftovers from this cookies 'n cream donuts recipe, keep them covered at room temperature. Enjoy them (or share with a friend!) within 1-2 days.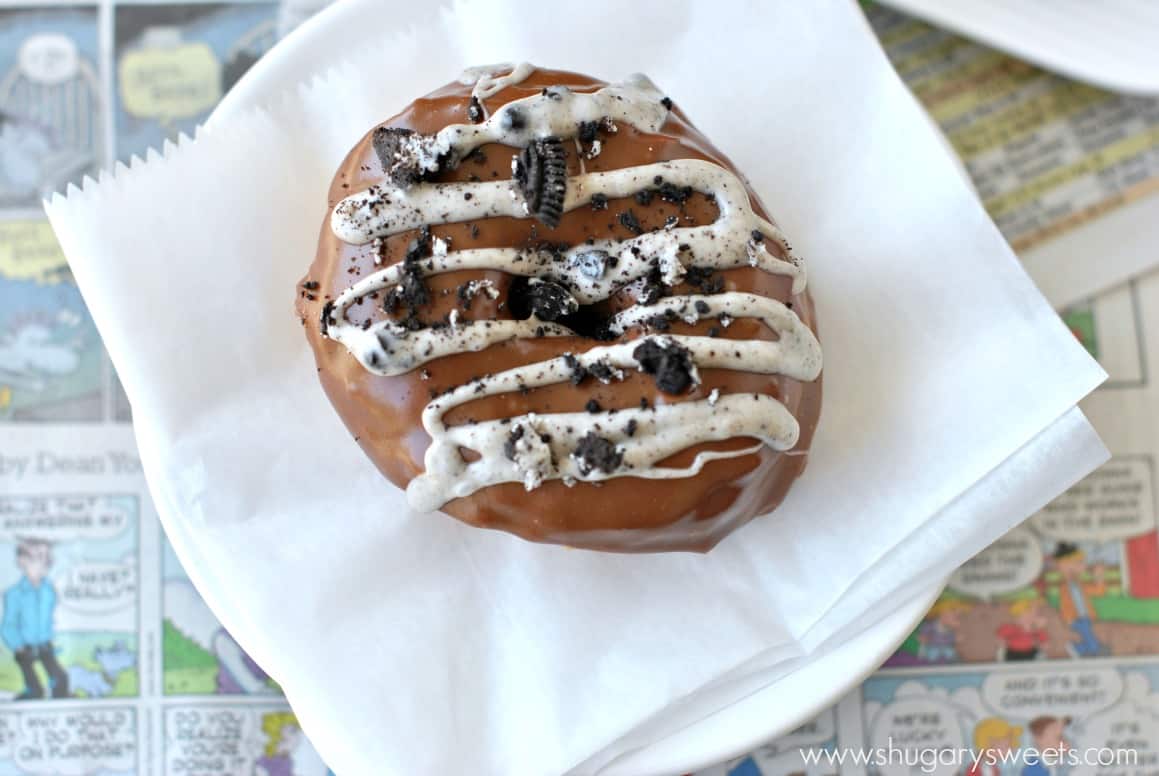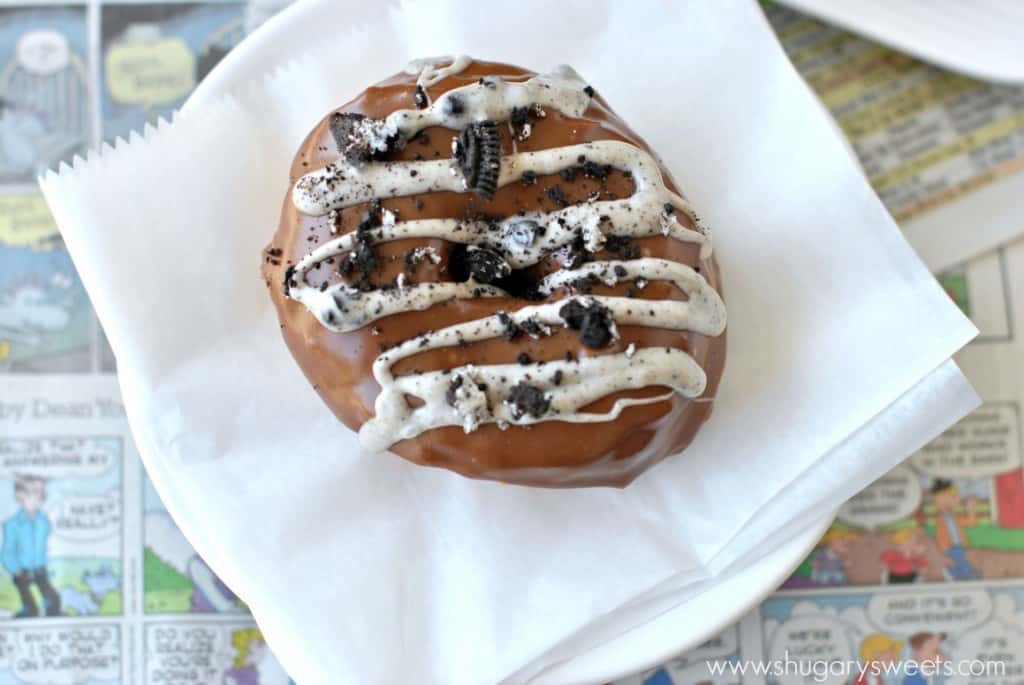 More Easy Recipes