Crunchy Streusel Zucchini Bread is chock full of walnuts and zucchini. The sweet brown sugar topping and cinnamon crumb put this loaf over the top! You need a slice or two of this with your morning coffee.
Want even more Zucchini Bread variations with nuts? You'll love this Praline Topped Zucchini Bread too! Add some walnuts to our favorite Walnut Brownies for a decadent dessert!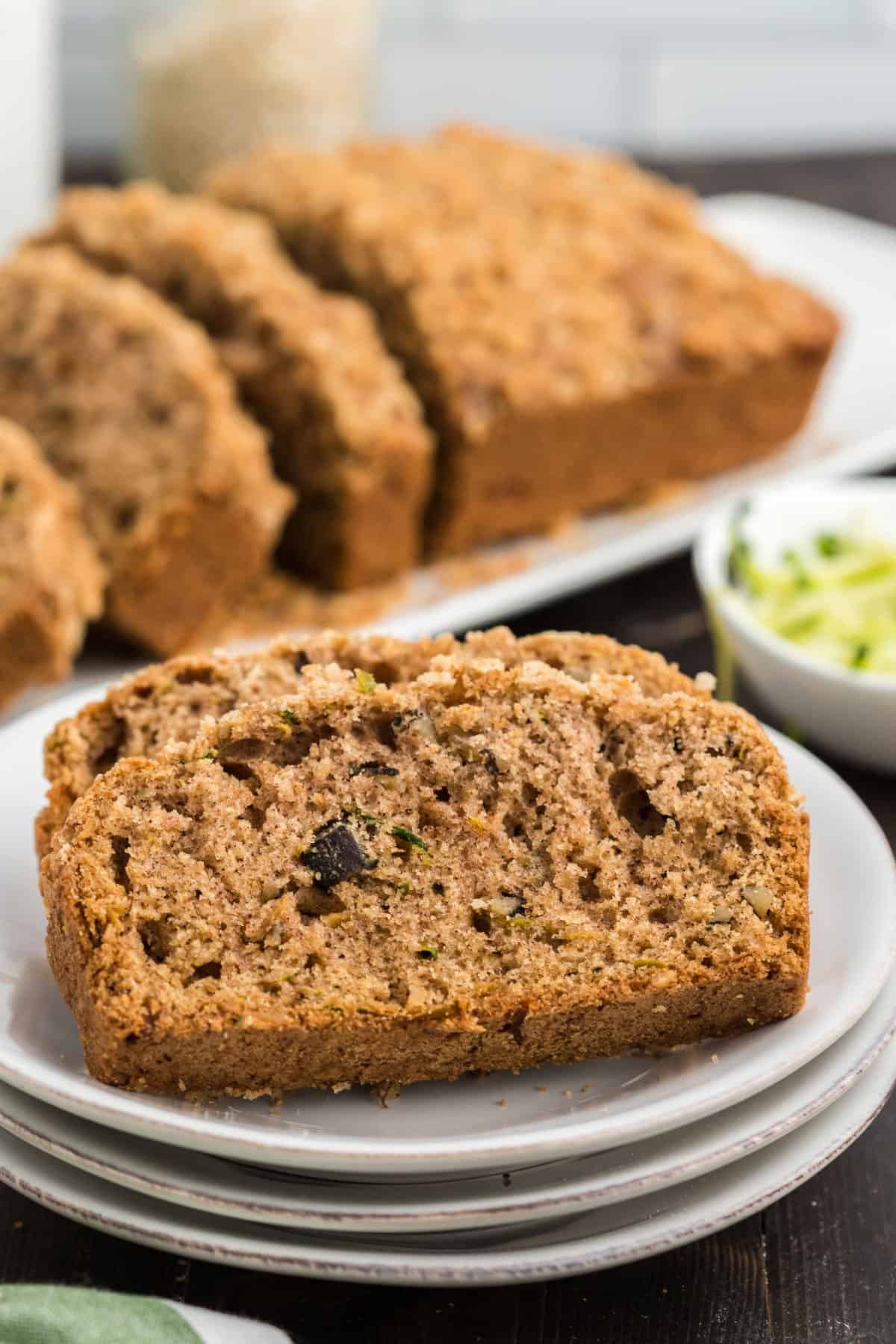 Why this Recipe Works
This bread is unlike most zucchini bread recipes. It's topped with a delicious CRUNCHY streusel.
I know there are probably one million other zucchini bread recipes out there, and you're wondering, why this one? Why am I adding another one to the mix?
Because this bread is perfect for dunking in your morning cup of coffee!
It's chock full of oats and nuts and zucchini.
The streusel topping adds a satisfying layer of crunch to the moist zucchini bread.
A tantalizing aroma of cinnamon and brown sugar fill your home as this bread bakes.
Still have leftover zucchini? You've got to try our zucchini cookies next!
Ingredient Notes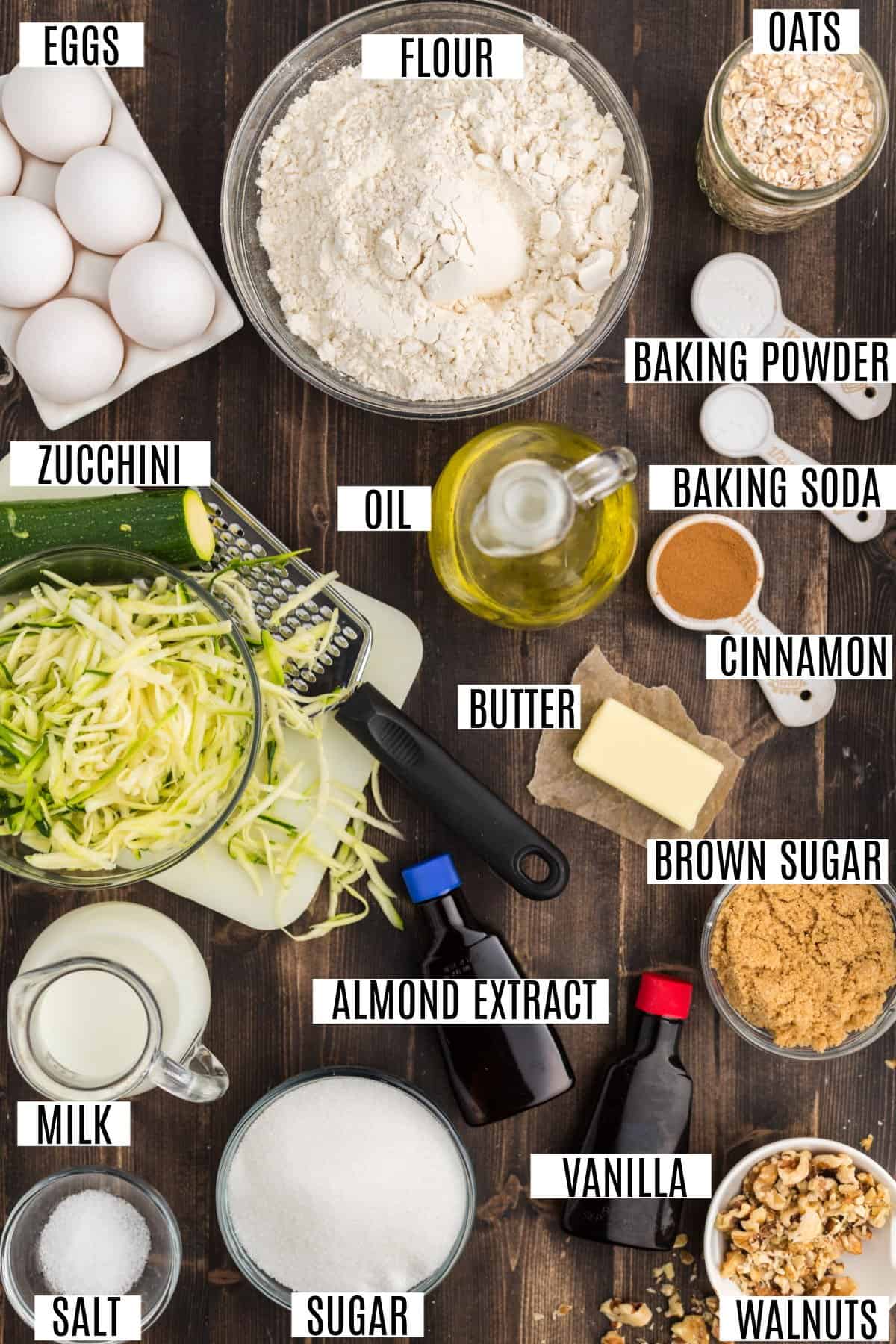 Shredded zucchini. Fresh or frozen shredded zucchini can both be used. Be sure to squeeze out the extra moisture if using frozen. Use our guide on how to shred zucchini!
Almond extract. Use pure almond extract, not imitation flavor, for best results. We pair this with our homemade vanilla extract for a winning flavor combination.
Oats. We use quick oats for best flavor and texture in this bread. Old fashioned oats will work, you might just have a little bit of a chewier texture. Avoid steel cut oats.
Butter and Oil. A combination of butter and vegetable oil gives the bread the perfect texture. This is a heartier bread, not a soft bread like our sour cream banana bread!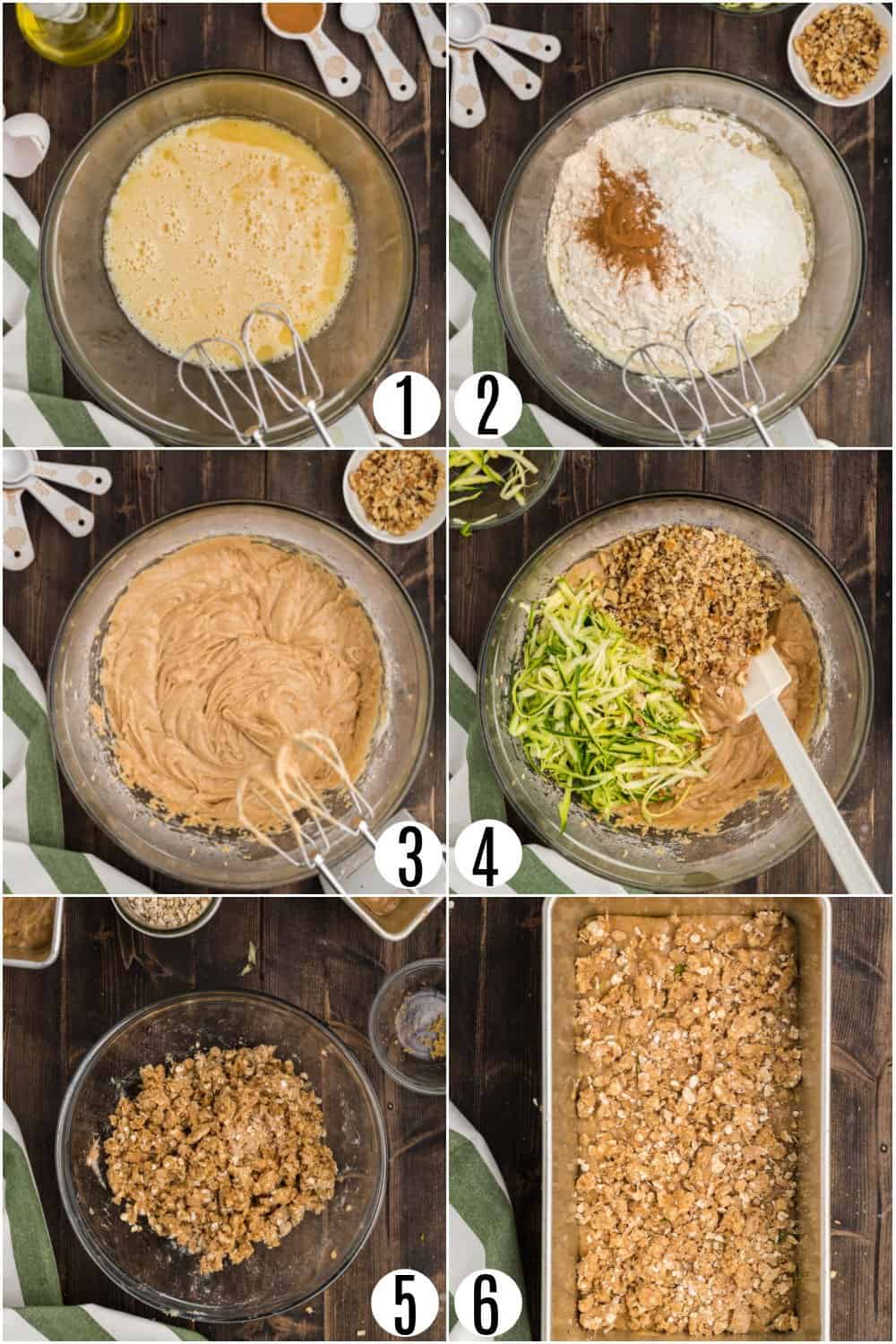 How to Make Zucchini Muffins
We love that this recipe makes muffins too!
Spray muffin tin with non-stick baking spray or use paper cupcake liners.
Make bread batter according to recipe. Make streusel according to recipe.
To assemble, fill cupcake tin (or muffin tin) 2/3 full with batter. Top with about 1 Tablespoon of streusel. Press lightly.
Bake in 350 degree oven for 22-24 minutes. Recipe yields about 24 muffins.
PRO TIP: making muffins instead of bread is quicker, even baking, and no worries about the streusel falling off when you cut slices!
Muffins freeze well. Cool completely and store in airtight container for up to 3 months.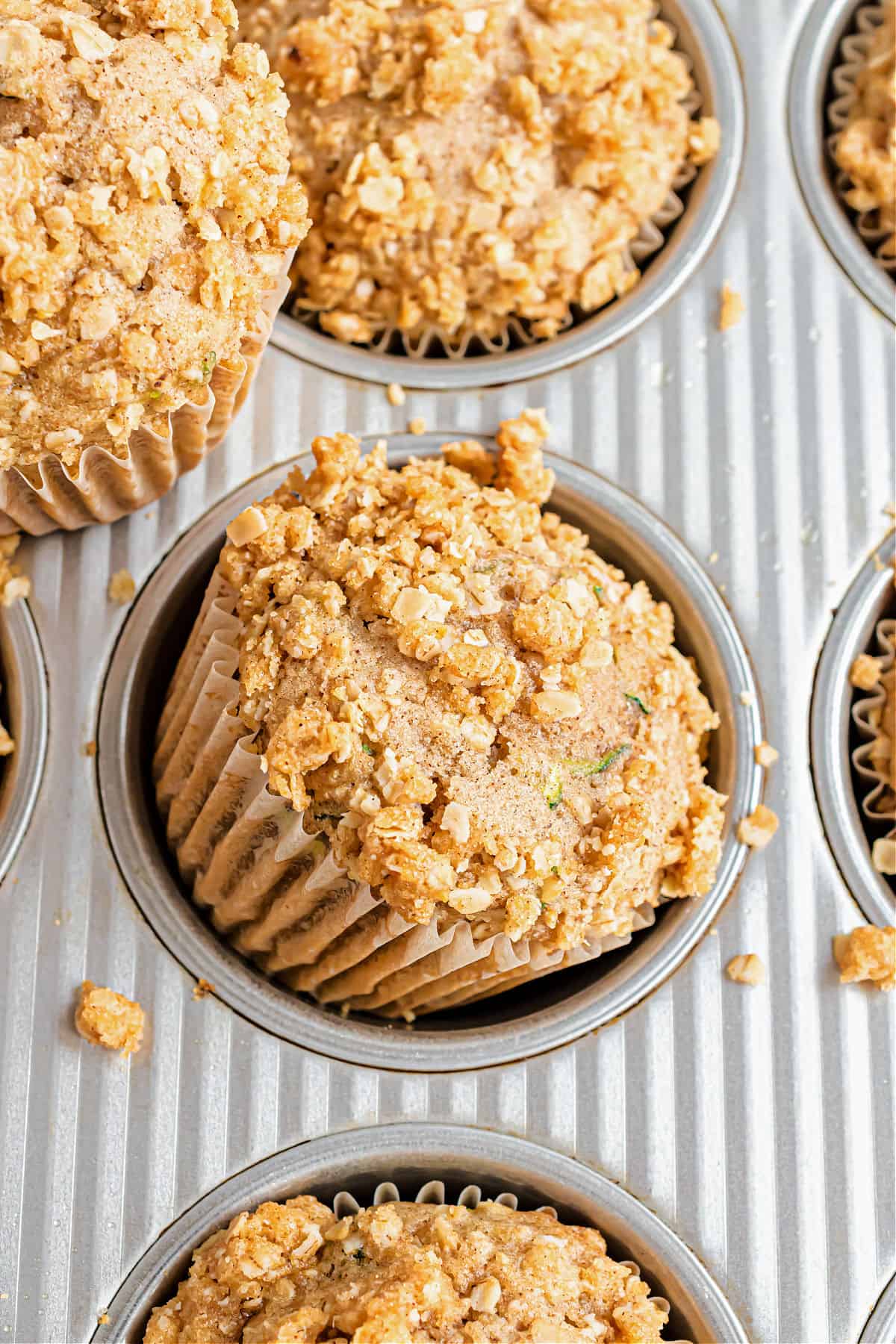 Recipe FAQs
I only have rolled oats. Can I use those in the streusel topping instead of quick oats?
You can use old fashioned oats, but it will be a chewier texture.
How do I store zucchini bread?
Store your Crunchy Streusel Zucchini Bread in an airtight container for up to 7 days.
Can I freeze zucchini?
Yes, this zucchini bread is freezer friendly! Double wrap it in foil and you can store it in the freezer for about 3 months.
Can I make this recipe with gluten free flour?
I haven't tested this Zucchini Bread recipe with gluten free flour substitutes. If you give it a shot, let me know how it turns out!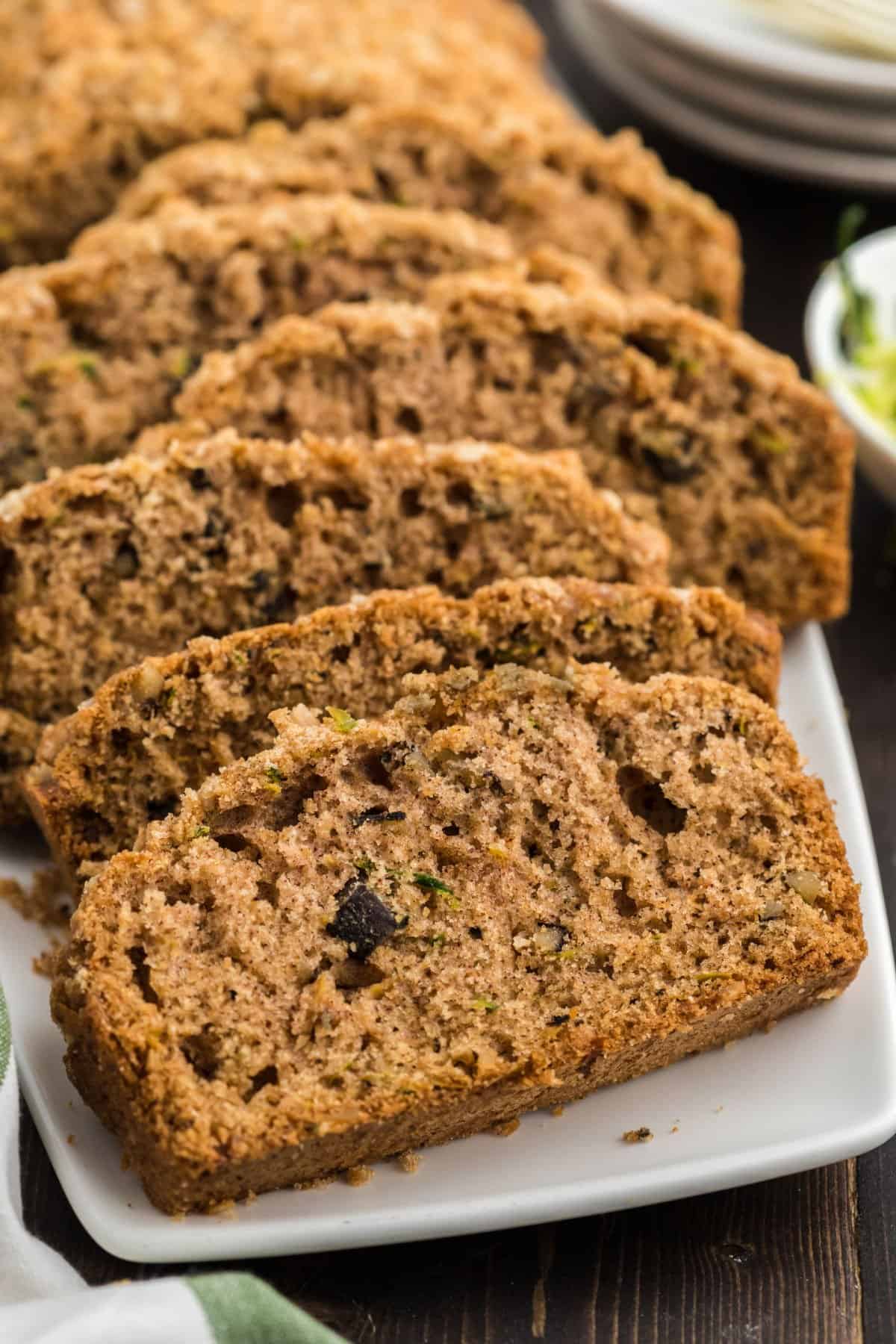 More Bread Recipes
Bored with regular zucchini bread? Try adding a crumbly brown sugar topping! Crunchy Streusel Zucchini Bread is slightly sweet, super nutty and amazingly delicious.