Is it a cookie? A brownie? These giant Brookies are both! This recipe takes gooey chocolate chip cookies and marries them to fudgy brownies for the ultimate treat!
We're all about dessert mashups over here! From sugar brookies to Brookie Cookies, combining two treats in one is always a delicious idea.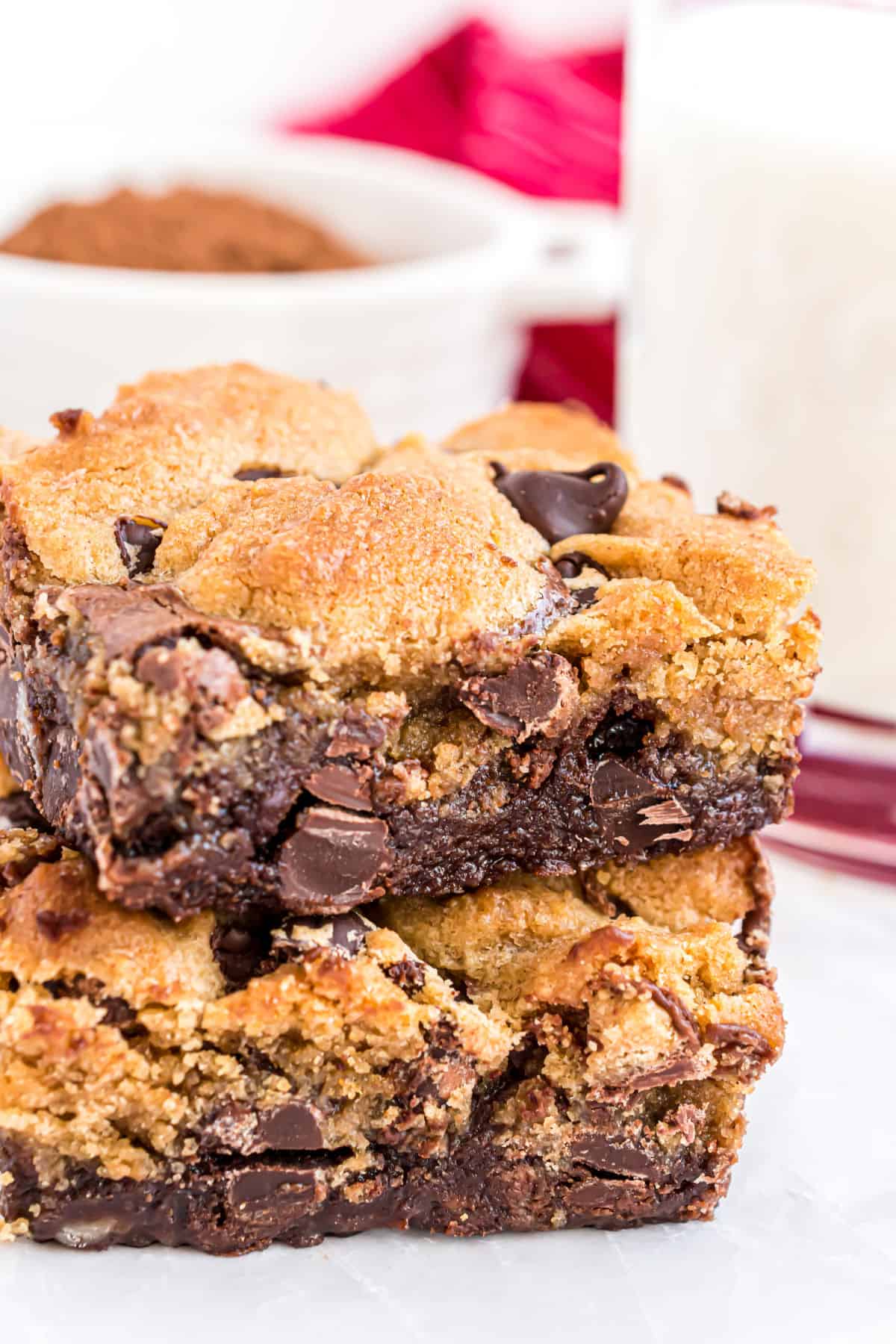 What are Brookies?
I have a favorite brownie recipe. And a favorite chocolate chip cookie recipe. Then one day, they met, and it was love at first bite.
Corny? Yeah. But you'll forgive me when you taste these cookie brownies. Or are they brownie cookies?
Both work, but I like to respect the equality of a cookie – brownie marriage and call these Brookies. 
Brookies are dessert bars with one layer of brownies and one layer of cookies.
Ingredient Notes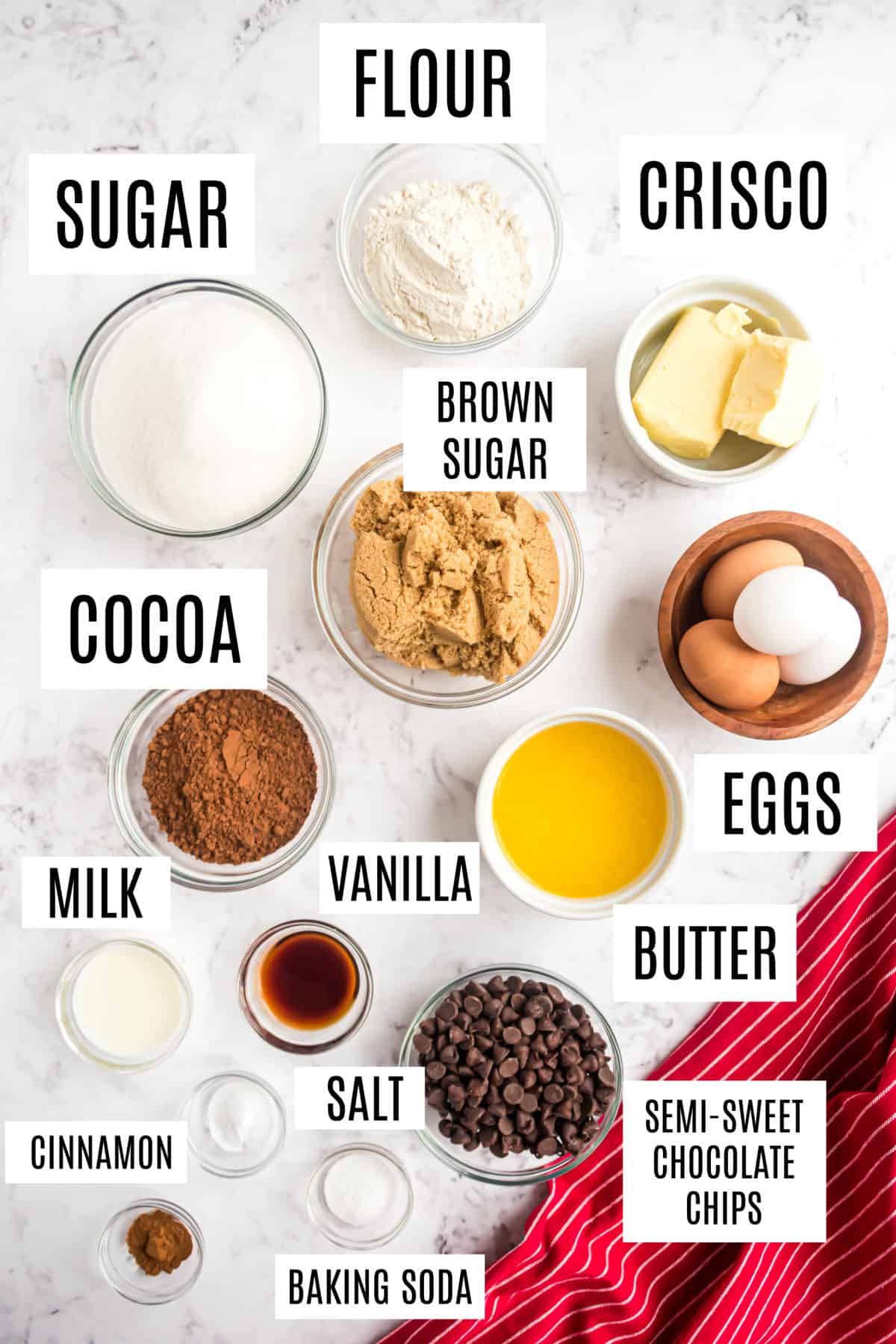 To make Brookies, you start by making a batch of chocolate chip cookie dough and a batch of brownie batter, from scratch.
For the brownie batter you need:
We could stop right there and make some pretty wonderful brownies. But we're here for some decadence!
For the chocolate chip cookie layer you need:
Now let's put them together, shall we?
How to Make Brookies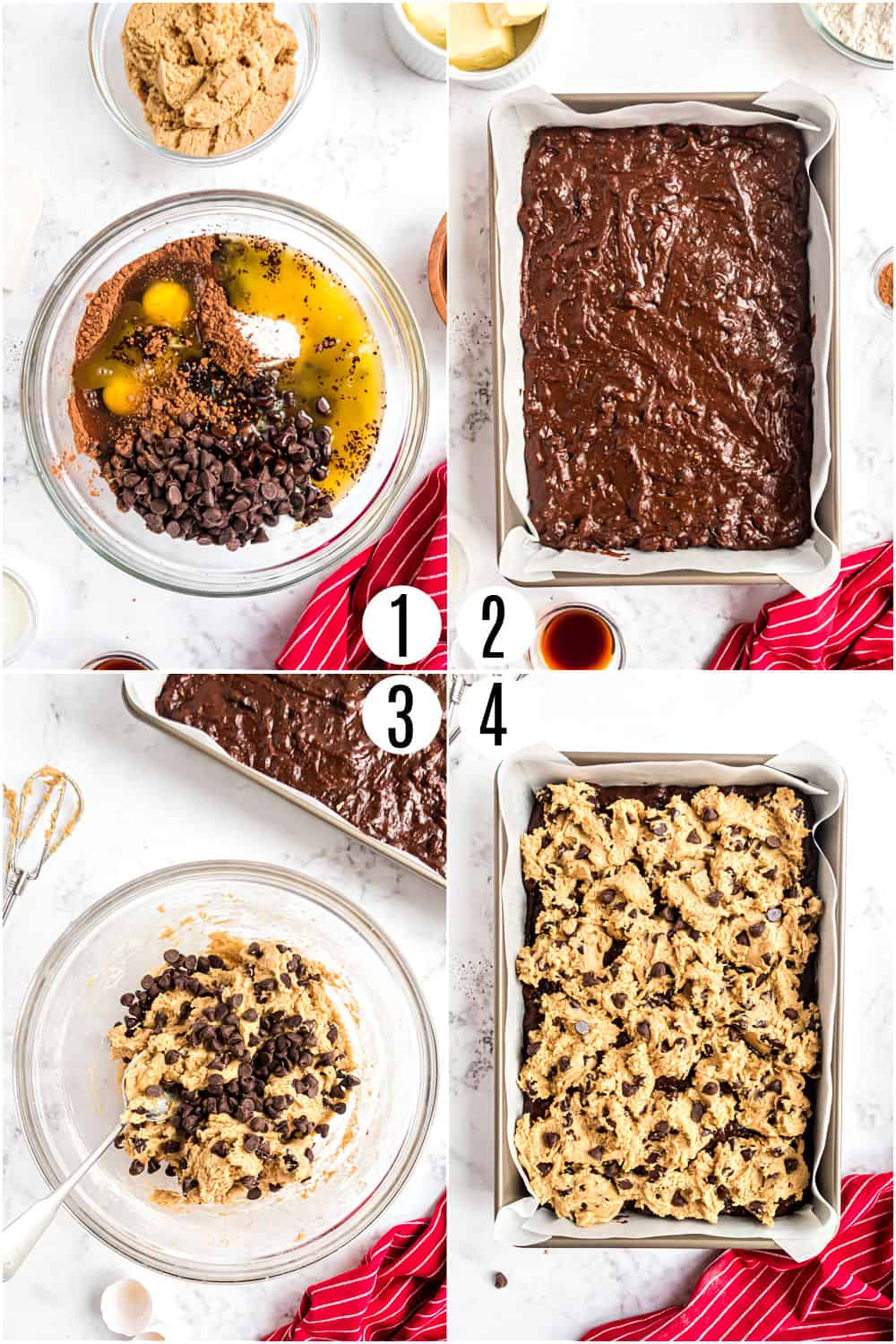 Make the brownie layer.
In a large bowl, mix all the ingredients together until just combined. Pour into a 13×9 pan that is lined with parchment paper.
Make the cookie layer.
Beat the Crisco with brown sugar. Add in vanilla, milk and egg. Slowly beat in flour, salt, baking soda and cinnamon. Mix in chocolate chips. Drop by spoonfuls onto the brownie layer.
Bake.
Bake in a 375 degree oven for about 25 minutes. Allow to cool completely. To speed up the process (because who has the patience to wait to dig into these brownie cookies bars?), pop the pan in the fridge.
PRO TIP: Use a serrated plastic knife to cut brookies. (or any brownies). Works like a charm without shredding the bars.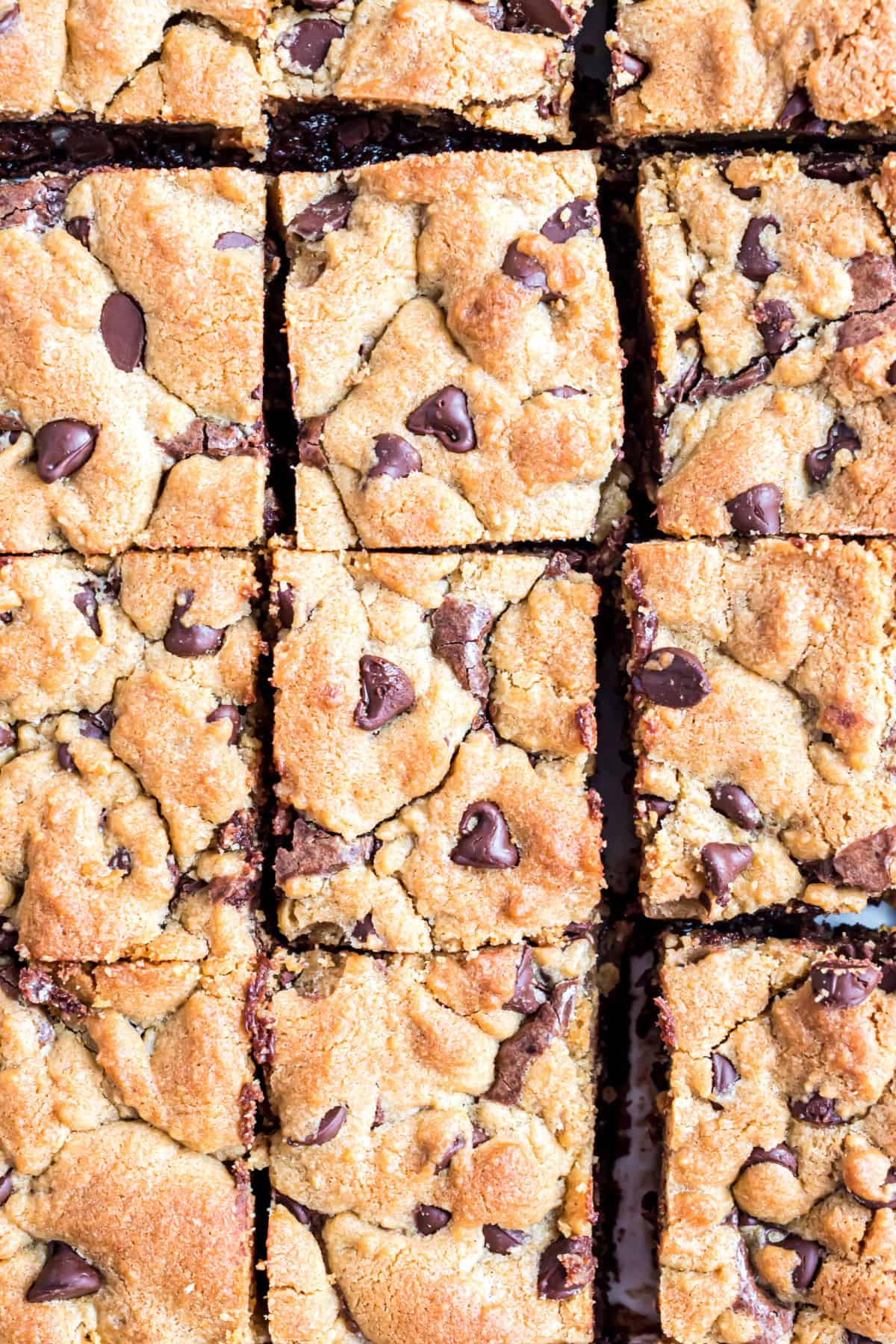 Tips and Tricks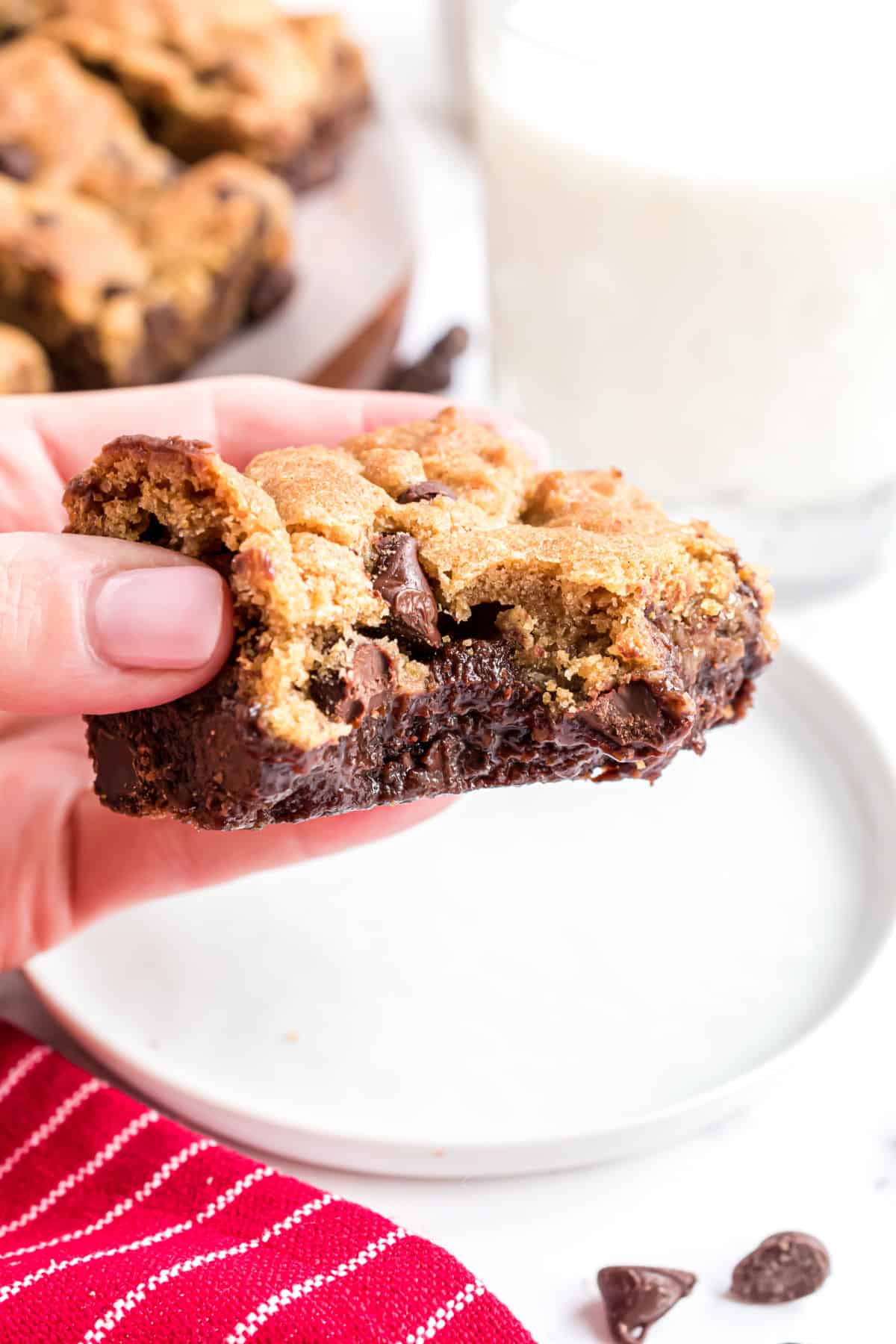 Recipe FAQs
How do you store Brookies?
Brookie bars keep well at room temperature for about a week as long as they're stored in an airtight container. Everyone finds them so difficult to stop eating, though, that they rarely last even a couple of days!
How do you freeze Brookies?
Brookies freeze well when sliced into bars first! Freeze them in a single layer or with parchment paper between the layers to keep them from freezing. This is a great make ahead option–or if you wind up with more brookies than you want to eat all at once!
Can I use butter instead of Crisco?
Using butter flavored shortening (Crisco) gives the cookie layer a buttery flavor with the chewy fudgy texture of cookies. If you don't have Crisco or prefer not to use it, you can use butter in the cookie dough layer but the finished texture maybe a bit crumblier and not as chewy. They'll still taste great!
Part brownie, part cookie, and entirely delicious, Giant Brookies are guaranteed to satisfy any sweet tooth!