The ultimate cupcake recipe for lemon lovers! These Lemon Cupcakes topped with light and fluffy lemon buttercream are easy to make and better than any store bought cupcakes.
Our readers are obsessed with fun cupcakes! These Ferrero Rocher Cupcakes are the epitome of sophistication, with the delicious, fudgy flavor that's easy to make!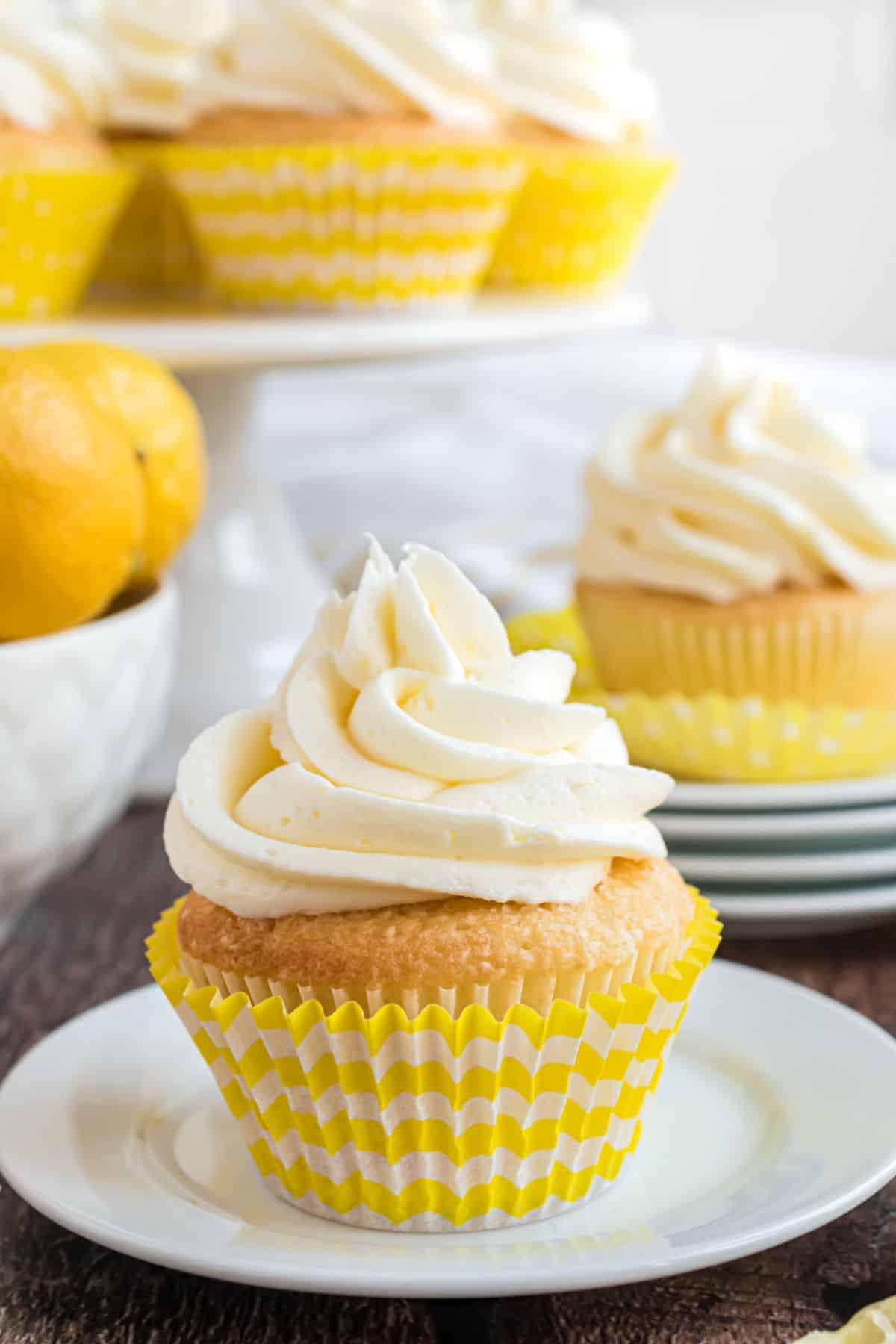 What makes this recipe the BEST
Look, I'm devoted to chocolate. The catalog of chocolate dessert recipes on this site is proof.
But I also have a good thing going on the side with all things lemon. If I'm not making a dessert with chocolate, it's probably because I got distracted by an idea for a lemon-filled treat. In this case: Lemon Cupcakes!
When it comes to lemon cupcakes, lemon breads and lemon gooey butter cookies, I have some requirements: I need to TASTE the lemon.
I also need them to be plenty sweet to balance out the sour citrus.
These Lemon Cupcakes deliver on all counts. And they're topped with the best ever fluffy lemon buttercream, just to seal the deal.
Based off my favorite lemon cake recipe, this cupcake delivers!
You use both the zest and the juice from real fresh lemons in these cupcakes. This gives them a satisfying zing that you just don't get from using just the zest or artificial lemon flavoring like I've seen in some recipes.
I didn't use any yellow food coloring here, so if you're sensitive to food dyes you can still enjoy lemony goodness. It's all in the taste!
From scratch, but perfectly easy enough for a beginning baker!
If you love these lemon cupcakes, be sure to try our raspberry lemon cake next (or blueberry lemon cake)!
Important Ingredient Notes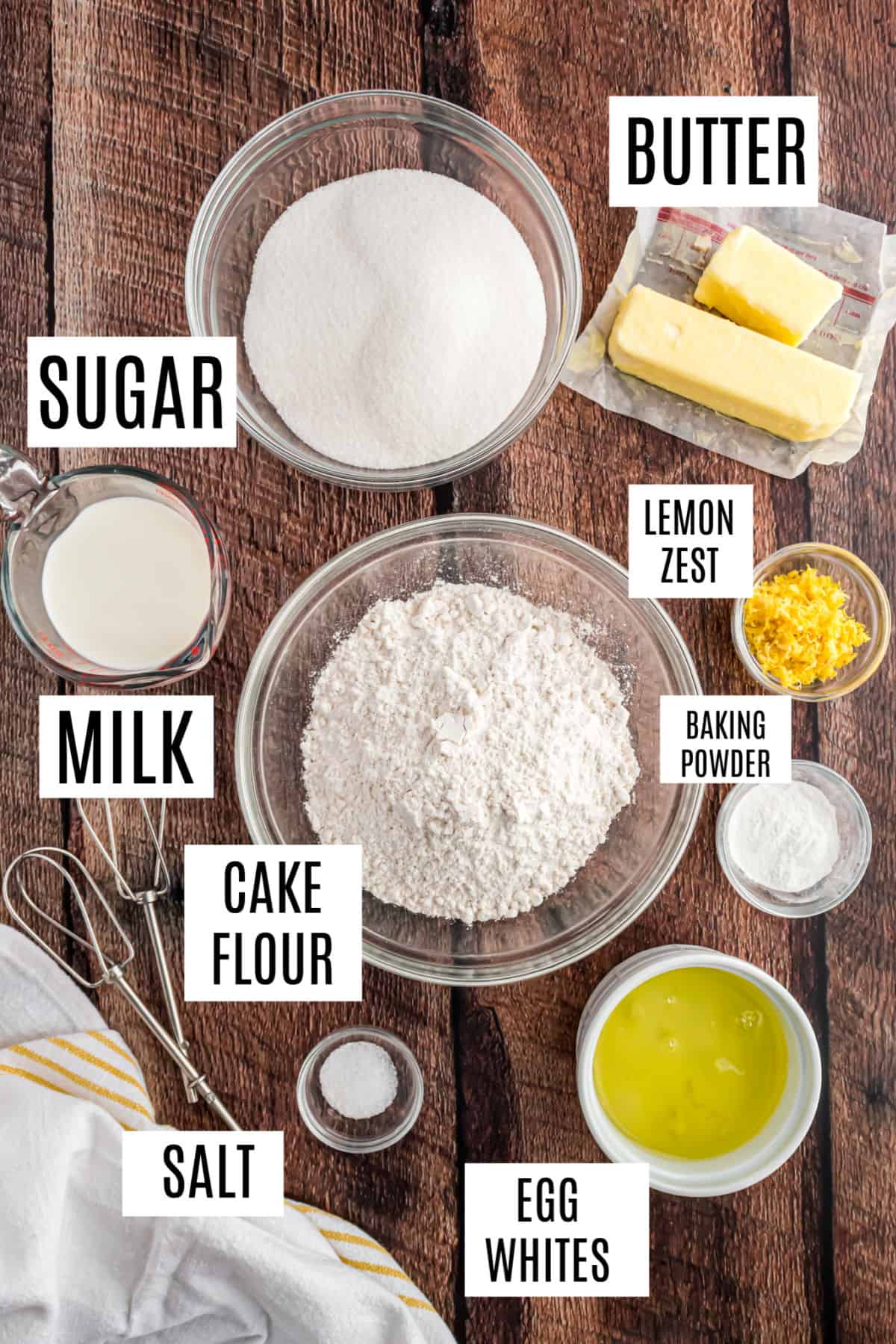 Because I didn't add any food coloring, the lemon cupcakes are white rather than the traditional yellow of many lemon desserts.
If you want them yellow, go ahead and ad a drop or two of yellow food coloring gel to the batter.
To Make the Cupcakes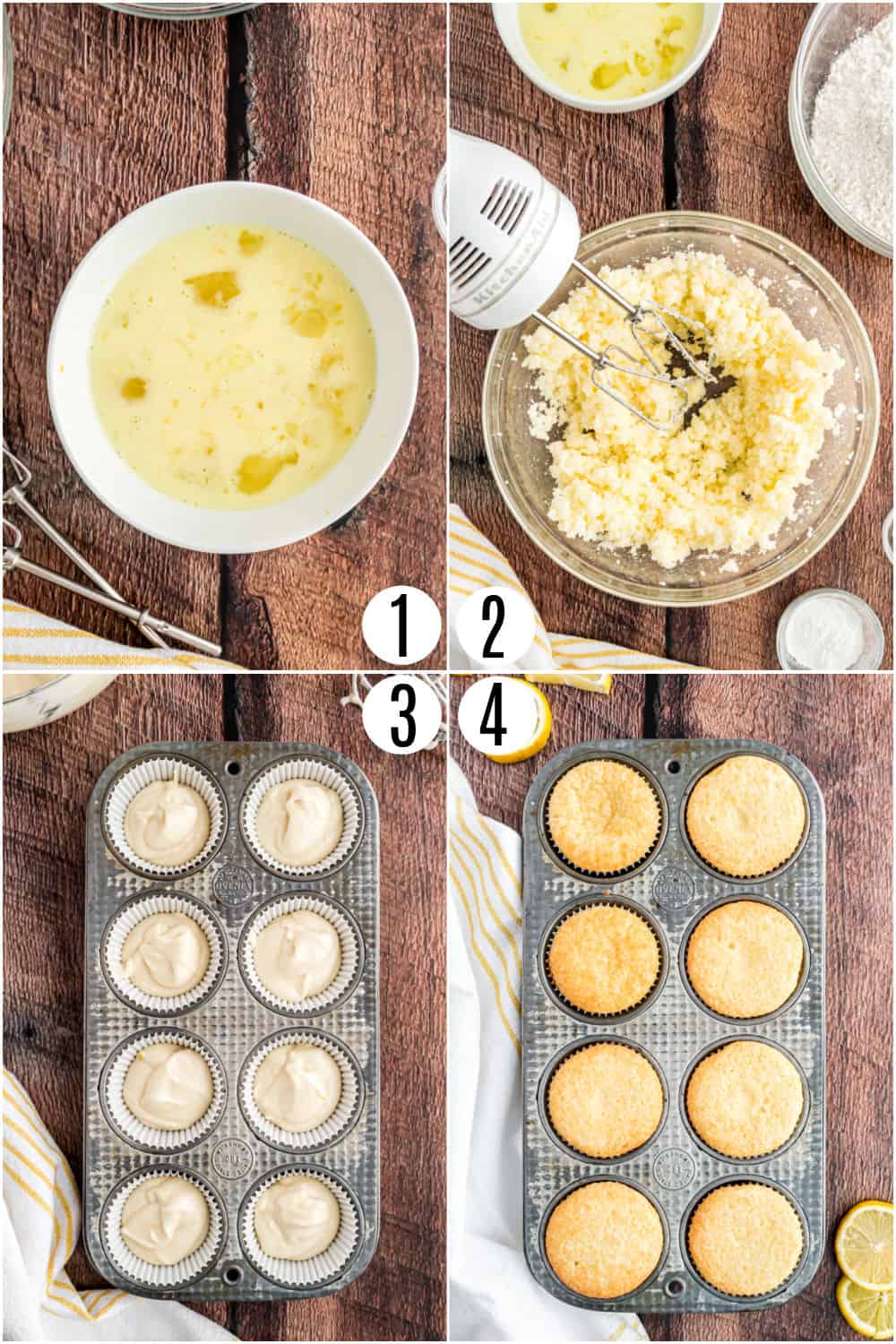 Mix the wet ingredients. Mix egg whites with 1/4 cup of the milk and lemon zest together in a small bowl. In a large mixing bowl, beat butter and sugar until creamy, about 2-3 minutes.
Add the dry ingredients. Add the cake flour, baking powder and kosher salt to the butter mixture. Mix until combined. Slowly add in egg white mixture then beat in the remaining milk.
Bake. Line a cupcake pan with paper liners. Fill the liners with the batter to halfway full and bake in a 350 degree oven for 15 minutes.
Cool. Remove and let the cupcakes cool in the pan for 5 minutes then transfer to a wire rack. While the cupcakes are cooling, make the lemon buttercream.
Frost. To frost the cupcakes, fill a pastry bag with the lemon buttercream frosting. Pipe desired amount of buttercream onto each cupcake.
If you don't have a frosting bag, you can fill a ziploc bag with the buttercream instead. Snip off one corner of the bag and use it to pipe frosting. You can also use a flat spatula to frost the cupcakes if desired, but the swirls of frosting make the cupcakes look so pretty!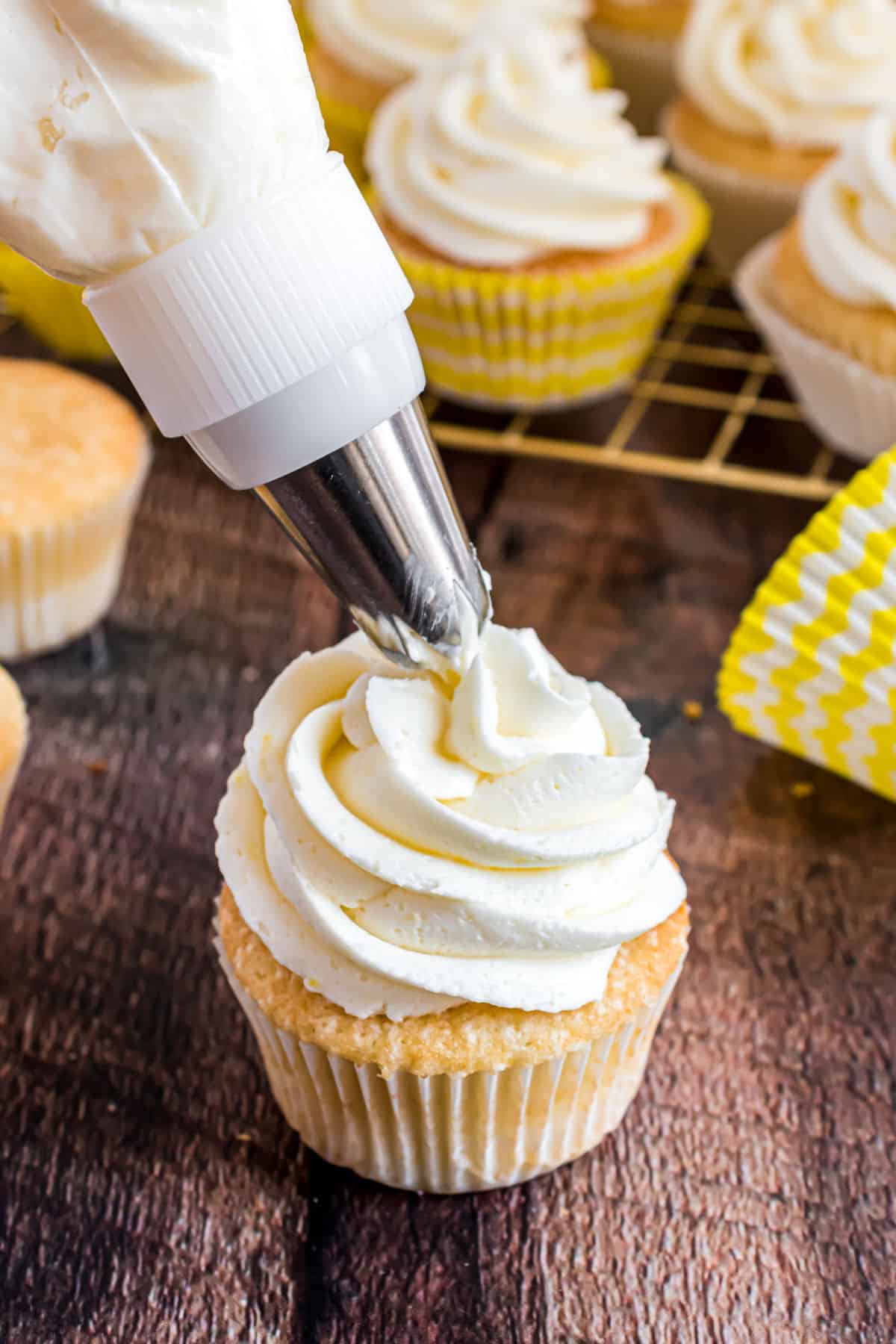 Storage Tips
Store lemon cupcakes at room temperature if you plan to eat them within a couple of days. Cupcake containers make it easy to keep the cupcakes from drying out without squishing the frosting.
You can also use an extra large tupperware container. Place the frosted cupcakes in a single layer and make sure it's large enough that the lid won't sink into the frosting.
For longer storage, keep buttercream frosted cupcakes in the fridge. They taste best if eaten within 4 days.
In my book, lemon desserts are for all times of year! I hope there are more people like me out there. People who eat lemon cupcakes while putting out Christmas decorations with Thanksgiving centerpieces on the table.
If you're NOT that person, then save this recipe for a more fitting time in your life. That's cool with me. Just be sure to give these a try when you're in the mood for something lemony!
Recipe FAQs
How do you separate egg whites from the yolk?
Using a cold egg, crack the egg across the middle of the shell. Break in half and transfer the yolk from one shell to the other shell, allowing the whites to drip into a small bowl. Repeat for all the eggs.
Can you freeze lemon cupcakes?
Yes you can freeze lemon cupcakes before or after adding the frosting. If freezing without frosting, slide cooled cupcakes into airtight container and freeze for up to 3 months. If freezing with frosting, place on baking tray and freeze for 30 minutes. Slide partially frozen cupcakes with frosting into airtight container for up the 3 months.
How can I tell if cupcakes are done baking?
I typically use the bounce-back test. Touch the top of a cupcake with your finger tip. If it leaves a dent, it needs more time. If it bounces back they are done baking. You can also insert a toothpick into a cupcake and if it comes out clean they are done baking.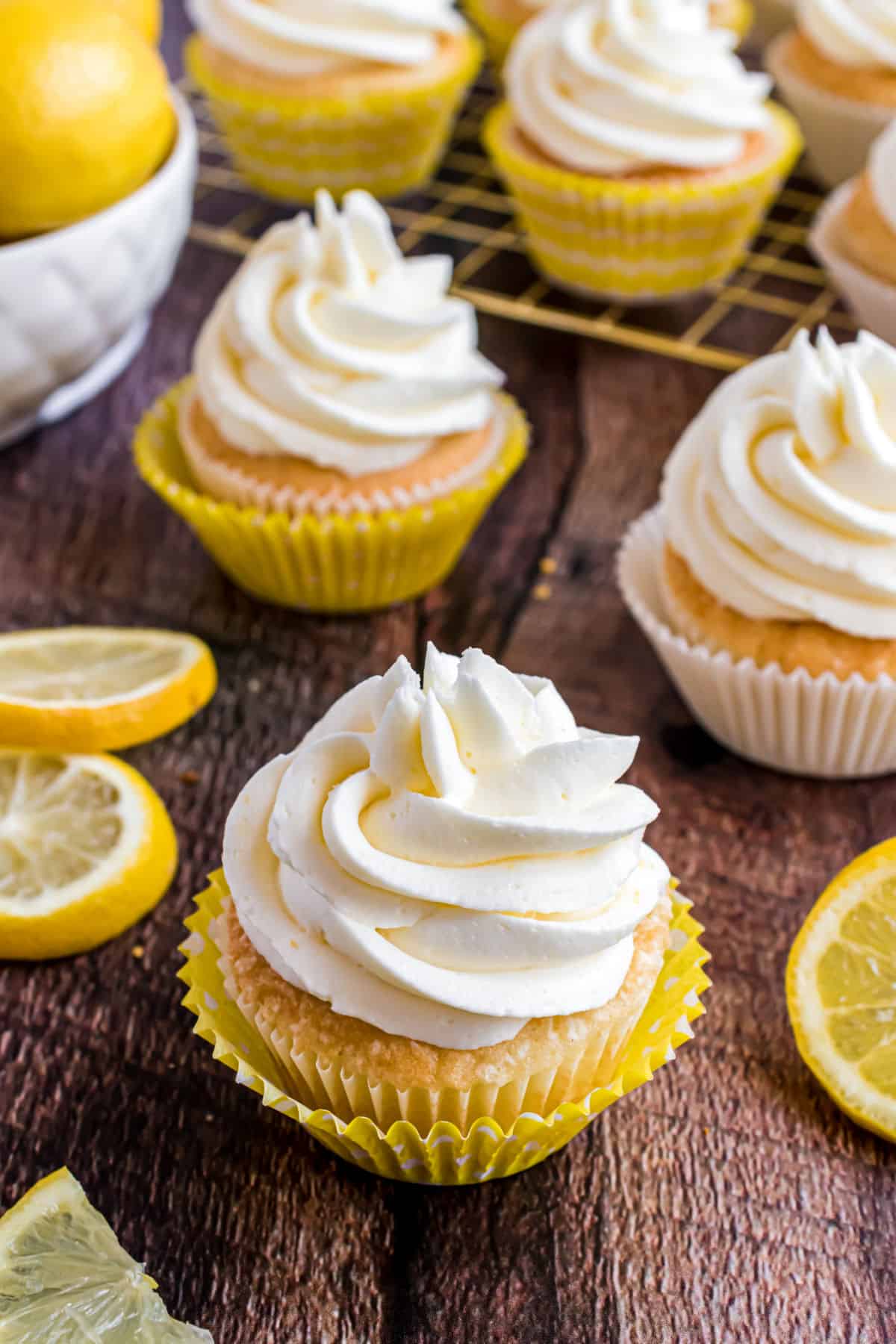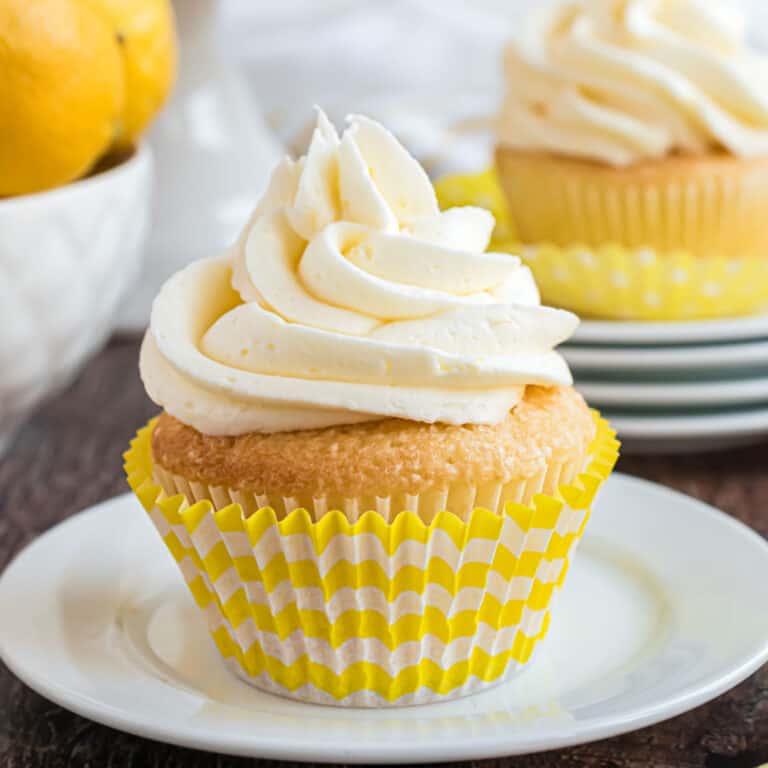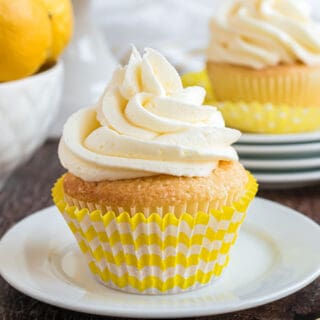 Lemon Cupcake Recipe
The ultimate cupcake recipe for lemon lovers! These Lemon Cupcakes topped with light and fluffy lemon buttercream are easy to make and better than any store bought cupcakes.
Ingredients
For the Cupcakes:
5

large egg whites

room temperature

¾

cup

whole milk

divided

2

lemons

zested

¾

cup

unsalted butter

softened

1 ¾

cup

granulated sugar

2 ½

cups

cake flour

1

Tablespoon

baking powder

½

teaspoon

kosher salt
For the Frosting:
1

cup

unsalted butter

softened

4

cup

powdered sugar

1

lemon

zested and juiced

2

Tablespoon

heavy cream
Instructions
In small bowl, mix egg whites, 1/4 cup whole milk and lemon zest. Set aside.

In mixing bowl, beat butter and sugar until creamy, about 2-3 minutes. Add in dry ingredients and mix until combined. Slowly add in egg white mixture. Beat in remaining milk.

Prepare cupcake tins with paper cupcake liners. Fill liners half full and bake in a 350 degree oven for 15 minutes. Remove and cool in pan 5 minutes then transfer to cool completely on a wire rack.

For the frosting, beat butter for 3-5 minutes until pale in color. Add powdered sugar, lemon zest and lemon juice (about 2 Tbsp from fresh lemon) and cream. Beat for 3-5 minutes until fluffy.

Frost cupcakes by filling a pastry bag with tip and pipe on the frosting. ENJOY.
Notes
If you prefer a yellow cupcake, add 1-2 drops of yellow gel food coloring to give it a bright color!
Lemons. You will need about 2 Tablespoons of lemon zest for the cupcakes. For the frosting, you'll need about 1 Tablespoon of zest, and 2 Tablespoons of juice.
Cake Flour. This kind of flour is finer than all-purpose and makes the cupcakes so light! You can use all purpose flour if cake flour isn't available but the texture will be quite different. (learn more about how to measure and substitute flour here.)
Milk. Use whole milk or replace with buttermilk for a little more tang in your cupcake! Try my buttermilk substitute if you don't have any on hand.
Egg Whites. You'll only need the whites for the cupcake recipe. Save the yolks and make a batch of easy lemon curd. You can also add a spoonful of curd to the baked cupcake using a technique similar to these wedding cake cupcakes.
Storage. Store frosted cupcakes in container at room temperature for up to 3 days.
Nutrition
Serving:
1
cupcake
,
Calories:
313
kcal
,
Carbohydrates:
45
g
,
Protein:
2
g
,
Fat:
14
g
,
Saturated Fat:
9
g
,
Polyunsaturated Fat:
5
g
,
Cholesterol:
38
mg
,
Sodium:
127
mg
,
Sugar:
33
g
Perfect Lemon Cupcakes. Perfect Lemon Buttercream. Put them together and you have the best ever handheld lemon dessert!