Learn how to make Lofthouse Cookies in your own kitchen! These pillowy soft sugar cookies are topped with sweet pink frosting and sprinkles for that classic look.
Revisit another childhood favorite cookie with these tips for baking these Toll House Cookies too. Or get a little adventurous with these amazing Monster Sugar Cookies!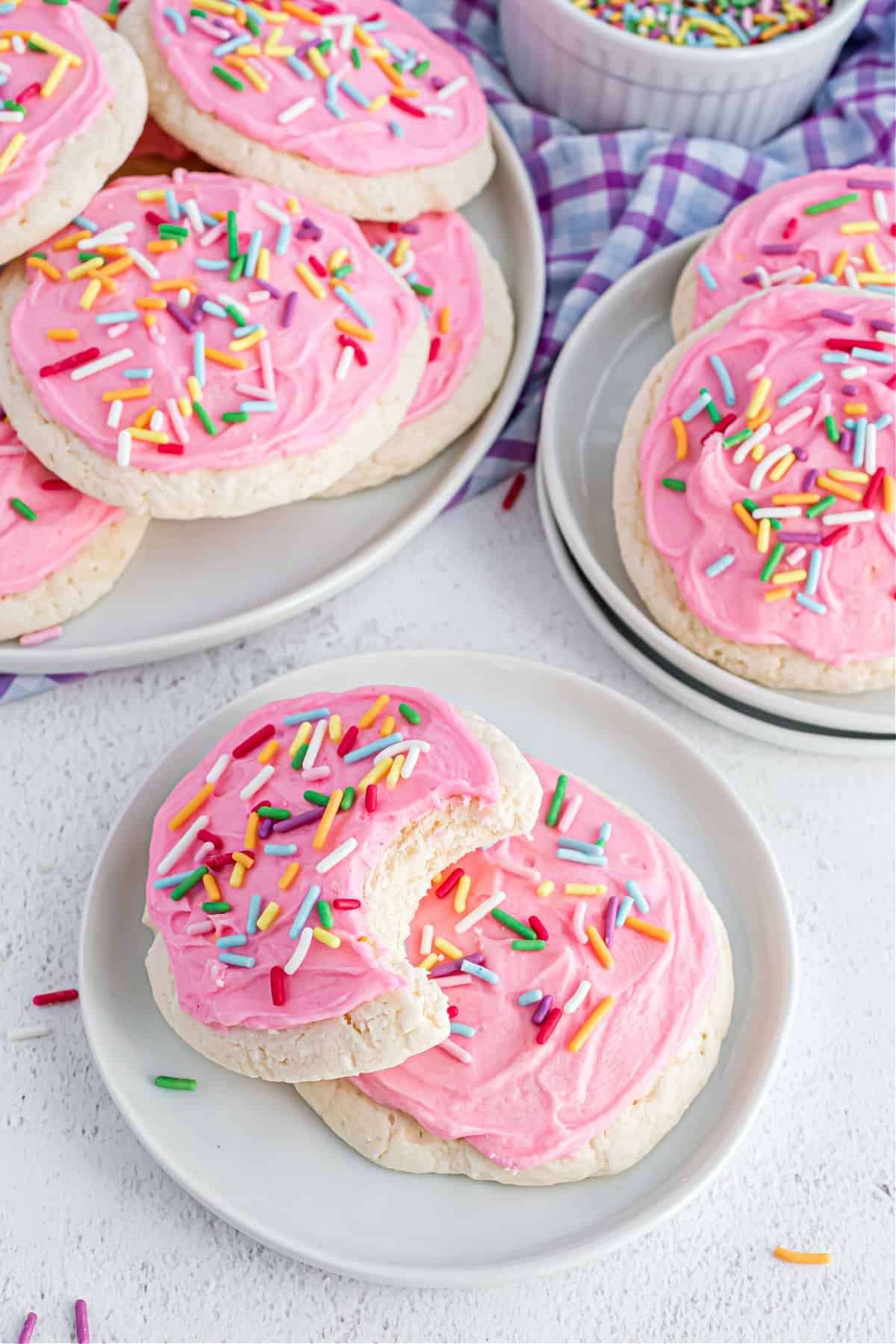 Why this Recipe is Best
These cookies will make you feel like a kid again.
This is a copycat Lofthouse cookie recipe that tastes just like the ones you buy at the grocery store!
Unlike other sugar cookies they don't spread or develop a crispy edge when they bake. Instead, these maintain their perfect round shape and pale color–perfect for loading up with a thick layer of that classic pink icing.
Knowing I wanted a soft cookie texture, similar to ricotta cookies and cheesecake cookies…I set out testing until they were perfect!
Ingredient Notes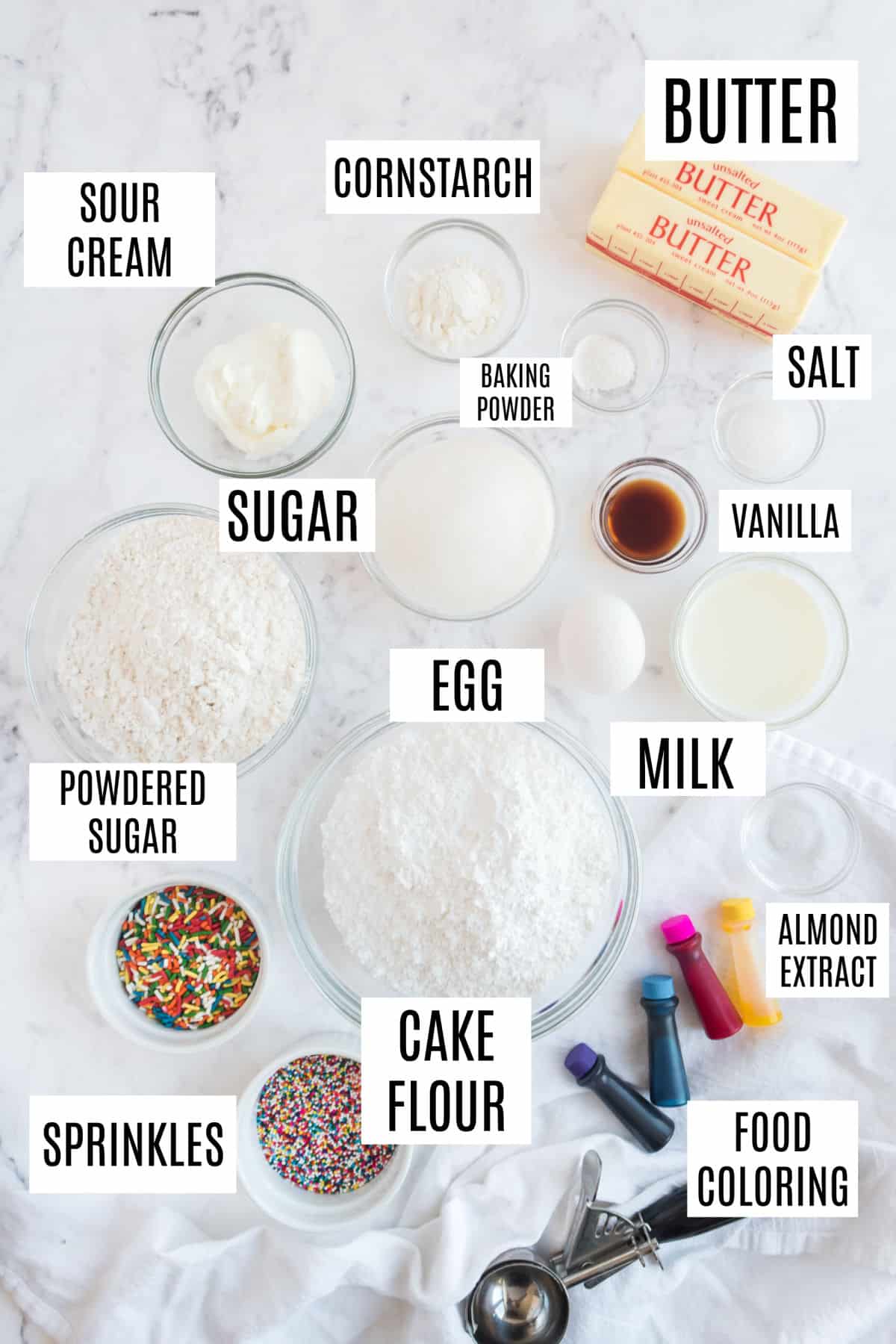 How to make Lofthouse Cookies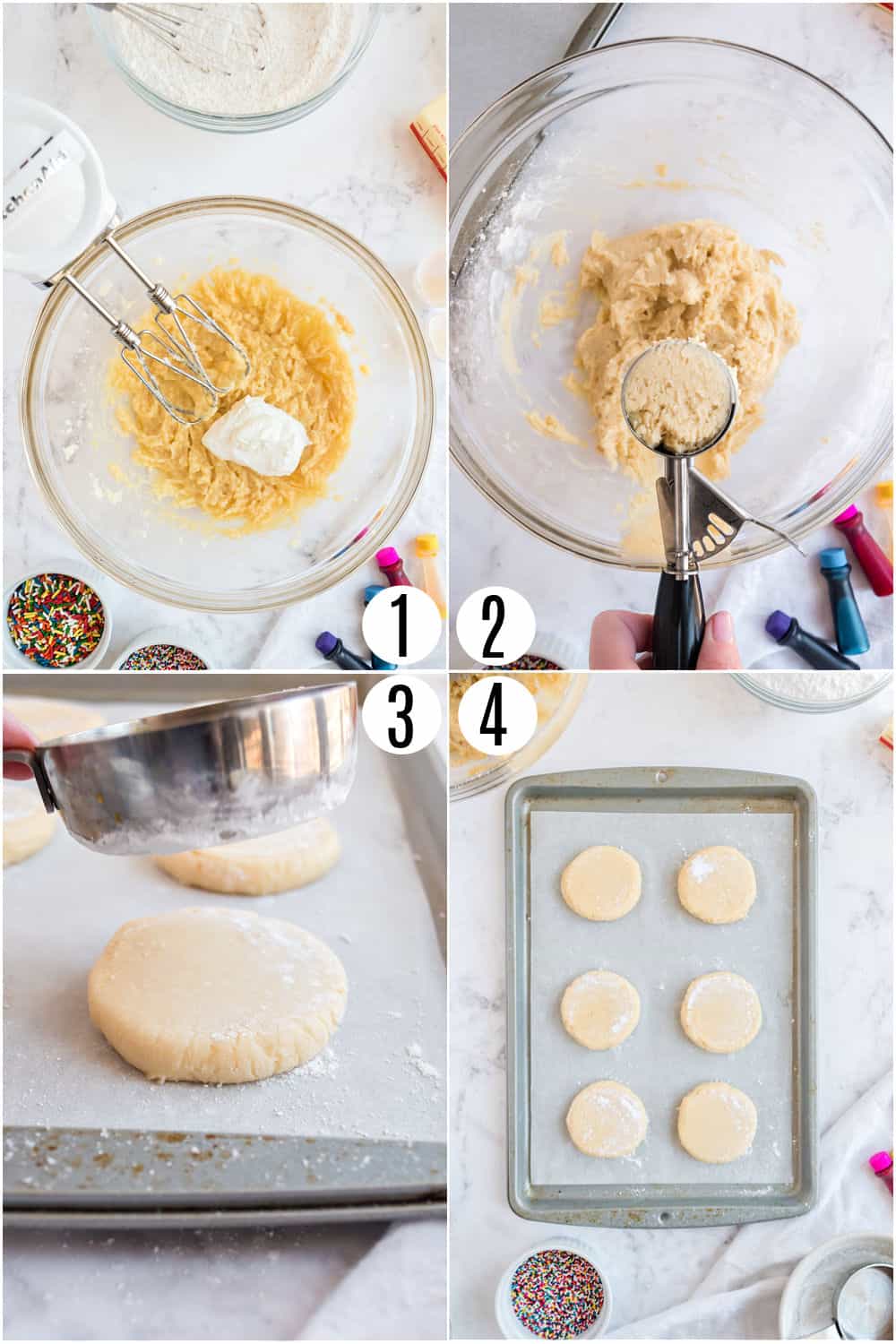 For the dough:
Beat butter with sugar until fluffy. Then beat in the eggs, extracts and sour cream. Now add the dry ingredients and mix gently until just combined. DO NOT OVERMIX the cookie dough.
Chill:
Cover the dough with plastic wrap (you can leave it right in the mixing bowl) and let it chill for at least one hour.
Shape and bake:
Scoop about three tablespoons of dough out of the bowl. Use your hands to roll the dough into a smooth ball, then place it onto a cookie sheet. Repeat with the rest of the cookie dough.
Use the bottom of a drinking glass or measuring cup to gently flatten each ball of dough. Bake until the edges of the cookies begin to look lightly golden.
Make the Lofthouse Cookies frosting:
Beat the butter until fluffy, then beat in the remaining ingredients. Spread frosting over cooled cookies, then garnish with sprinkles.
Pro Tip: Leave a small rim of each cookie unfrosted to make these look more like the originals!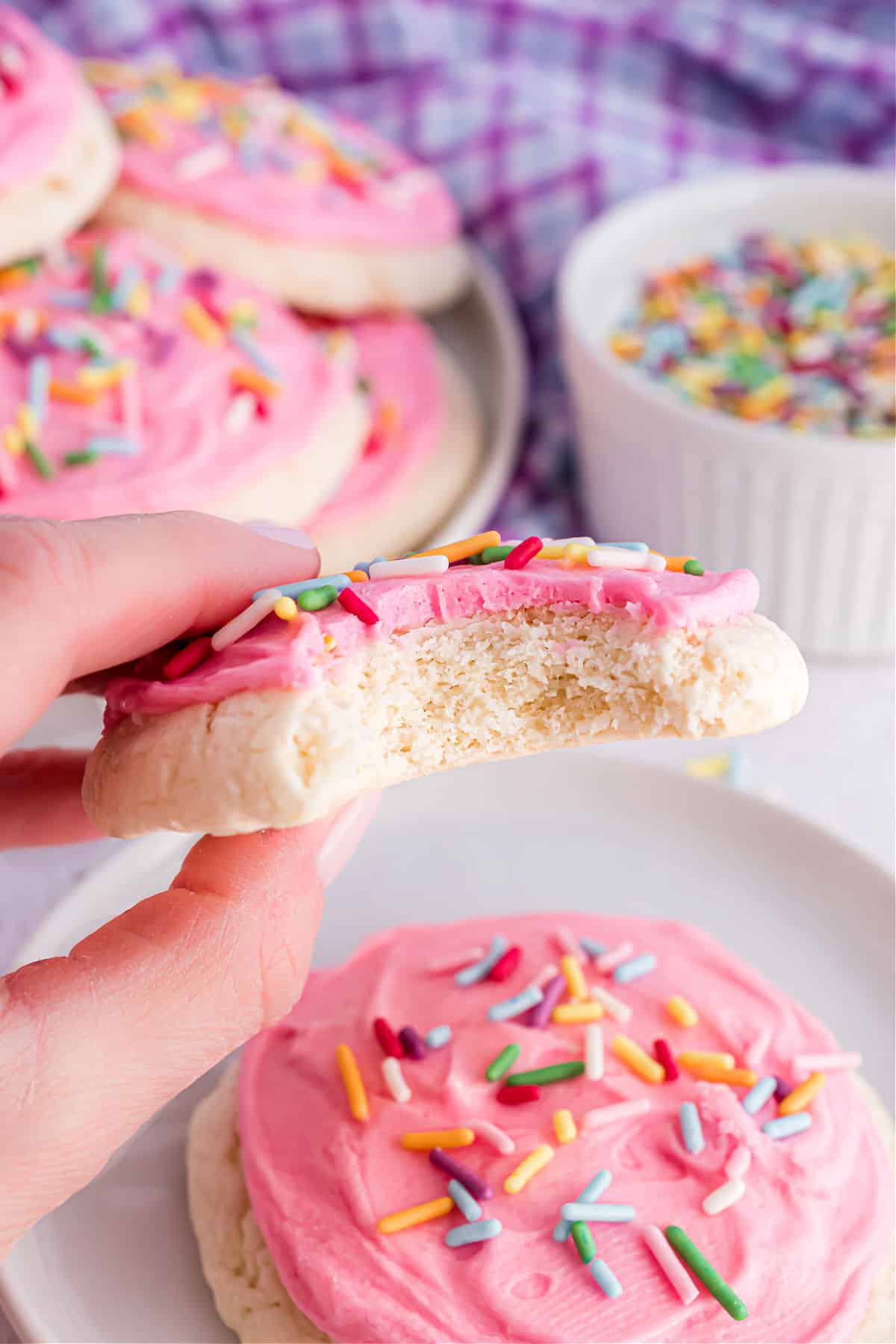 Tips and Tricks
Recipe FAQs
I'm in a rush. Can I make these lofthouse cookies without chilling the dough?
No, you cannot skip the chilling step in this recipe. The dough for these cookies is very sticky. Chilling makes is possible for you to roll the dough into even balls. And it firms up the softened butter which helps prevent them spreading in the baking process.
Can I use all-purpose flour in this recipe instead?
You can but the results will not be the same. Made with all purpose flour, the cookies taste doughier (more like a regular cut-out cookie). They also turn more golden brown as they bake, instead of the pale off white color of classic Lofthouse cookies.
What can I use instead of cake flour?
If you don't have real cake flour, you can make a substitute. Measure out one cup of all-purpose flour. Remove two tablespoons of flour and add two tablespoons of cornstarch.
The results will not be as good as true cake flour but will be better than all-purpose on its own.
Can I freeze Lofthouse cookies?
Yes, but you should freeze them unfrosted for best results. They'll stay good in the freezer for about 3 months. Defrost the cookies completely before adding frosting.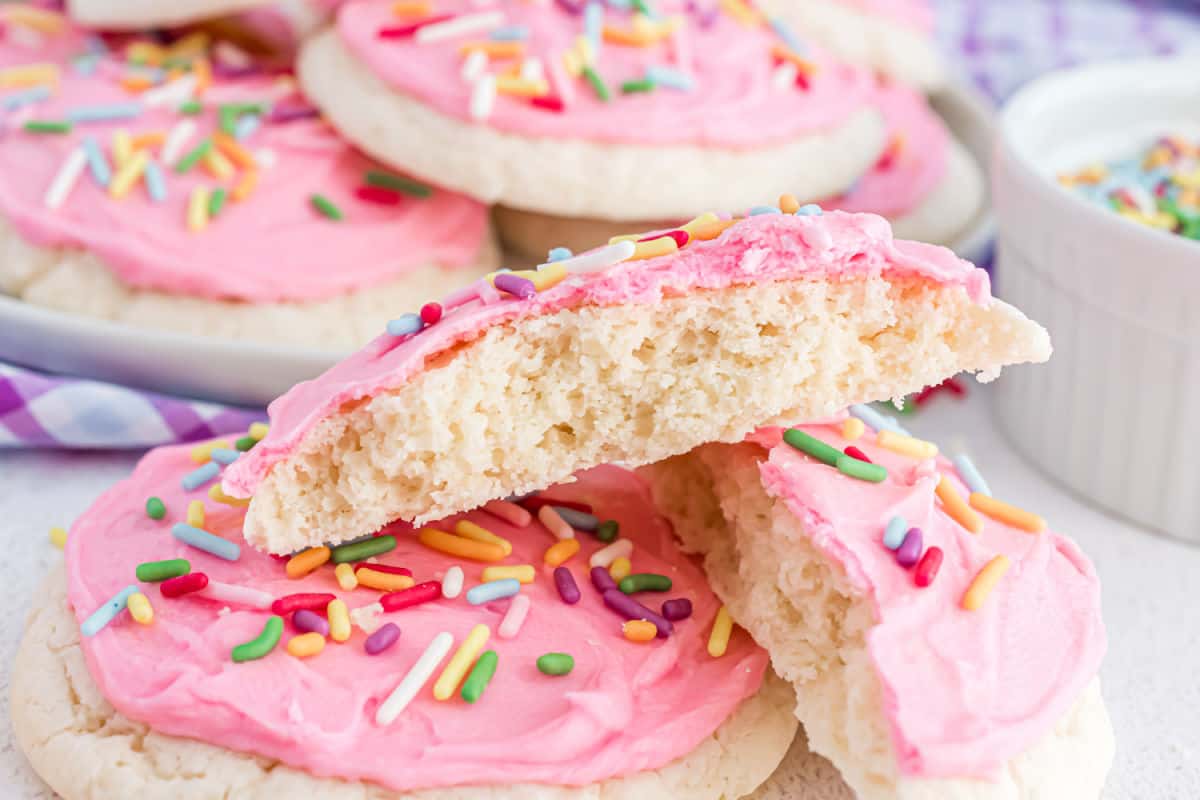 This is the BEST copycat recipe for Lofthouse Cookies hands down. With no need to roll or cut out the dough, these cookies are easy to make with the perfect cake-like texture and flavor!