If you love no bake cookies AND you love oatmeal scotchies: these NO BAKE Oatmeal Scotchies are for you! Cookies packed with butterscotch flavor and chewy oats–ready to eat in minutes.
New to no bake cookie recipes? Check out my tutorial to learn How to Make No Bake Cookies. Just swap out the ingredients to make your favorite flavor! Or give our easy Cheerio Bars a try next!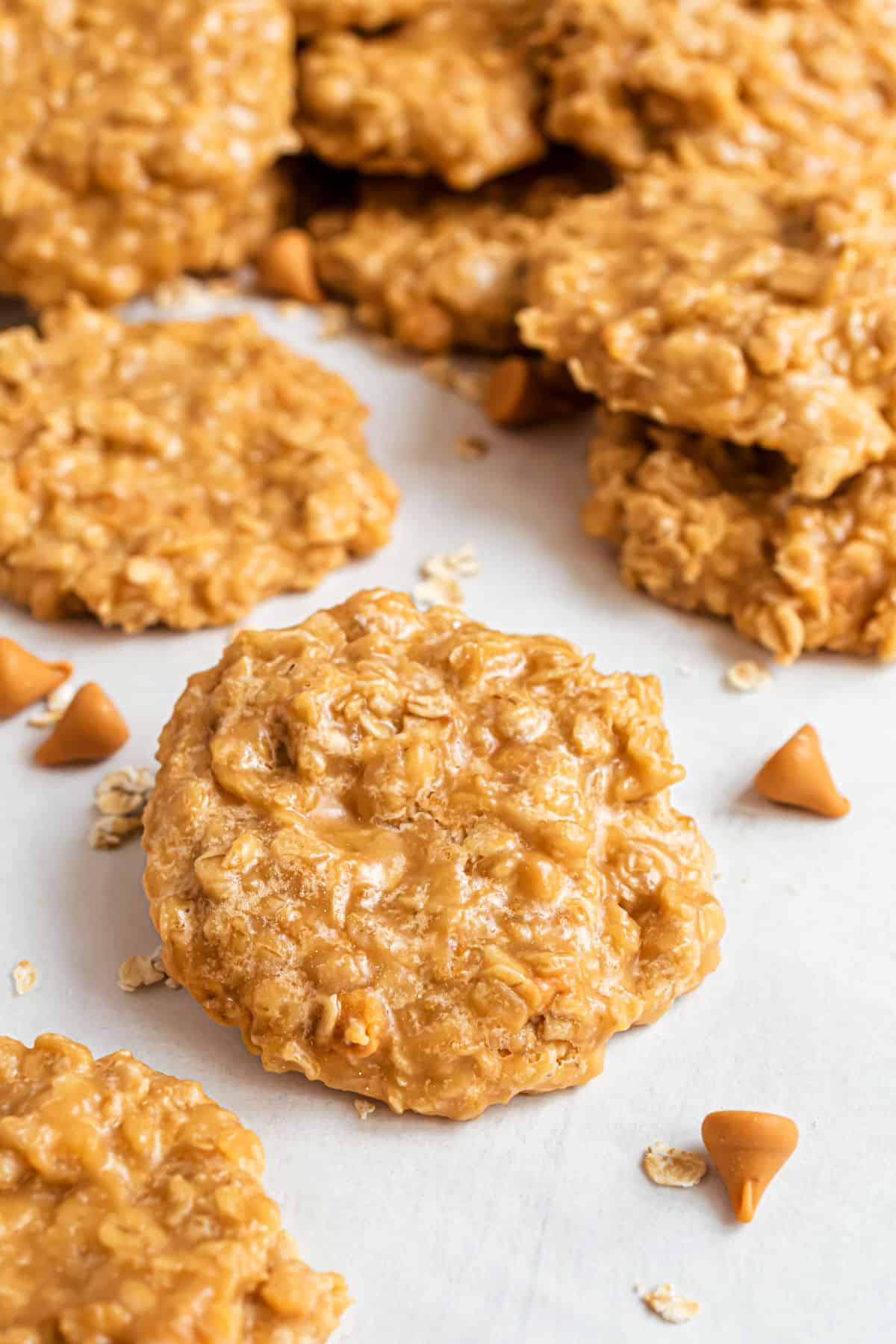 Why this Recipe Works
Takes just 15 minutes to make.
No need to turn on your oven.
Simple, easy-to-find ingredients
Buttery, chewy, sweet oatmeal butterscotch flavor!
When I left for college, oatmeal butterscotch cookies were the one treat I asked my mom to make for me on weekends I came home.
I also asked for a box full of Kraft mac and cheese, Cool Ranch Doritos, and Ramen…not exactly a creative cook back then.
But when it came to cookies, I would much rather have butterscotch over Chocolate Chip Cookies or Peanut Butter Cookies.
I still love butterscotch. These Oatmeal Scotchie Bars are an all time favorite dessert with their sweet frosting.
I also love No Bake Cookies. When the weather hits 90 degrees F and I have zero desire to turn on my oven, I choose no bake cookies as my stand-by dessert.
So it occurred to me, why not combine my favorite cookies with a no bake recipe? No Bake Oatmeal Scotchies were born!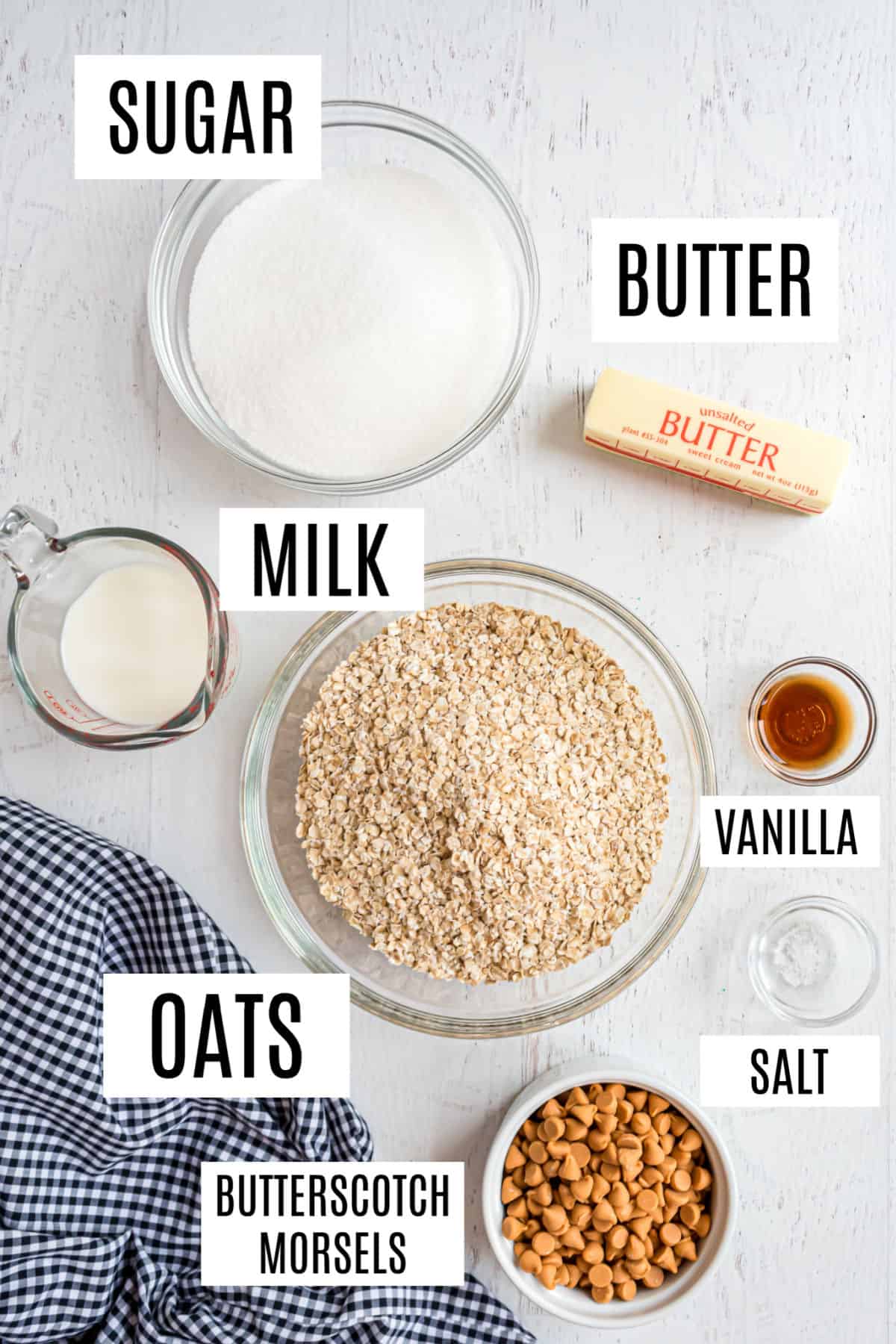 Ingredient Notes
Quick oats. These are more finely processed than old-fashioned oats, helping the cookies stick together without flour. DO NOT cook the oatmeal before adding to the recipe!
Vanilla. A quality real vanilla extract makes a world of difference in the flavor of these butterscotch cookies. I love using Homemade Vanilla Extract in my cookies. Pressed for time? A store bought vanilla labeled "pure" vanilla extract (not imitation) is perfect too.
Unsalted butter. Using unsalted butter helps control the saltiness in the finished cookies. If you have to use salted butter, leave out the added kosher salt in the recipe.
Easy Instructions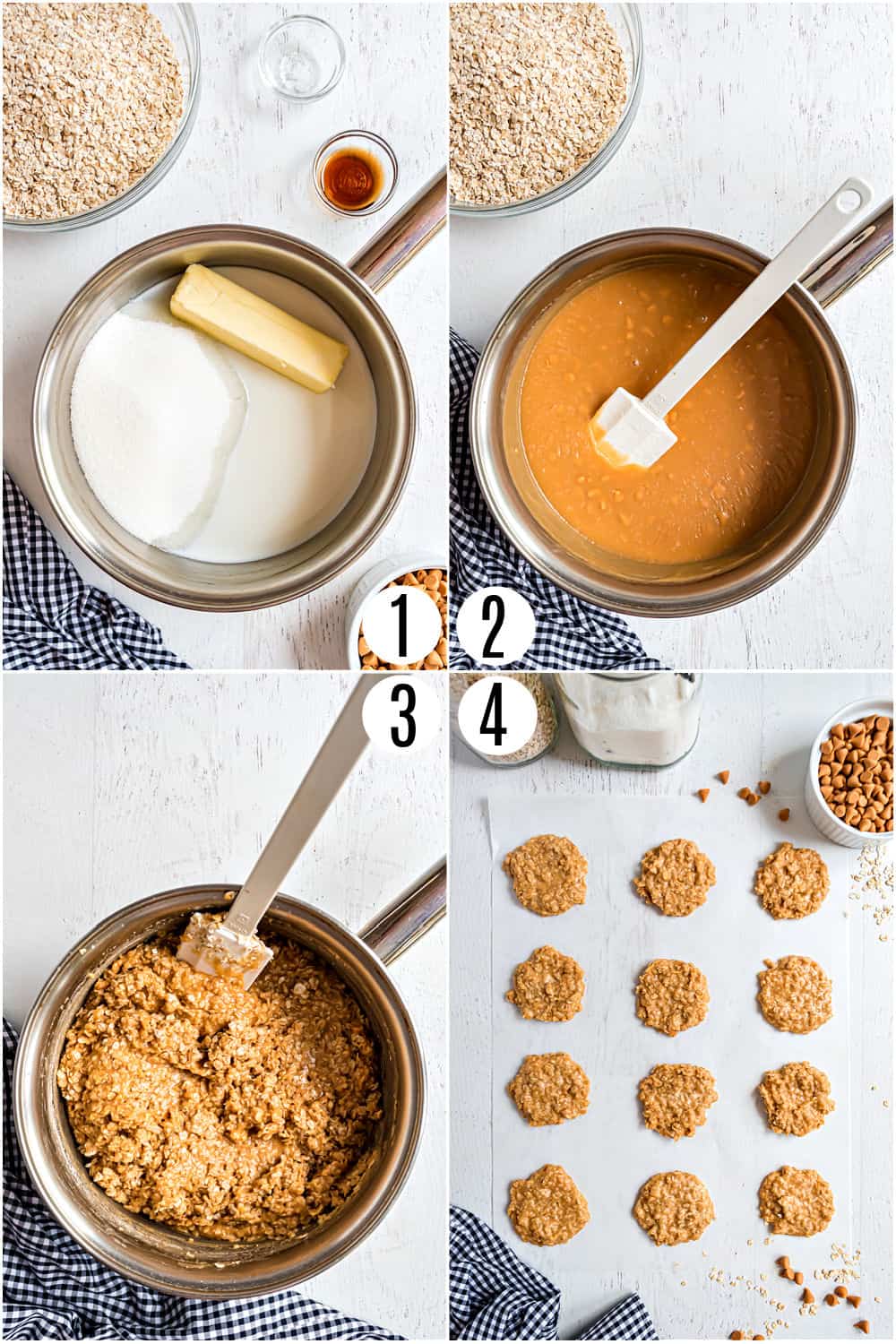 Heat butter, milk and sugar. Boil in a sauce pan over the stove for one minute.
Add Butterscotch chips. Stir in vanilla and butterscotch.
Add oatmeal. Fold the oatmeal into the melty butterscotch mixture. It'll form a sticky dough.
Let set. Drop the cookie dough by the spoonful onto a lined cookie sheet. Let the cookies set at room temperature until firm. This takes about 15 minutes.
Enjoy No Bake Scotchies right away or store for later!
Tips & Tricks
Store uneaten cookies in an airtight container at room temperature.
The butterscotch morsels won't fully melt when you stir them into the butter mixture. That's okay! As long as they are softened and gooey, the dough will come together well.
These cookies are very sweet. More like a fudge with oatmeal than a traditional baked cookie. A little goes a long way when it comes to no bake scotchies!
Change up the flavor. Make a batch of biscoff no bake cookies, nutella no bake cookies, or peanut butter no bake cookies by just changing out the butterscotch!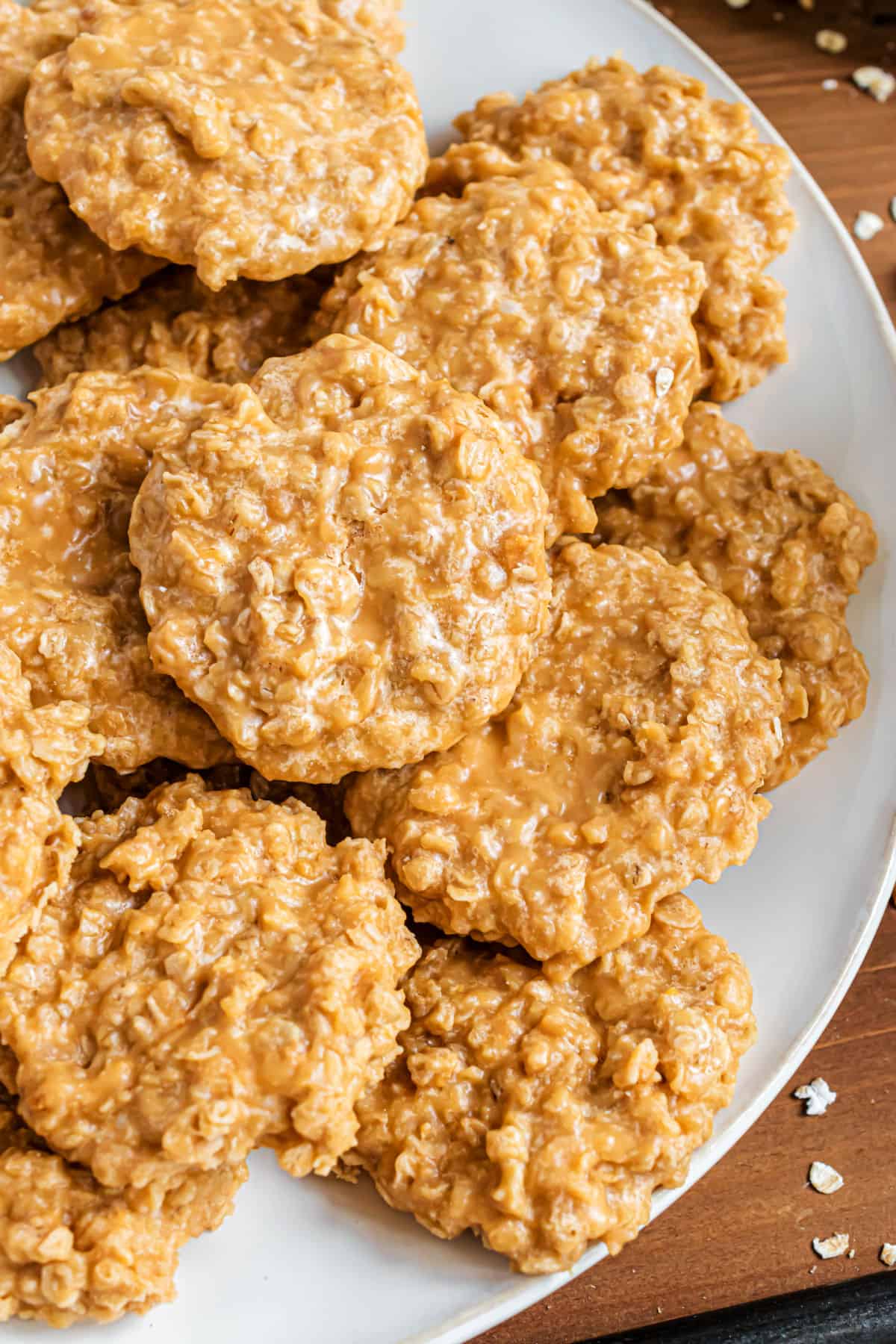 Recipe FAQs
Do you have to refrigerate no bake cookies?
Some no bake cookies need to be chilled, but these No Bake Butterscotch Cookies hold up just fine on the counter. Of course, if you prefer the taste of a cold cookie, feel free to pop them in the fridge!
Are quick oats the same as instant oatmeal?
Not exactly. Instant oatmeal is even finer than quick oats and often sold in packets with added flavors. I recommend the quick cook oats sold in a tub for this recipe!
What kind of milk do I need for this recipe?
Any milk you have on hand works! I've made these no bake oatmeal butterscotch cookies with skim, whole and nonfat milk with great results every time. You can even use nondairy milk.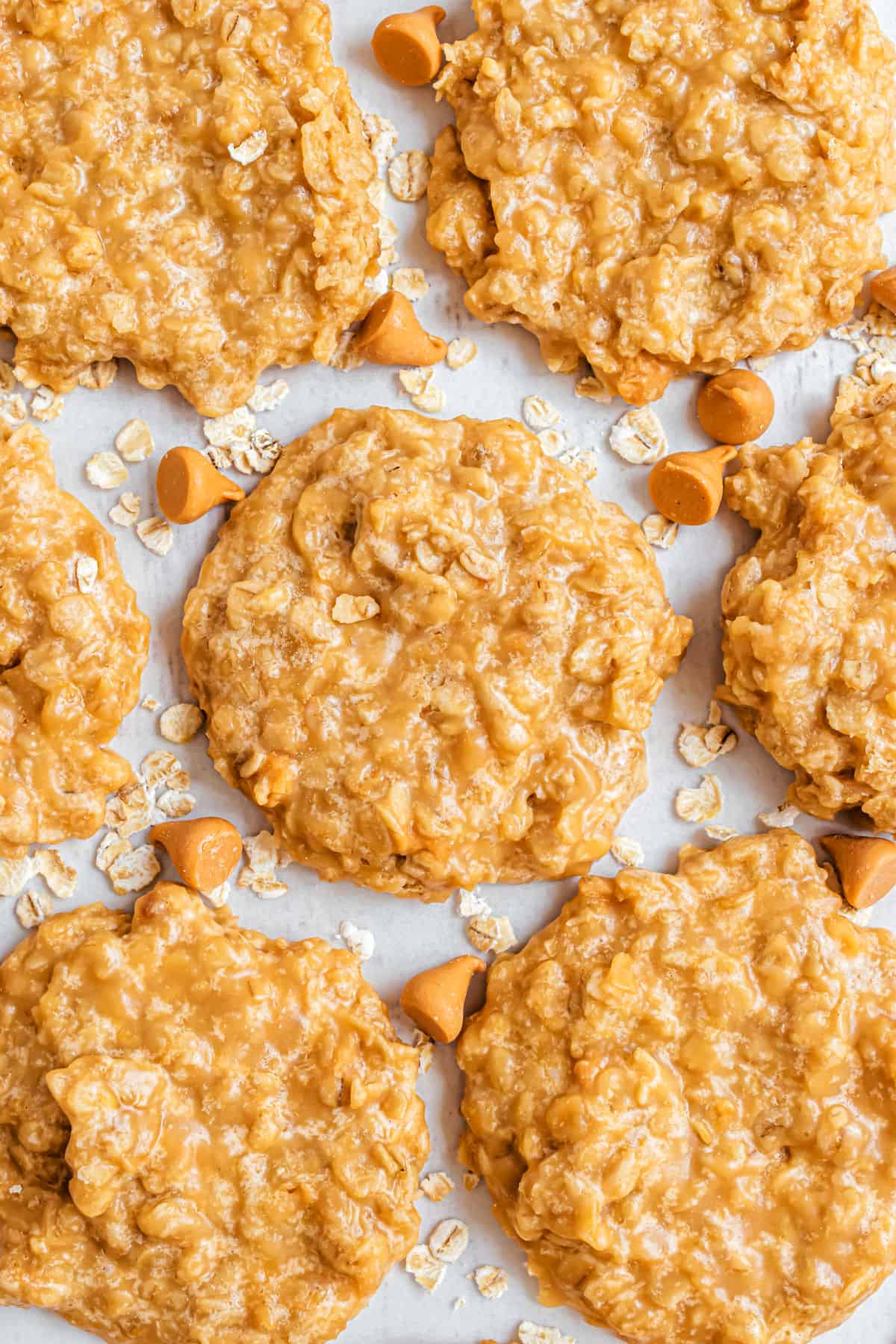 Sweet, fudgy and chewy No Bake Oatmeal Scotchies take just minutes to make! Skip the baking and whip up a batch of these easy treats instead.