Rich, fudgy and dense…this Chocolate Pudding Cake recipe is a huge hit at family parties! Nobody needs to know it starts with a cake mix!
If you have a pantry full of cake mixes, bake up a batch of easy Cake Mix cookies. Add holiday or colorful sprinkles to give them so fun and festive flair. Or give our delicious Chocolate pudding cupcakes a try next!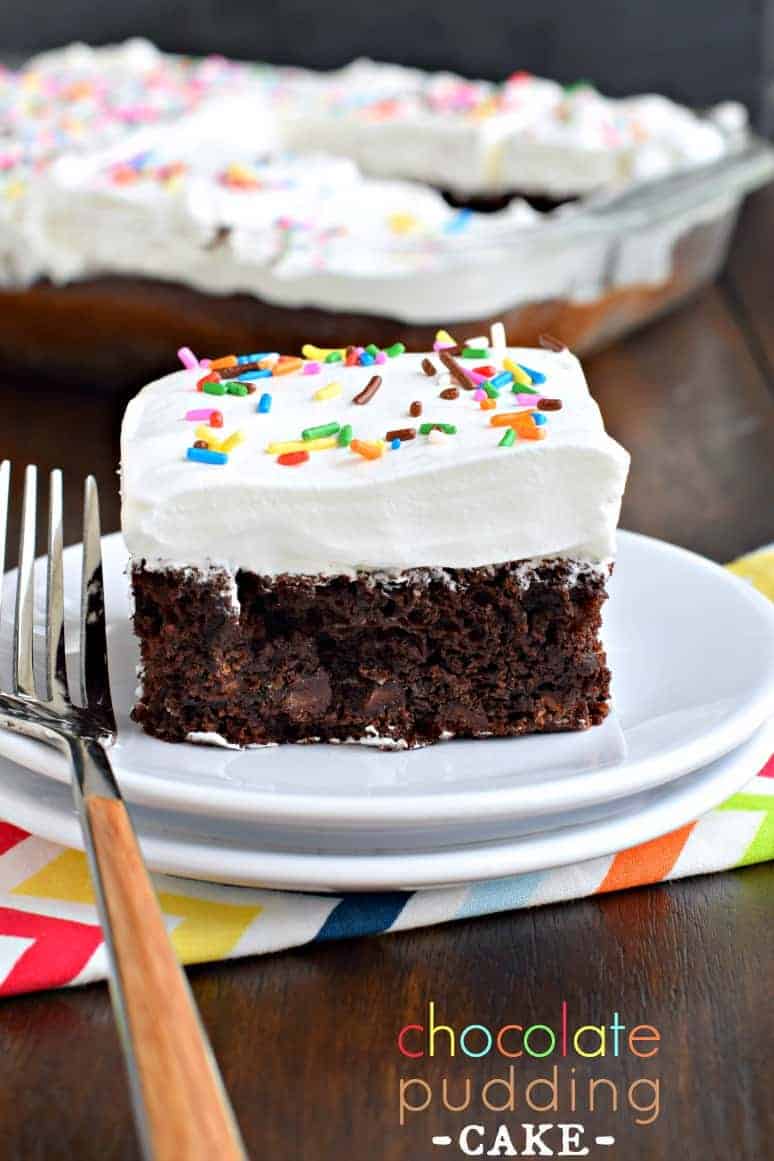 Why this Recipe Works
Sometimes when you're craving a chocolate cake, you just want to whip up something easy.
My grandma always made us jello cakes, so I thought why not take a similar approach with todays pudding cake recipe!
Starts with a cake mix!
Rich and fudgy, this dense chcoolate cake is so moist!
Topped with cool whip or homemade whipped cream.
Sometimes you just need an easy treat. Holidays are great for making carrot cake or bread pudding, but Tuesdays are for chocolate pudding cake!
How to make Chocolate Pudding Cake
First, in a large mixing bowl, combine chocolate pudding mix with milk. Whisk until smooth.
Add in chocolate cake mix and beat until well blended. Fold in chocolate chips.
Pour cake batter into a greased 13×9 baking dish, and bake according to cake mix package directions.
Remove from oven and cool completely.
Top with Cool Whip (or homemade whipped cream) and sprinkles, refrigerate 4 hours or overnight. Cake will be moist and dense…perfect!!
More Pudding Recipes
If you love today's chocolate version, then you've got to try this Lemon Pudding Cake recipe. Virtually the same, with a few swaps in ingredients!
One of the easiest cakes to make! The pudding added to the top of the warm cake makes this so moist and delicious. Add some Cool Whip and toasted coconut and this Coconut Pudding Cake will be gone in no time!
Chewy, moist, and packed with flavor. Thanks to the secret ingredient, these Chocolate Chip Pudding Cookies are always a hit!