Mouthwatering and perfect, this S'mores Cheesecake recipe is made with marshmallow cream and homemade chocolate ganache. Make the cheesecake ahead of time and top it when you're ready to enjoy!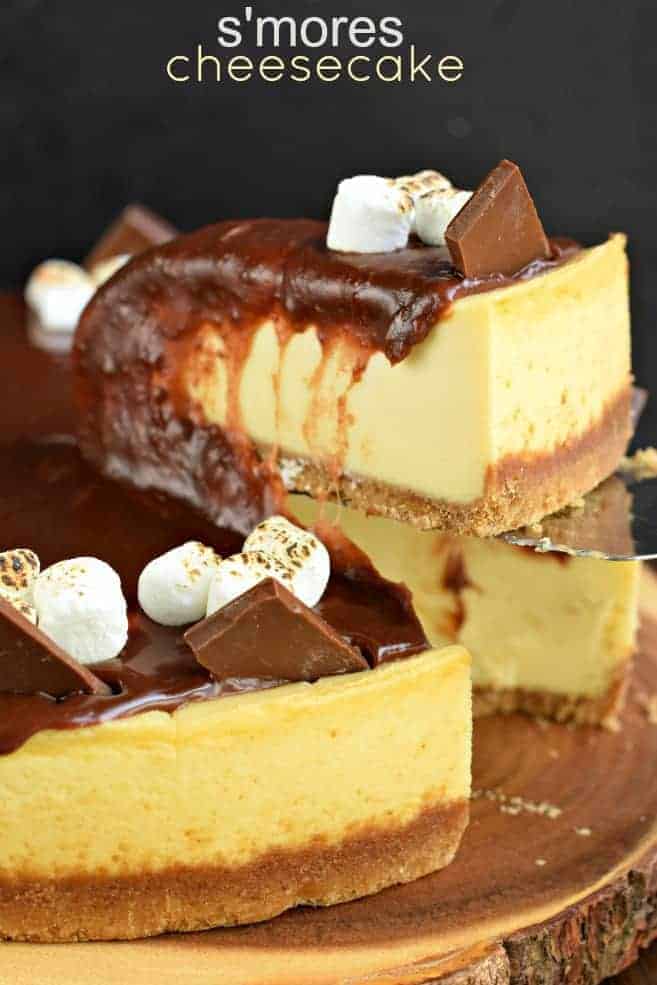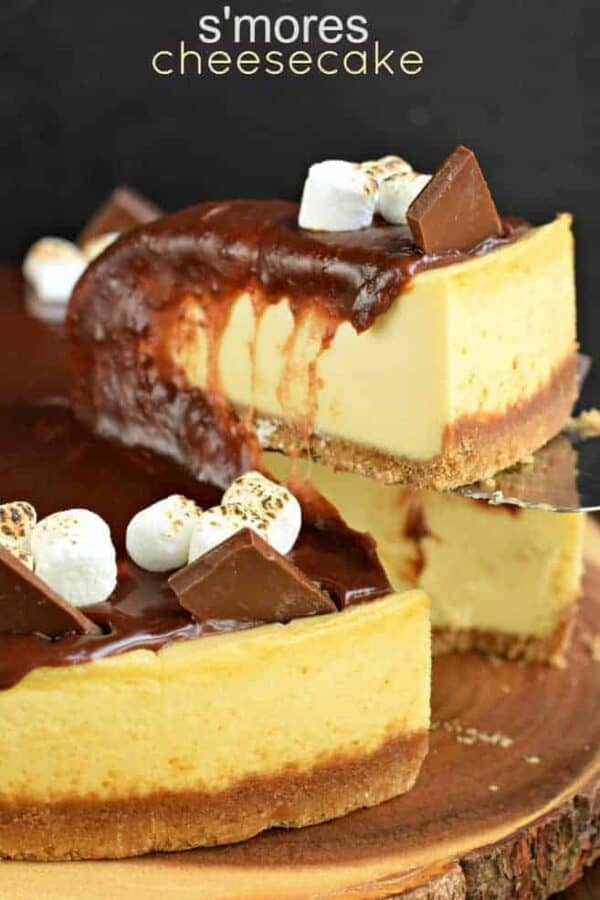 Click HERE to save recipe to pinterest!
Many years ago I shared some mini S'more Cheesecakes here on Shugary Sweets. They were made in a cupcake tin, and the flavor was spot on!
Well, fast forward five years, and I thought it was time to use my Perfect Vanilla Cheesecake recipe and make a homemade S'mores Cheesecake.
This was a labor in love, trying to figure out the best way to top it. I knew I wanted to make a homemade ganache, so I first covered the cheesecake with that and some mini marshmallows. I then torched the marshmallows to give them a campfire feel. However, I didn't like the taste. And, because cheesecake needs to stay refrigerated, the marshmallows got hard and stale. Yuck.
So my next trial was to put marshmallow cream between the cheesecake and the ganache. Which was the perfect decision. Although, I have a few tricks on getting it to look amazing!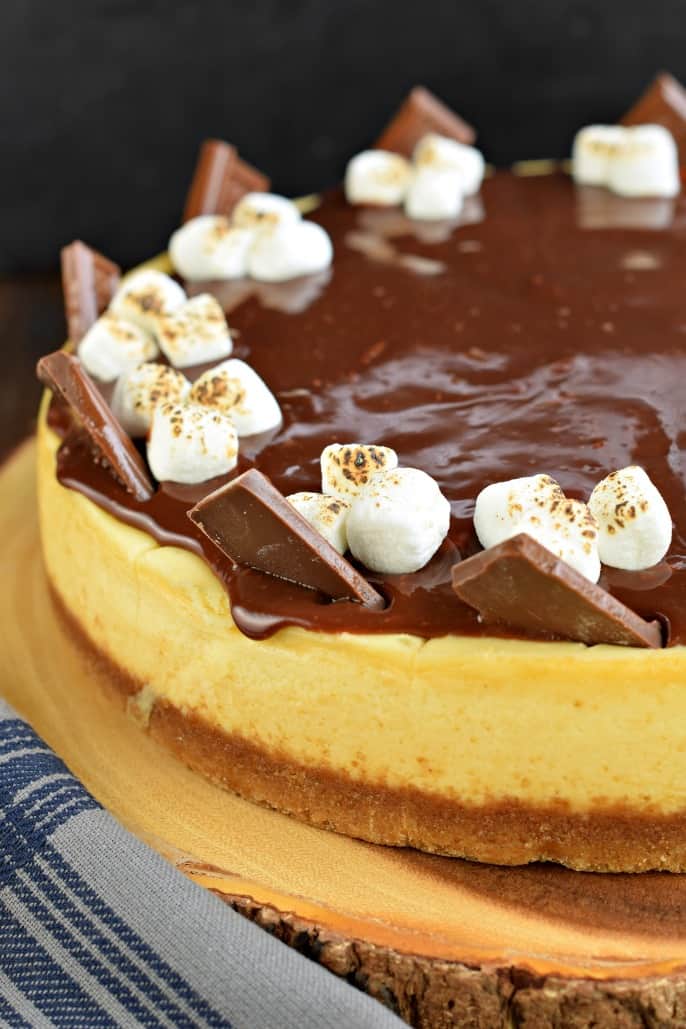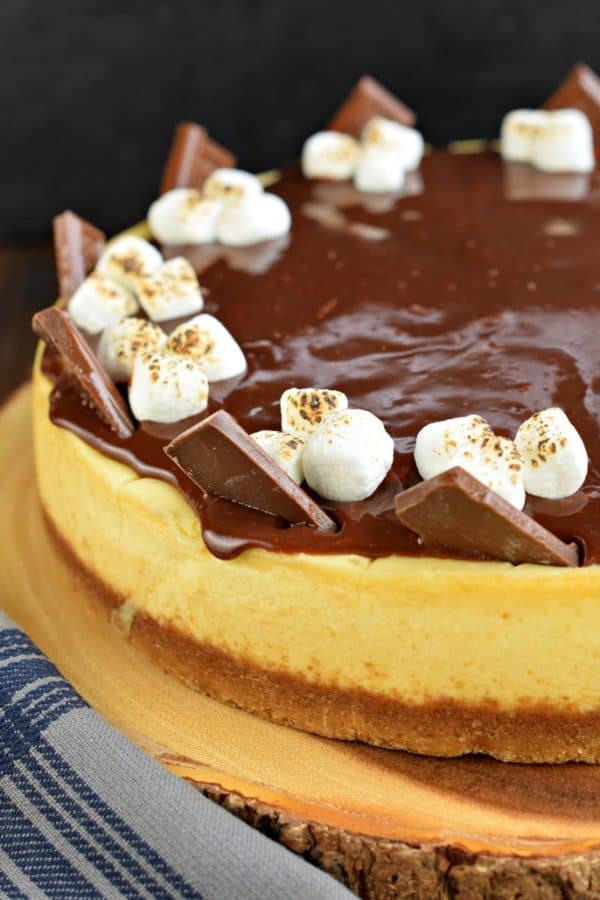 How to make a perfect S'mores Cheesecake:
Start by baking up one of my Perfect Vanilla Cheesecakes. To get the perfect slice, I recommend baking the cheesecake in advance and FREEZING it. When you remove it from the freezer, SLICE it while it's frozen to get PERFECT slivers.
Once you've baked, and chilled your cheesecake. Cover it with about 1 cup of marshmallow cream. BUT, be careful. Do not spread it all the way to the edges. I spread it to about 1/2 inch from the edge. It tends to "fluff" up once your pour your ganache over the top, and if the marshmallow goes all the way to the edge, it will ooze all the way over the sides.
Prepare your ganache according the the recipe and carefully pour it over the top. Make sure NO marshmallow cream is showing. This helps "contain" the marshmallow and limit the chances of it oozing over the edges.
Immediately press in some mini marshmallows and pieces of chocolate bar for your finishing touch. If desired, give the marshmallow a little "toasting" using a Creme Brulee Torch.
Keep your cheesecake chilled until ready to serve. ENJOY!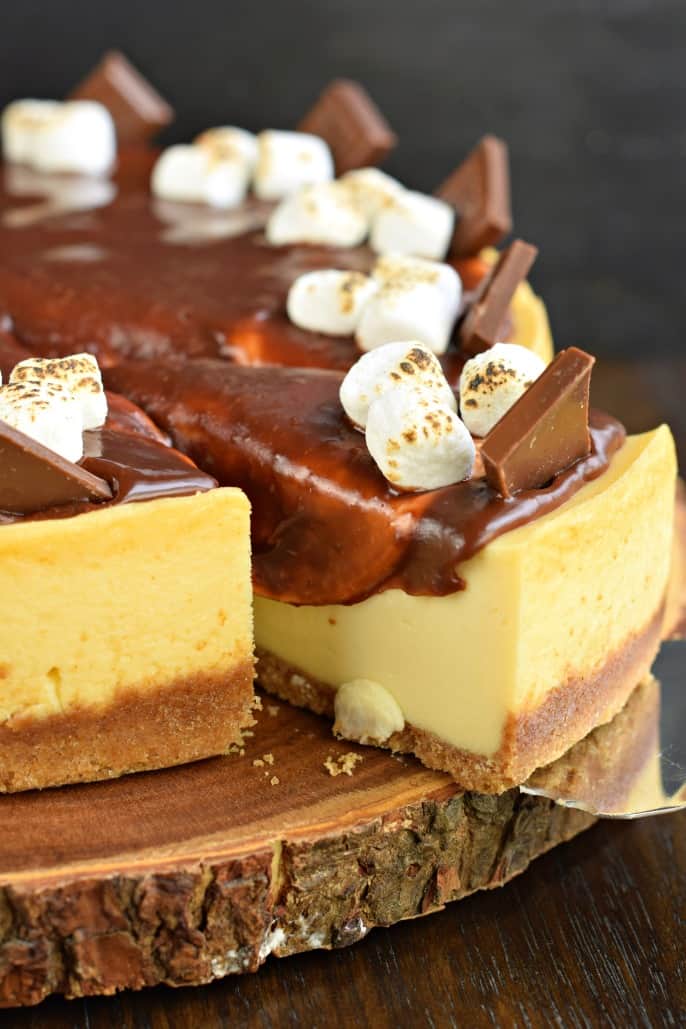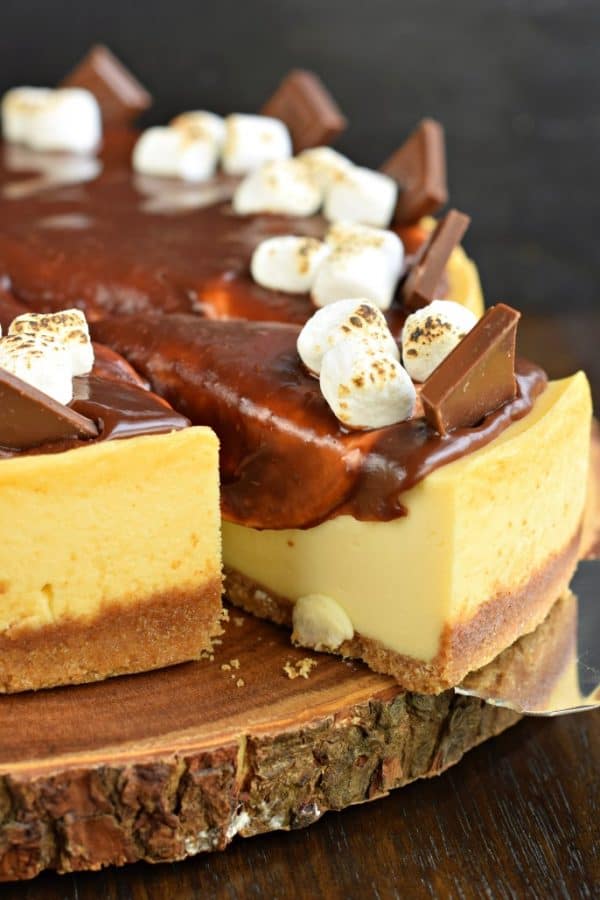 To make a perfect cheesecake recipe, you'll need:
I like using a 9-inch springform pan. This works great when making cheesecake cakes too, since my cake pans are 9-inch as well!
Creme Brulee Torch. You'll want this for toasting up those marshmallows!
Kitchen Aid Mixer. When it comes to beating cream cheese, I like to set my mixer and walk away while getting other ingredients ready. My kitchen aid is a lifesaver in my kitchen!

If you love this S'mores Cheesecake recipe, here are some more (s'more, haha) cheesecakes think you'll enjoy:
I created a fun little group on facebook and I'd love for you to join in! It's a place where you can share YOUR favorite recipes, ask questions, and see what's new with Shugary Sweets (so that you never miss a new recipe)! If you'd like to check it out, you can request to join HERE.
Connect with Shugary Sweets! Be sure to follow me on my social media, so you never miss a post!
Facebook | Twitter| Pinterest | instagram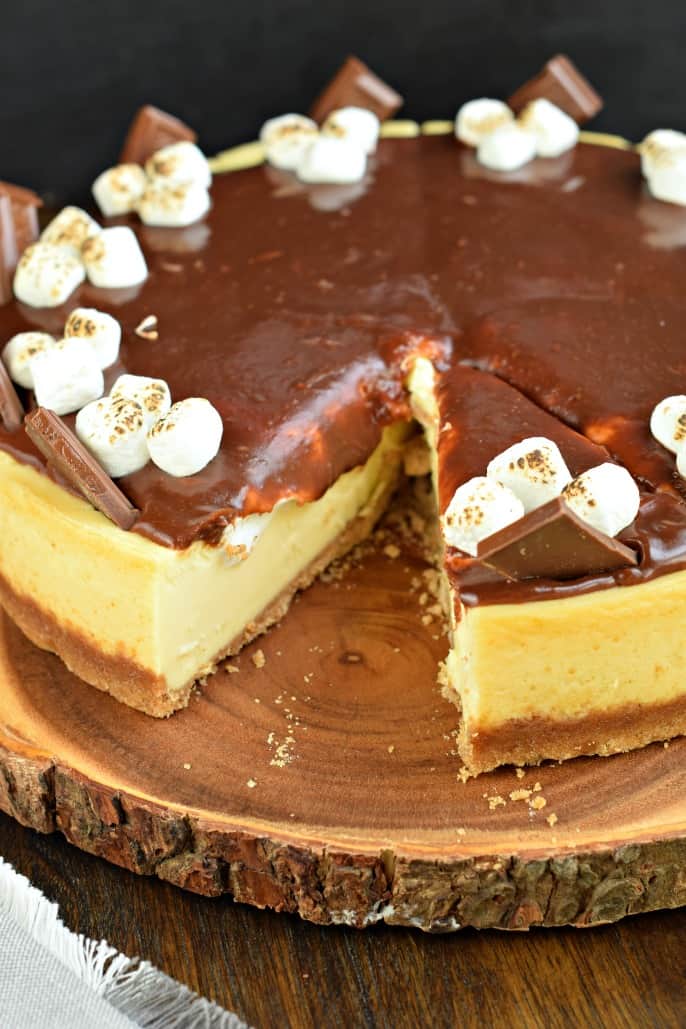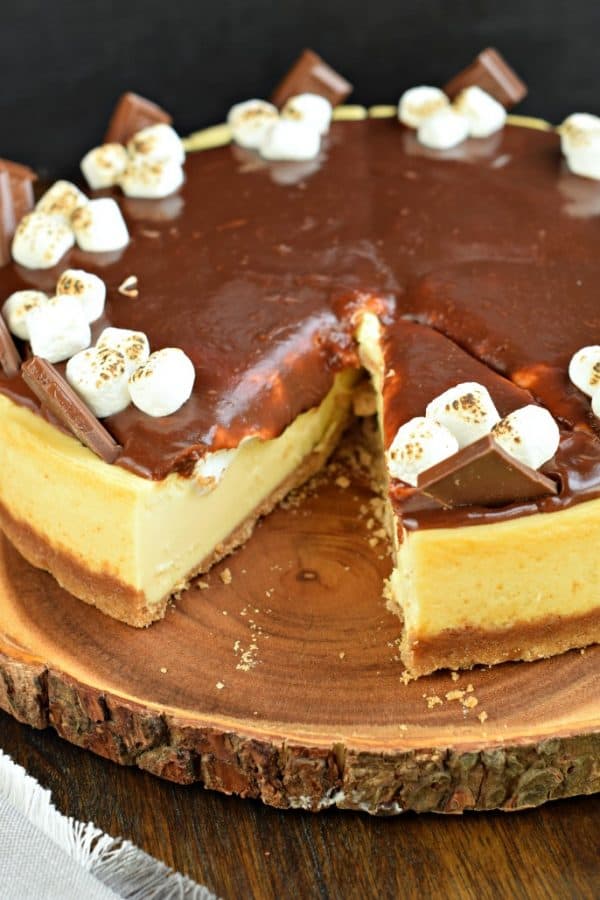 MORE Easy Dessert Recipes:
S'mores Cheesecake recipe: