S'mores Coffee Milkshake – Made with vanilla ice cream, brewed coffee, and marshmallows, then garnished with a rim of graham cracker, this is the best copycat s'mores frappucino.
Love S'mores? Give our stuffed S'mores Cookies a try soon! Packed with grahams, marshmallow and chocolate chips! Or try our delicious, easy mini s'mores pies!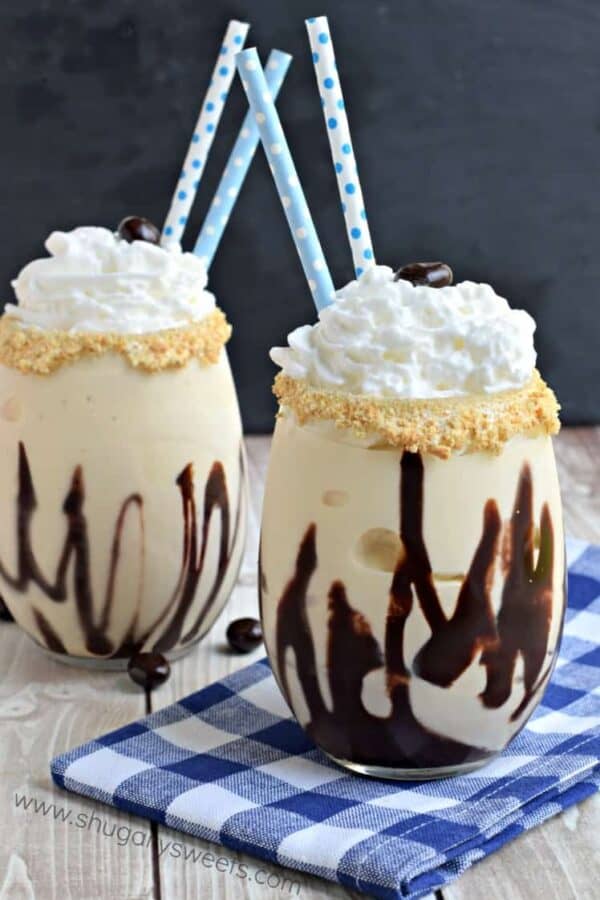 Copycat Starbucks Drinks
This coffee frappe didn't just happen. It was inspired.
Some recipes just come to me off the top of my head, some are well thought out and planned, and some are tweaked and adapted on the spot.
But today's S'mores Coffee Frappe Milkshake was totally inspired by Starbucks recent release of the S'mores Frappuccino.
And while that is a *good* drink, particularly with that strong Starbucks coffee taste, it didn't leave me quite satisfied. I wanted more marshmallow and graham cracker flavor and more creaminess.
I knew I could do it better with a little creativity and experimentation. And probably do it for less than the $6 – $7 a Starbucks s'mores frappucino will set you back.
I've made plenty of Starbucks Copycat Drinks before and gotten pretty good at it, if I do say so myself!
So, I set to work, trying to figure out the right way to get the creamy milkshake texture I wanted without making it milky or muting the coffee taste.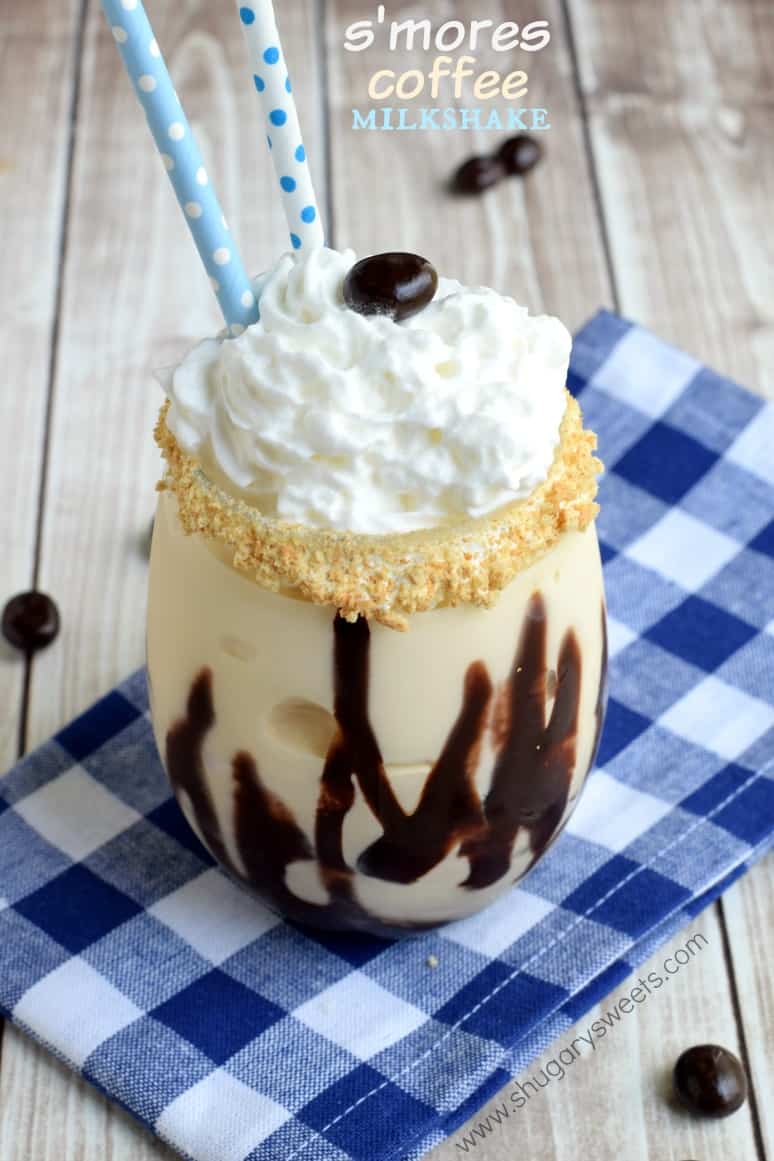 That's when it hit me. ADD ice cream.
That's actually a good philosophy for solving many of life's problems: add ice cream. Or chocolate.
This coffee frappe just happens to have both! All the great taste of s'mores made around the campfire with no camping or fire required.
I know I'll be making this treat repeatedly this summer! It's the perfect cool treat and afternoon pick me up with a nice jolt of caffeine to wake you up. Coupled with the creamy dairy and rich chocolate drizzle, it satisfies your sweet tooth, too.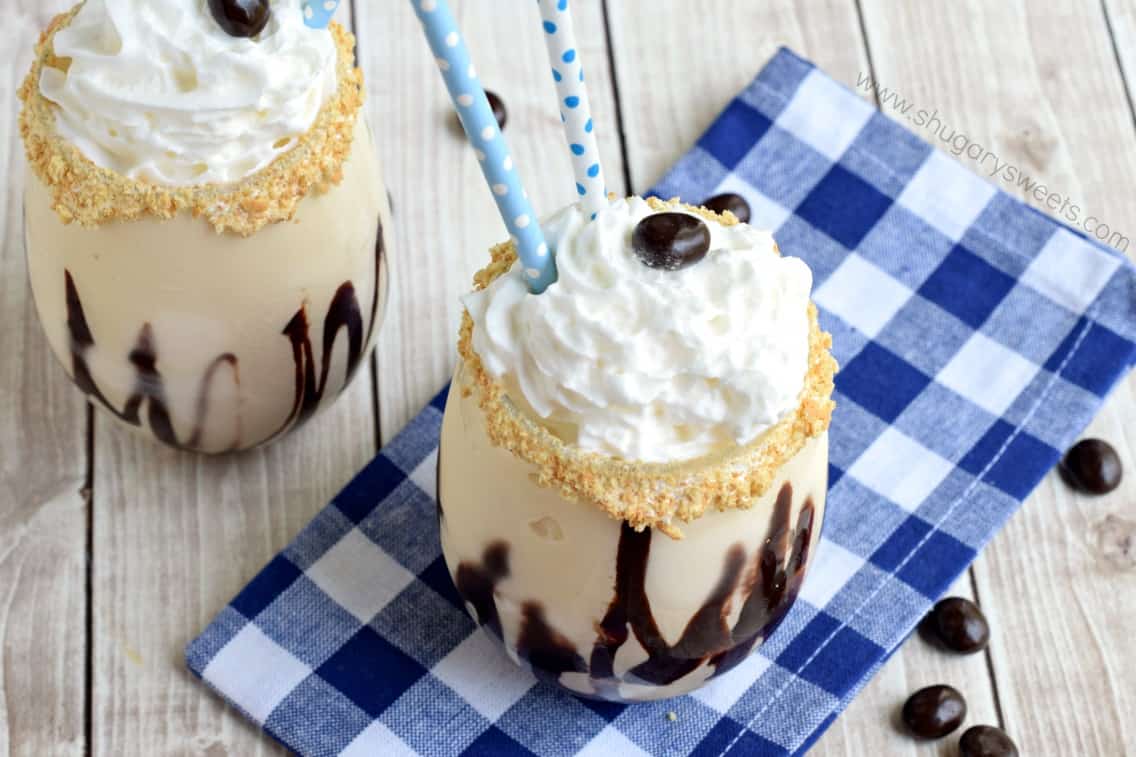 What is in a S'mores Frappucino?
When I first heard Starbucks was introducing this s'mores flavored spin on their popular frappucino, I was intrigued.
A campfire s'more is all about the balance of marshmallow, chocolate and graham cracker flavor. To acheive that, Starbucks uses a blend of vanilla syrup and marshmallow infused whipped cream along with the milk and coffee base. In the original Starbucks drink, the graham crackers crumbs are sprinkled on top of the blended beverage.
In my version, I used vanilla ice cream and real marshmallow cream to achieve the flavor, with chocolate drizzled inside both glasses. Instead of putting the graham cracker crumbs on top of the whipped cream, where I thought they'd get soggy, I decided to use them to rim the glasses.
If I do say so myself, I knocked it out of the ball park with this particular Starbucks copycat drink recipe! I can't wait for you to try it, especially if you're a coffee lover like me.
S'mores Frappucino Recipe
Here's what you need to make a copycat Starbucks smores frappucino:
Brewed coffee – Room temperature or cooler. I like to make a little extra with my morning pot of coffee then use the cooled coffee for frappes later in the day.
Marshmallow cream – Also called marshmallow fluff
Vanilla ice cream
Chocolate syrup
You could just blend all these ingredients together and have a decent coffee frappe. To incorporate the graham cracker flavor and have an even more delightful afternoon treat, garnish the smores frappucino, too!
For the garnish:
Graham crackers – Crushed into crumbs
Whipped cream
Marshmallow cream
Chocolate covered espresso beans
How to Make S'mores Frappucino
STEP 1. Prepare the glasses
To the rim of two glasses, spread the 1 Tbsp of marshmallow cream on the lip of the rim. Drizzle the chocolate syrup onto the inside of the glass, in an up and down motions. Dip the rims into the crushed graham crackers, then set aside.
STEP 2. Make the coffee frappe
In a blender, combine coffee, marshmallow cream and ice cream. Process until smooth and creamy. Pour into the two glasses.
Top the S'mores frappucino with whipped cream and a chocolate covered espresso bean. Enjoy your cool creamy summer treat right away!
Want even more chocolate? Drizzle extra chocolate over the whipped cream before serving. You can add a handful of graham cracker crumbs to the top too, just like Starbucks does.
This recipe can easily be doubled or tripled to serve a crowd. Why not invite a friend over and impress them with a frosty drink that's better than anything from a coffee chain.
If you love copycat Starbucks drinks recipes, you'll love these other drinks I've created at home. No need to empty your wallet at a cafe or chain, when you can whip them up at home for pennies!
Reminiscent of summer nights roasting marshmallows by the fire, this homemade take on Starbucks S'mores Frappucino is a perfect warm weather treat!