Looking for a dinner idea that's a little different but still delicious? Bacon Cheeseburger Soup is made in 30 minutes, and will be devoured with enthusiasm by kids and adults!
For more kid-friendly soups, our readers love this Copycat Panera Broccoli Cheese Soup recipe! Serve it up with some dinner rolls and you've got an easy meal.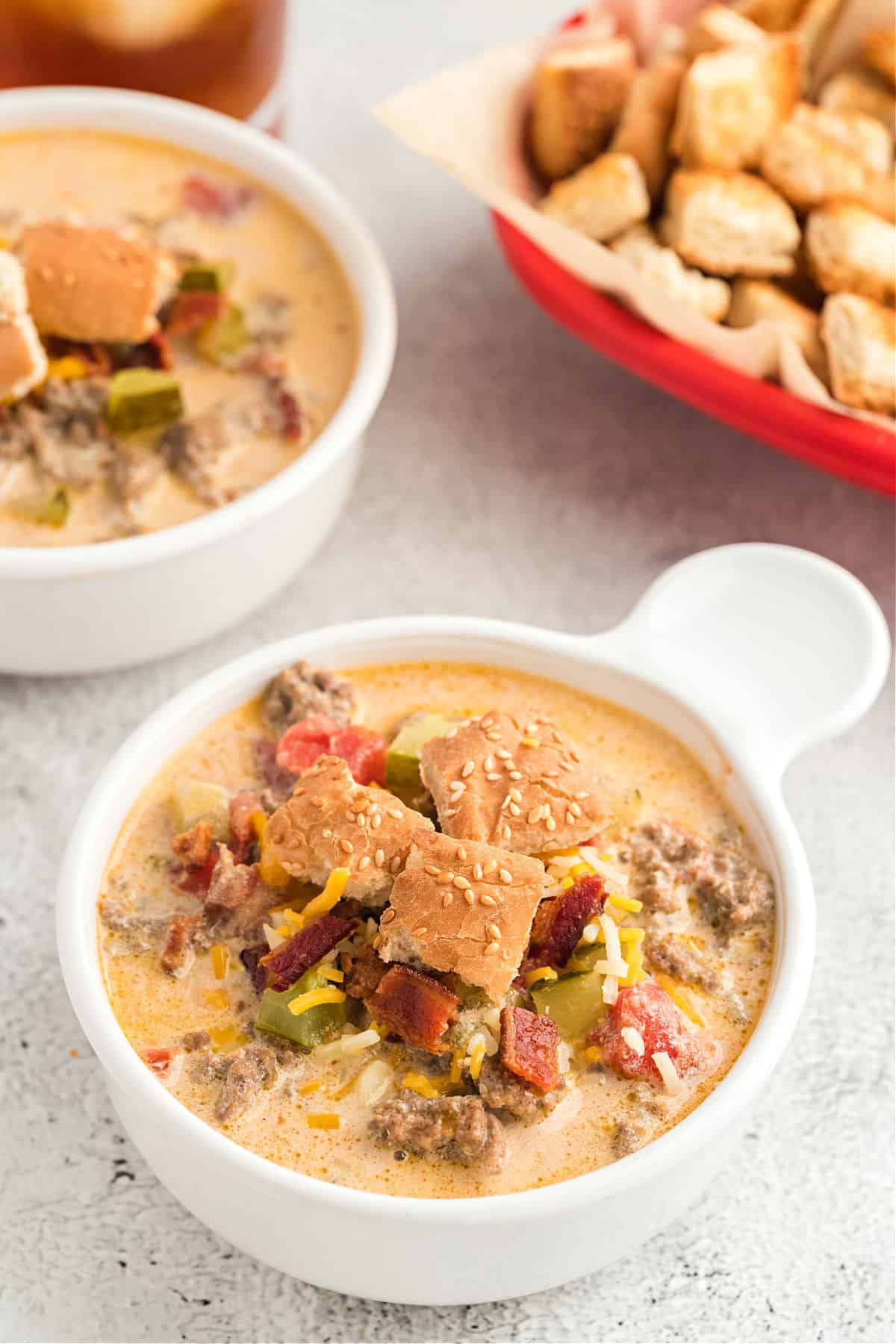 Why this Recipe Works
Dinnertime can be hard. And crazy. And chaotic. I love cooking. I mean, I run a food blog. But even so, I'm almost embarrassed by the number of times I think, "Wait? The people in my house need to eat AGAIN?"
That's why I can never have enough fast and easy dinner recipes that everyone in the family will eat without complaint. This Bacon Cheeseburger Soup one that's always a hit!
Soup is a great option for our busy family because heating it up for the "late arrivals" is a cinch! With everyone's schedules rarely lining up so we can eat a meal all at the same time during the week, reheatable dinners are a necessity.
I've seen Cheeseburger soup all over pinterest…but of all the recipes I see they have potatoes in them.
I'm sorry guys, but I don't put potatoes on my burger. If you want "fries" whip up a batch of these baked french fries or sweet potato fries.
Ingredient Notes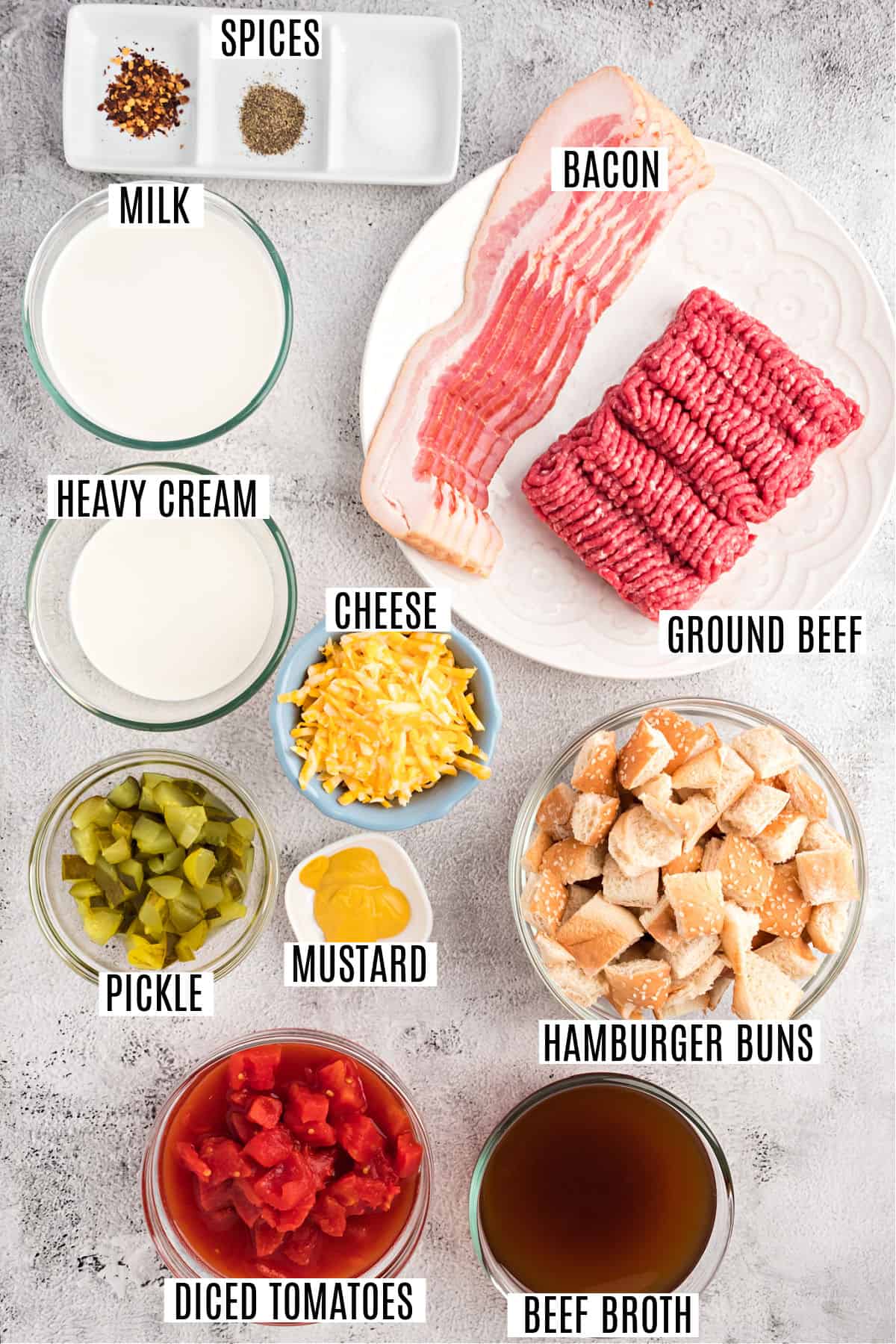 I keep things simple here and stick strictly to the "burger theme." If I wanted a Baked Potato Soup, I'd make that instead. This recipe is all about that meaty bacon cheeseburger taste.
Ground Beef– swap it out for ground turkey if you prefer!
Bacon– cook and crumble and add it at the end if you want to keep it crunchy!
Burger Toppings– you'll also need dill pickles, mustard, and tomatoes for this soup. Don't worry if you don't like those…they just add a delicious depth of flavor!
Beef Broth– use bone broth for a more intense flavor.
Shredded Cheese– can't be a cheeseburger without it!
Hamburger Buns– I used sesame seed buns, cubed them, and toasted into soup croutons!
Step by Step Instructions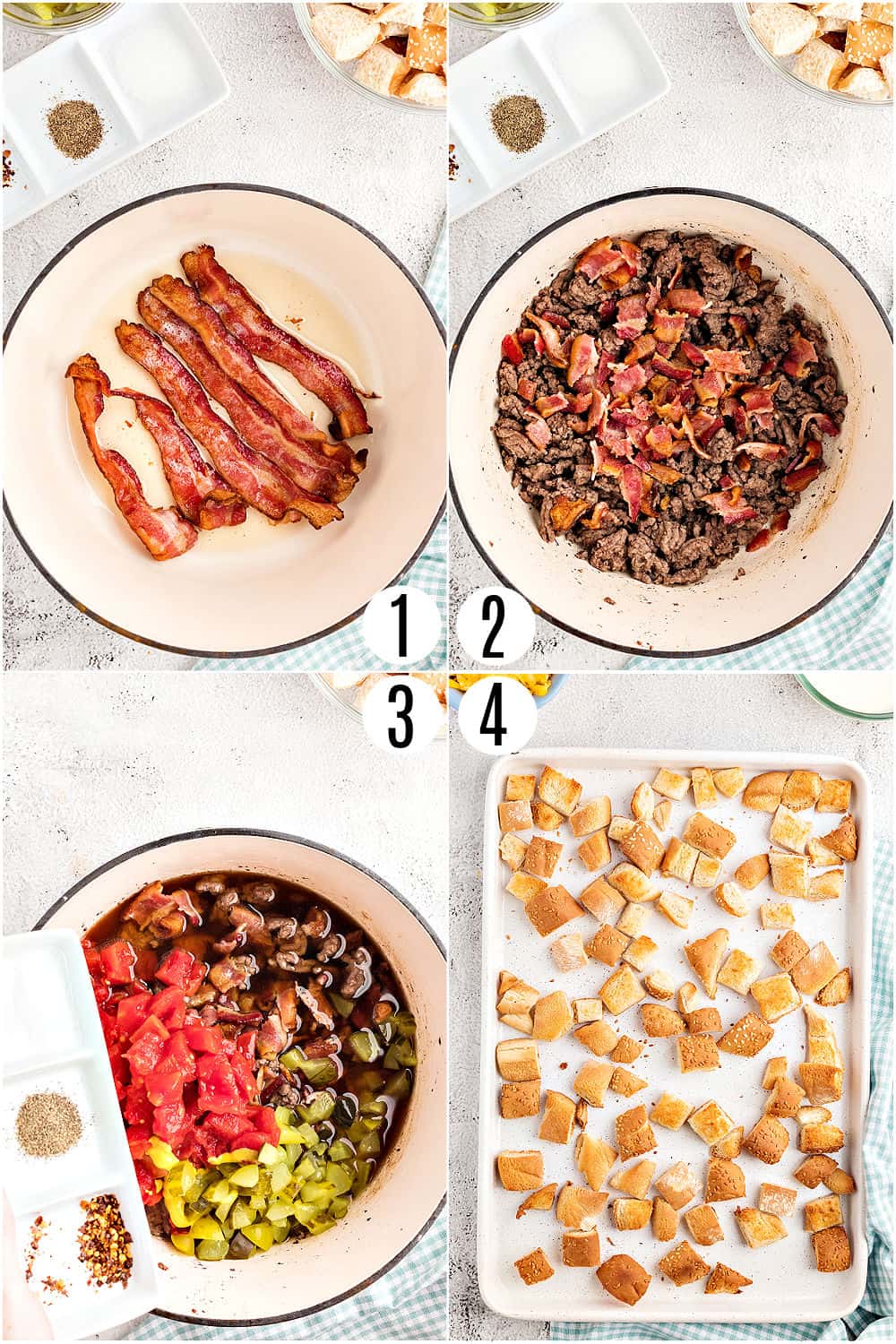 Brown the bacon. Fry the bacon in a soup pot until crispy. It only takes a couple of minutes if your bacon is cut into bite sized pieces.
Remove the bacon and grease from the pot and place it on a paper towel lined plate to drain.
Cook the beef. Add your ground beef to the pot, cooking until it is no longer red. Drain meat and give the pot a quick rinse to remove excess grease. (You'll thank me.)
Simmer. Over medium-low heat, add the bacon and beef back to the pot. Add the tomatoes, mustard, along with beef broth, milk, crushed red pepper, salt and pepper. Cook for 10 minutes, stirring occasionally.
Hamburger Bun Croutons. While the cheeseburger soup simmers, Tear your burger buns into large chunks. Bake in the oven for about 8 minutes until toasted and crunchy.
Finally, Add your cream and cheese to your soup and stir everything together until warm. Ladle into bowls, and top with the toasted buns. Add a little more cooked bacon on top of each bowl before serving, if you like.
This TRULY tastes like you are eating a bacon cheeseburger!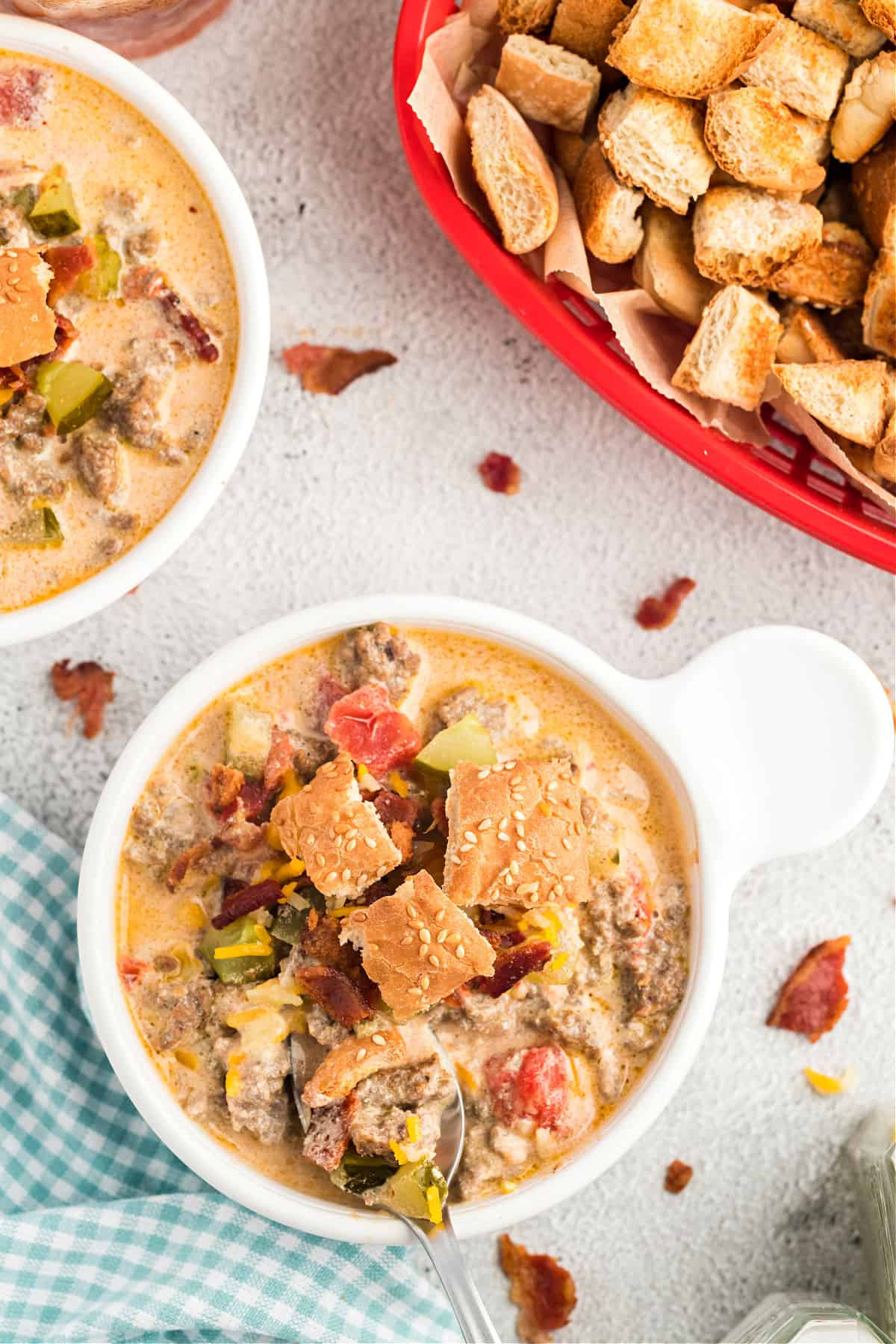 Variations
There are dozens of ways you can customize this based on your preferences–just like a cheeseburger!
For a spicier soup, swap out the tomatoes for a can of Rotel. A little extra red pepper goes a long way too!
Ground turkey works well as a substitute for the beef, as does ground pork.
For a vegetarian version, swap the bacon for a meatless bacon substitute and use plant based ground beef crumbles or cooked lentils in place of the beef.
Try shredded pepperjack cheese or another favorite sharp cheese in this soup instead of the colby-jack blend.
Swap the hamburger buns for brioche, kaiser or another favorite roll.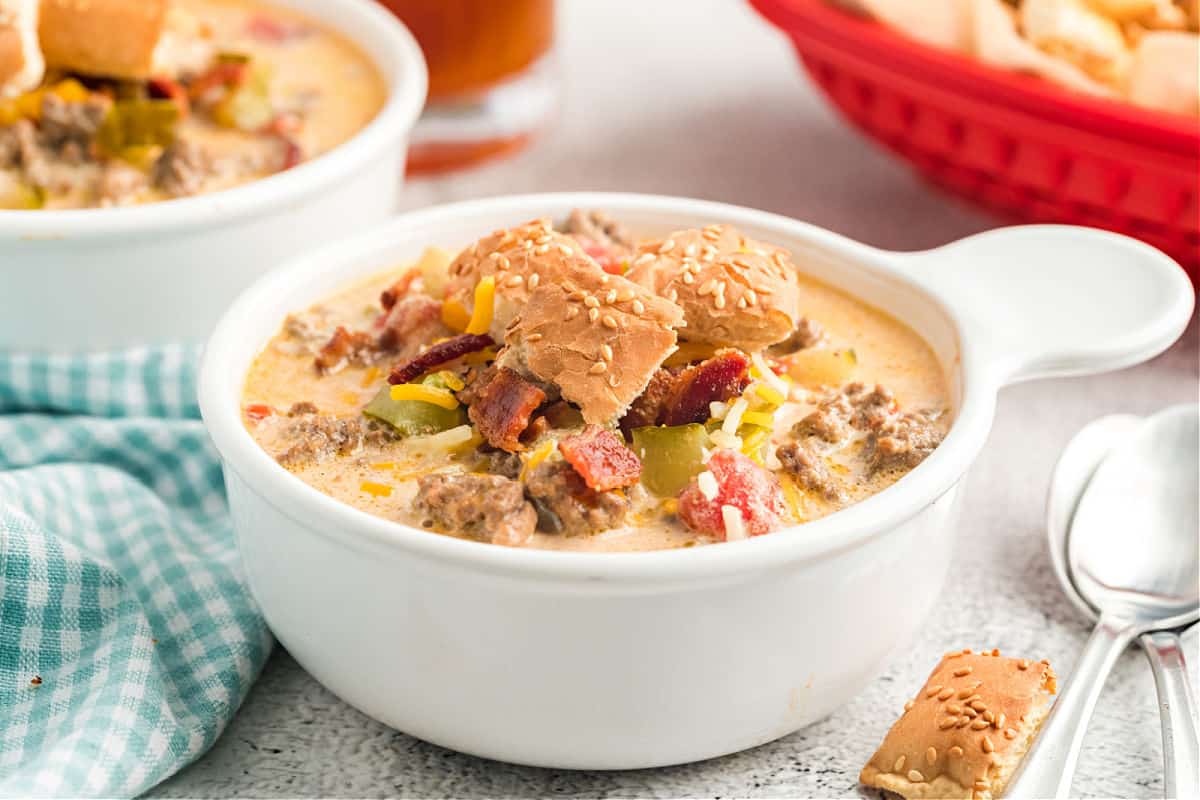 Recipe FAQs
Can cheeseburger soup be made ahead of time?
Like most soups, this cheeseburger soup tastes even better the next day. Store in an airtight container (without the burger buns). It reheats well both on the stovetop and the microwave. When ready to serve, add the toasted hamburger buns and top with crispy bacon bits.
Can you make Cheeseburger Soup in the Crockpot?
Yes! Brown the bacon and beef separately in a skillet on the stove. Add all the ingredients (except cheese and heave cream) to the crockpot. Cook on low for 4 – 6 hours. About 20 minutes before serving stir in the cream and cheese and let continue cooking until everything is warmed through.
Can I add potatoes to my cheeseburger soup?
To keep this soup quick and easy, add cooked potatoes to the soup.
When it comes to kid-friendly quick and easy dinners, it doesn't get more satisfying than this Bacon Cheeseburger Soup!