Looking for a unique snack or appetizer? Texas Caviar brings beans and corn together in a fresh and easy dip. Full of southwestern flavor, this dip is begging to be scooped up with tortilla chips!
Love today's appetizer? Be sure you whip up some of our grape jelly meatballs next. Readers love this hanky panky recipe, as does my whole family!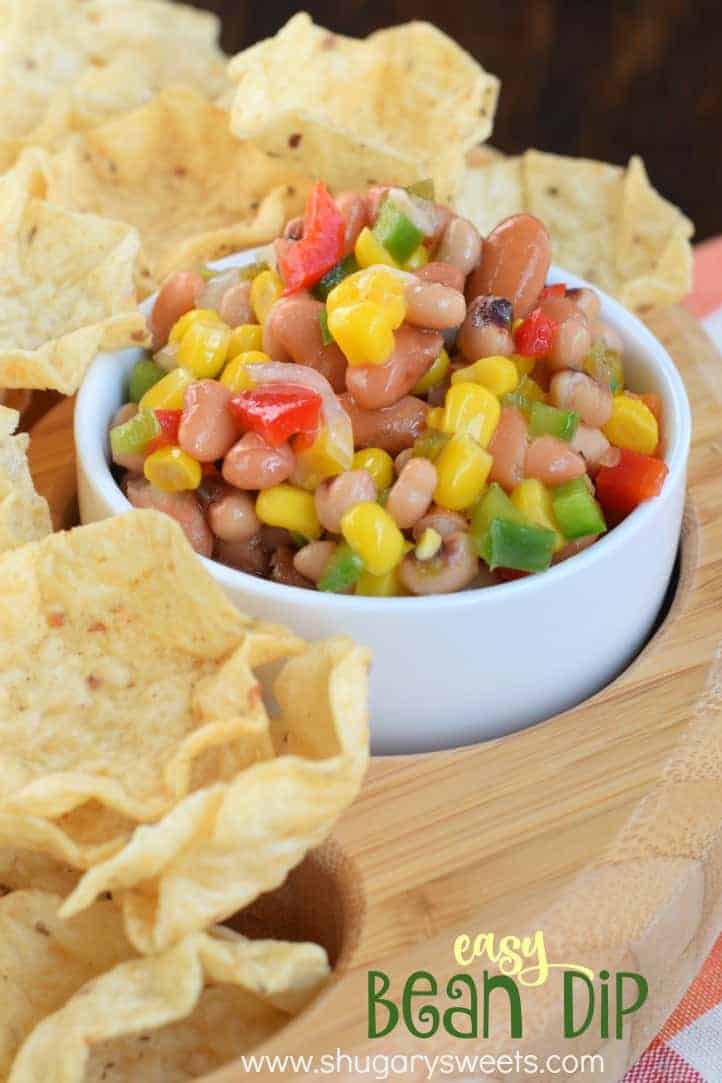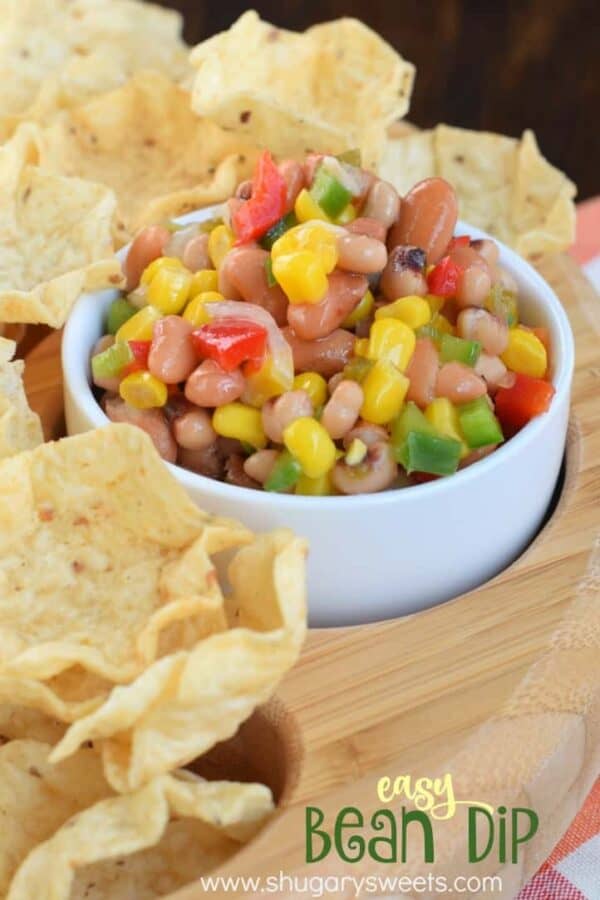 What is Texas Caviar
Texas Caviar is not a caviar at all. No fish eggs here! This fresh dish is a down home dip originally created in Texas. It contains black eyed peas, pinto beans, corn and peppers mixed together in a zesty vinaigrette.
Rumor has it a woman named Helen Corbitt invented Texas Caviar as a way to add more flavor to black eyed peas on New Year's Day. If that's true then she nailed it.
This Texas Caviar recipe is brimming with flavor! With a little kick of jalapenos, a touch of sweetness and lots of fresh vegetables, it makes a wonderful dip or topping for grilled fish.
You can even serve Texas Caviar as a hearty side salad. Add it to a bowl of greens and serve.
One of the best parts of this recipe? It can be made in advance. And it feeds a crowd!
I've kept this in my fridge for up to a week, nibbling on it every day. It tastes even better as the vinaigrette marinates the beans.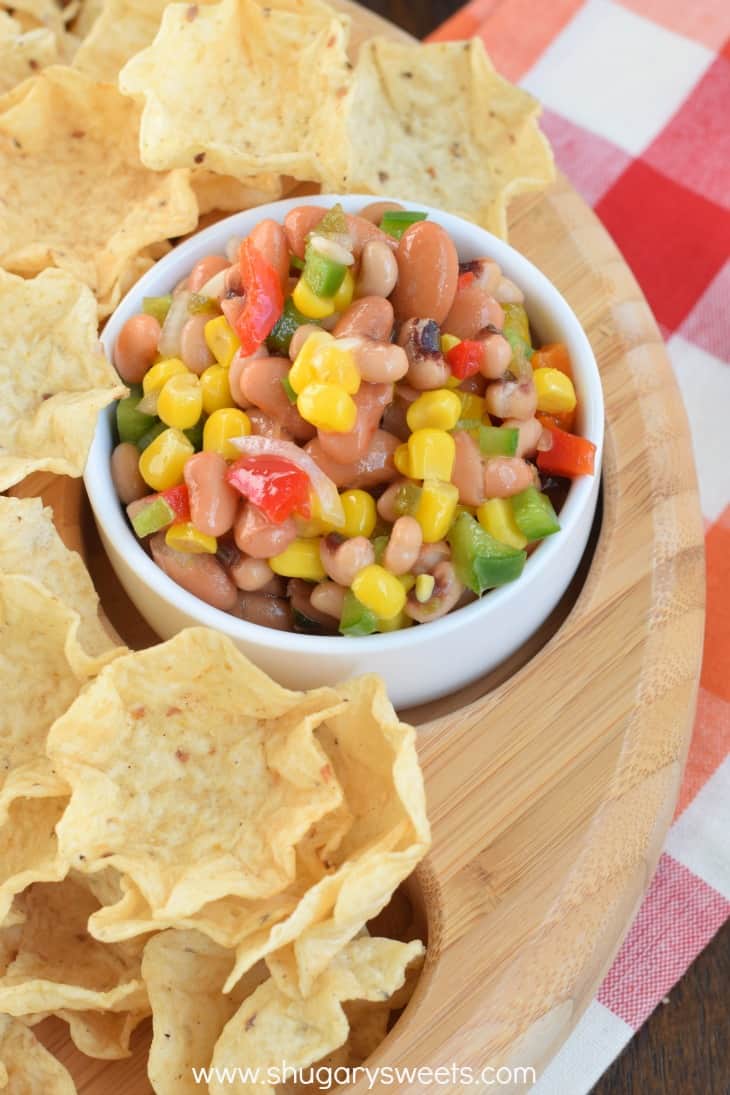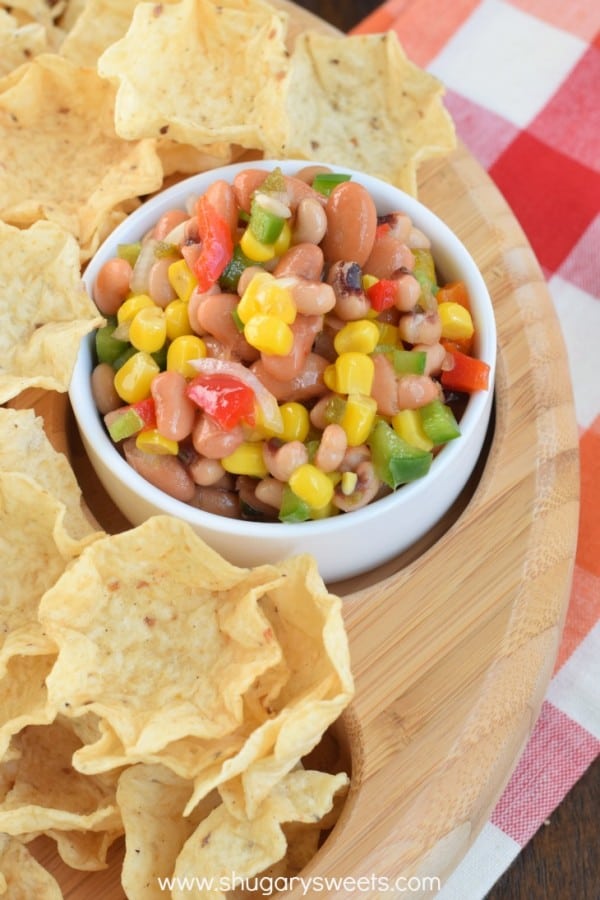 Ingredient Notes
Bell peppers. I use a combination of red, yellow and green peppers because I like the contrast of colors. Feel free to use whichever color peppers you prefer.
Jalapeno. Remove all the seeds and membranes to control the spiciness of your Texas Caviar.
Pinto beans and black eyed peas. I use canned, drained and rinsed beans. You can substitute fresh cooked if preferred.
Corn. You can use canned or frozen corn that's been thawed and patted dry.
Tips and Tricks
Let chill for at least 8 hours. Texas Caviar needs that time in the refrigerator for all the flavors to mingle. I like to make it the night before serving so it has a change to reach peak flavor.
Tangier Texas Caviar. For more tartness, add a squeeze of fresh lime juice to the bean dip just before serving.
Serving Suggestions
Most of the time, you can find us enjoying Texas Caviar as a dip. Grab a bag of tortilla chips or Fritos Scoops and dig in.
This bean dip tastes do good you won't want to stop eating it when dinner time arrives! Try it as a topping for fish tacos or grilled chicken.
Still have leftovers at the end of the week? Make a pot of Chicken Tortilla Soup and stir Texas Caviar into each bowl before serving.
Or do what I do and eat it straight out of the bowl with a fork! You really can't go wrong.
Recipe FAQs
Can I use black beans instead of pinto beans?
Sure! It won't be quite the same but the bean dip will still taste delicious.
Can you make Texas Caviar with white onion instead of red?
Yes, you can use white onion. However, white onions are less sharp and spicy than their red counterparts. Your Texas caviar will taste on the sweeter side.
What kind of vinegar should I use?
I use white vinegar for this recipe. It has a mild flavor that blends well with the other ingredients. The taste of the peppers and veggies shines!
Can Texas Caviar be frozen?
Some folks have had success freezing Texas Caviar, but I wouldn't recommend it. As it thaws it could become mushy and the onions will lose their crispness.
There's no wrong way to enjoy this Texas Caviar! Scoop it with chips or add it to your dinner plate. You won't be able to stop at just one bite.