Easy Oreo truffles that are perfect for your Halloween party or stay-at-home celebration. Halloween Oreos are mixed with cream cheese and dipped in white chocolate!
Love candy corn? I've included this sweet treat in these Pay Day Cookies and my favorite Pay Day Caramel Corn recipe!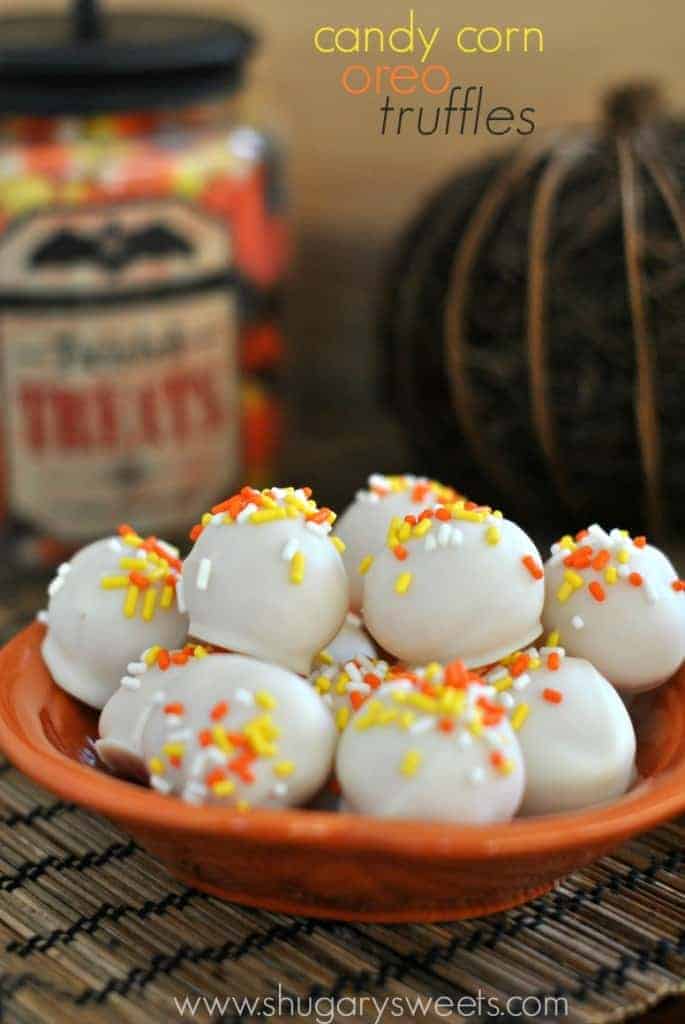 Easy Oreo Truffles
I love truffles.
With all the truffle making I do, you'd think I would have made traditional Oreo Truffles sooner. You know, chocolate Oreos with cream cheese, dipped in chocolate coating?
I have these fun Christmas Santa Hat Oreo Balls, but no classic oreo truffle yet.
Of course, I couldn't go strictly traditional in my first go at making homemade Oreo Truffles. I found these Candy Corn Oreos at Target and had to try them!
These are so easy to make with the kids for Halloween! Whether you're having a Halloween bash or just staying at home with spooky movies this year, Candy Corn Oreo Truffles are perfect for helping you celebrate.
Ingredient Notes
Candy Corn Oreos – This seasonal flavor of Oreos brings classic Halloween color and flavor to the truffles. If you can't find them, it's okay. Use golden Oreos with some food coloring to make the centers orange!
Cream cheese – Plain, unflavored cream cheese works best. Let it soften for a few minutes on the counter so it's easier to work with.
Vanilla candy coating – White chocolate or vanilla melting wafers make the outsides of the truffle smooth for an clean appearance and soft texture. If you can't find candy coating, you can substitute white chocolate chips.
Candy corn and sprinkles – Optional garnishes make the Oreo truffles more festive and add a pop of color!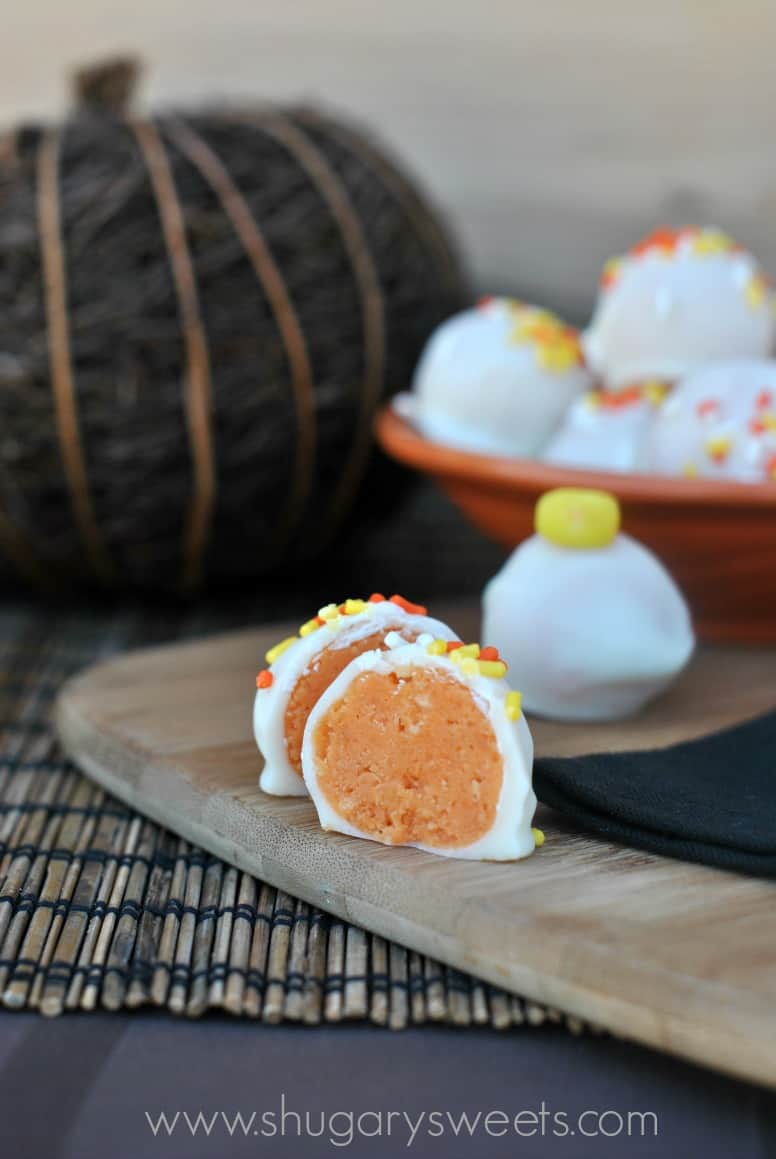 Step by Step Instructions
STEP 1. Blend the Oreos and cream cheese
In a food processor, pulse the cookies until they become fine crumbs. Put the crumbs in a mixer with the cream cheese and blend until combined.
STEP 2. Roll and freeze
Roll truffles into one inch balls. Place on a cookie sheet lined with parchment paper and freeze for one hour.
STEP 3. Coat with chocolate
When the truffles are frozen solid, melt white chocolate in a bowl. Use a toothpick to dip each truffle into the melted chocolate.
Immediately top with candy corn or sprinkles. Repeat until all truffles have been dipped.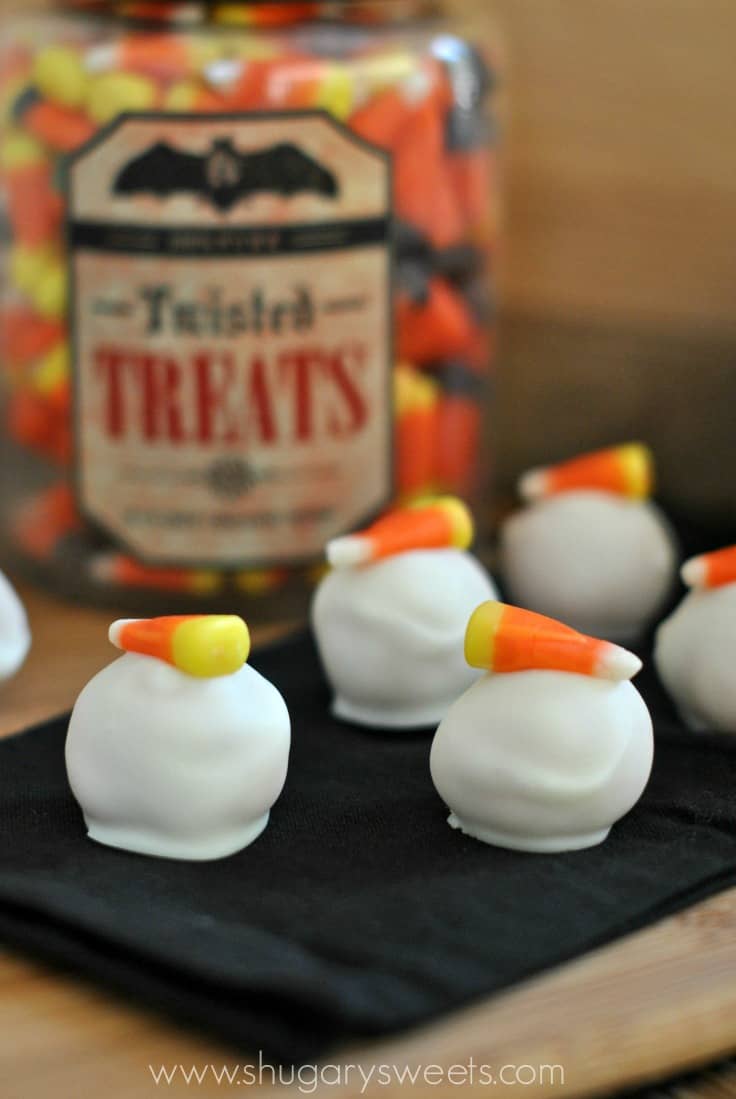 Tips & Tricks
Store Candy Corn Oreo Truffles in airtight container in the refrigerator for up to one week.
After dipping the truffle into the chocolate, tap it on the edge of the bowl so the excess slides off. Make sure any excess chocolate has dripped off before placing the truffles back on the baking sheet. This helps prevent big lumps of chocolate coating forming under each truffle.
Holiday treat- Love candy corn? Try our candy corn cupcakes next!
Recipe FAQs
Can this be made without the candy corn?
Yes, if you're not a fan of candy corn or can't get candy corn Oreos, go ahead and make these anyway with golden Oreos or regular oreos! You'll have a traditional and delicious Oreo truffle. Add food coloring to the cream cheese mixture if you like to make them orange for Halloween!
Can you freeze these truffles?
Yes! Store in freezer bags and let frozen truffles thaw in the fridge before serving.
What kind of white chocolate should I use for truffles?
I love using Ghirardelli white chocolate melting wafers. Not only do they melt smooth and taste amazing, they set up perfectly for truffles!
More Halloween Recipes
A velvety white chocolate shell gives way to a sweet cream cheese filling in these Candy Corn flavored truffles! Make these Halloween Oreo Truffles with the kids this year.